As Australia's foam mattress market heats up, it's become harder and harder for Aussies to find an affordable mattress in a box that meets all of their needs, as well as their budget! If you've come across the Sleeping Duck Mattress or Koala's famously patented Kloudcell foam variant and can't decide which is best for you, then we have the perfect guide for you below.
We'll take a look over both mattress's features, their perks as well as their exclusive offerings and warranties. We'll also judge value for money and pricing, trial periods, firmness, disturbance technology and much more. Similarly priced, the mattresses are perfect for anyone in the medium price tier looking for a customisable foam or pocket spring bed in a box.
What You Need to Know
The first few things you need to know about getting the best sleep on these mattresses are that the Koala is an Australian made brand that's just over 3 years old, whilst Sleeping Duck is a newer Chinese-assembled brand, though both still offer incredible quality mattresses and are Australian based. The Koala provides new mattresses with free delivery Australia-wide. Sleeping Duck also offers free shipping and returns within Australia.
It's also important to note that the Koala mattress is an all-foam design, with proprietary Kloducell technology for improved back support whereas Sleeping Duck is a foam-topped variant with an array of pocket springs below for added support. Koala's Ecofoam bottom layer is the main source of support, so the mattress doesn't need pocket springs.
Pricing and Value for Money
Before we take an in-depth look into these two fantastic Aussie mattresses, we'll first need to determine value for money and whether pricing falls within our price range. These mattresses are more affordable than the similarly-designed Ecosa, and offer incredibly competitive features at $750 for a single and $1,250 for a king size mattress.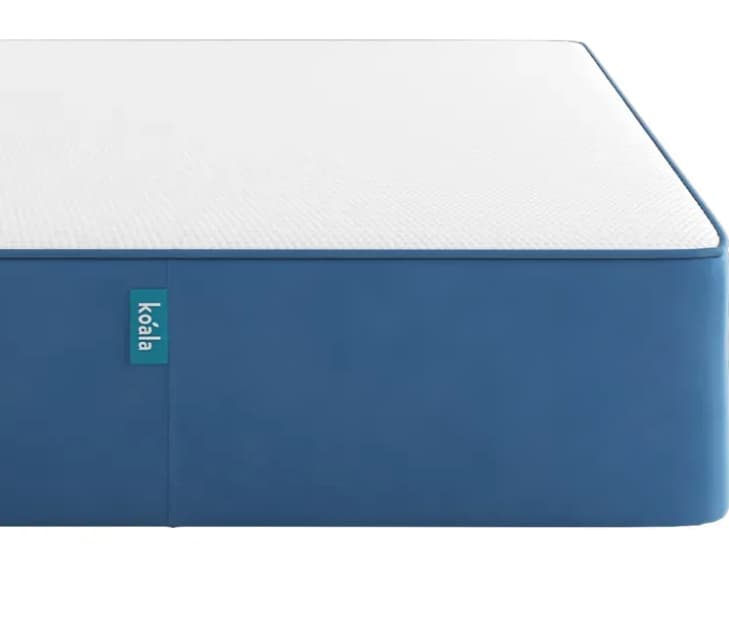 Koala Pricing:
Single – $750
King Single – $850
Queen – $1,050
King – $1,250
Koala also offers Afterpay and Zipmoney which means you could get your hands on a queen mattress for only $21.59 a week over 12 months with 0% interest.
Sleeping Duck:
Single – $799
King Single – $899
Double – $1,099
Queen – $1,349
King – $1,449
We would like to point out that the Sleeping Duck mattress may seem a little expensive for being a pocket spring variant, however, it's variation firmness built into the adaptable upper memory foam layers help to create a feature that you can't find on any other mattress in Australia to date.
From the prices outlined above, it's not too hard to see that both of these mattresses are falling within the mid-tier price point. However, when compared to cheaper in-store mattresses, you're getting a whole lot more for your money including free delivery, 100+ night trials, and stellar decade-long warranty, so the price certainly evens out.
Firmness and Comfort Layer
As we expect your firmness and comfort preferences to be most important when buying a mattress, we're glad to say that both of these mattresses offer incredible support, even though they're using two different technologies. The Koala boasts an upper, hyper-soft foam comfort layer sitting atop a firmer, breathable Kloudcell foam, whereas the Sleeping Duck offers Hyper-Adaptive™ foam and customisable comfort foam – all of which rest on what is essentially a spring mattress.
Koala Comfort:
The first thing to note about the Koala mattress is that there's only one firmness option available. The mattress is sold at 6.1 on the firmness scale which means it's at the perfect point between too firm and too soft, making it just right! The medium-firm firmness also means that the Koala is perfect for all sleeper types, whether you're a front, back or side sleeper as there is optimal support offered by the top layer.
A few users did mention that the Koala's edge support was a little too soft, making it hard for them to sleep right on the edge of the mattress, and also difficult to sit down on the edge for a long period of time.
The Koala mattress is also designed with proprietary Ecofoam foam, which is flawless at reducing partner disturbance and passes the fabled cup spill test. You'll find that the mattress is able to absorb just about all the movement you throw at it, so getting up from bed all evening won't wake your partner.
Overall, the Koala offers ideal firmness for a large majority of the population, though some sleepers will need to keep in mind that for the first week or two the mattress you may feel too firm while your body adjusts to the foam, so a mildly sore lower back might be on the cards for just a few days in the worst case. However, almost all Koala customers sleep perfectly from the first night.

Sleeping Duck Comfort:
When lying down on the Sleeping Duck, you'll almost immediately be able to feel the three comfort and support layers beneath you. The foam layer will help to cradle your joints and take the weight off your hips, shoulders and head, whilst the more firm pocket spring layer is going to offer the ideal support for the lower back.
Sleeping Duck's standard foam variations come in three firmness levels right off the bat, something the Koala can't match. You're able to choose from a 6 out of 10 as well as an 8 or a custom firmness level of your choice.
Unmatched Customisation
The Sleeping Duck also offers something we've not seen in any other mattress brand to date, and that's both dual firmness customisation, as well as variation firmness too. That means if you would like a firm mattress, and your partner would like a soft mattress, you can have the best of both worlds and split the upper memory foam into both firm and soft.
Adding to this adaptability, you can also split your half of the bed into three different firmness levels. Your head and shoulders could rest on a firm sheet of memory foam, your lower back could rest on a soft sheet and your legs and feet on a medium or firm sheet.
On top of these great firmness perks, the mattress is also supported by pocket springs, as we mentioned above. These pocket springs assure sleepers that the memory foam won't lose its support or leave you with back pain or issues in the morning, as the springs are far less likely to flatten than the foam topper.
Trialing and Warranty
We're pleased to say that both mattresses offer great trial times that reach up to 120 nights for the Koala, which is fantastic if you're looking to see whether your body's going to be more partial to the proprietary foam or the pocket spring support. Both trial periods are also risk-free, so there's no charge or fee for returns and you'll also be given a full refund.
Koala Trial and Warranty:
The Koala mattress is the winner when it comes to trial periods with the company's 120-night trial that's both risk-free and dealt with entirely by Koala. All you'll need to do is give them a call and they'll relay exactly what you need to do. On top of the great trial, there's also a 10-year full warranty, which is far longer than you'll find offered by almost all other mattresses, except the Ecosa mattress with its 15-year warranty.
Sleeping Duck Trial and Warranty:
With a 100-night trial, the Sleeping Duck offering is a little lower when it comes to Koala vs Sleeping Duck, though one hundred nights of trial time should be plenty of time for you to test out the mattresses ability to offer you the best night's sleep. The Sleeping Duck also comes with a 10-year warranty, giving you plenty of coverage and safeguarding against a costly replacement if the mattress begins to age prematurely.
Materials and Build
Where the differences in mattress design begin to show is in their materials and build types, as one is Kloudcell and Ecofoam and the other pocket spring supported. With GECA-approved foam, both the Koala and Sleeping Duck are up there with environmental standards and Koala's Australian-made Kloudcells are also environmentally friendly and safe too.
Koala Materials and Build:
Within the Koala there are two main types of foam, one being a soft upper Kloudcell topper and the lower being the more firm, breathable Ecofoam layer. The Kloudcell tech inside the mattress is breathable and also heat dispersing, so you're able to sleep cool in summer and warm in winter, which is great for reducing energy use at home too.
The Kloudcells are also uniquely designed to offer something almost no other foam mattresses offer, memory foam or otherwise, which is plenty of bounce! This is the feature that makes the Koala so comparable to Sleeping Ducks' pocket springs, both offer a great bounce although they're made of two completely different materials.
Sleeping Duck Materials and Build:
The materials found inside the Sleeping Ducks mattress are also of incredibly high quality and are designed to complement one another. Upper foam comfort layers work perfectly in harmony with the firm support pocket springs giving the mattress the best chance of keeping you well supported for years to come.
Build quality also isn't an issue as the curated, non-generic design means that the Sleeping Duck isn't going to show any sign of wear, tear or flattening anytime soon, and if it does, the 10-year warranty is ready to help you out.
Covers and Added Features
To add to both mattresses great quality, there are also a few outstanding added features that might help you decide one over the other. Both mattresses offer anti-microbial features that prevent dust mites and other impurities from finding their way into your mattress, making it smell or spark allergies.
Koala Cover and Added Features:
The washable cover on the Koala is a perforated breathable fabric that's easily kept clean and is also able to block most skin cells, dust mites and other allergens from seeping into the mattress's foam and core. Over time, you won't find the Koala filling up with dead skin or other impurities like traditional mattresses, so keeping the Koala for a full 10 years won't leave you with a heavy skin-cell-filled mattress.
It's also good to know that the cover is a eucalyptus tencel fibre, which essentially gives the cover protection from bacterial growth, making it more hygienic. The breathability is also top notch and helps your body's natural temperature regulating mechanisms. Lastly, being tension-free means
This fabric choice means it protects against bacterial growth so its more hygienic, is breathable which helps your body's natural temperature regulating mechanisms, are tension-free with no electrostatic charging.
One main feature that the Koala does miss out on is waterproofing, so if you're one to eat in bed or often spill water or soft drink, you might not be in luck.
Sleeping Duck Cover and Added Features:
One major added feature on the Sleeping Duck is the mattress's bamboo cover, making it inherently anti-microbial. This will ensure there's little way for bacteria or any other impurities to get into the mattress, though the cover isn't waterproof. An added feature of the mattress is the individually-acting pocket springs, which help with both body contouring and motion isolation.
Each spring works entirely on its own, meaning movement is restricted to one spring, keeping you from shaking anyone awake when you get in and out of bed.
Common Questions:
Which is better koala or sleeping duck?
The Koala boasts an upper, hyper soft foam comfort layer sitting on a breathable kloudcell foam where the sleeping duck offers a Hyper Adaptive foam base. From our testing we found the Koala Mattress to be the winner. If you are looking for a special offer on the Koala Mattress click here.

Are koala mattresses made in Australia?
The Koala mattress is designed to be not to firm, not too soft.
It is made in Australia and is designed for Aussies and had been award numerous awards.
How long does a koala mattress last?
Koala Mattresses usually last around 10 years.
Is Koala Mattress too firm?
The Koala Mattress is a medium firm mattress which sites at around 6/10 on the firmness scale. It is not that soft and not that hard is is just right for the consumer.
The Takeaway
From our comparison above, you can see that although the Koala mattress and Sleeping Duck mattress are designed entirely different from one another, and feature two significantly different build materials, both offer a similar sleeping experience. Koala's innovative Kloudcells give it an edge over pocket springs, though the Sleeping Duck customisation means you're more likely to find a firmness level that suits you perfectly.