Sale up to 30% off Koala Mattress click here now
One standout of shopping with Koala over Emma is arguably the easy experience along with the lightning-fast delivery times with four-hour options available in city centers and major capitals.
When it comes to reviews and popularity, nothing seems to beat Koala with it being Australia's most popular mattress along with one of the highest reviewed, though Emma does offer a few features that might make it the better mattress for you.
Both mattresses are all-foam variants, though they offer different takes on foam, with Koala designing their own proprietary type and Emma sticking to traditional memory and response foam blends.
With our intro out of the way, let's take a look at the Koala vs Emma Mattress.
Materials
Even though both the Koala Mattress and the Emma use all-foam material layouts, both have a very different take on them to provide a rather unique experience for sleepers.
Either of these mattresses does offer great bounce for being foam, and the Emma works in a latex layer to make sure there's a responsive feel on top of the contouring foam beneath.
Koala Mattress
Proprietary Kloudcell Foam
Engineered for 'Perfect' Firmness
Outstanding Temperature Control
One of the biggest standout materials in the Koala mattress is the Kloudcell foam that Koala has designed explicitly for their mattress.
Unlike memory foam or latex, it's a foam blend that acts like memory foam in that it's soft and contouring, but also has cooling features and plenty of bounce-like latex. These hexagonal-shaped Kloudcells are key to the comfort of the Koala and are durable and incredibly soft.
The firmness of these materials is also ideal, hitting just above medium on the firmness scale, perfect for all sleeping positions.
Lastly, the Kloudcells are so motion isolating that there is practically zero motion transfer across the bed whatsoever — outstanding for co-sleepers who wake as a result of a partner's movements.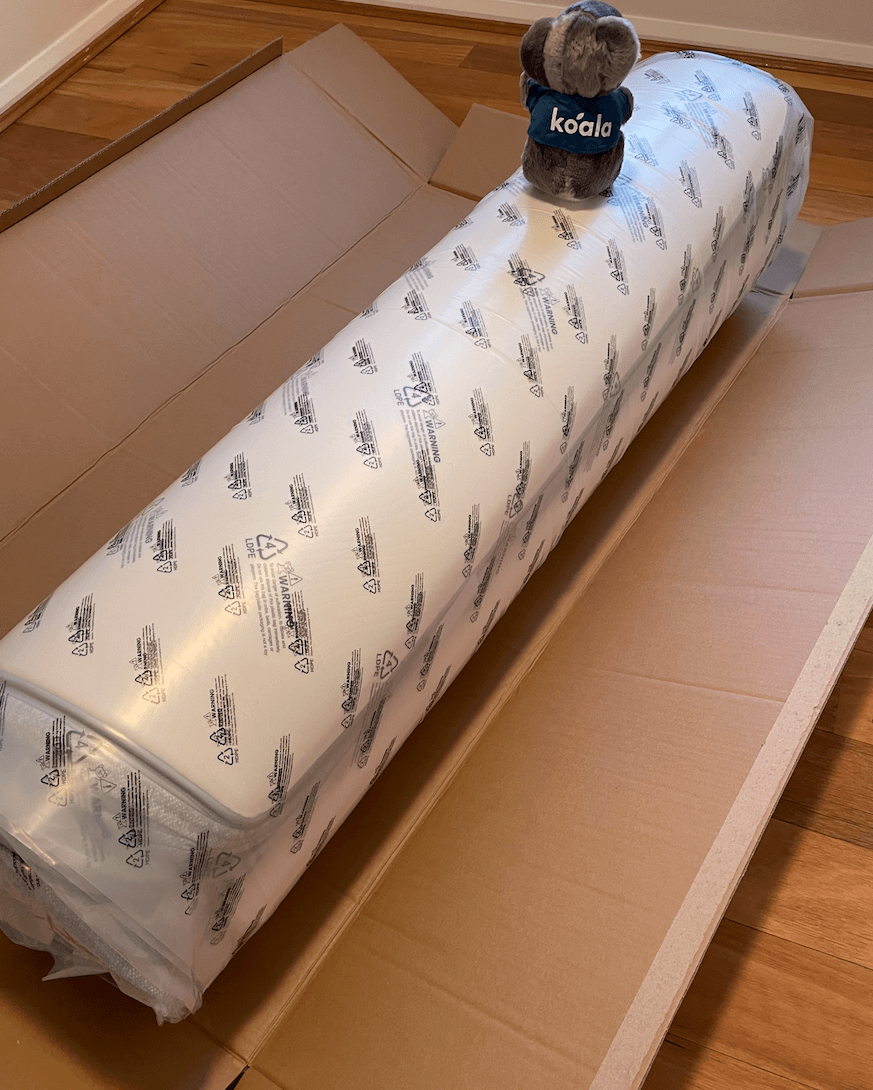 Emma Mattress
High-quality Foams
7-zone Structure for Support
Latex Integrated for Bounce
Taking a different approach when compared to Koala, the Emma Mattress's materials are somewhat standard, though still durable and of high quality.
Sleepers will find a stack of foam layers here that work to offer a happy medium between plushness and firmness. There's an upper latex layer, a middle memory foam layer, and a lower support foam layer.
The upper latex allows for plenty of bounce and coolness, and the two foam layers beneath are what come in to allow body contouring and back support.
A proprietary-designed 7-zone structure inside the foams here also makes for ideal support when it comes to keeping parts of the body elevated and pressure points relieved of any body weight that might be putting too much force on them.
Sleeping Experience
As expected, with such a different material selection, the sleeping experience on these two mattresses is a lot more diverse than other mattresses we've compared.
The Koala is a standout in that it's made of a material that no one else offers, whereas the Emma stacks latex and foam together to replicate a bouncy spring mattress feel without the pocket springs.
Koala Mattress
Near-flawless Sinkage and Contouring
Ideal Level of Bounce
Cooling Sensation
As expected, Koala's mattress hit the nail on the head with the firmness and just-right level of contouring and sinkage.
The Kloudcells integrated into the design allow for great ventilation and contouring as well as offer support all in one. The experience is similar to the cloud-like sensation from memory foam, however, there's a tonne of responsiveness here — something that memory foam doesn't offer on its own.
On top of the feel, the open-cell design is also perfect for sleepers in warm climates who need a cool bed. The Kloudcells again come in handy here by pulling heat from sleepers and expelling it out the sides of the mattress.
To end, the Koala is also the ideal mattress for anyone looking to stop movement and reduce the chances of waking during the night. As mentioned above, movement is almost entirely muted.
Emma Mattress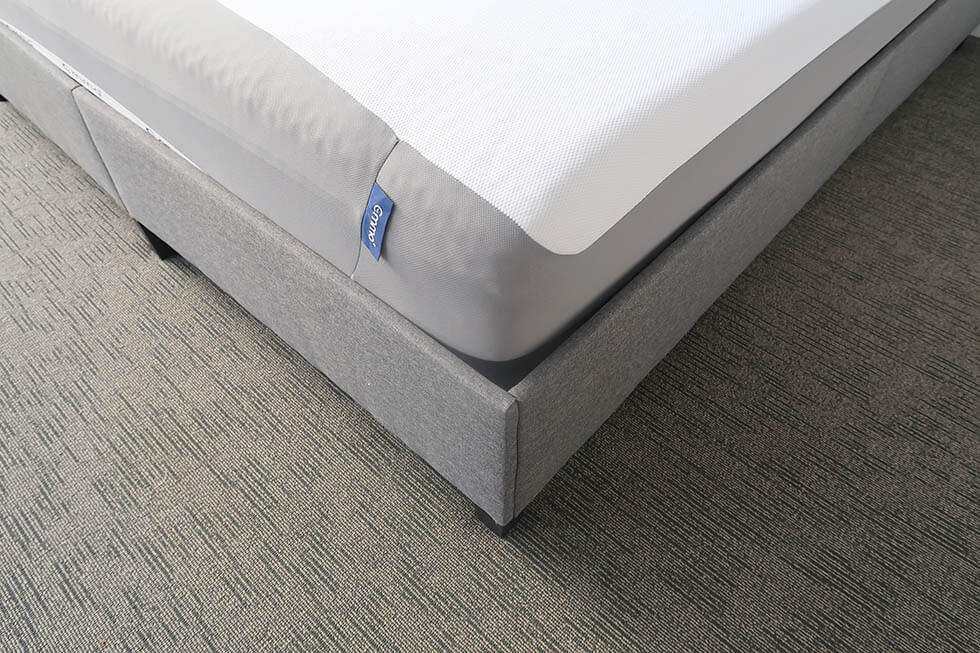 A Rather Soft Feel
Good Level of Bounce
Optimal Contouring and Pressure Relief
Without the proprietary technology found in the Koala, the Emma Mattress does its best to make use of memory foam and latex to get a similar result.
When you first lie down on the Emma Bed, you'll notice there's a good amount of bounce here for a foam bed, though after a moment you'll then begin to feel that you're sinking into the bed for that pressure relief.
We're glad to say the upper latex layer works similarly to the Koala in that it does keep the bed ventilated and cool, at least in the top layers.
For warmer climates, the Emma will still work well at keeping you nice and cool as you sleep, though the Koala will be the winner here.
Finally, the Emma mattress's responsiveness is average when compared to Koala, so if you're looking for a good bounce, it might be worth considering a Koala bed instead. For a mattress with great support, check out our Emma Comfort Mattress review.
Special Features
After taking a look at the two mattress's materials, it's time to have a look into some special offerings they bring. These features help make the Koala and the Emma stand out from one another but also from the competition.
Koala Mattress
Arguably the biggest standout feature of the Koala, by far, is the carefully engineered Kloudcell foam. Unlike just about any other mattress on the market, Koala has created a new material that acts as the perfect hybrid between latex, foam, and possibly pocket springs.
There's a tonne of bounce here that you'll find in pocket springs, a cooling experience you would find in gel foam or latex, and the sinking and body contouring only found in memory foam mattresses.
It's no wonder the Koala is Australia's favorite mattress given that there's an engineered foam here that offers the best of both worlds — and more.
Emma Mattress
One feature the Emma mattress offers is the great 'Point Elastic Motion Isolating Foam' that comes in handy when someone moves during the night.
It may not be as effective as Koala's motion isolation, though the Emma mattress does still offer an experience that is likely to keep you fast asleep while someone does toss and turn or get in and out of bed during the night.
Koala pricing –
Single – $750 + 30% off (here)
King Single $880 + 30% off (here)

Double $1,000 +30% off (here)
Queen $1,050 + 30% off (here)

King $1,250 + 30% off (here)
Emma Mattress
Single — $599 + 55% off (here)
Double — $699 + 55% off (here)
Queen — $849 + 55% off (here)
King — $949 + 55% off (here)
Delivery and Warranty
Both mattresses offer free delivery and return to make receiving your mattress painless and each also makes it easy to send the mattress back should there be an issue.
Koala even offers a four-hour delivery experience for those in metro areas, something that other mattress providers can't match.
There's a 10-year warranty with the Koala and Emma mattresses, a good sign when it comes to quality.
A sleep trial of 120 nights is included with the Koala and 100 nights with the Emma Bed.
Final Thoughts
From our comparison above it's clear to see that both of these mattresses are ideal for all sleepers and offer a great experience overall, however, the Koala's attention to detail and innovative material design make it stand out a little more than the Emma.
For all sleepers we would suggest the Koala unless you're more partial to a firmer foam feel, then the Emma would be the way to go.

Special Offer up to $800 off a Koala Mattress we have a special Sleepify offer for you.

Looking to compare other Koala Mattresses in 2023 –

sleeping duck vs koala
ecosa vs koala
emma vs koala