Looking for a quality alternative? Emma Mattress is highly recommended + 20% off at $479 click here.
If you've been on the lookout for an affordable mattress in a box, then the Big W Mattress in a Box might be exactly what you're looking for.
Of course, as one of the most affordable mattresses on the market, and from a budget retailer in Australia, the mattress isn't the best out there, but it certainly gets the job done for a few specific sleeping styles and use cases.
To give some insight into this mattress, we've compared it to others on the market, analysed reviews and assessed the materials and features offered by this low-price mattress. There may be a lot to be desired, however, the price point might help sway you toward the Big W bed.
Whether you're a side sleeper, tummy sleeper or back sleeper, we're sure you'll have everything you need when it comes to purchasing the Big W Mattress in a Box, or not.

Perfect alternative to a Big W Mattress –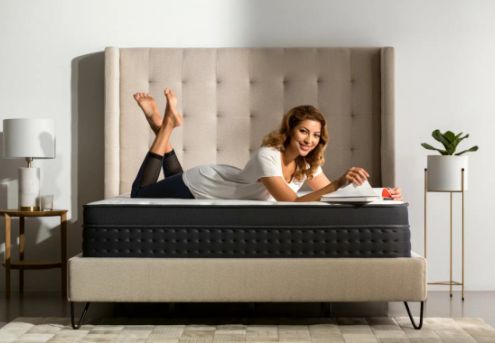 (Recommended Latex Mattress)

Let's start with what is definitely one of our top picks when it comes to latex mattresses – the Noa. As an extremely versatile hybrid mattress, the Noa combines bouncy latex, molding memory foam, and pocketed coils. If you like a supportive and contouring mattress feel, the Noa is the mattress for you.
Noa uses OEKO TEK certified latex. This seems to be an excellent choice for sleepers who like the medium to firmer-feel but do not enjoy traditional beds. Based on our testing and the numerous reviews online, the Noa is well rounded – whether you prefer to sleep on your back, front, or side, you're going to enjoy this mattress.
Noa has a number of other features that set it apart from the competition. The spring coils provide more prominent edge support in comparison to the other models, meaning that getting in and out of bed is effortless and undemanding. Good edge support often means a more significant partner disturbance – interestingly, this was no problem for the Noa, resolved by the use of a layer of memory foam under the latex. In terms of the remaining features, we thought really set the Noa apart, the mattress has a Tencel cover and an incredibly affordable price tag. It also comes with a huge 15-year warranty and a trial period of 100 nights. Customers praise the excellent service and together with the price tag mention it as one of the most common perks.
Ultimately, the Noa is a mattress that we highly recommend – not only just as a latex mattress, but also when it comes to the mattress market as a whole. Its hybrid build means that the Noa can take advantage of the best aspects of multiple mattress types, and it does this remarkably well – what you get is a versatile, comfortable, and well rounded mattress that you really can't go wrong with.
Overview
A quick look into the Big W boxed mattress will tell you that it's a Bonnell spring variant, rather than a mixed foam mattress, or a memory foam model. That said, it's a little less plush and more of a firm mattress when compared to others on the market.
Most users and bed testers have this mattress placed at 8.5 on the firmness scale, making it one of the more firm innerspring models available online today. We typically wouldn't suggest a mattress at this firmness level, especially if it's this firm as a brand new mattress, though for anyone partial to the more firm side of things (back sleepers for example) we believe Big W's Bed in a Box might be a good investment for you.
One suggestion we have for those who'd like to grab the Big W bed is investing in a quality mattress topper that will give you some added foam layers atop this pocket spring mattress. Of course, a firm base is fine for most sleepers, though when it comes to pressure relief and joint pain, it's always good to have some added plush layers.
The mattress is also one of the most affordable on the market when it comes to boxed mattresses, at just $199 for a Queen Size and $99 for a single mattress with home delivery and pickup offered in most metro areas – however, they may be an added cost.
All that said, the Big W Bed in a Box has plenty to offer, but also a fair few drawbacks. Take a look at our full review below for some more insight into this mattress.
The Big W Bed in a Box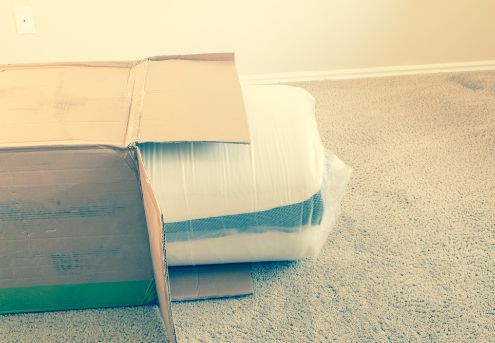 The Big W Mattress in a Box is a great buy for anyone looking to get their hands on the best mattress at the lowest price. Although the bed has some rather unsavory reviews, for just $199 or $99 depending on the model you choose, the queen bed is arguably a steal regardless.
It's important to note that at this price, you will be getting a single or queen-size mattress with only the bare essentials. There are no added extra features, no engineering to add breathability, little in the way of a trial period as well as a lack of dust mite protection and allergy support.
At a very firm firmness level, the Big W bed may also be a little too firm for all sleeping positions, as a medium firm is recommended for side sleepers.
Materials
To kick things off, the Big W mattress in a box is split into two material types; some firm pocket or Bonnell Springs and an ultra-thin foam/polyfoam layer on the top.
These upper foam layers do their best to offer some 'sinkage' and contouring to the sleeper's pressure points and joints, though the spring base is so incredibly firm there's little added comfort here.
The good news is that with some relatively firm springs, there is a tonne of back support and bounce on the Big W bed. For sleepers with a heavier weight, you'll be well-supported on this queen mattress and be able to rest assured that you're lulled to sleep without any weight or pressure on your joints – ideal for pain relief.
It is also worth mentioning that there is no allude to the use of eco-friendly materials by Big W in this mattress. That leads us to believe that anyone sensitive to chemicals or factory-borne substances may not experience the best sleep on this bed – unless you have a protector.
With a height of just 18cm, there's also a lot to be desired by this mattress in the way of depth and possible 'depression' of the springs in the long term.
At 18cm, it's one of the thinnest mattresses out there that is not a camping variant but rather an everyday variant. This might result in some sinkage or compression of the mattress in time.
No Mention of Eco-friendly Materials
Material Firmness is Ideal for Back Sleeping
Multi-layer with Added Polyfoam
Initial Comfort and Feel
Where the Big W Mattress is 'make or break' is in the sleeping feel. Since there's no true way to test out and try the bed in-store, at least in most stores around the country, you'll have to rely on advertising and a lot of user reviews.
We've done our best to give an overview of the feel of this mattress in the hopes that you'll be able to tell whether this mattress is for you.
Partner Disturbance
As we mentioned above, there's very little engineering that has gone into curating the experience on this mattress, and that's certainly visible when it comes to partner disturbance and motion isolation.
There is little to no isolation on this bed, so should someone move around a lot during the night, you're definitely going to feel it – a lot. Single sleepers on this bed won't have too much of an issue, of course, though if you sleep with a partner, both of your movements will undoubtedly wake one another.
Firmness
At above 8 on the firmness scale, it's important to note that this bed is not going to come close to the comfort of other boxed mattresses like the memory foam Koala bed. It really is exceptionally firm and might be uncomfortable for guests or any other sleepers who prefer just a little sinkage.
However, an ultra-firm bed will come in handy for sleepers who are a little heavier, or for anyone who likes a solid sleeping surface. You'll have good support here if you stick to one position during the night, and spinal alignment will be kept in check should you roll over to your tummy.
We suggest the Big W mattress for back and tummy sleeping only.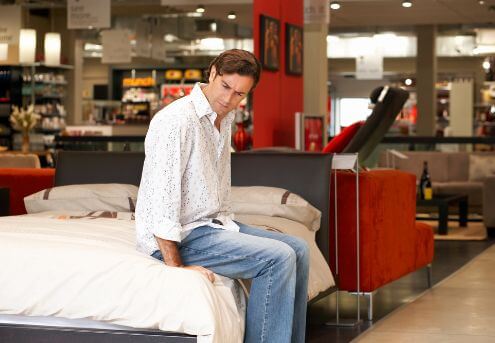 Edge Support
Given that the bed is very firm all over, you can expect ideal edge support as a result. Anyone who sleeps right by the edge of this mattress will find that they're held up quite well, with no chance of slowly dipping and falling off.
Sitting on the edge of this bed is fine too, the pillow top layer beneath the surface isn't too deep which means you won't find yourself falling down into the sides like a memory foam mattress.
One thing to note is that the quality of the innersprings can't be verified, so the longevity of this edge support is unknown. That said, a decade on this mattress might not be ideal.
Heat Retention and Dispersion
Unlike memory foam beds, the Big W mattresses springs help promote airflow and heat dispersion passively. You won't be sleeping on a bed that slowly turns into a heat sink during the night, which is great news for anyone in warmer climates in search of a mattress that won't have you waking up in sweat during the night.
However, Big W has mentioned that platform and solid bases work best for this mattress, so be sure to install this bed atop a well-ventilated frame or you'll be inadvertently making a heat trap.
Special Features
As we mentioned, there are little to no special features adding to the experience on this mattress. You're simply getting an affordable, firm spring base and thin integrated foam topper that may or may not be too firm, too warm or a little uncomfortable when it comes time to sleep with someone who moves a bit too much.
Quality, Trials, Shipping and Warranty
Unlike most other mattresses, the Big W mattress comes with very little in the way of a trial or even warranty; which may be an issue should something go wrong down the line. Of course, the affordability will take some sting out of things, though have no support or chance or replacement is a little bit of a hassle.
Material Quality
From assessment and reviewers online, it's clear to see that the mattress has been made of somewhat standard and sub-par materials. Issues such as creaky springs may become apparent, the mattress's covers are a little thin and are prone to tears should you be a bit too rough with the bed.
On top of this, the foam is prone to flattening in a short period of time, making the mattress feel firmer and firmer as it ages. Again, this issue is subject to personal preference, though with firmness of 8.5 and up, you might find that comfort goes out the window when the internal foam layers harden or flatten.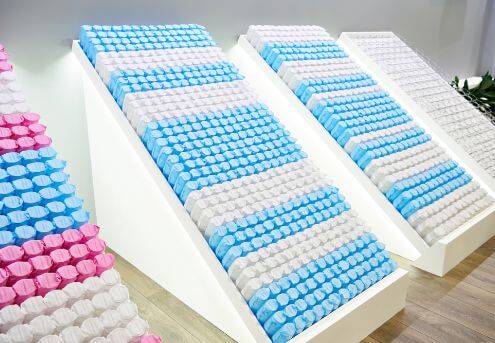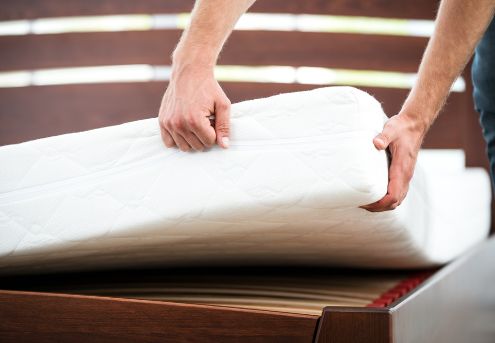 Trial Period
Big W has made no mention of a trial period for their boxed mattress, and there doesn't seem to be a return or try-out process either.
That said, you'll need to either find a store with these mattresses out and in the open for testing, or try your luck with the bed. Just be sure that you're partial to a more firm mattress and aren't too rough with it when setting it up, and you should be in the all-clear.
Shipping or Pickup
There are two simple choices when it comes to delivery options for the Big W mattress and these include same-day pickup or next day dispatch. All you'll need to do is make an order, choose your local Big W store and you're all set.
Although pickup is free in most capital cities, the delivery services may feature an added cost – something that other boxed mattress brands don't charge, like Koala, Eva and Noa. Keep this extra fee in mind if you're looking to save as much as possible on your mattress, as a $59 or $99 delivery price might make the mattress far less attractive.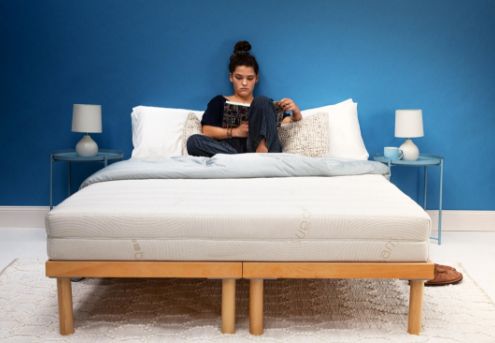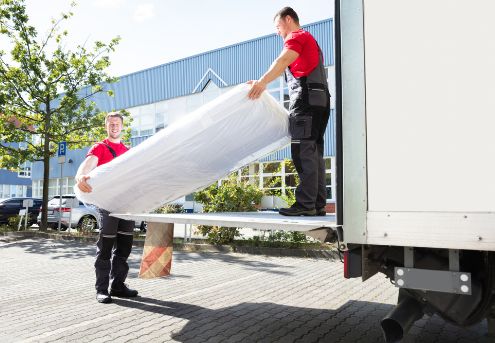 Warranty
Again, Big W makes no mention of a warranty in any of their advertising or website content. Aside from your protections as an Australian consumer, there's little that can be done about the mattress should there be issues down the line.
If you're still set on this affordable mattress though, a little TLC will go a long way in making sure you're not dealing with damage down the line. Keeping careful with the mattress when changing the sheets, and not jumping on the bed might be essential to keeping it in working order for years to come.
With those points out of the way, it's a little harder to recommend the Big W boxed mattress, though, again, the price point of just $199 or $99 comes in to keep value for money in mind. A good night's sleep for a whole lot less than a bed from Ikea or Forty Winks might just be a selling factor in its own right.
Suggested Features and Accessories
Unlike most of our other mattress reviews and analyses, we'd like to suggest a few small features and accessories to help you get the most out of your Big W mattress should you choose to invest in one for a good night's sleep.
So far, we're sure that the mattress isn't looking too great, though a small addition or two might make all the difference for you.
A Plush Topper
One of the first things we'd suggest investing in to pair with the Big W mattress is a great memory foam topper. Ideally, opt for something a little thicker than normal as you'll want to add as much sinkage and plushness to this firm mattress as possible.
We're happy to say that an 8.5 on the firmness scale makes the Big W bed ideal as a base for a great topper. You'll be able to sink well into your upper foam layers and be supported by the springs beneath. This is a great result for those with lower back pain, shoulder issues or even hip problems when you sleep.
We suggest choosing a topper between four and eight inches to get the best result. These aren't all too expensive, and starting with a mattress that cost just $199 for a Queen, you'll still be paying less overall than a mattress offering the same feel.
A Hypoallergenic Mattress Protector
For sleepers with allergies or sensitivities to potentially irritative substances, it's important to invest in a mattress protector designed to protect against these.
All hypoallergenic protectors are a good idea here, as are waterproof options. You'll be keeping the Big W bed resistant to things like dust mites, bacteria and more, and thus giving yourself the chance to wake up with a clear nose and wide-awake eyes.
Adding waterproofing to this protector is also a good idea for added protection and with the Big W mattress coming from Big W, of course, you can quickly add some of these accessories to your shopping cart.
An Electric Blanket
While we mentioned above that there's little to no heat retention in this mattress, which is great for hot climates, it might be an issue in colder ones.
To get a better experience here, we suggest getting your hands on a quality electric blanket to add a little more coziness to the Big W boxed bed, as winter times may feel just a little too chilly without good heat retention.
Again, with such a low starting price for the mattress, an electric blanket shouldn't add too much to the cost of the bed.
A Great Bed Frame or Base
As mentioned by Big W, it'll be worth your while to invest in a bed base that's going to provide support for the mattress as well as good ventilation. The more solid and supportive your bed base, the more supportive your mattress will be – and it will last a lot longer too.
Cheaper beds are more prone to dipping and falling over time, and a platform bed base is your best bet at keeping the Big W mattress from ageing faster than it already might be.
Lastly, a good bed base or frame might save you from being woken up too often at night should someone on the bed move. A good base without any flex will isolate movement on its own, and stop the mattress from 'rocking' when someone gets out of bed, which is great when it comes to getting quality sleep.
The Takeaway
At a price point that is one of the lowest on the market, the Big W mattress in a box should certainly be considered by those who get a good night's sleep on a firm mattress. There's a lot left to be desired here though, so make sure you weigh up your pros and cons.
You may have to spend a little extra cash to invest in some accessories to get the most out of this mattress, though these won't add too much expensive should you know where to look.
A big selling point of the Big W bed is in its ability to be used as an 'on and off' mattress for guests who aren't always at your home. You won't need to spend hundreds or even thousands on a quality queen bed if you invest in the Big W variant and some plush accessories like a pillow topper, electric blanket and some fantastic pillows.
In all, the Big W Mattress in a Box is a steal when it comes to price, though there are a few drawbacks that you'll have to consider. As an everyday mattress, the bed might become a little too uncomfortable to bear, though, for an infrequent guest or holiday home, you'll be all set without spending thousands.