On the lookout for an advanced smart bed? Their popularity is skyrocketing. More and more people are beginning to notice the huge differences an advanced smart bed can make to joint and muscle pain, as well as your sleep experience in general.
With this being said, countless people agree that the $2899 price tag for a queen model Sleep Number Bed is too much to stomach, and are only just starting to discover the incredible alternatives available.
This is what leads us to the most clear-cut mattress showdown of 2020.
We have created a definite review of what are the very best advanced smart beds available today. After doing the research, no other mattress came even close to our top picks.
Our list includes innovative mattress brands that have transformed the mattress industry. This includes mattresses from the likes of Air-Pedic, TEMPUR, Ecosa, Live & Sleep, Leggett & Platt, and Easy Rest.
Take a look below where we'll take an in-depth look at five of the most affordable, feature-packed alternates to the Sleep Number Bed.

Air-Pedic Mattress (Use code – Sleepify700 for $900 off)
For those a little too excited to investigate the five incredible mattresses Sleepify has reviewed below, then we'll let you know our top pick right here. We suggest the Air-Pedic as the best Sleep Number Bed alternative.
Based on our experience, this bed will transform your sleep experience entirely.
It has everything you'll want from a smart mattress, including separate low back adjustable support to prevent loss of support to the hips and lower spine, as well as advanced features such as their patented Airflow Transfer System to give you up to 100 times more breathability. This is in addition to a range of other innovations and tech that put the Air-Pedic far in front of the Sleep Number Bed.
Wondering how the Air-Pedic matches up against the competition? Specifically, we found that the Air-Pedic 800 bed offers a great alternative to the Sleep Number i8 bed. However, as such a well rounded product, it can also be compared to the i10, ILE, Memory Foam addition, and various other Sleep Number models. Possibly the most notable advantage, as you can see from the chart below, is that the Air-Pedic offers a 30-year warranty, in comparison to Sleep Number's 15-years. Finally, SelectaBed (who make the Air-Pedic) have been in business for 19 years.
Based on our experience with the Air-Pedic, they clearly know how to make a mattress that holds up. (Use code – Sleepify700 for $900 off the Air-Pedic 800 Bed).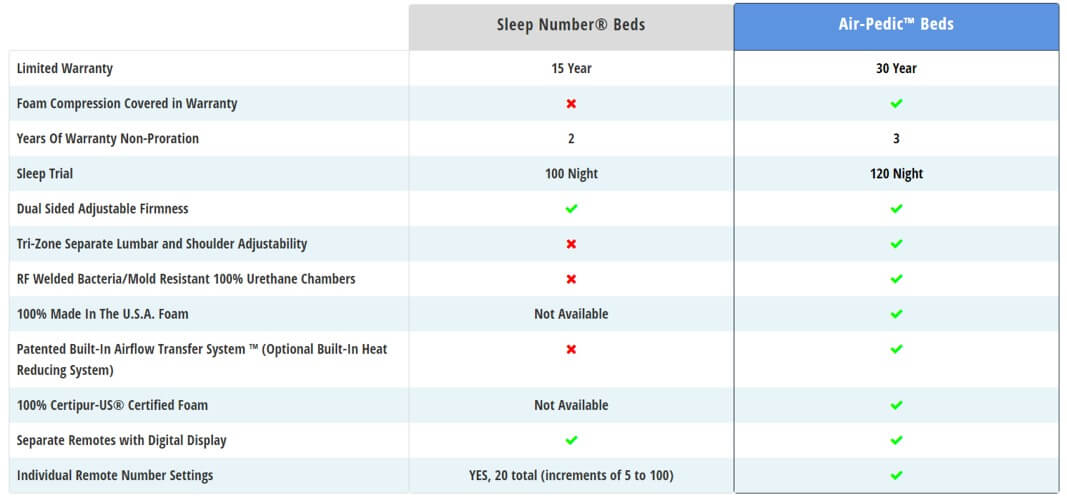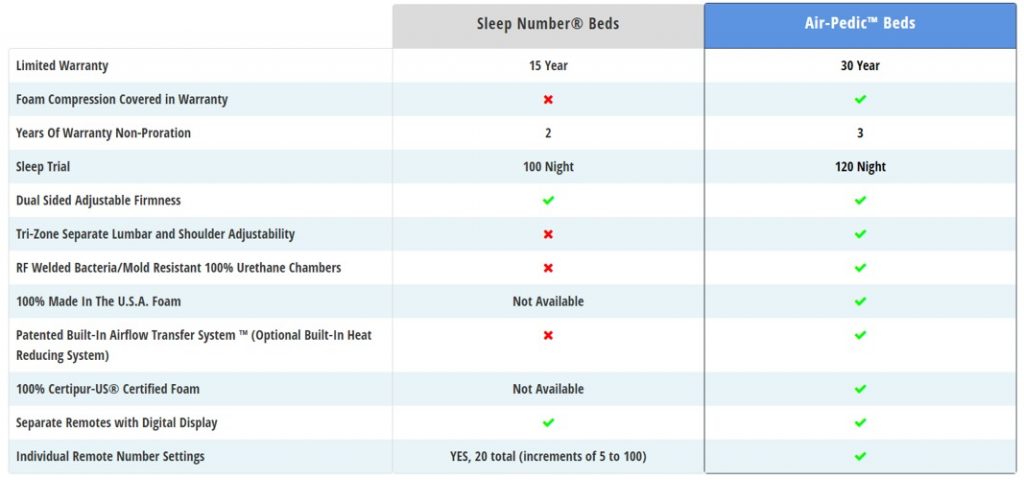 For those a little too excited to investigate the five incredible mattresses Sleepify has reviewed below, then we'll let you know our top pick right here. We suggest the Air-Pedic as the best Sleep Number Bed alternative.(Use code – Sleepify700 for $900 off the Air-Pedic 800 Bed)


It has everything you'll want from a smart mattress, including optimal support and advanced features – plus a range of innovations and tech that is even better than the Sleep Number Bed itself.
Choosing an Ideal Sleep Number Alternative
Our readers in search of a mattress similar to the Sleep Number variant should look at two significant points; comfort and customisability. One thing Sleep Number is known for is the company's hyper-responsive and comfortable air technology. As sleepers relax into the Sleep Number, the company's Responsive Air® technology intelligently ensures everyone on the bed is comfortable. The Sleep Number Mattress's dual air tech also ensures the sleep experience is sustained through the evening for all sleepers, including stomach sleepers and side sleepers.
On top of comfort, advanced features such as the company's SleepIQ® technology routinely tracks sleeper's movements and quality of sleep, so there's little left to the imagination when it comes to figuring out how well you've slept. Back sleepers will also love that SleepIQ ensures plenty of firmness that's akin to a firm innerspring mattress.
All of that said, it might seem like there's nothing that comes close to the Sleep Number Bed, and although in some cases that's true, there are a few brands that come quite close. We'll take a look at the best Sleep Number Bed alternatives below.
Our Top Sleep Number Bed Alternatives
The mattresses we take a look at right below are our three picks for the most similar to the Sleep Number variant. What this means is sleep features are near-identical, as is expected sleep quality, technology, and build quality.
For bullet points and our favourite features, see further in the article.
We'll start with the incredible Tempur-Pedic ProAdapt, thanks to its smart features and customisation controls. The mattress has loads of adaptive settings as well as firmness control and more.
The best part of the Tempur-Pedic ProAdapt is that it offers ideal pressure point support based on its outstanding material quality. You'll find one of the industry's softest top layers inside the Tempur-Pedic called the TEMPUR-ES® Comfort Layer, allowing you to sink well into the top of the mattress for ideal pressure support and that 'floating' feeling.
Below the comfort layer is the TEMPUR-APR™ Support Layer, which ensures you're not going to sink too deep or be left to deal with a sore lower back or any other joint pain.
To add to the feature set, there is movement isolation, which makes sure that no matter how often you move about, you won't be shaking your partner awake.

Personal Comfort A2 Bed
A runner-up for the best Sleep Number Bed alternative is the Personal Comfort A2 Bed which boasts an excellent price tag as well as similar intelligent air technology. You'll be more than comfortable on the Comfort A2, and with durable materials and optimal build style, you won't be seeing any damage or wear and tear anytime soon.
Inside the Personal Comfort A2 Bed, you'll find a brilliant standout sleep-assisting feature that's often found in mattresses more than twice the price, and that's the intelligent air pumps. With a smart air pump system, the mattress can quickly tell where sleepers are and determine whether more or less air needs to be added to an area within the bed.
For those who'd like a custom touch, the bed can also be controlled by sleepers, giving them the ability to adjust the air pumps to suit their own preferences. Similar to the Sleep Number C2 bed, you'll find adjustable air chambers within the Comfort A2, which make sure you're able to adapt the mattress firmness to however you'd like.
There's also a 120-night trial and a washable cover, so keeping the bed clean and ensuring you're comfortable before you buy is easy.
Leggett & Platt Prodigy 2.0 Adjustable Bed Set
Our second runner-up is the Leggett & Platt Prodigy 2.0 Adjustable Bed Set, which puts luxury and quality at the top of their feature set.
The mattress comes in clutch when comfort and customisation are concerned, and with a myriad of mattress adaptability features, you can move and adjust everything you'd like – even your head position. The adjustable base makes it easy to change the set up and angles of the mattress, perfect if adjustability is important to you or a partner. Also, if you're someone who likes to watch TV in bed or to read books before you go to sleep, this is the bed for you.
A second major perk is that the bed can lift and adapt into a custom shape, even if there's 850lbs of weight atop! Most similar mattresses and lifting mechanisms can only move and support up to 300lbs when it comes time to adjust, though at 850lbs you can be sure that you won't have any issue when it comes to changing the bed's shape.
The bed is a gel memory foam mattress variant, which makes it a little different to the two alternatives above. However, the memory foam is designed in a way that is ideal for comfort and support, as you'd expect from Leggett & Platt. We'd also like to point out that the memory foam is odour-free and fresh-smelling, so the common chemical smelling memory foam isn't a worry here.
To cap off the Prodigy 2.0 Adjustable Bed; you'll find a full-body vibration mode for back pain, under-bed lighting as well as an alarm feature. All of these features are controlled by a remote, so staying in bed and making a few settings adjustments is a can-do on the Prodigy 2.0 Adjustable Bed.
Understanding the Sleep Number Bed and Smart Mattresses
To keep things simple, we'll go over the features and solutions that the most basic Sleep Number bed offers sleepers, and this model is the C2 Bed Set. It's the most affordable variant, which means that if you're looking to buy into the Sleep Number brand on the cheap, this will be your only option.
You'll notice that the most significant differences between all of the Sleep Number beds are their mattress thickness and foam covering. All of the mattresses offer comparable sleep quality and comfort, with major differences merely coming from the air pumps and foam padding surrounding them.
For those wanting some insight into the intelligent and adaptable air pumps, we can outline that the process works quite simply:
The bed is connected to an air pump, which works to inflate or deflate each of the air chambers within the mattress. You'll use the provided remote to adjust the Sleep Number Bed's air chambers to suit your personal comfort preferences, or you're able to leave it to the Sleep Number Bed's Responsive Air® technology which adjusts automatically as you sleep.
Air Bed Deflation and Overnight Changes
One big question our readers have is whether air mattresses deflate or 'flatten' throughout the night. We're able to say that yes, it will slowly deflate and change overnight without you doing anything, which is simply a result of mattresses not being completely airtight and your sleep position.
Over 24 hours of use you'll notice changes, though air temperature can cause deflation too; however, it won't be too noticeable. Colder nights and mornings will cause the air inside your mattress to 'condense' or decrease in size, which will deflate even a new bed, though when the day begins to heat back up, the air will expand and so too will your mattress.
Looking After Inflatable Beds
For both the Sleep Number Bed and other beds on our list, you'll have some rather different maintenance tasks to undertake, especially when compared to traditional innerspring and memory foam variants – though most maintenance steps are required on all beds.
The first thing to remember is that if you're sleeping on an air bed or inflatable mattress in one position for an extended period of time, it will begin to dip and change shape. It's important to rotate your inflatable bed around every six months or so, in order to best keep its form.
Another critical step is to keep a close eye on wires or cabling. In some cases, you might find that cabling is finding its way into the steel mechanisms where it could be severed or spark.
For electric inflatable mattresses, it's not a good idea to connect via an extension cord. We suggest keeping the bed as close to your main power outlet as possible and using it as your primary power source.
As we were told as kids, there's no jumping on the bed, which holds true for inflatable beds. These inflatable models are a little more sensitive when it comes to impact, so keeping jumping to a minimum is essential.
Keep all food and drinks off the bed too. Unlike waterproof memory foam and custom foam options, water and food can severely damage electrical components and also ruin air pressure sensors, leaving your mattress permanently damaged.
Flipping Inflatable Memory Foam Mattresses
Although in some cases flipping your mattress is recommended to keep its shape, we don't suggest you flip the mattress unless its specific instructions tell you to do so. A good majority of memory foam mattresses and inflatable mattresses have layers of foam and inner springs that have to be kept in a specific layout from top to bottom for them to offer optimal comfort.
If you flip these mattresses, you'll be sleeping directly on support foam or inflatable pumps, making it impossible to sleep comfortably.
Using a Sleep Tracker With a Pet
For those who like to sleep with their furry friends in the bed, you should know that a few companies do offer sleep tracking technology that intelligently differentiates from humans and pets. If you pair the Leggett & Platt Prodigy 2.0 Adjustable Bed Set with the famous Eight Sleep Saturn+ Smart Mattress, you'll have the technology to have accurate sleep data.
It's good to know that if your dog or cat sleeps at the foot of the bed and doesn't move too much, they'll be fine on all mattresses. No model will pick up tiny bumps from pets, keeping your sleep tracking data accurate.
Our Top Pick Smart Beds to Compete with Sleep Number
For an insight into our top choice smart beds that compare to the Sleep Number Bed in features, comfort, and price, take a look below.
Tempur-Pedic TEMPUR ProAdapt Mattress
With its outstanding deep-rejuvenation technology and adaptable support, the ProAdapt is here to offer the most well-rounded feature set of almost any mattress on the market. The bed is easy to keep clean and has several features that even beat Sleep Number at its own game.
CertiPUR-US Approved Foam
Hypoallergenic Foam
Motion Isolation Technology
Tempur-APR for Pressure Relief
A Tempur Comfort Layer
Removable and Washable SmartClimate Dual Covers
For those looking for the closest feel and feature set to a Sleep Number Bed, there's no doubt you'll be happy with Tempur-Pedic's ProAdapt mode.
Personal Comfort A2 Bed
For the most innovative mattress that is almost completely made of air chambers and a cover, the Personal Comfort A2 Bed is here for you. A 2-inch comforter atop the 6-inch air chambers is going to offer the most incredible comfort and competes directly with Sleep Number.
Breathable Damask Quilt Cover for Airflow
Outstanding Motion Isolation
Hyper-adjustable Air Pressure
Dual-zone Adjustable Chambers
25-year Warranty
12-night Risk-free Trial
As an incredibly affordable, feature-packed mattress, the Personal Comfort A2 Bed is the closest Sleep Number Bed alternative when pricing is a primary factor.
Leggett & Platt Prodigy 2.0 Adjustable Bed Set
One of the most well-known brands on our list is Leggett and Platt, and with the Prodigy 2.0 Adjustable Bed Set, you're also getting a famously comfortable experience. Convenience and features take the top spot here.
Programmable Remotes
Smartphone Support
High-quality Materials Conform to Sleepers
Under-bed Lighting
Built-in Alarm Clock
Adaptable Mattress Position
Up to 850lb Movement Capacity
Massager Features
For the most feature-packed smart bed on our list, the Leggett and Platt is your top choice and is certainly capable of beating out the Sleep Number Bed.
Eight Sleep Saturn + Smart Mattress
To one of the industry's more effortless and forward thinking mattresses now, the Eight Sleep Saturn + Smart Mattress is effortless to use and also highly customisable. Pair that with near-unmatched comfort, and you have a smart bed winner.
Comprehensive Motion Isolation
Supportive Materials Prevent Over Sinking
Smartphone Support for Sleep Tracking
Breathable Covers and Optimal Airflow
Six-inch Support Foam
Two-inch Transition Foam and Two-inch Responsive Foam
With incredible features, motion isolation, and multiple foam layers to improve comfort, it's no secret that Eight Sleep Saturn's bed is another winner when compared to the Sleep Number Bed.
Easy Rest Gel Lux Gel Memory Foam Mattress
To one of the most affordable beds on our list now, the Easy Rest Gel Lux is here to save the day for those who want an ideal sinking feeling paired with affordability. What this mattress lacks in smart tech, it more than makes up for in comfort.
Anti-microbial and Anti-bacterial Cover
A Well-rounded 4-layer Foam and Gel
Ventilation Holes Throughout for Airflow
Knitted Fabric Cover
This is the ideal bed for those on a budget and who'd love a memory foam mattress with innovative materials.
Customer Reviews of Each Mattress Model
For our readers who'd like some insight into how others found our top recommendations for Sleep Number Bed alternatives, we have summarised their reviews and statements for you below.

Air-Pedic Mattress

It has everything you'll want from a smart mattress, including separate low back adjustable support to prevent loss of support to the hips and lower spine, as well as other advanced features such as their patented Airflow Transfer System to give you up to 100 times more breathability.
Best Higher Price Alternative
Although Sleepify stands by the Live & Sleep as being the most ideal alternative to the Sleep Number Bed, users did outline that the edge support on the mattress was a little too soft. The temperature of the mattresses core was also an issue for sleepers who did find it a bit too warm.
Personal Comfort A2 Bed
From all summarised reviews, the Personal Comfort A2 Bed is looking to be the overall winner, with a significant majority of users outlining that the comfort of the mattress, features and excellent price make it the most ideal on our list. One negative point was made about durability, however, with users worried about longevity.
Leggett & Platt Prodigy 2.0 Adjustable Bed Set
The most common reaction from this mattress and bed frame combo was mostly from shock value. The feature set and incredible movement technology make the bed a fan favourite, though the high cost was a negative point for most users. For the remote, sensitivity was the most common complaint.
Eight Sleep Saturn+ Smart Mattress
To most sleepers, the Eight Sleep Saturn was simply just like any other mattress – if they didn't care about the sleep tracking capabilities. Without taking these abilities into account, the bed is just like 'every other mattress.'
Easy Rest Gel Lux Gel Memory Foam Mattress
As a fan favourite, the Easy Rest turned heads for the excellent price and outstanding comfort offered by the multi-layer memory foam. Sleepers did, however, say that the mattress was far too warm in hotter climates, so keeping this mattress for colder locations is recommended.
The Best Alternative
As we mentioned at the start of our post, the Tempur-Pedic ProAdapt is your best option for an alternative to the Sleep Number Bed. It offers materials that clearly rival the Sleep Number Bed and also provide sleepers with a range of matching features with a lower price tag for some variants of the mattress, though most variants are similarly priced.
You'll find that the 12-inch mattress is certainly thick enough to ensure support and comfort, and with its support layer, comfort layer and removable cover, keeping the mattress clean and having a fantastic night's sleep for years to come is going to be a breeze, regardless of how you like to sleep, or the climate you live in. The foam comfort layer also works alongside the pillow top and support layer, ensuring that both cloud-like comfort and spring-like support work in harmony to improve your night's sleep.
If you're on the lookout for a mattress that's comfortable, durable and adaptable to your sleeping habits, even if you sleep on the side of the bed, then the queen-size ProAdapt is here for you. It's also available in twin, double, king sizes, split king, and California king.

Other Common FAQ Questions –

What are the Best Sleep Number Bed Alternative Options?
Some other options such as Air-Pedic mattress and the Personal Comfort A2 Bed make good alternatives.
How long do Sleep Number beds really last?
They tend to last 6-8 years on average according to owners.
The Takeaway
With all things considered, there are plenty of fantastic alternatives that come wildly close to the Sleep Number Bed, at least with regards to comfort, sleep tracking, and features. You don't need to spend upwards of $2,000 to $3,000 for an air pump-assisted smart mattress when similar options, such as the Air-Pedic, Eight Sleep Saturn Smart Bed are just as good – and in some categories, a whole lot better than Sleep Number Bed's offering.
All of the beds we've outlined and reviewed above are ideal for all sleeping positions and have adaptable sleeping tech inside or innovative passive materials that adapt based on how you sleep on them. The mattress covers on the mattresses above are also ideal for those who live in warmer climates, as they're perforated and breathable.