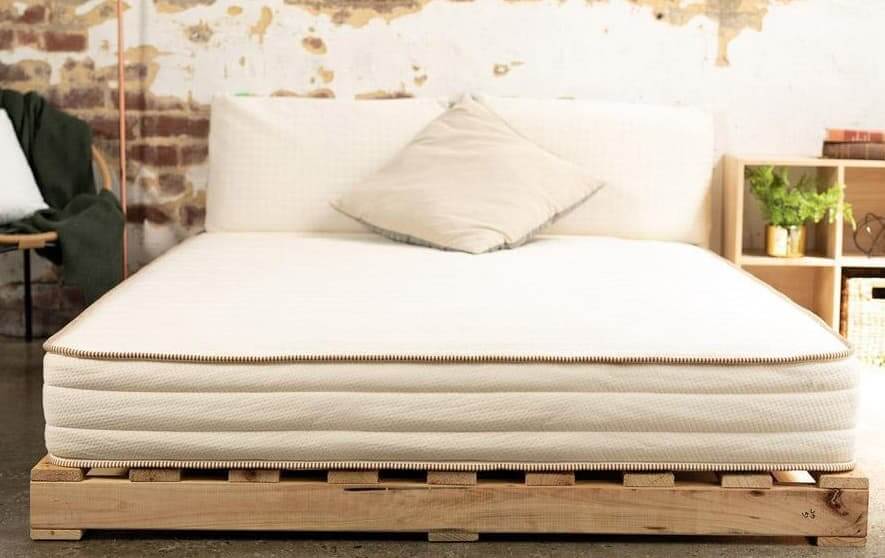 Whether you fall asleep sprawled across the bed on your stomach or curled up into a ball, your sleeping position can have serious effects the overall quality of your sleep. You might not know it, but whatever position you favour can influence whether you snore, suffer from heartburn, and even how many wrinkles you develop. A healthy and long life begins and ends with a good night's sleep, so it's important that you make sure you get a mattress that works for you.
The Pros and Cons of Sleeping on your Side
Sleeping on your side is the most common sleeping positions in Australia, but it can be hard on the body. Your weight is distributed over your torso, shoulders, and hips, and sleepers often wake up with a stiff neck, sore back, or even a numb arm. The heavy pressure on shoulders also can cause problems.
But there are also health benefits associated with side sleeping. Thanks to the human body's anatomy and position of your internal organs, sleeping on your left side can alleviate heartburn, improve your digestion, improve your circulation, and plenty of other great things. But for side sleepers to reap all these benefits, it's essential that you use the right mattress. You need proper support along your shoulders, hips, and torso for a good night's sleep.
In general, side sleepers will want to opt for a medium to firm mattress, which provides the proper support for all the right joints. You want your shoulders and hips to sink just a little bit into the mattress, while your spine remains aligned. Any of the following mattresses are fantastic options for side sleepers in Australia – read on to discover why, and how much you can expect to pay.
The Best Mattresses in Australia for Side Sleepers
Without further ado, here are the best mattresses in Australia for side sleepers – perfect for a little light reading before bed.
Koala Mattress (Recommended)
Peace Lily Mattress (Recommended)
Sleep Republic Mattress (Recommended)
Silent Night London Mattress
Macoda Mattress
Sherman Mattress
Sleeping Duck Mattress
Sommuto Mattress
Koala Pricing:
Single – $750 ($600 with discount here)
King Single – $850 ($700 with discount here)

Double – $950 ($800 with the discount here)
Queen – $1,050 ($900 with the discount here)
King – $1,250 ($1,100 with the discount here)
The Koala Mattress is the first on this list that strays away from a hybrid model that uses a combination of foams and springs. Instead, the Koala is all foam. The company has developed two completely unique layers of foam that combine to create a perfectly balanced mattress. Sitting at about a 6.5 out of 10 on the standard firmness scale, it's also another good option for those who are looking for something that is on the firmer side.
The in-house designed and 100% unique open-cell layer of foam makes things airy and breathable, moderating your body temperature and maintaining the ultimate in comfort. It's a springy layer that works alongside a high-density eco-foam below, which provides the support that side sleepers need. When you buy this mattress, you're also entitled to 120 days of commitment-free testing. That means if the mattress isn't quite right for you, Koala will pick it up, file your feedback, and return your money. They're also certified for their eco-friendly practices and commitment to the environment. For those side sleepers who like the idea of buying a high quality, eco-friendly, and 100% locally made mattress, the Koala Mattress is for you.
Special Offer 2021: $100 off Koala Mattress with email sign up click here now
Queen – $1,249 | King – $1,399
In the same ballpark as the above-mentioned Koala, the Peacelily Mattress is another good choice for side sleepers looking for an environmentally friendly product that provides outstanding comfort. The Peacelily however comes with a bit more customisation. Buyers can opt for either the firm version (about a 7 out of 10) or the medium version (a 6 out of 10). Those dreamers who are after something a bit softer are also taken care of, but you'll have to fork out a bit extra for the 'Peacelily Mattress Topper' ($439). In general, side sleepers will want to stick with the medium version, which provides a nice balance of support and give.
It's also a bit more expensive than the Koala, but that's because the Peacelily mattress uses 100% latex in its creation. Latex is made up of an open-cell structure which helps air flow, perfect for the hot Australian weather. It's also considered as better quality than memory foam, which a lot of mattresses opt for. The feel of the Peacelily remains balanced and isn't as bouncy as some other latex mattresses tend to be. All purchases come with a 25-year limited warranty. For those looking for transparent communication from a mattress company and a lovingly handmade product, the Peacelily Mattress is the right choice for you.
Queen – $1,199 | King – $1,399
The Sleep Republic hybrid mattress combines a pocket spring system with comfort foams to achieve a well-balanced mattress that is neither too soft nor too firm. Side sleepers will love the cushioning foam layers and supportive springs, which help relieve pressure along your torso, hips, and shoulders. The dreamlike top is made up of two layers, one a gel-infused memory foam, the other 100% latex. The latex layer acts as a comfortable transition layer from the softness of the memory foam into the support of the spring system beneath.
These independent springs also ensure that you don't have to worry about waking your partner up in the middle of the night as you move around. Each spring will react on its own as your body changes position while not disturbing the other springs in the mattress, ensuring minimal movement. They're also wrapped in foam so that there's no creaking when you sit down at the edge of the bed. As far as these hybrid mattresses go, the Sleep Republic Mattress is right on the average price. However, the company offers a 12-year warranty on their mattress, which is 2 years longer than most others – something to keep in mind if you're after more peace of mind when it comes to sleeping well.
Silent Night London Mattress
Queen – $1,739 | King – $2,039
One of the most popular mattresses for side sleepers in Australia is the Silent Night London Mattress. The top layer is perfectly soft, treating your joints gently – an essential factor when it comes to choosing a mattress as a side sleeper. It's also breathable and allows plenty of air flow, which helps to maintain your body temperature throughout the whole night. Below is another layer made up of several premium foams, which helps maintain a healthy posture for your spine and will ensure a superb night's sleep.
The Silent Night London mattress is one of the softer options on this list, so if you're a side sleeper but after something on the gentler side, this is a good choice. And even though it's soft (about a 3.5 out of 10), it doesn't sag at all. That's thanks to a mattress pocket spring system, which supports everything from below. For those after something with more support, there is also a medium and firm version of the mattress available, ensuring a good night's rest no matter your preference. It's 100% Australian-made, and comes with a 10-year warranty. However, it's also the most expensive mattress on this list, priced well above the average. It's also the best mattress for side sleepers in Australia.
Macoda Mattress
Queen – $1,100 | King – $1,200
Winner of Australia's 'Best Comfort' Mattress in a Box for 2020, the Macoda is the ideal choice for those who are looking for something a bit softer that still provides incredible support for the joints. Customers can choose between a medium feel (about a 5 out of 10) or a medium-to-firm feel (about a 6.5) simply by flipping over the top layer of the mattress – an innovative and useful design feature. The default configuration (medium) comes with a breathable bamboo fabric on top supported by a memory foam below. Flipping it over to have the memory foam on top will make things a bit firmer without sacrificing a good night's sleep. All in all, it's an airy top layer that's incredibly comfy and keeps things cool on those hot summer nights in Australia.
Down below is where the support for side sleepers really comes in. Using a 5-zone spring system, the mattress remains very sturdy all night long and provides excellent support along your spine. Each spring works individually to provide the right amount of support for the different pressure points along your body. Side sleepers will wake up feeling refreshed, limber, and ready to go about their day. As far as prices go, this hybrid spring and foam mattress sits around the average. A Queen mattress will cost $1,100, and a King $1,200. All purchases come with the standard 10-year warranty.
Sherman Mattress
Queen – $1,299 | King – $1,399
The Sherman Mattress 'Just Perfect' version is the ideal option for those looking for an all-rounder mattress at an affordable price. The soft and lavish top cover makes this mattress feel luxurious, made from a polyester and cotton blend. Below that is a layer of memory foam and premium foam, both moulding to the contours of your body while working to keep plenty of air moving through. At a 6 out of 10, it's also a good option for those sleepers who like a medium to firm mattress.
Like the previous two mattresses on this list, the Sherman Mattress is a hybrid with its top layers supported by a system of springs below – you're probably beginning to see a pattern when it comes to good mattresses for side sleepers. The spring system essentially stops the mattress from sagging and minimises disturbance as you or your partner move around while you're getting some shut-eye.
Sleeping Duck Mattress
Queen – $1,249 | King – $1,399
Another of the best mattresses in Australia for side sleepers is the Sleeping Duck mattress. This is probably the mattress with the most customization on this list, which is just one of the reasons why it's so popular in Australia for side sleepers. Sleeping Duck lets you choose between different levels of firmness on each side of the bed when you order, and you continue to request further alterations to the firmness level until it's just right for you. It's an innovative option for those couples who sleep in different positions, ensuring everyone in the bedroom can enjoy the support they need during the deep stages of sleep.
The first layer of the Sleeping Duck mattress is their hyper-adaptive foam, which adjusts to the contours of your body. There's also another layer of 'high-density foam, which is the customizable layer. All of it sits over a pocket spring system, adding further support to keep your spine healthy and minimise any disruption as you move about during the night. On top is a bamboo cover, adding maximum breathability and a luxuriously soft finish. For most side sleepers, choosing the medium or firm option usually brings the best level of comfort.
Sommuto Mattress
Queen – $949 | King – $1,049
Side sleepers in Australia will fall in love with a Sommuto Mattress after the first night in bed. With a combination of various high-quality fabrics and foams, it achieves dreamy comfort for an affordable price. This is an all-foam mattress, with three distinct layers. On top is a gel-infused memory foam, which relieves pressure on all the key areas for side sleepers while also moderating your body's temperature to keep things nice and breathable. Below is a layer of premium comfort foam, contouring to your body and allowing for plenty of movement while your snoozing. Rounding out the layers is a high-density base, which is where most of the support comes from.
As far as foam mattresses go, this is an exceptional choice for side sleepers. The mattress comes in all 5 sizes of Aussie bed frames, so whether you need a single or a king-size, you'll be able to enjoy an incredible night's sleep for a quality price.