Special Offer After Pay Sale up to 30% off Koala Mattress with email sign up click here now
If you've spent any time shopping for some of the top Australian mattresses, there's a good chance you've come across the Koala Mattress or the range of accessories that Koala has on offer.
The company boasts one of the most impressive mattresses available today with an ideal firmness of 6.1 out of 10 on the firmness scale and coming in all common mattress size and a great price point, it's no surprise that the Aussie made mattress is winning awards. You'll even notice the mattress has its own proprietary interior design that ensures optimal comfort, support and airflow that keeps you cool in summer and warm through the winter. Koala even sells their own bed bases with cutouts for smartphone holders!
We've tested the eco-friendly Koala Mattress and have a comprehensive review for you to take a look at below.
What We'll Be Looking At
In this review, we'll take a look at how the Koala Mattress can make your night's sleep a whole lot better. We'll go over the mattress's firmness, comfort, partner disturbance suppression, temperature and much more.
Initial Comfort and Feel
The Mattress Materials
Mattress Weight and Density
Mattress Pricing
Ideal Sleeper Positions
With all of the points, we look at, you'll be able to far more easily determine whether the Koala Mattress is for you, or whether you should take a look at another quality mattress or innerspring version this year.
Initial Comfort and Feel
One of the first things you'll notice when lying on the Koala Mattress for the first time is its incredible feel and balance between being firm and overwhelmingly soft. The mattress boasts a custom-designed comfort layer atop the Kloudcell foam, making the mattress breathable, soft and springy although there are no inner-springs inside.
If we delve into the metrics, the firmness scale on which the Koala Mattress sits is a 6.1 out of 10 based on user testing, with the 10 being the most firm. What this means is that the Koala is going to offer a medium-firm feel which is ideal for most sleeping positions, though if you like your mattresses a little softer, the comfort layer will provide that lush sinking feeling that sleepers love so much, which will also alleviate back pain.
The Koala company representatives have stated that some customers do return the mattress after their 120-night trial because of it feeling a little too firm, and others return because of it being too soft. With this in mind, you should consider your own preferences and think over whether you'd like to have a firm mattress or a soft one. Using Google's shopping and comparison information will help you out here. Keep in mind that if the mattress is returned, the mattresses go through quality control proceedings, are thoroughly cleaned, then donated to one of Koala's 30 charity partners to help people in need.
Sleeper Feel
Overall the mattress's firmness is ideal for all sleeping positions. A significant majority of back, side and front sleepers say that the Koala Mattress is perfect for their own individual sleeping positions.
A small few side sleepers did report that the mattress was a little too firm for them to remain comfortable and to get a good night's sleep, and unfortunately, this can't be adjusted when ordering.
Edge Support
We understand a number of our readers like to sleep close to the edge of their mattress and thus edge feel and support and important. We're happy to report that the Koala Mattress holds strong on the edges – only after you've laid down for a few moments. There's an initial sinking feeling that can be quite disorienting, though after a minute or two, the mattress evenly flattens beneath sleepers and the edge support strengthens.
Movement Suppression
As a major feature of all modern mattresses, the Koala Mattress also boasts movement isolation features, which certainly work well. The custom-designed Kloudcell foam absorbs just about all movement on each side of the mattress and keeps partners from disturbing one another. You'll be happy to know that you're free to move or toss and turn throughout the night without an inkling of disturbance for your partner thanks to Koala's trademarked Zero Partner Disturbance Technology.
The Mattress Materials
Where the Koala Bed truly shines is in its choice of materials. The company worked to develop their own entirely new mattress foam from a poly blend of materials that they've aptly named Kloudcell as it's so soft, but also medium-firm at the same time. The upper layer of the mattress is the famous Kloudcell foam, while the lower support foam is Eco foam offering optimal back support.
The Kloudcell Top Layer
Essentially, the Koala Mattress's upper Kloudcell foam is a material that acts like latex and memory foam, though it's actually an entirely new material. A few of the biggest perks you'll notice from the Kloudcell technology within the mattress are that it's breathable whilst also feeling firm and solid, and springy-but-absorbent of motion, unlike spring mattresses.
An open-cell foam layer also helps to make the mattress cool in summer and warm in winter, ideal for improving comfort in warmer cities like Brisbane and cooler ones like Melbourne.
The Two-layer Design
Koala's mattress uses only two layers as the company believes that a comfortable mattress requires just two things: comfort and support. The bottom layer of Eco foam works as this essential support layer, and the upper layer of Kloudcell foam is the high-quality Australian-made foam that offers the cloud-like sensation not found on other mattresses. This innovation allowed the company to remove everything from springs, memory foam, and latex to leave customers with a mattress that is still springy, breathable, body-conforming, supportive, and affordable.
The Cover
On the outside of the mattress, there is the soft and durable anti-microbial cover that encompasses the mattress with is a eucalyptus Tencel, also found in the Koala bedding product line. A perk of the cover is that it's sustainably produced, made in Australia and also capable of keeping the inside of the Koala Mattress free of bacteria and dust mites, reducing the chance of coughing, sneezing and runny noses in the morning or when the mattress is old.
The cover can be effortlessly removed, washed, and placed back on the mattress, making the at-home cleaning process entirely seamless.
Mattress Weight and Density
For those concerned about the weight and portability of the mattress, the Koala Mattress's queen-sized variant weighs 24 kilograms, making it on par with just about all other mattresses that are available in memory foam.
As expected, at 24 kilograms the mattress is lighter than a number of other hybrid mattresses and also quite easy to move with one person or to lift up and down from your bed frame when making the bed.
Unpacking
One aspect of the mattress that will come as surprise to anyone who's not had the chance to order a mattress online, will be that the Koala Mattress comes compressed and rolled up in its box. Because of this, once opened, the mattress begins to expand and take its more-difficult-to-move state, so we suggest moving the mattress into its bedroom before taking it out of the box.
Once you take the mattress out of its box, it will be completely expanded and ready to be placed on your bed frame within a few minutes. Keep in mind that the mattress will grow to be around 23 cm thick, so make sure it's not resting below anything where it could get stuck, such as a low-resting bed frame.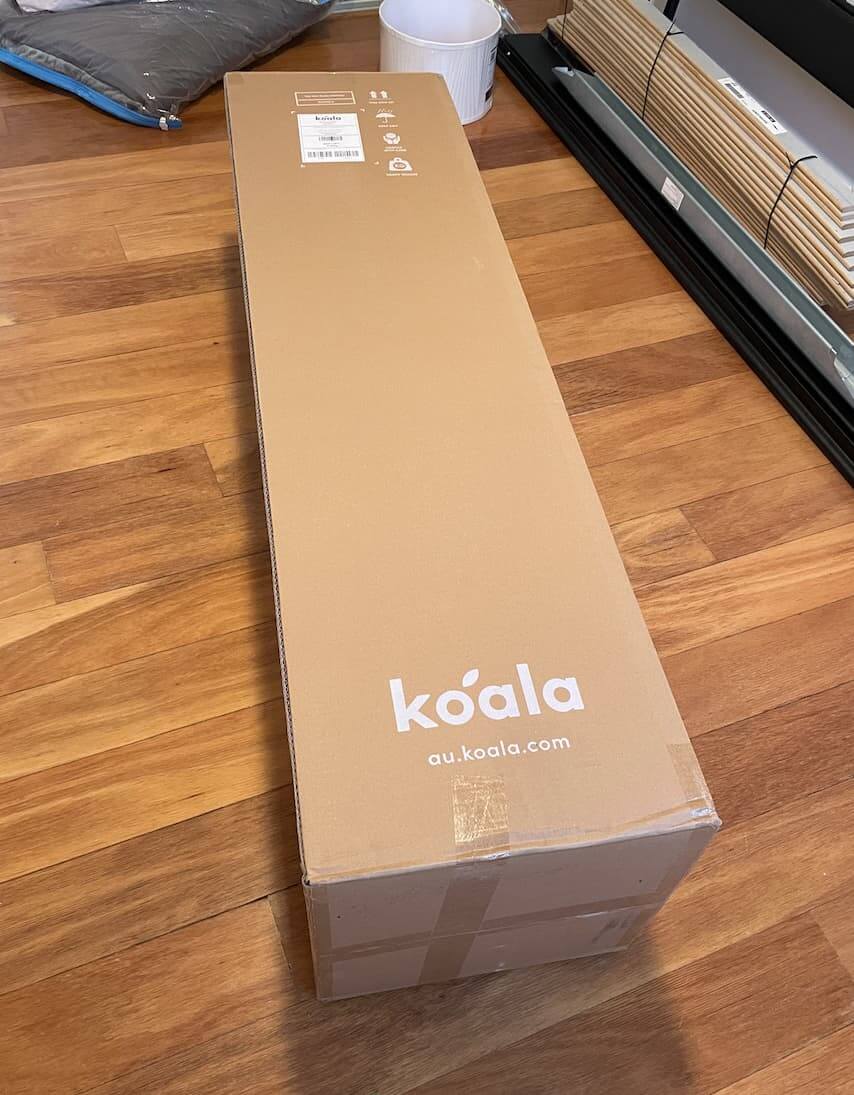 Assessing the Mattress
After you've completely unboxed the mattress we suggest taking an in-depth look at the mattress to make sure there's no dents, dips or holes in the surface or any of the sides. It's always best to catch these issues as early as possible so you're able to reach out to support for a full refund or a replacement. You can also make use of your trial period here, and return the mattress if it's lumpy.
The mattress does also come with a 10-year warranty so you'll be able to report any issues within the first decade of use.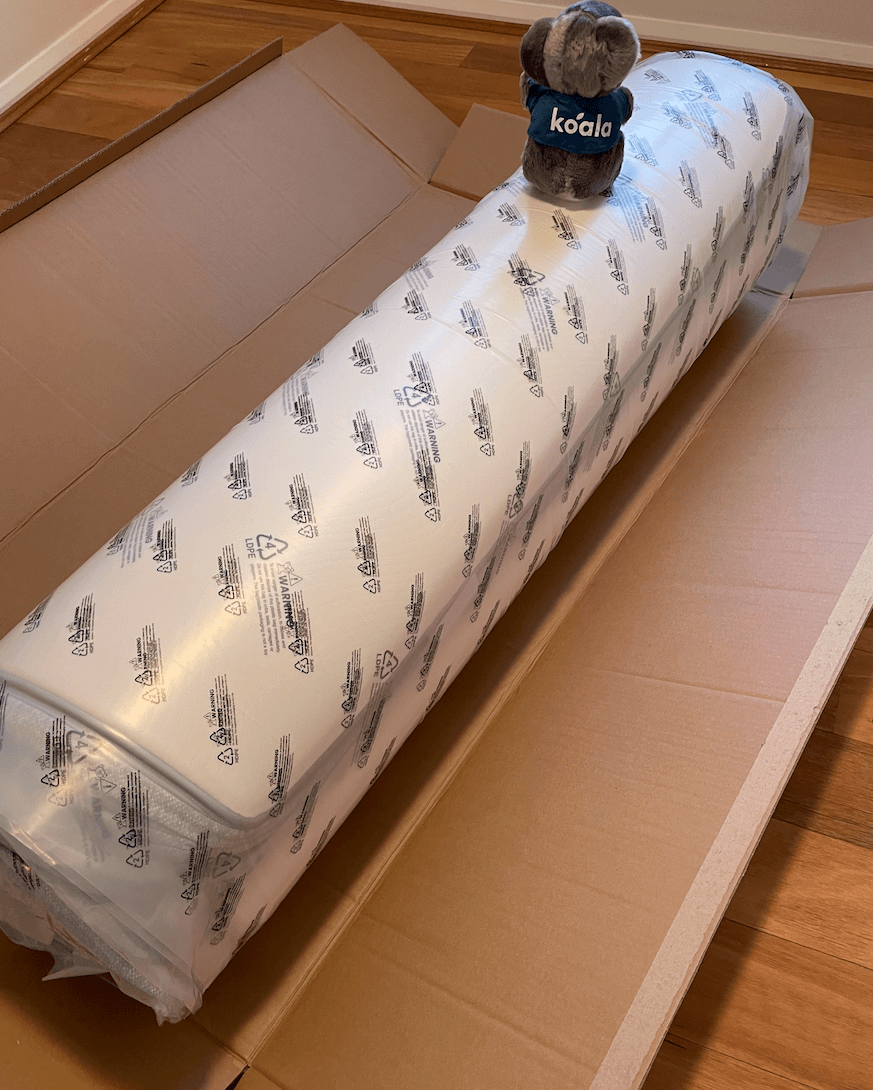 Koala Mattress Pricing
When compared to other high-end and custom-designed mattresses, the Koala Mattress offers incredible value for money. Typically quality mattresses with open-cell structure memory foam, movement isolation and a range of other features sell for upward of $2,000 in Australia, though the Koala starts at just $650 for a single mattress variant.
Shipping with Koala is limited to Australia, however, delivery is free (Regional Area delivery is no longer free) and the mattress will be delivered compressed in an easy-to-lift box that will make getting the mattress through the door and into your bedroom no hassle at all. Being in a box also means that the mattress can be stored in the home for up to two weeks before your old mattress is removed. There is also free 4-hour shipping available if customers place their Koala orders before 2 pm, though be sure to check that your suburb is supported by checking the Koala suburb checker. A premium shipping option is also available which includes moving the mattress into a room of your choice, setting up of the mattress and discarding the packaging.
You'll also find that all products are covered by a 120 night trial with no extra cost. You'll be able to take advantage of the metro area 4-hour delivery to boot, making your money go even further.
Current pricing, with all trial and delivery perks is as follows:
The New Koala Mattress:


Single Mattress – $750
King Single Mattress – $880
Double Mattress – $1,000
Queen Mattress – $1,050
King Mattress – $1,250
The New Koala Calm As Mattress: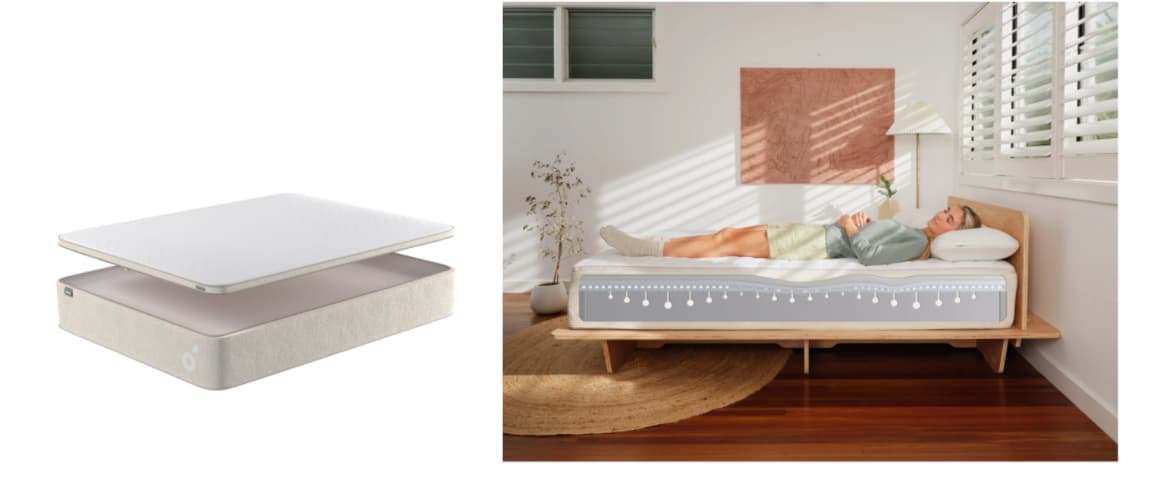 Single – $980
King Single – $1,080
Double – $1,350
Queen – $1,650
King – $1,950
The New Soul Mate Mattress: 

Double – $2,350
Queen – $2,700
King – $2,950
There are often codes available to be used at checkout to save a few dollars off your Koala Mattress.
For those who are concerned or interested in return and refund policies, the Koala experience remains seamless.
Sleeper Positions on the Koala Mattress
As we all know, mattresses are designed for all different kinds of sleepers, and the materials found within them work far better for some than others.
Generally speaking, a memory foam mattress with a firmness scale of six, like the Koala, should be ideal for back and front sleepers. However, with Koala's incredible top layer of comfort padding, the mattress works ideally for just about every sleeper.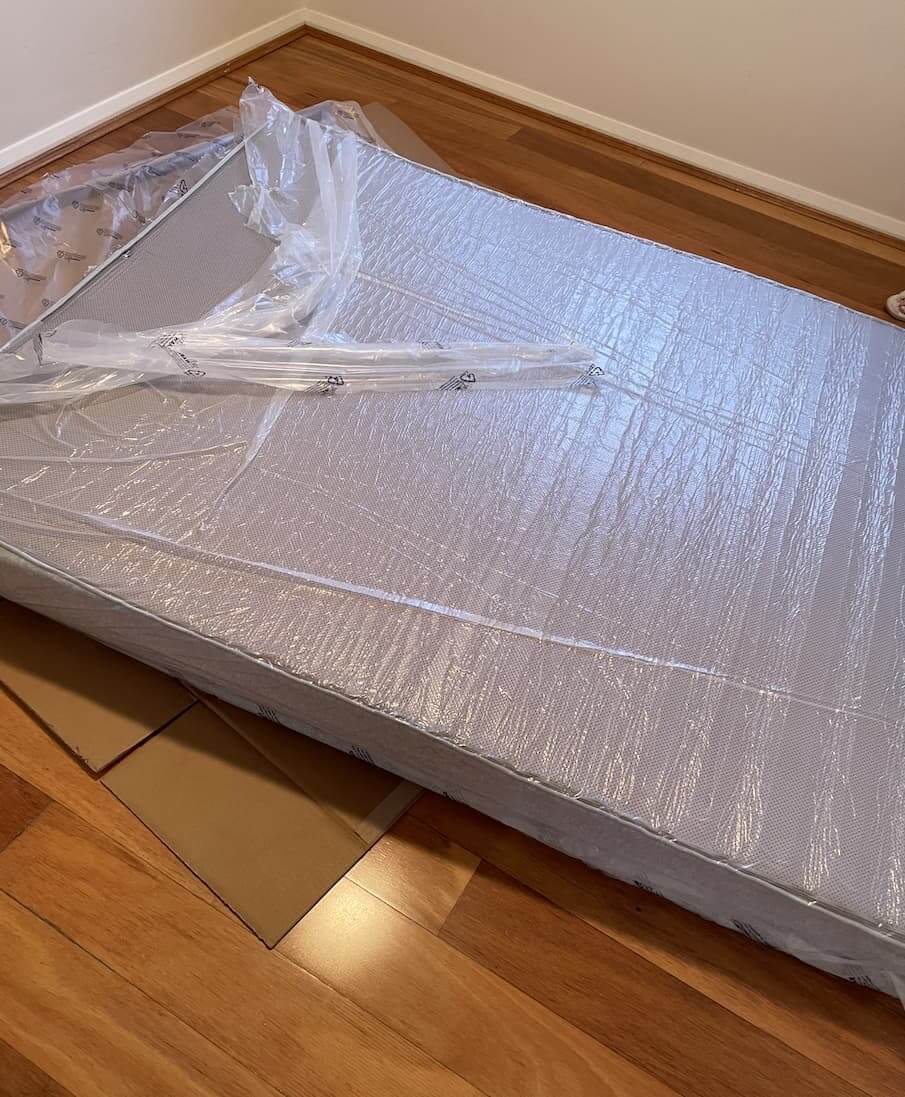 Back Sleepers
The group who will love the Koala Bed the most is certainly going to be the back sleepers and sleepers with a bad back.
The upper softness and the lower firmness of the mattress provide that essential joint weightlessness needed to relax, though the inner eco foam enables ideal spinal support, lowering the hips and shoulders whilst supporting the arms, legs, and head.
Back sleeper reviewers did point out that pain reduced after sleeping on the Koala, making the case for the Koala when it comes to anyone waking up with sore joints in the morning.
You'll also notice when sleeping on the proprietary foam mattress that the breathability is optimal to keep air flowing from the sides of the mattress up through to the center – and vice versa. As a result, you're kept cool and your back won't be sweaty and you'll be kept comfortable in the warmer months.
Side Sleepers
From looking at a majority of the reviews coming in from side sleepers, the Koala can be a little too firm.
We've taken a look into this and found that, although it's an extremely minor issue, there may be side sleeping positions where it's difficult to get comfortable on the side. The mattress's six on the firmness scale can reduce hip, shoulder, and elbow sinkage in some positions, leaving side sleepers balancing on the comfort layer and not particularly falling through to the Kloudcell layer or the mattress's inner memory foam.
Overall though, side sleepers who aren't too fussed about making one or two moves in bed for the sake of comfort will love the Koala's soft top layer and supportive inner layer.
Stomach Sleepers
If you're not familiar with the issues that can come from stomach sleeping, we'll quickly break it down for you.
Sleeping on the stomach can reduce the curvature of the spine, working to flatten the spine's curve over time and resulting in poor posture, back problems, sore joints and pain when sleeping in any other position.
That said, the Koala's firmness works to help stomach sleepers. If you're a stomach sleeper, you absolutely must invest in a mattress that's as firm as possible as you're going to need a surface that keeps your chest, stomach, and legs as flat as possible, to stop your spine from reversing its curve.
The Koala mattress's rather firm rating of six helps to keep stomach sleepers in an optimal position for spinal health, but also comfort. The soft comfort layer allows the elbows, knees, and hips to be comforted, and the inner firm memory foam layer keeps the spice from flattening over time.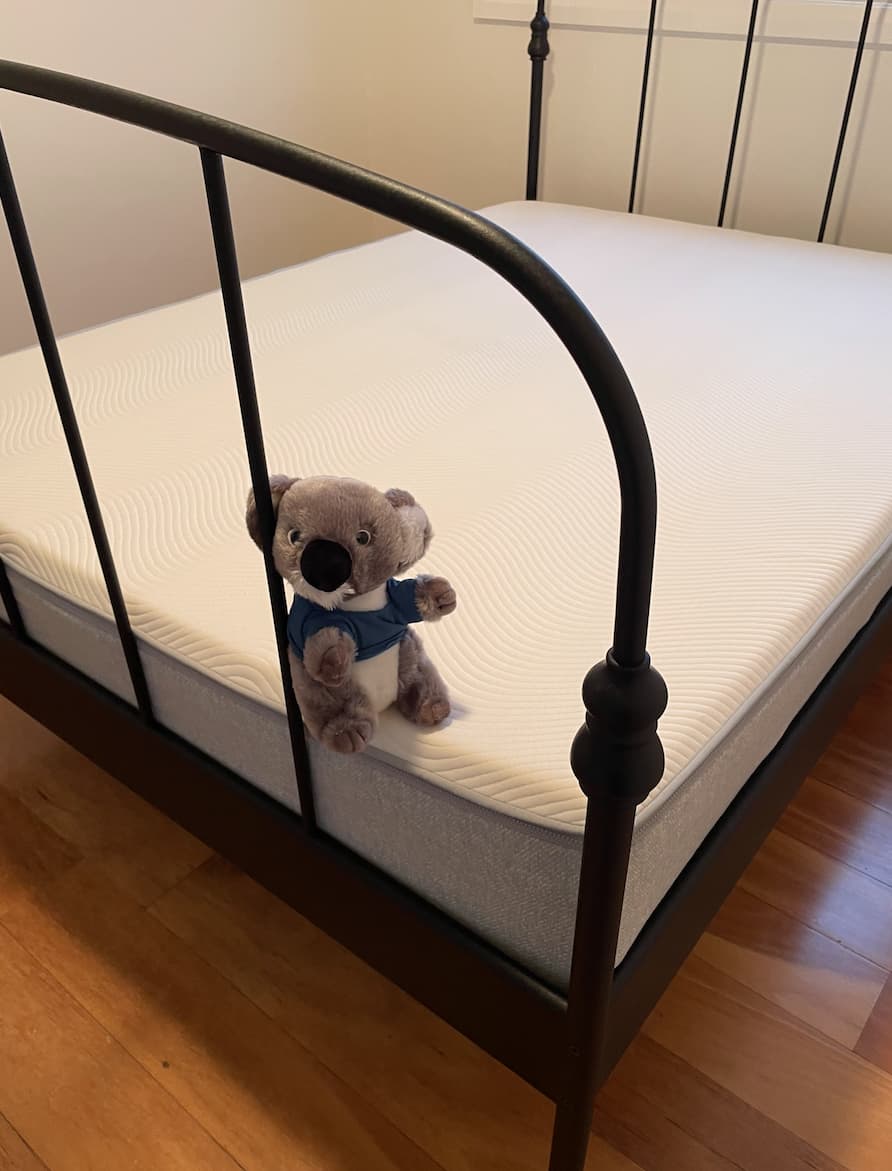 The Takeaway
From the review above, you can see that the Koala mattress is certainly an affordable, well-rounded product that ticks just about all of the boxes you'd expect. A firm-yet-soft combination helps to keep sleepers comfortable on the mattress regardless of their position, and optimal breathability and airflow keep everyone cool in summer and warm in the wintertime.
If you're new to mattresses in a box or have been considering a Koala Bed for a while, we certainly don't think you're going to be disappointed if you choose to invest in a Koala Mattress to be your go-to for the next decade.
Check out Australian-made Koala's great sales and bundle deals on King Size and Queen Size mattresses and you'll be sure to enjoy a good night's sleep for years to come.