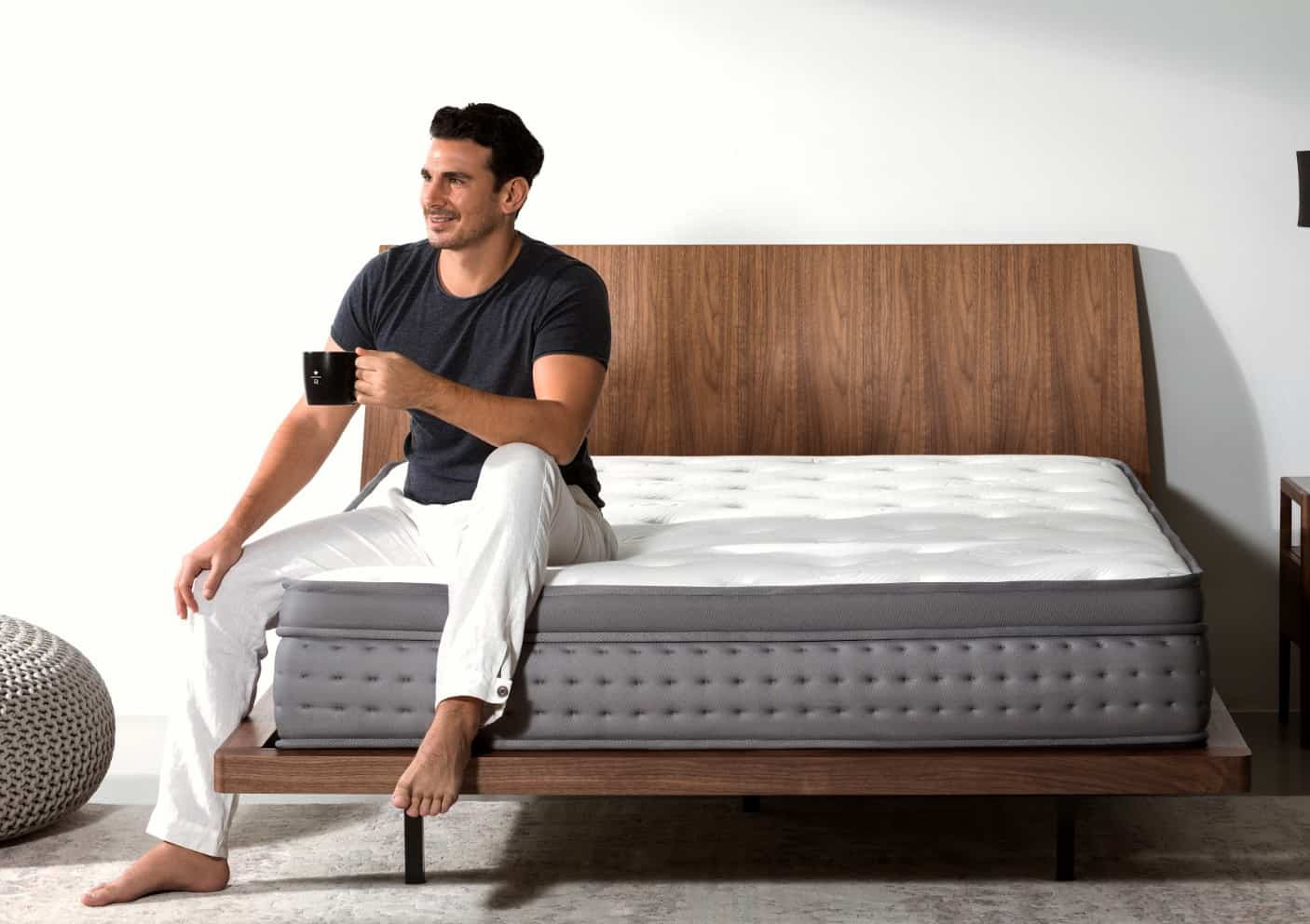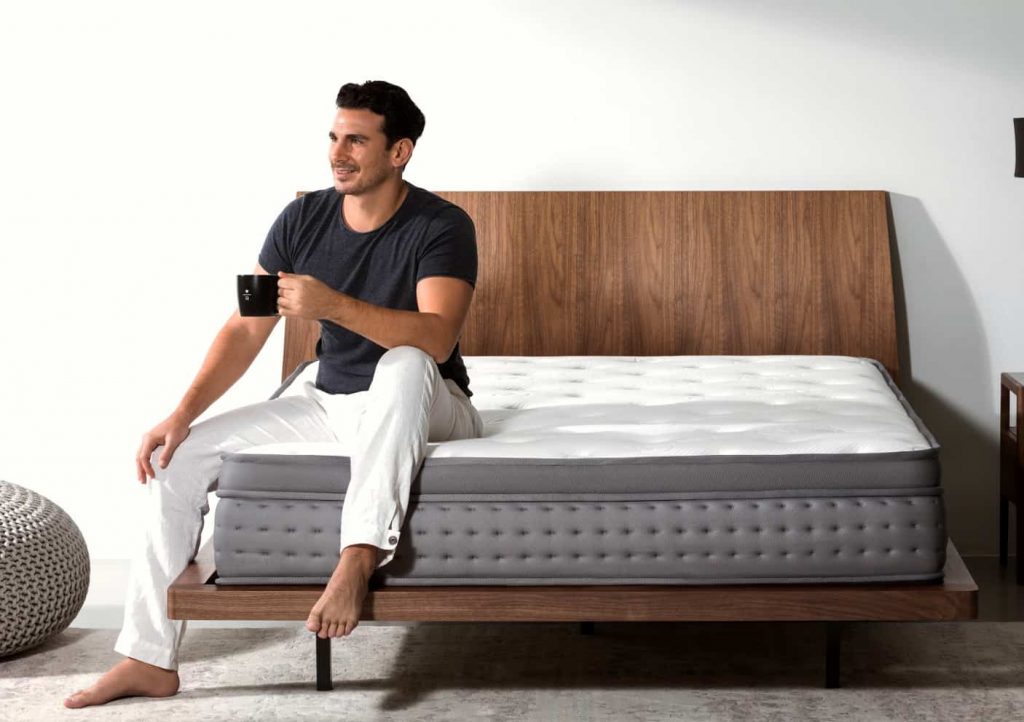 Special Offer 2021: $150 off a Koala Mattress we have a special Sleepify offer for you.

We recommend NOA Mattress for $799, Regular price $1099.
As more newcomers arrive on the bed-in-a-box scene, it's getting a little more challenging to know which variant to choose. There's a tonne to choose from in 2021, though there are a few standout products that might truly transform the way you sleep.
With consumers waving a collective 'goodbye' to older style flat, non-box mattresses, there's more demand than ever for great, boxed memory foam, poly foam and pocket spring models than ever before.
In this post we'll take a look at two outstanding boxed mattresses, the Noa Mattress and the Eva Mattress and compare their similarities and differences. Both of these mattresses come in a box, are delivered for free, include great 100+ night trials, and are memory foam and pocket spring hybrids for great support.
What We'll Be Looking At
To give you an in-depth overview and comparison of these two mattresses, we'll dive into the most critical factors that make up an excellent hybrid mattress.
Initial Comfort and Feel
The Mattress Materials
Mattress Weight and Density
Mattress Pricing
Ideal Sleeper Positions
Once all of these points are covered, we're sure you'll have a good look into two of Australia's most popular hybrid boxed mattresses.
Initial Comfort and Feel
Both Noa and Eva mattresses are memory foam mattresses with pocket springs making up the support or 'base layer' of the bed. What this means is that these mattresses will be the best when it comes to offering an ideal level of body-contouring support, and lower back support when you sink beyond the upper layers.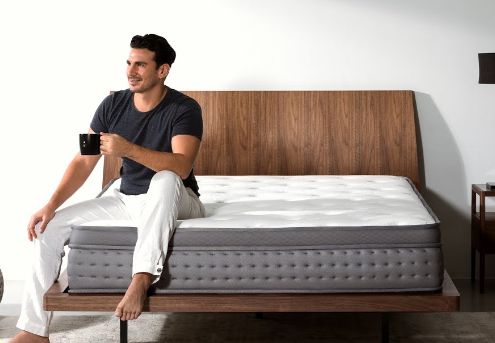 (Recommended Latex Mattress)

Let's start with what is definitely one of our top picks when it comes to latex mattresses – the Noa. As an extremely versatile hybrid mattress, the Noa combines bouncy latex, molding memory foam, and pocketed coils. If you like a supportive and contouring mattress feel, the Noa is the mattress for you.
Noa uses OEKO TEK certified latex. This seems to be an excellent choice for sleepers who like the medium to firmer-feel but do not enjoy traditional beds. Based on our testing and the numerous reviews online, the Noa is well rounded – whether you prefer to sleep on your back, front, or side, you're going to enjoy this mattress.
Noa has a number of other features that set it apart from the competition. The spring coils provide more prominent edge support in comparison to the other models, meaning that getting in and out of bed is effortless and undemanding. Good edge support often means a more significant partner disturbance – interestingly, this was no problem for the Noa, resolved by the use of a layer of memory foam under the latex. In terms of the remaining features, we thought really set the Noa apart, the mattress has a Tencel cover and an incredibly affordable price tag. It also comes with a huge 15-year warranty and a trial period of 100 nights. Customers praise the excellent service and together with the price tag mention it as one of the most common perks.
Ultimately, the Noa is a mattress that we highly recommend – not only just as a latex mattress, but also when it comes to the mattress market as a whole. Its hybrid build means that the Noa can take advantage of the best aspects of multiple mattress types, and it does this remarkably well – what you get is a versatile, comfortable and well-rounded mattress that you really can't go wrong with.
The Noa Mattress is topped with a Tencel cover that's plush and adds a dash of comfort to the top of the mattress and features a latex foam layer below this. We're glad to say that this adds some extra bounce to the bed as latex is a little more akin to micro springs or coil springs when it comes to the feel and response.
Below the latex layer is a relatively thick layer of memory foam that has cooling gel-infused within it, adding a tonne of body contouring capability and breathability. The Noa can boast gel-supported cooling, which is fantastic for warmer climates, however, the Eva relies upon perforated foam to get the job done.
The lower layers of the Noa Mattress are pocket springs which are where the majority of back support comes in, keeping the spine supported once sleepers sink fully into the memory foam and latex.
Overall Feel: anyone sleeping on the Noa Mattress will be happy with its medium-firm feel which is ideal for all sleeping positions. The latex, pocket springs, and memory foam blend work well to provide optimal 'bounce.' Edge support is also suitable as the support foam and pocket springs run right to the seams.
Eva Mattress
On to the Eva Mattress now, you'll find a similar material layout to Noa's, though without the gel infusion density layer. There is a gel-infused top layer though, keeping the upper levels of the mattress cool, which is most ideal in warm climates.
Eva makes it clear that there's an 'open structure [that] allows air to circulate freely,' which means there isn't a significant requirement for gel-infused memory foam here.
The material layout begins with gel memory foam for comfort, then latex and dense foam sub-layer which is then supported by the pocket springs. Similar to the Noa, the Eva works by making virtually half the hybrid mattress sinkable for body contouring, and the other support-based with the pocket springs.
Eva's edge support is also top-notch with springs running right to the edge and around the perimeter, making it ideal for sleepers who like to sleep by the corner. Sitting on the sides is also fine, as they're not going to dip too much.
Overall Feel: this mattress is more on the firm side, with a 7 to 8 on the firmness scale, which we're glad to say will really help out with back pain. If you're a tummy sleeper or a back sleeper, this mattress will offer the perfect balance of comfort and support as it's going to prevent too much sinkage. Side sleepers might also enjoy the Eva, though a softer variant might be a better idea.
Summary
In all, both the Noa Mattress and the Eva are similar in their initial feel and comfort, though the Noa offers a slightly softer firmness when compared to Eva's firm mattress. Movement isolation is excellent on both beds so that sleepers won't be interrupted, and sinkage is also great on the top layers of either of the beds.
It's good to keep in mind that with pocket springs and natural latex, these mattresses offer a tonne of bounce when compared to memory foam-only mattresses. They also sleep a little cooler than foam-only mattress designs.
For pressure relief, the Eva might be a little better for back and tummy sleepers as there's more support with the increased firmness, though side and combination sleepers will get a better result out of a new mattress from Noa.
The Mattress Materials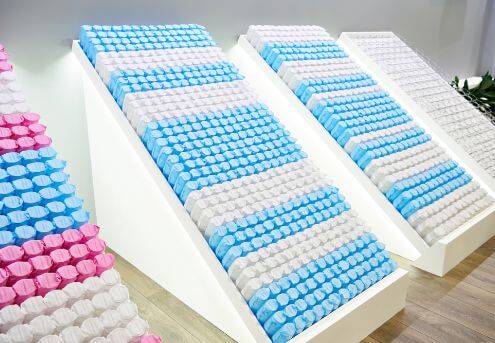 Both mattresses offer a similar suite of materials, though some proprietary technologies make an appearance to add some extra comfort. These beds also use their hybrid designs a little differently to one another to reduce partner disturbance, improve airflow and adapt to different body types.
Although quite alike, there are a few small differences that set the mattress materials apart, take a look below.
Noa Mattress
Materials you'll find in the Noa Mattress are designed to be luxurious, plush, high-quality and hygienic, with hypoallergenic natural latex making an appearance here. The OEKO TEX® certified latex is naturally anti-microbial and is also going to prevent dust mites and other bacteria from sneaking into the mattress as you sleep on it.
Online reviewers also tout Noa's latex choice as being very bouncy, and breathable thanks to its open-cell technology. Some latex pillow tops and upper layers are warm to the touch after a while, though Noa's choice of perforations combats this.
Gel-infused memory foam also makes an appearance in the second layer of the Noa Mattress, whereas it's in the first layer of the Eva. This may have a minor effect on sleeper's body temperatures, though it shouldn't make too much of a difference.
Beneath the layers of latex and memory foam, you'll find the medium-firm mattress pocket springs. These, as far as we know, are standard pocket springs laid out in a way that ensures optimal support, airflow, and responsiveness.
Eva Mattress
Again, the materials in the Eva Mattress are familiar to the Noa Mattress, though the layout and proprietary technology is a little different.
The first layer of the Eva mattress is a gel memory foam that assists with temperature regulation, and beneath this is the perforated latex layer where you'll see some added bounce. Eva makes it clear that their latex is 'dust-mite resistant and antimicrobial' and is selectively perforated to ensure there are optimal bounce and stretch capabilities.
Unlike the Noa, there's another layer of density foam in the Eva Mattress which works in conjunction with the 5-zone pocket springs to offer excellent support and responsiveness. These springs are patented by Eva and are designed to ensure there's the ideal movement isolation. In fact, the Eva Mattress provides some of the best motion dampening in a spring mattress.
To end, the entire core of the Eva Mattress is designed for optimal airflow and comfort, making it close to the perfect mattress for those in warmer climates and suffering from back or neck pain when sleeping.
Summary
It's clear to see that both mattresses are designed using very similar materials and technologies, though subtle differences in layout give the Eva Mattress a little more firmness and responsiveness. The Noa, however, stands out in its ability to provide a little more sinkage.
On either mattress there's a significant focus on hygiene and anti-microbial features, making them ideal for Australians with allergies or for younger children.
Comparing both mattress materials, the Eva will be the most optimal for those who live in warmer climates and need a little more airflow and a more cooling top layer. The Noa, on the other hand, is best for sleepers who aren't too fused by a mattress that sleeps a little warmer.
Mattress Weight and Density
One area that many customers are increasingly becoming interested in is mattress weight and density, thanks to its effect on setting up the mattress, but also sinking into it.
Most notably, the Koala Mattress has made waves in being a dense, polyfoam mattress that's possibly the best mattress available when it comes to a proprietary latex, foam, and gel blend. The Noa and Eva mattresses are right on the Koala's tail, though without being entirely reliant on foam blends to make up the bed.
Noa Mattress
To start, the Noa Mattress is the lighter of the two beds, with the queen size coming in at 47.8kg, which is typically average for a mattress. The smaller king single is 36.3kg, again fairly standard, though coming in a box makes the weight less of an issue.
As for the mattress density, you'll be glad to know that thanks to the blend of foam and pocket springs that there's more of a hollow feel, that is optimal for airflow. That said, the Noa Mattress will play nicely with platform bed bases that don't have great ventilation, as the pocket springs allow for more ventilation than their foam counterparts.
Eva Mattress
Coming in at a more substantial 55kg for a queen, the Eva Mattress might be a touch more difficult to slide into place on your bed frame, though this won't be too much of an issue. Again, 55kg is quite standard and will be fine for most bed bases and frames, though thinner aluminium frames might have a problem depending on you and the mattress's combined weight.
Similarly to the Noa Mattress, the Eva offers a relatively low-density build which means airflow is ideal for placement on bed platforms and frames that aren't great for ventilation.
Summary
With both of these mattresses being hybrid in design, there are two major perks that come from this, and that's the freedom to place them on unventilated platform bases as well as bed frames with wider slats. Typically, boxed beds are all-foam, which means you'll need a very supportive base, which doesn't dip or flex and has a lot of space for heat dispersion, but with the Noa and Eva, this doesn't matter a whole lot.
Mattress Pricing
Just like the design and features offered by these mattresses, the prices are quite similar. They both come in a little higher than your standard coil spring mattress, though being primarily available online, there's an understanding that shipping costs have to be considered.
With the average Australian mattress priced at around $200 to $450 the Noa and Eva price might look a tad high. However, with the easy unpacking, great hybrid design and excellent materials used, we're confident in saying that you're still getting a bargain.
Noa Mattress
Coming in at $799 for a single, $999 for a double and $1,099 for a queen the Noa Mattress falls firmly in the mid-to-high end. It's good to know, however, that these prices include delivery and also have the mattress at your front door in just 4-5 days.
The king-size Noa Mattress is $1,199 and given the material choice, actually comes in at a little lower than a lot of competing mattresses.
Eva Mattress
A bit more affordable, the Eva Mattress series starts off at $600 for a single, $800 for a double and $900 for a queen, giving the Eva an edge over the Noa mattresses. These delivery prices also include delivery, though dispatch times are a little slower and can have you waiting up to 8 days for the bed to arrive.
Eva also offers next-day delivery for metro areas like Sydney and Melbourne.
Summary
When looking at both mattresses, the Eva's price range makes it a little more enticing than Noa's offering, though this will depend on which of the materials and design features matter most to you. Saving one hundred dollars or more off a mattress is a good perk on Eva's part.
Ideal Sleeper Positions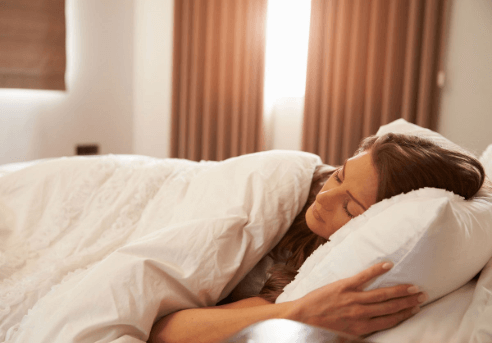 Where the mattresses are possibly the most different is in their practicality for sleeping positions. With varying levels of firmness, and a slightly different material layout, the Eva and Noa will be noticeably different depending on how you like to sleep.
Noa Mattress
Being the softer of the two, the Noa Mattress is going to be the most ideal for those who like to sleep on their side, or are combination sleepers. As you'll be on your side, the softer Noa foam and latex will better conform to the shoulders and hips and provide optimal 'sinkage' for these pressure points.
To add, you're going to see more relief when it comes to back and neck pain on the Noa if you're a side sleeper who can't get comfortable on a firmer mattress.
Eva Mattress
Coming in at the higher-end of the firmness scale at a 7 to an 8, there's no doubt that the Eva will be the better option for back and tummy sleepers. Both of these sleeping positions demand a stable and supportive base to prevent the spinal curve being 'pushed' out of your back.
The upper support layers of memory foam and latex will provide good joint pressure relief, though the firmer pocket springs will come in useful when you need a base that prevents your body from dipping too far into the mattress.
Summary
Although the differences in firmness are quite minor between the Eva and Noa, it's good to choose the best available option for you and your sleeping position. In this case, the Eva will be a better option for back and tummy sleepers, whereas the Noa is the best for combination and side sleepers.
This isn't to say the Eva will cause pain for side sleepers though; it will just enable a more comfortable sleep for those who want, or need, a firmer bed.
The Takeaway
From the comparison above, it's clear that although the Noa and Eva mattresses are quite similar, they do offer some specific differences for sleepers.
Primarily the Noa is going to be your ideal mattress if you're looking for a softer core, with a more springy top thanks to the latex. However, the Eva will be suitable for back sleepers who need a bit more support and firmness, and would also prefer to a have a cooler gel-infused foam top layer.
In all, both mattresses are a fantastic option for Australians looking to get their hands on a hybrid mattress in a box that's affordable, easy to set up and perfect for just about all sleeping positions.