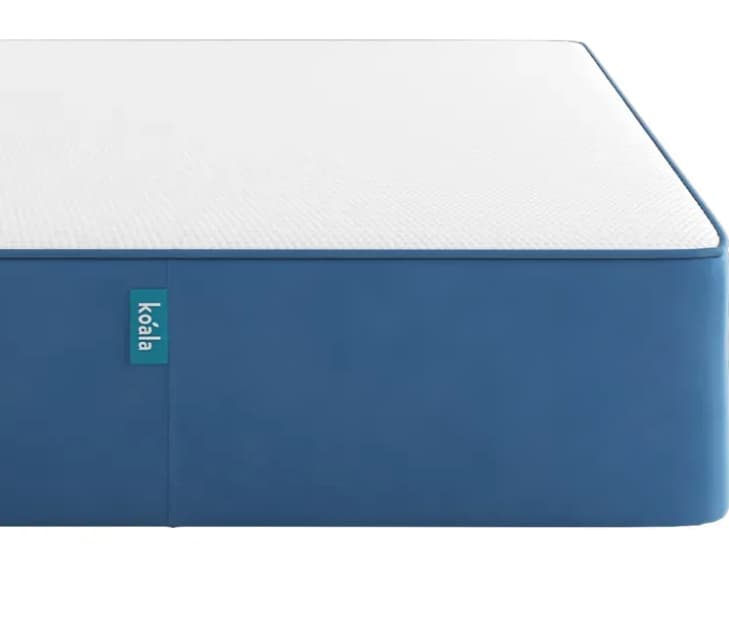 After a few minutes on the web, there's a good chance you've had at least one Koala Mattress or Ecosa Mattress ad splashed at you – and for good reason! These two foam mattresses in a box are some of the best available in Australia right now. Both mattresses offer incredible foam technology, with the Koala being made of high-quality, self-cooling support foam and Ecosa having gel foam layers, each boasts a great trial period and is a surefire way to say goodbye to those pesky back pains we wake up with, in the morning. 
If you're looking for the best mattress on the market or trying to determine what's better for you between the Ecosa and the Koala, then we have some great insight for you below. Whether you're a back sleeper, side sleeper, or stomach sleeper looking for the best sleep of your life, there's no doubt that either of these two is going to work wonders for you. 
Let's dive in and take a look at all the incredible perks, disturbance technology, and breathability of these two high-density memory foam and Kloudcell foam mattresses below. 
What You Need to Know
First thing's first, both of these brands, Ecosa and Koala both launched in Australia in 2015 and are offering delivery of these mattresses in Sydney, Brisbane, Melbourne and other major Australian metro areas for free. Koala also extends its free delivery nationwide, so no matter where you are, the mattress will find its way to you for no extra cost. The set up of the mattress takes only a few minutes, it's boxed up so it's easy to get the mattress inside and being foam, all you need to do is take them out and watch them expand into their final shape. 
Pricing and Value for Money
Before we even delve into the price and value of these mattresses, it's important to point out that they're already some of the most affordable new mattress options available on the entire mattress market, so it's essentially down your own personal budget. 
Koala Pricing: 
Single – $650 (+up to 25% off here)
King Single – $750 (+up to 25% off here)

Double – $850 (+up to 25% off here)
Queen – $950 (+up to 25% off here)
King – $1,150 (+up to 25% off here)
Ecosa Pricing: 
Queen – $1,099
King – $1,199
Single – $799
King Single – $899
As you can see above, both mattresses are very similar in price, so if the price is your only deciding factor, it might be better for you to take a look into the edge support, firmness level or how comfy the mattress is to help you with your decision. 
Firmness and Comfort Layer 
Looking into the mattress's firmness now, this is where we'll find the biggest differences mainly down to Ecosa boasting interchangeable natural latex levels. If you're not a fan of the firm mattress or the medium-firm top layer, you can simply switch the Ecosa around until you're happy. 
Koala Comfort:
Unlike almost all mattresses that come with a variety of options from soft, medium, or firm, the Koala is simply available in one firmness level which is medium-firm. The company touts that the 6.1 out of 10 on the firmness scale was decided upon by interviewing hundreds of people in focus groups, making the mattress a rather one size fits all approach. The edge support here was outlined as being a little too soft, so keep that in mind if you're someone who likes to sleep right on the edge of the mattress.
Some customers have noted that from the very beginning that the Koala seemed a bit too firm, however, this is a rather isolated issue. After a week or two, sleepers find their bodies have adjusted to sleeping on the Kloudcell foam and found the mattress offers incredible support for pressure points, helping to alleviate back pain and other sleeping issues. Overall, the mattress is touted as just about 'perfect' by reviewers. It is the 'highest-rated mattress' in Australia after all, from customer mattress reviews. 
Ecosa Comfort: 
As mentioned, the Ecosa is a rather hybrid or mutant when it comes to firmness as you're able to effectively strip off the removable cover and have direct access to the latex and gel memory foam layers. You can move these back and forth until you settle on a comfort level you find most ideal. At the end of the day though, the two layers equal either firm or medium-firm. 
The mattress's partiality to firmness means that it's definitely ideal for back sleepers over the Koala, though for anyone who sleeps on their stomach or side, you might find the mattress a little too firm for your own good. There is still however partner disturbance control even though the mattress is a little firm, so moving about won't be too much of an issue. 
Trialing and Warranty
For those who'd like to know they're in good hands with their purchase, you'll certainly feel looked after with both Koala and Ecosa. Both offer a great warranty as well as trial periods that will give you plenty of time to test out the mattress before making a commitment.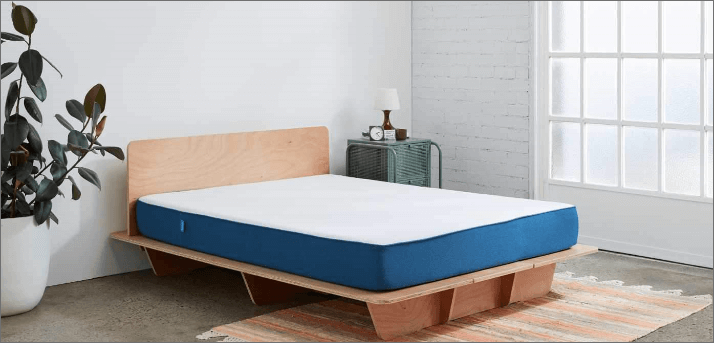 Koala Trial and Warranty: 
With Koala you'll find a stellar 120-night trial that's entirely risk-free, so if you really don't think the Koala is for you, simply let the company know and you'll receive a full refund as well as have the mattress shipped back for free. The multi-year warranty is also massively better than older spring mattresses at 10 years, so if you ever have trouble down the line you know you're able to get plenty of help or a refund. 
Ecosa Trial and Warranty: 
Aussies with an Ecosa also have great trials available at 100 nights of risk-free trial time. Similar to Koala, you're able to take advantage of a full refund. The returned mattresses head to the recyclers or are donated to those in need, which is great. The warranty on the Ecosa is also incredible at 15 years, making it one of the longest warranties available on a mattress in Australia.  
Materials and Build
With both mattresses being entirely foam, latex, and other ultra-soft proprietary blends, you're certainly going to have an incredible time on your new Ecosa and Koala. Whether you're a single sleeper or have a partner, both mattresses will come in handy with their motion isolation and innovative technologies to improve breathability and prevent movement and disturbance. 
Koala Materials and Build: 
Inside the Koala you'll find two layers of foam. One major support foam layer, and a pressure relief foam atop. Koala's open-cell structured Kloudcell foam is exceptionally soft, but also breathable and features Zero Partner Disturbance technology, so no matter how much of a light sleeper you are, you're not going to wake up anyone beside you.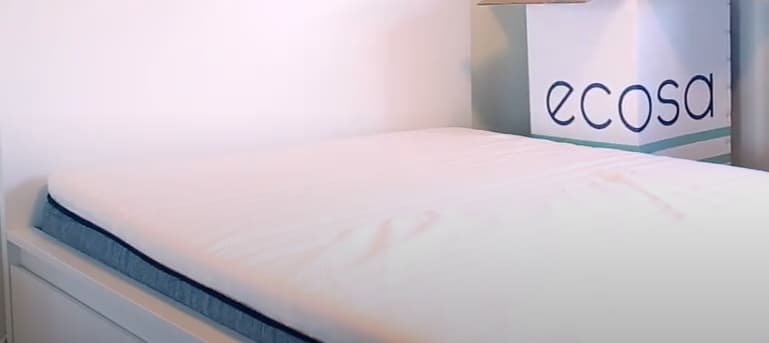 Ecosa Materials and Build: 
Making the Ecosa so soft and durable are the G-7 Memory Foam topper, ECO-Tex memory foam middle, and ergonomic support foam bottom layer. These three layers combine to create that fantastic firm or medium-firm comfort level and with a perforated design both breathability and airflow aren't an issue on the Ecosa. There is also great motion isolation technology here too which prevents partner disturbance while getting in and out of bed or tossing and turning. 
Covers and Added Features
Where both of these mattresses really shine is in their covers and added features. You'll find everything from waterproofing to anti-bacterial protection so that no matter how long you keep your mattress for, or what you use it for it's going to be kept clean and tidy. 
Koala Cover and Added Features:
Although the Koala doesn't have built-in waterproofing inside its removable cover, what you will find is dust mite-resistant microfilament which protects the inside of the mattress from everything including dust mites harmful bacteria, and allergens. If waterproofing is important to you, you can, however, add your own water-resistant cover.
Ecosa Cover and Added Features:
The cover found on the Ecosa mattress is both anti-bacterial and water-resistant, and when you pair that with being removable and machine washable, and you have a mattress topper or cover that is going to be kept as fresh and clean as it was the day you bought it. The cover is also mold and mildew resistant too, making it impossible for that off-smelling mattress odor to rear its head after you've wet and failed to fully dry the mattress.
The Takeaway
As you can see from our comparison both of these mattresses are quite similar in everything from their materials, comfort level, and even the added features you'll find within them. Even the price and delivery times are very similar, so all you need to really do to get the best mattress for you is determine whether you're more likely to sleep on your back, front, or side and go from there!