A good mattress and a good pillow go hand in hand- we wish we could say this better. While most people only care about comfort when looking for the best pillow for bed, chiropractors say that support is the most vital aspect.
Actually, this should be your guiding factor since no matter how comfortable a pillow feels, it will always throw your entire body out of alignment if it is lacking in support. And that's a recipe for waking up to a stiff, painful neck and aching shoulders.
In this article, we'll be taking you through our choices of the 10 best pillows of 2021. While this is a general review article, we've pointed out the ideal users of each pillow in the individual reviews. In addition, if you are not exactly sure what to look for when shopping for these bedding accessories, our best pillow buying guide (after the reviews) has all the help you need to make an informed decision.
Best Pillows for Sleeping Reviews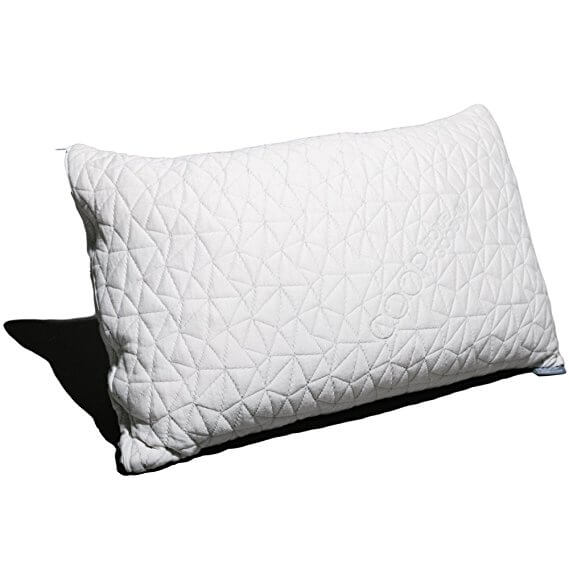 The Coop Home Goods Original pillow is a model that you won't miss in most lists of the best pillows reviews. The manufacturer claims that they crafted it for all sleeping positions and for sleepers with varying shapes and sizes. This, in a way, explains its impeccable popularity around the internet. And we bet you're going to like it too.
The Coop pillow is available in 3 sizes; Standard, Queen, and King and it is stuffed with visco-elastic memory foam. We highly recommend pillows with shredded foam since they offer greater airflow than their solid foam counterparts. These individual pieces respond to your body weight and temperature just like a continuous piece of foam would. The only difference is that they have slightly better support.
Another appealing feature here is that you can adjust the loft depending on your sleeping style, body size, and shape. If you are a back or stomach sleeper, you might want to remove the stuffing to a height of 3 inches or below. On the other hand, side sleepers might want to maintain a loft of 4-5 inches.
We are also great fans of the removable viscose rayon cover that the Coop Home Goods pillow comes with. This cover is made of a blend of polyester (60%) and bamboo (40%). Besides being fully machine-washable, this combination adds to the breathability aspect of this pillow and a plush feeling to boot.
The only minor gripe that we have against this pillow is its strong chemical odor that we found to be notably stronger than other models here. This should dissipate in a few days though.
Pros
Adjustable
Shredded foam and breathable cover improve airflow
Removable and machine-washable cover
5-year warranty backing
Cons
Has a strong chemical smell when new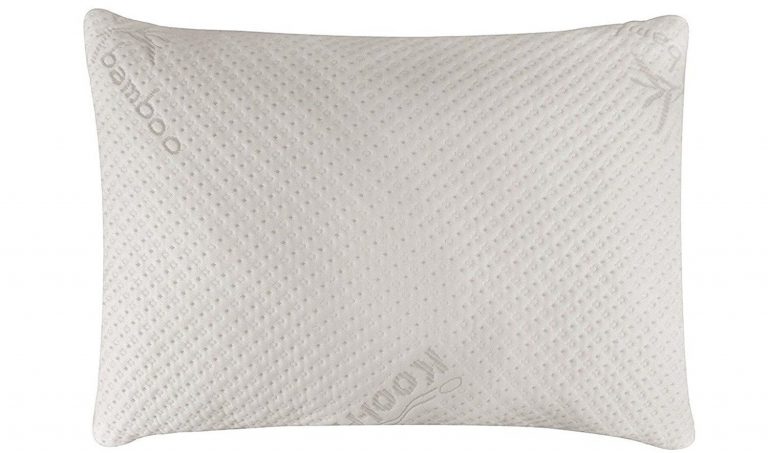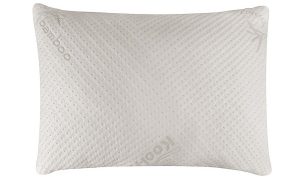 At around the same price tag as the Coop Home Goods Original pillow above, you could opt to go for the Snuggle-Pedic Ultra-Luxury. This is one of our most recommendable options for people who are looking for the best pillow for neck pain.
The Snuggle-Pedic is pretty much similar to the Coop Homes Goods in that: (1) it is usable in all sleeping positions and (2) it is also stuffed with shredded visco-elastic memory foam.
The only difference, however, is that the Snuggle-Pedic uses slightly larger but fluffier pieces of foam than the Coop. This means that it has a slightly firmer feel and might, therefore, interest you if you are after a pillow with a little bit more orthopedic support.
Note that this pillow is still very comfortable. On this note, we really appreciate that its height is adjustable to fit individual user's sleep needs. This pillow also comes with a removable cover made from viscose of bamboo, polyester, and lycra- an excellent combination that makes the cover luxuriously soft and breathable.
The other standout feature of this model is that it is fully machine-washable. Although memory foam is naturally hypoallergenic, knowing that you can machine-wash the entire pillow whenever you feel like might bring additional peace of mind.
Does it emit chemical odors? Of course, considering its memory foam construction, the Snuggle-Pedic might have a weird chemical smell right out of the package. But this should be gone in utmost 2 days.
Something else that we can't fail to mention here is that this pillow comes with a 120-night trial period with free return shipping and an unbelievable 20-year warranty.
Pros
Top-notch orthopedic support
Adjustable loft
Accommodates all sleeping styles
Very comfortable
Cons
Some people might find it a little bit firmer
Has a strange chemical smell at first
The Eden is yet another great offering from Coop Home Goods and a sibling to the Original that we saw before. This model is a few bucks pricier than the previous pillow but it also has several additional features to justify its asking price.
The Coop Home Goods Eden boasts finely shredded memory foam fillings. Thus, you should expect it to mold around your neck nicely once you lie your head on it only that you won't be sinking excessively. But what we like about these fillings is that they are gel-infused.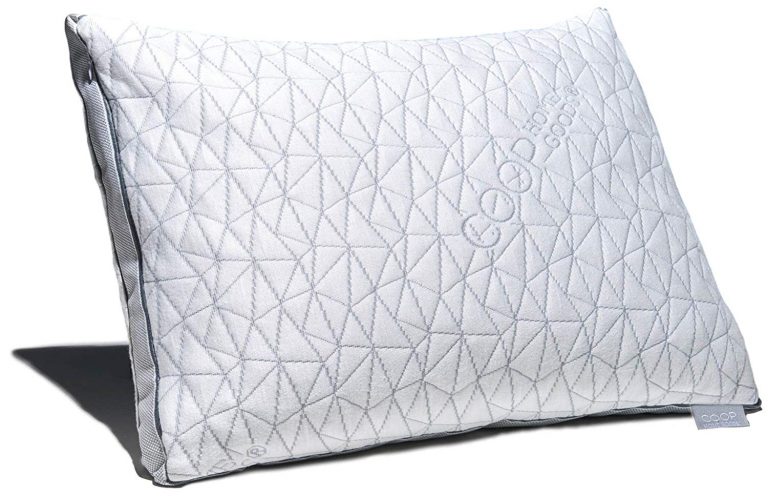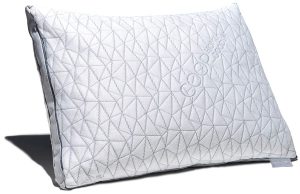 Gel is a form of cooling technology that dissipates heat from the sleeping surface. This technology coupled with the bamboo rayon-polyester cover is what makes Eden an easy choice for anyone searching for the best pillow for hot sleepers.
Another unique feature that makes all the difference in this pillow is its gusset. Wait, what is a gusset in a pillow, and why is it important?
Simply put, a gusset is an additional piece of fabric stitched between the front and back panels of a pillow. Its essence is to allow the fillings to move around thereby enabling the pillow to maintain its structure as well as consistent comfort regardless of how you sleep on it.
Pros
It's gusseted (consistently comfortable)
Gel-infused for better heat dissipation
Adjustable loft
Comfortable and supportive
Cons
Gel-infusion makes it compress first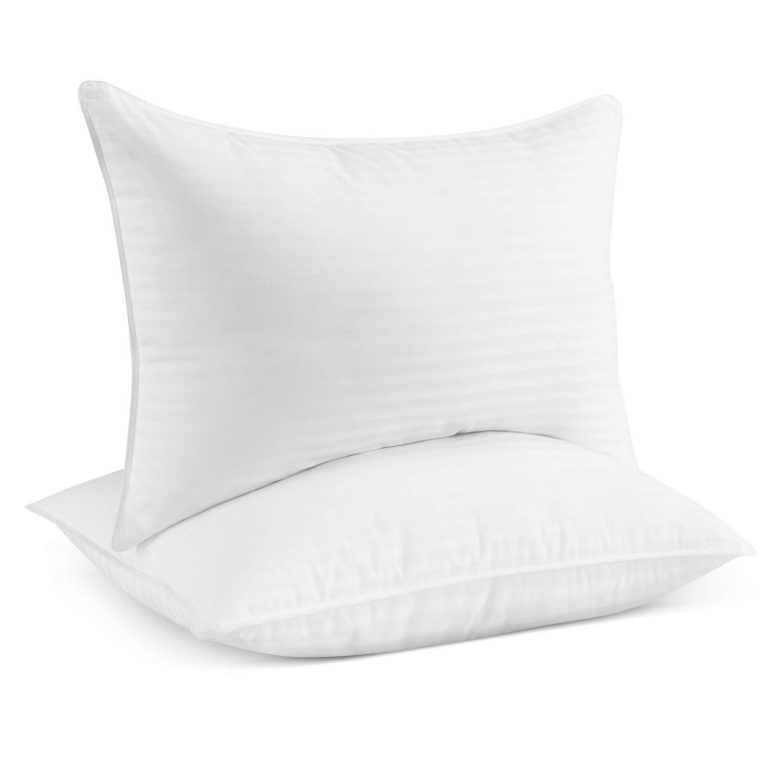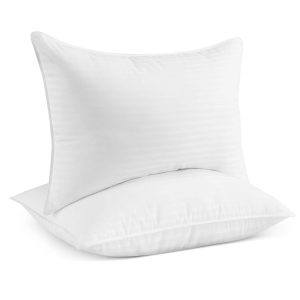 While we can't conclusively claim that the Beckham Hotel Collection is the most comfortable pillow in 2021, we can't deny that it has really moved the needle in this aspect, especially at its price. Hands down, this is the model to go for if you are caught between a tight budget and the need for a comfortable and supportive pillow.
The Beckham Hotel pillows are crafted from lavish gel fiber. They are amazingly soft but they also have a good amount of firmness and moldability that yield superb support for your head, neck, and shoulders.
Although these pillows aren't height-adjustable, most of its 4k+ reviewers report that they have no issues using it in all sleeping positions. We can attribute this to their no-shift construction design that ensures that they maintain their shape throughout your sleeping session.
Credit to the gel technology used in their design, the Beckham Hotel pillows don't run hot (a plus for hot sleepers). In addition, they don't have that weird chemical smell that most memory foam pillows ship with.
Pros
Very affordable (pack of 2)
Good balance of softness and support
No-chemical smell
Machine-washable
30-day trial period with a full refund guarantee
Cons
Height can't be adjusted (not for all sleepers)
Switching gear to something totally different from all the pillows above, we get to one of the best latex pillows in 2021; the Simmons BeautyRest. This model comes in all sizes- standard, queen, and king and it's relatively cheaper compared to other pillows in its class.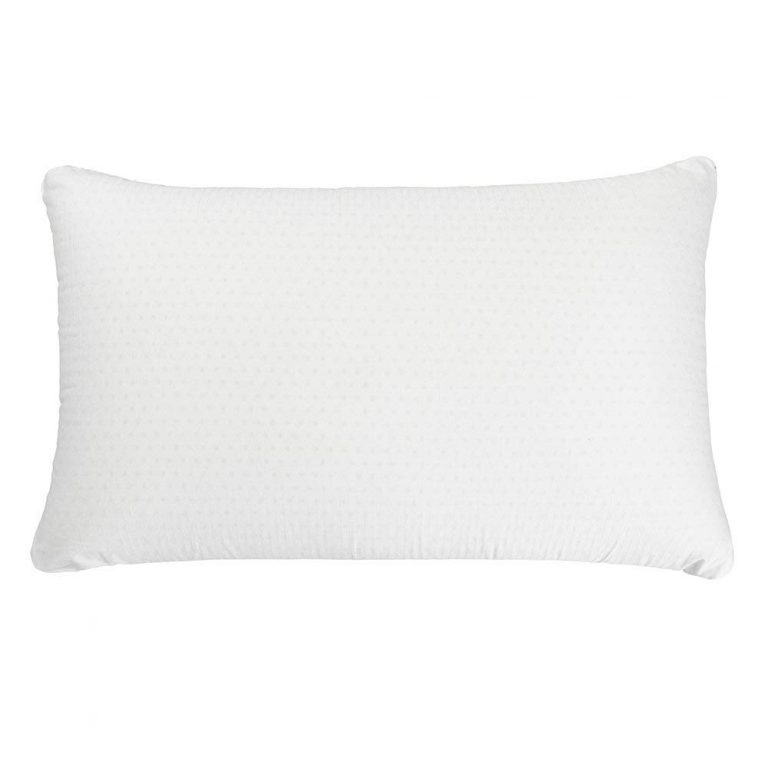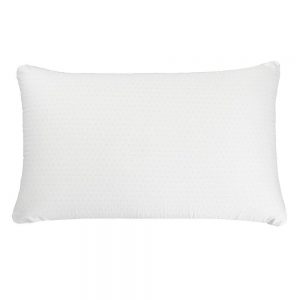 The prominent advantage that you get from a latex pillow like this one is that it portrays all the benefits of memory foam minus the feeling of being buried inside the pillow. In addition, latex is naturally springier. This means that it bounces back almost immediately as you switch positions thereby offering you constant support which is ideal for painful necks and shoulders.
The Simmons Beautyrest has a height of 6 inches. Considering that it is not loft-adjustable, we would only recommend it to side-sleepers and especially those who use a firm mattress.
Pros
Talalay latex is notably soft yet supportive
It's bouncier and offers constant support
Won't cause breathing irritation issues
Cons
Not ideal if you are allergic to rubber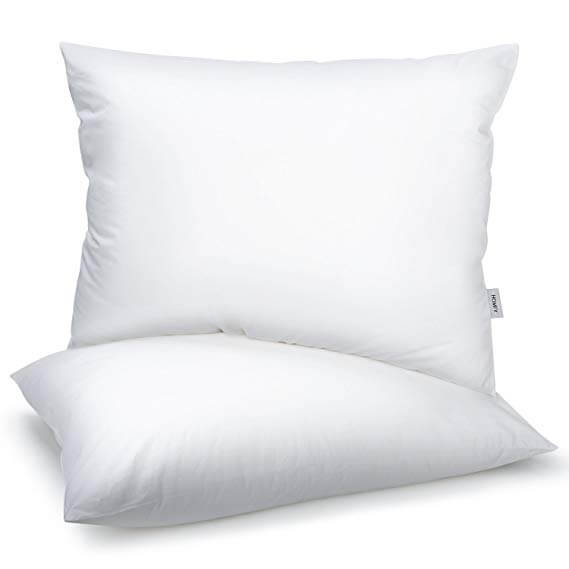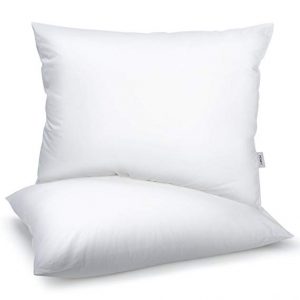 Homfy is not a regular name on this site. But their Premium cotton pillows are very likely to interest anyone who is looking for the best pillows for back and stomach sleepers. These pillows are sold in a pair of 2 and cost way below 30 bucks. If you are looking for a comfortable set of affordable pillows that doesn't compromise support, this pair might be yours.
The Homfy pillows are stuffed with polyester micro-fiber fillings and have a 100% cotton cover. They are neither too soft nor too firm to cause you neck pains and migraines. And thanks to the cotton cover, they don't get uncomfortably hot- at least for most people.
These fillings are hypoallergenic and resistant to dust mites, mold, and mildew too. But what most people like is that the pillows are machine-washable and won't lose their shape when tumble-dried on low heat.
Pros
Good quality for the price
Reasonable pricing
Comfortable for all sleeping positions
Fully machine-washable
Cons
May have a strong chemical odor at first
Beans72 Organic Buckwheat Pillow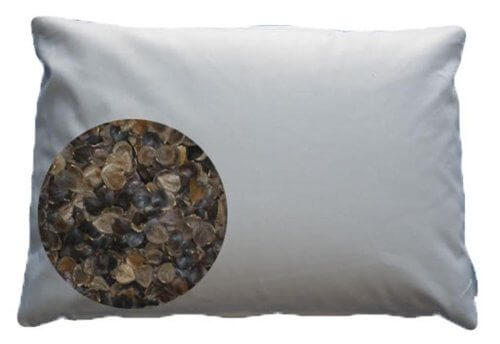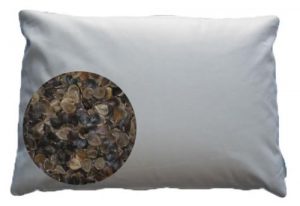 Anyone looking for the best buckwheat pillow is better off with the Beans72. Designed and crafted in Texas, USA by a traditional Japanese pillow maker, the Beans72 comes stuffed with 100% USDA natural and organically-grown hulls. According to this manufacturer's website, these husks have been hand-picked by the founder herself before being triple air cleaned to remove any dust, wheat, and debris.
The cover which is cream in color, on the other hand, is made of pure unbleached cotton and it's amazingly soft and smooth. This cover also has a zipper through which you can remove the hulls when either cleaning the cover or adjusting the pillow's loft.
Who is it for?
The Beans72 Buckwheat pillow is for anyone who is passionate about getting an eco-friendly headrest without the chemical smell that most memory foam, latex, and polyester pillows come with. In addition, buckwheat molds comfortably to the sleeper's neck and head and might, therefore, be a great option for people with a sore neck. And the fact that it is loft-adjustable means that everyone can use it despite their sleeping position.
Pros
Has no chemical smells
High quality
Responsive
Cons
Husks make some noise when moved- you'll need to get used to it
PharMeDoc Pregnancy Pillow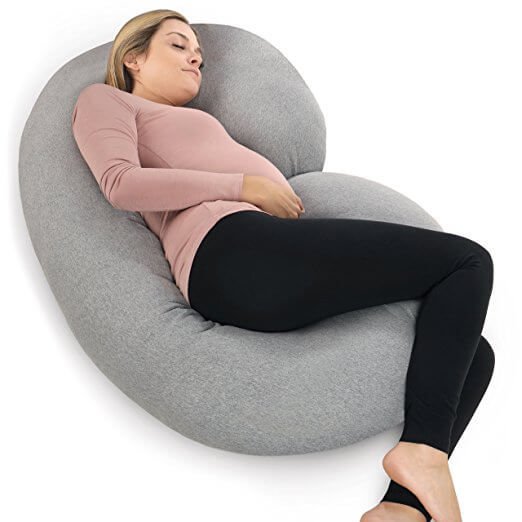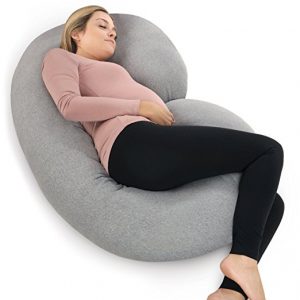 In a crowded space of the best pregnancy pillows in the market, the PharMeDoc Maternity stands out with its perfect combination of all-body support and comfort and a price tag that we'd never imagine. This pillow is popular with expectant moms who are having difficulties getting a good sleep due to their continually changing bodies especially in their 3rd trimester.
The Pharmedoc is a c-shaped pillow that not only eliminates the need of using several conventional pillows to get a comfortable sleep. But it's also a multipurpose body pillow that you can use in almost any configuration whether on the bed, floor or even on the couch.
This pillow is designed to offer you optimum support on the head, neck, belly, hips, and buttocks. And you can also use it for nursing, reading, and watching TV.
It's super comfortable thanks to its polyester fiber filling that, as the manufacturer notes, is free from latex, Phthalate, and other hazardous BPA chemicals.
The cover is made of 100% cotton and it's super soft to the touch and breathable. What you'll like about this cover is that it has double stitches for durability and it's also machine-washable.
Pros
Great price
Offers full-body support
Very comfortable
Has no latex or hazardous BPA chemicals
Soft and breathable pure cotton cover
Cons
Queen Rose Full Body Pregnancy Pillow- Best Full Body Pillow in 2021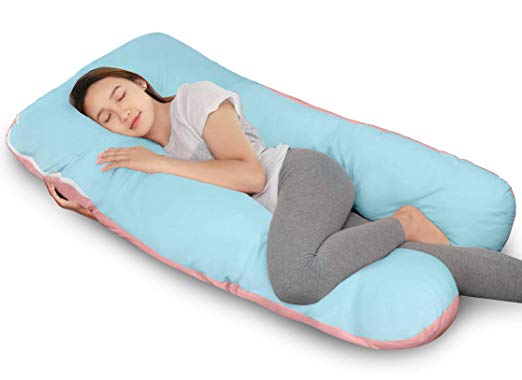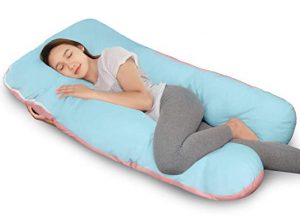 Queen Rose is yet another regular in most pregnancy pillow reviews. This one, however, has a wider fan base and can be used by people with fibromyalgia, gastric reflux, carpal tunnel syndrome, sciatica, and those who toss and turn a lot while asleep.
Unlike the PharMeDoc above, the Queen Rose is U-shaped and might, therefore, be a good bet especially if you alternate between both sides. This full-body pillow has a generous feeling of hypoallergenic polyester filling that gives it a plush firm feeling that yields both comfort and support all around the body; head, neck, belly, sides, knees, and feet.
One area that polyfil rules the roost is its ability to create lots of air pockets that boost breathability. Again, this filling is strong and will conform to your body shape and weight without flattening out easily.
But one unique feature that we are yet to see on other pregnancy pillows is its adjustable-loft. When full, the Queen Rose has a height of about 8 inches. But the inner case has a zipper through which you can remove or add the filling to get a height that meets your body shape and weight.
Lastly, the outer cover is made of cotton. While it's not the softest of the bunch, it still has a good amount of soothing smoothness and coolness to it and it also boosts breathability. This cover also comes in an array of dual-sided colors and it's machine-washable too.
Pros
Optimum all-body support
Loft-adjustable (not many body pillows offer this)
Very breathable
Cons
It's huge at 51″ x 31.5″ x 7.9″
Brentwood Home Zuma Wedge Pillow- Best Wedge Pillow for Back Pain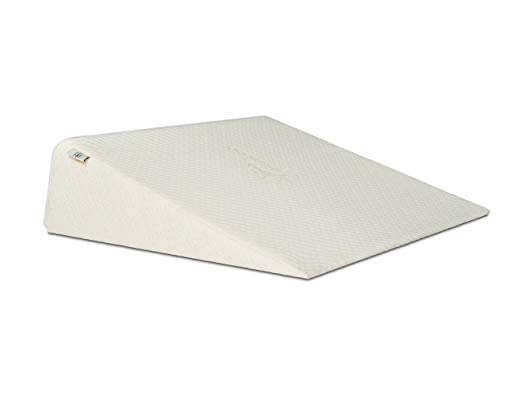 If we had to recommend just one wedge pillow, that would be the Brentwood Home Zuma Therapeutic Foam pillow. Designed to accommodate all sleeping styles, this is a triangular model that comes in a range of heights to accommodate different people's loft preferences; 7'', 10'', and 12''.
You might want to go with the lower height model if you want a pillow that you can switch from your head to the knees. On the other hand, a high-loft model will make a great choice if you want a pillow that you can use to support your back as you read or watch TV.
The Brentwood Wedge pillow is crafted from a single piece of visco-elastic memory foam with an IDL of 30. It has a good amount of support for the upper back and also regains its shape easily. We also like that it has a breathable cover made from stretch-knit rayon of bamboo. This makes it a suitable model for sleepers who tend to get hot at night.
Pros
Accommodates all sleeping styles
Sleeps cool
Above-average durability
Reasonably priced
Cons
Some may find it too firm
Considerations when shopping for a good pillow
Needless to mention, each pillow on the market today has its share of praises and negative feedback. And the reason is simple: we all have different sleep needs which emanate from our sleeping styles, body structure, health status, and sleep behaviors. On the other hand, pillows differ in terms of size, shape, loft (height), density, and construction materials.
This means that there can never be anything like the best pillow for everyone. The good news, however, is that there's always a perfect pillow waiting for you: you only need to know what features best fit your needs.
Material- Which is the best material for pillows?
We beg to begin with this aspect because besides being the most confusing, it also defines the character of the pillow on almost all fronts; support, feel, durability, and budget. There are plentiful options in terms of pillow materials including memory foam, latex, down, down alternative, feather, polyester, kapok, wool, and cotton. While each of these materials has its fan base, they don't always suit anyone.
Here is a rundown of how each of these materials behaves;
Memory foam
Memory foam is currently the best-seller in the pillows department more so in mattresses. This material is famed for its ability to respond to your body weight and temperature, thereby molding to your body shape to offer you neutral spinal alignment. This explains why memory foam makes the best mattresses for back pain.
Strengths
Molds to your head and neck shape
Very comfortable
Relatively supportive
Weaknesses
Unpleasant odor when new
Can get warm
Latex
Latex is obtained from rubber trees and offers an easy choice for buyers who are more environmentally conscious. Generally, latex behaves in a similar manner to memory foam in terms of contouring to the sleeper's body shape only that it's a little bit firmer and springier. Thus, it's a good option for sleepers who are looking for more support especially due to shoulder and neck pains. In addition, latex is relatively durable and has better temperature regulation properties than memory foam- a bonus feature for people who sleep hot.
Strengths
Lots of support
Molds to your shape
Very durable
Offers constant support
Weaknesses
It's pricey
Leans on the firmer side
It's pricey
Feather and Down
Commonly thought to be the same, these 2 materials are totally different although they tend to portray similar characteristics. Feathers refer to the rigid plumage that is 2-dimensional in appearance and found on the tougher outer layer of waterfowl. On the other hand, down is derived from the belly of geese and ducks.
Feather and down pillows get the highest rating for their cloud-like comfort. They are also warm and, as such, ideal for cold regions.
Strengths
Very comfortable
Warm
Easy to fluff to original shape
Weaknesses
Offer the least support
Can be difficult to clean
Pure down pillows can be pricey
Buckwheat
Buckwheat pillows (Sobakawa in Japanese) are most popular in Asian countries. These types of pillows are filled with natural buckwheat seeds hulls. They are springy but firm and also contour nicely to the head and neck. This material also makes the best pillows for allergy due to its excellent breathability plus its fresh and clean smell.
Strengths
Long-lasting
Adjustable
Excellent airflow and chemical-free fresh smell
Hypoallergenic
Weaknesses
Its initial natural odor may not appeal everyone
Has a rustling noise that you'll need to get used to
Can be heavy
Pillow loft vs. Sleeping Position
Loft refers to the height of the pillow when laid flat on the bed and it determines how high your head will be raised when sleeping. As we have mentioned in our other review of the best pillows for side sleepers, pillows can be divided into 3 categories in terms of loft; thin (below 3''), medium-loft (3''- 5''), and high-loft pillows (above 5'').
Usually, your ideal loft depends on 2 major factors: your sleeping position and your mattress' style (soft, med-firm or firm).
Average weight back and stomach sleepers with soft to mid-soft mattresses tend to favor low-loft pillows. On the other hand, side sleepers find more comfort when using medium-to-high loft pillows since these heights bridge the gap between the head and the shoulders better.
Best pillows for allergies
If you feel that your allergy symptoms always worsen whenever you use a particular pillow, then there are chances that the materials used for it could be the cause. Feather and down fillings are known to irritate even minor allergies. On the other hand, premium-quality memory foam, cotton, latex, and buckwheat are naturally hypoallergenic and rarely irritate allergies. However, keep in mind that latex is rubber and, therefore, won't be an ideal choice if you are allergic to it.
Best pillows for snoring
Snoring can be a real bother not only to you but to your partner as well. But the good news is that there are certain pillows that can correct this problem. If you are looking for a pillow to correct snoring, consider;
Contour pillows– these models have a raised center and indented shoulders. They cradle you in a natural position keeping your airway open for a restful sleep.
Wedge pillows– true to their name, these pillows are wedge-shaped. They elevate your entire upper body thereby aligning your spine and opening your airways. In addition, these models also make the best pillows for acid reflux.
Best pillows for pregnancy
An expectant mom's body is ever changing. It can take a toll on your sleep since you require support all around. C-shaped and U-shaped pillows are the best for this since they support not only your head but your belly, back, and knees all from one pillow. These are very large though and they also come at a slightly higher price than conventional models.
Wedge pillows can also offer some good use here. They are inexpensive and small. So, they won't take so much space on the bed. Unfortunately, they only support one part of your body at a time- say your belly.
Conclusion
A perfect pillow for your sleep is a combination of quality materials and a good loft and size. That being said, and as we said earlier on, there can never be a single pillow that interests everyone. All in all, we endeavored to identify and recommend some of the 10 best pillows in 2021 that we believe will fit different people with varying sleep needs.