Getting the best mattress for back pain has not always been an easy task for most people. This is quite understandable considering all the factors that come into play when shopping for a mattress.
The different types of mattresses available today and all the jargons that salespersons and online reviewers throw around make things even worse, especially for first-time buyers.
So, what actually matters when buying a good mattress for a bad back?
This article explains the key components that make the best mattress for reducing back pains in the simplest way possible. I've also identified a few mattresses that, in my opinion, might help in alleviating back pains.
How to Buy a Mattress for Back Pain:
Consider a mattress that contours to your body and curves


When shopping for a mattress for back pains, go for a model that allows your spine to rest in the most natural way possible throughout the sleep.
Santosh Thomas, a sleep, and spine specialist at Cleveland clinic recommends a mattress that contours to your backbone's natural curves.
He says that excellent weight distribution is key to relieving pressure build-up and strain around the spine and back muscles.
This takes us to the next vital feature; density.
Density
As I have explained in my other article of the best mattresses reviews, density refers to the amount of material per cubic foot.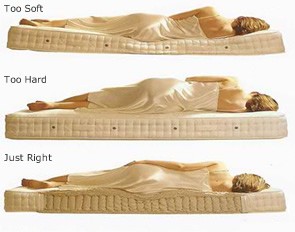 Density in mattresses ranges from 3lbs through 6 pounds. It determines how you 'float' or sink into the mattress. Put in other words, density refers to how firm, plush, or soft a mattress feels.
Your choice of a mattress' firmness level is dependent on your sleeping posture and weight. Heavy people want a denser mattress that they won't bottom out easily.
On the other hand, if you are lightweight, you want a soft to medium-firm mattress that won't feel like a rock beneath you.
Regarding your sleeping posture, side sleepers and back sleepers seem to do quite well with a medium-firm mattress. This type of mattress allows their sharp parts (elbows and hip bone) to sink comfortably while still offering enough support and cushion to other regions.
Is a firm mattress good for back pains?
Well, this has been the notion for quite some time now. However, tons of recent research proves that a mattress that is too firm might fail to offer enough support to your upper and lower back.
But remember that firmness in mattresses is both subjective and objective. It depends on your weight and sleeping postures.
If you are not sure what to go for, a medium-firm mattress might make a good guess. This type of mattress supports different sleeping postures and offers a good balance of support and softness.
It allows your mattress to sink in just a little bit thereby promoting a natural spinal alignment and minimal back pains.
Other important features
Consider the material used for the mattress- Jeffry K. Bergin, Dean, National University of Health Sciences in Lombard recommends memory foam mattresses for people suffering from back pains and osteoarthritis thanks to its contourability and memory features.
Consider whether the mattress has customizable firmness
Go for a mattress that won't make you sleep hot- enquire about the technology that the manufacturer uses for thermal regulation
Best Mattresses for Back Pain Relief
Bear Mattress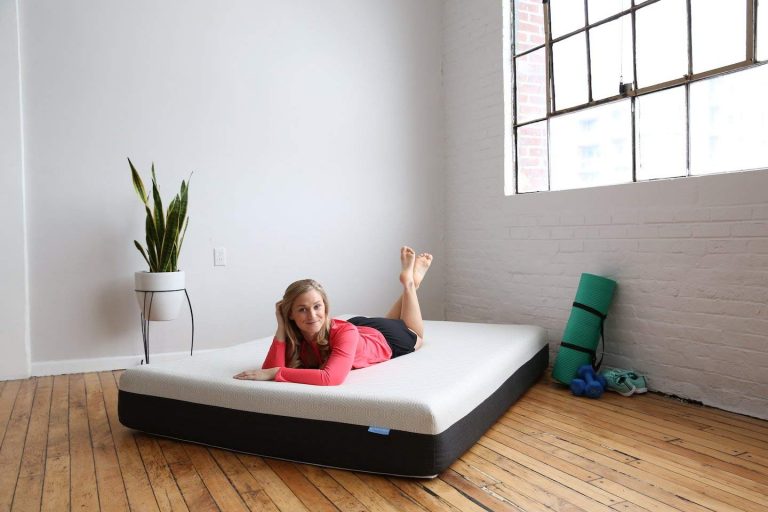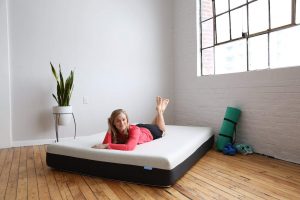 The main reason why we recommend the Bear mattress for back pain relief is that it has been crafted purposely for the athletes. This means that it makes all the stops to offer muscular comfort and recovery to allow you to recover from your day.
The Bear is a 4-layer mattress featuring a Celliant cover that promotes tissue oxygenation and body temperature regulation.
Its first layer is made from graphite gel-infused memory foam that boosts temperature regulation. This is followed by a quick-response foam that contours to your body curves to promote spinal alignment and pressure point relief.
Its base layer is a high-density foam that offers an even sleeping surface regardless of your weight and size besides promoting the mattress' durability.
Worth noting, this mattress has a medium-firm feel but it's slightly on the firmer side. Therefore, it might be a good bet for medium-to-heavy sleepers regardless of their sleeping postures.
Pros
Medium-firm density promotes contourability for pressure point relief
Celliant cover and graphite gel-infused top layer promotes thermal regulation
Comes with a 10-year warranty
Cons
LUCID 12-Inch Hybrid Mattress
The Lucid 12-inch mattress is yet another mattress that is creating a good rave in the market today. This mattress is available in 12-inch and 10-inch thicknesses.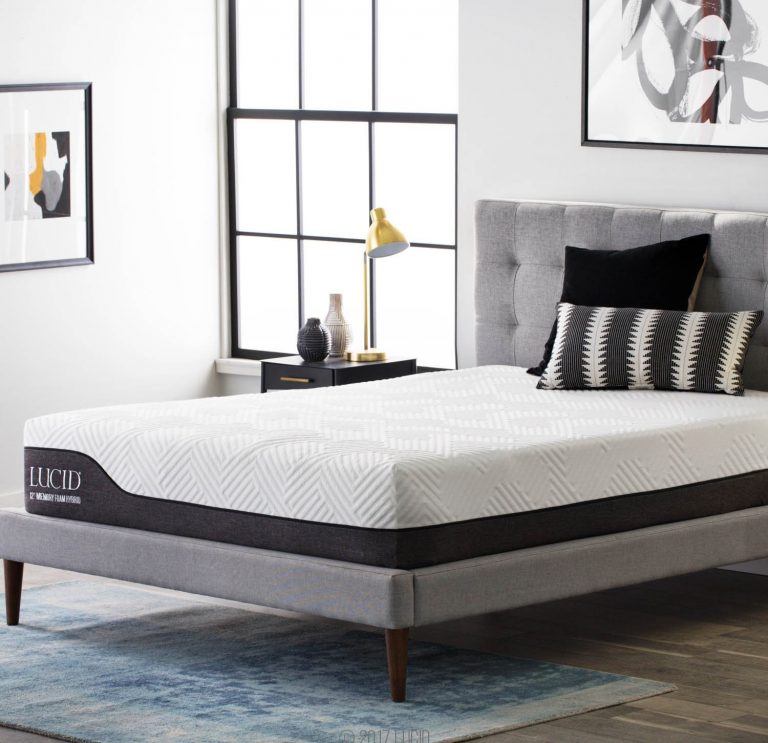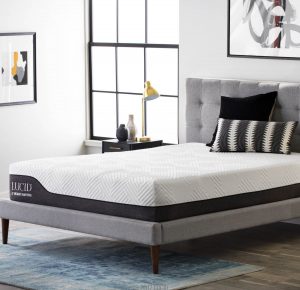 It's also available in all 6 standard sizes; Twin, twin xl, full, queen, king, and California King.
The main reason why I think that the Lucid might make a good choice for you is the hybrid and plant-based infusion technologies that it uses.
This is a 3-layer mattress with a bamboo-infused memory foam top layer, an aloe Vera-infused transition layer, and high-quality steel coils base.
The medium-density top layer contours to your body curves to cradle you comfortably throughout the night. The transition layer, on the other hand, offers a smooth transition to the spring coils.
The Lucid is a certipur-us certified model that guarantees your safety and that of your family. It has a slight odor that subsides in a few hours and comes with a 10-year warranty.
Pros
It's both comfortable and supportive
Hybrid technology helps in spinal alignment
It's relatively cheap
Cons
Several people report that it sleeps hot
Linenspa 8″ Hybrid Mattress
Are you looking for an affordable mattress for back pain relief? Well, the Linenspa 8-inch might make a good bet.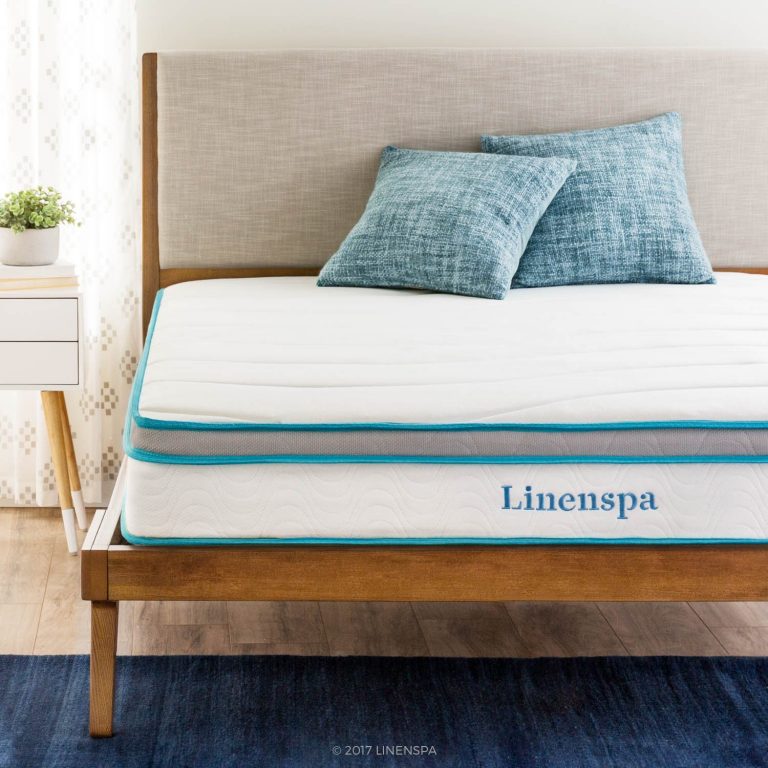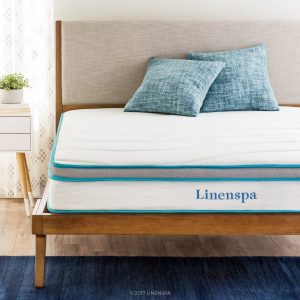 This is a hybrid mattress with a quilted top and a 1.5'' memory foam top. It also features a 6.5-inch steel coils base that gives it some bounce that you won't find in most memory foam mattresses.
Most users report that this mattress is super comfortable especially for its price. The memory foam layer conforms to your curves to minimize pressure points besides keeping you off the coils.
This hybrid technology boosts air circulation and breathability. It also minimizes the excessive sinking feeling that pure memory foam beds cause.
Considering its size, this mattress might not be a good choice for daily use by a heavyweight sleeper. Rather, it makes a good choice for a kid's bedroom, guest's room, and a college dorm.
Pros
It's relatively affordable
Has excellent breathability
Supports all sleeping styles
Cons
Not the best for daily use
Live and Sleep Resort Sleep (10-inch)
Memory foam has for long been a go-to mattress for people with bad backs. Unfortunately, most people hate its stuck-in-the-mattress feeling and its tendency to sleep hot.
But that's not the case with the Live and Sleep Resort sleep. This mattress uses a high-density certipur and Oeko Tex certified foam that lets you sleep on the mattress, not inside the mattress.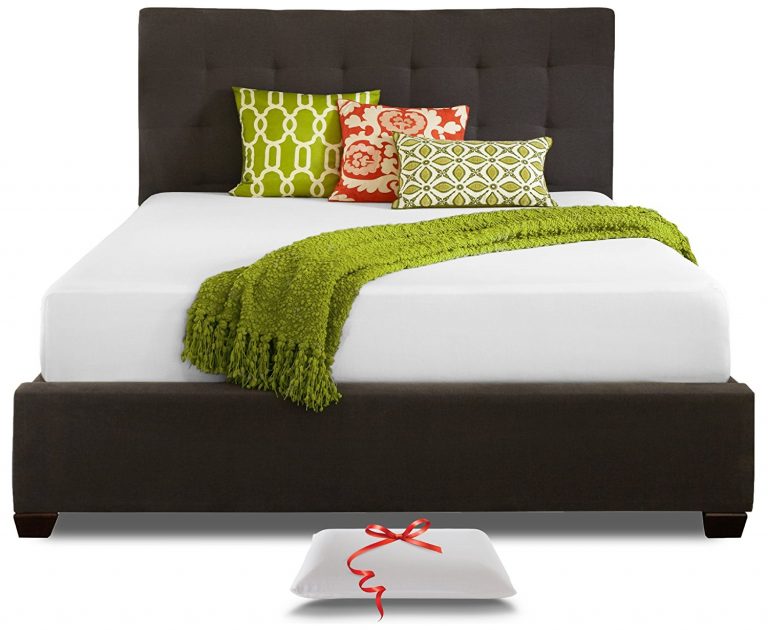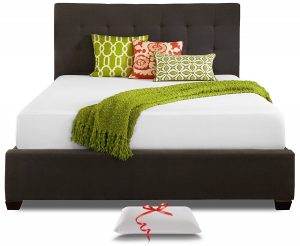 It also features airflow technology to curb heat retention and promote breathability. This leads to less turning and tossing for adequate muscle recovery and pressure point relief.
The Live and Sleep mattress is a good choice for all sleeping styles (back, stomach, and side sleeping). Interestingly, it comes with a 30-day return guarantee and 20-year warranty to make your purchase worry-free.
The only possible drawback is that it might be too firm for some sleepers.
Pros
Does not sleep hot
Great for buyers on a budget
Super comfortable
Odor fades in 24 hours
Cons
Might be too firm for some users
Modway Aveline 10-inch Gel Infused Memory Foam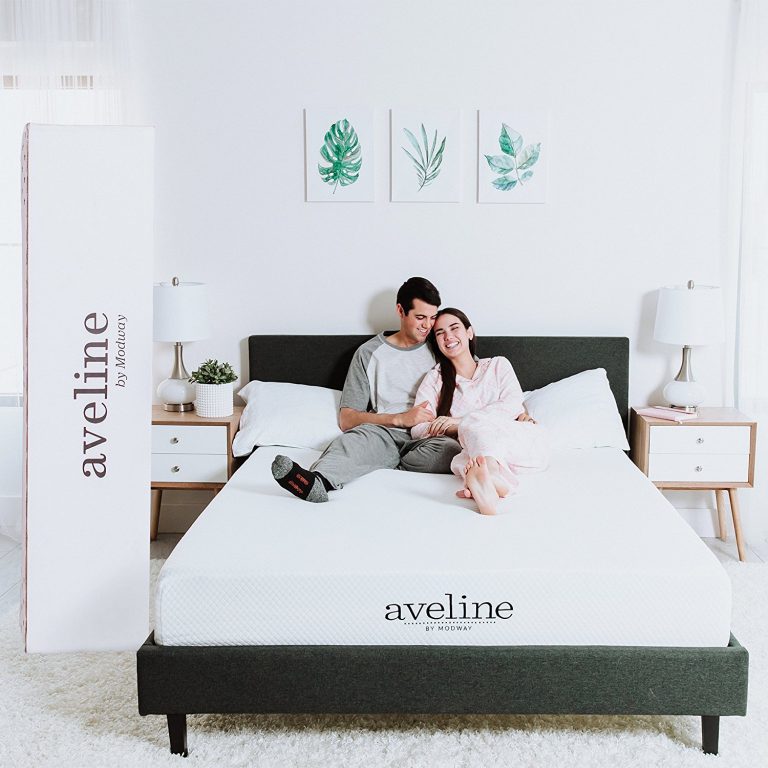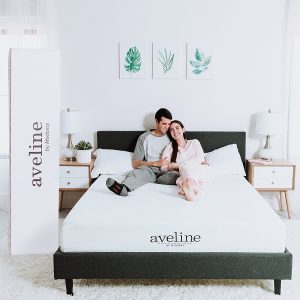 The Modway Aveline is yet another mattress with a high customer satisfaction rating in the market today. Its price also makes it a good choice for homeowners who want an affordable mattress for their guests' bedroom.
This is a 10-inch memory foam mattress with a medium-firm feel that accommodates all sleeping postures.
It features a 3-inch gel-infused memory foam top that cradles your body to relieve pain in your upper and lower back, hips, and shoulders.
This layer also has an open-cell design that boosts breathability thereby making it a good bet for hot sleepers.
Its 7-inch dense polyurethane base, on the other hand, offers an even sleeping surface and also boosts durability.
Pros
Relatively affordable
Gel-infusion technology minimizes heat retention
Tight zippered cover makes spreading your sheets easy
Cons
Several sleepers find it either too firm or too soft
Sunrising Bedding 8-inch Latex Hybrid Mattress
While memory foam is the most popular choice among people with bad backs, latex also makes a very reliable choice especially if you prefer sleeping on a hard surface.
In that case, the Sunrising Bedding is worth checking out.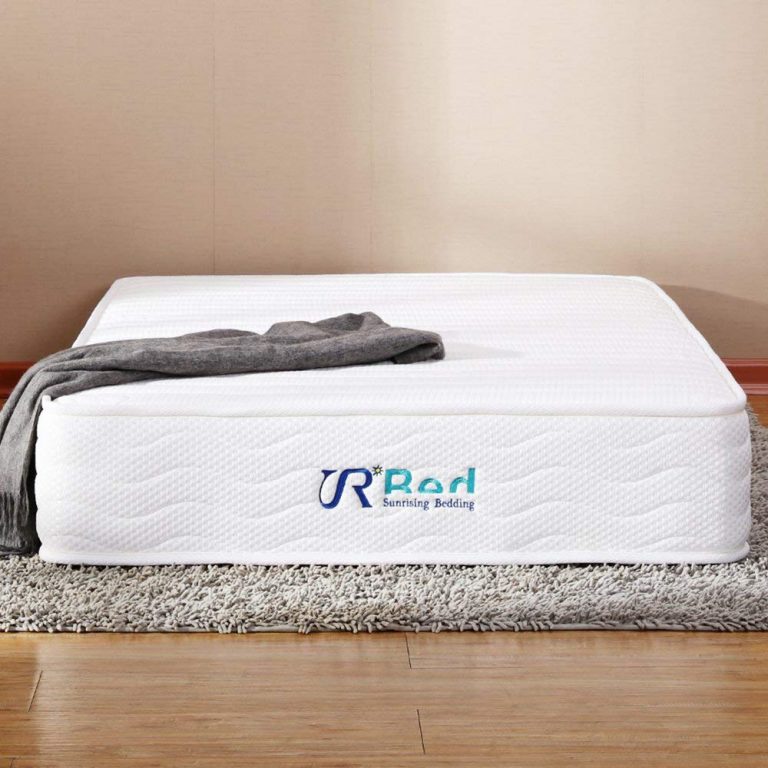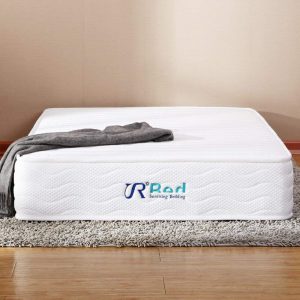 This is a hybrid mattress featuring a layer of Talalay latex and innerspring coils. This combination offers a good amount of bounce for nighttime activities.
It also minimizes motion transfer thereby allowing you to enjoy a restful night with adequate muscle recovery.
What most people love about this mattress is that it does not retain heat. In addition, it has a natural springiness attribute that ensures constant support that might lead to pressure point relief.
Another thing that you might like about the Sunrising Bedding is that it comes with a 120-night trial period. You also get a 20-year warranty on it.
Pros
Won't sag easily
Offers constant support for pressure point relief
Does not sleep hot
It's durable
Cons
Some users find it too firm
Snuggle-Pedic Memory Foam Mattress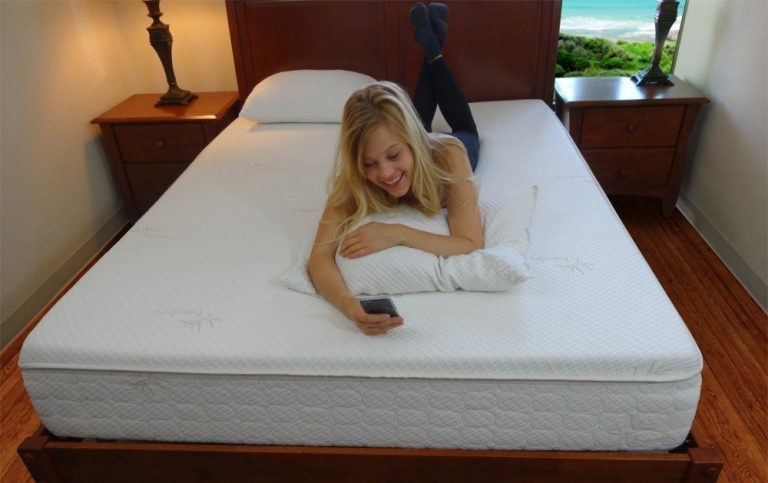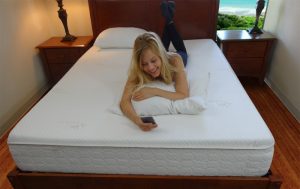 The Snuggle-Pedic mattress is among the most advanced back pain mattresses that I have for you here. While it costs a pretty penny, most users agree that it is worth every dime.
A thorough scrutiny of this mattress' features reveals that this USA-based manufacturer is serious about offering you a mattress that will relieve your back pain.
Among its standout features is a patented airflow transfer technology that involves several open airflow channels and thousands of tiny holes all over the sleeping surface.
This mattress also features a 2-layer structure comprising of a soft snuggle-flex memory foam and a high-density base. The top layer responds to your weight and body temperature to conform to your shoulders and hips for pain relief.
Another unique feature of this mattress is its micro-vented bamboo cover. Besides its excellent breathability, this cover has a zipper that allows you to rearrange the layers for customized support and comfort.
Even better, this mattress comes with a 4-month trial period and a 20-year warranty.
Pros
Advanced technology curbs heat retention
Super comfortable
Relieves pressure points and back pains
It's customizable
Cons
Odor may take some time to dissipate completely
Conclusion
The choice for the best mattress for relieving back pain varies from one person to the other. Ultimately, it boils down to a mattress that supports your spine and muscles in a natural alignment while still being comfortable.
Memory foam is the most popular choice among most people thanks to its excellent contourability. However, hybrid mattresses are also creating a good rave thanks to their ability to minimize that feeling of being stuck in the mattress.