A good pillow is a central component for a great night's sleep especially if you sleep on your side. While all pillows are designed with one major goal in mind – comfort – the best pillows for side sleepers offer support for the head to ensure alignment of the neck, shoulders, and the spine.
Generally, most side sleepers prefer pillows that are a bit thicker and firmer than what stomach sleepers and back sleepers go for. However, there are several other variables that come into play when shopping for the perfect pillow including size, fluff, loft (height of the pillow), and pillow material.
We will take you through each of these considerations (and a few more) in another section on how to buy the best pillow for side-sleeping.
At this moment, let's take you through our product review team's picks of the best performers in this category.
The Scrumptious Side Sleeper Pillow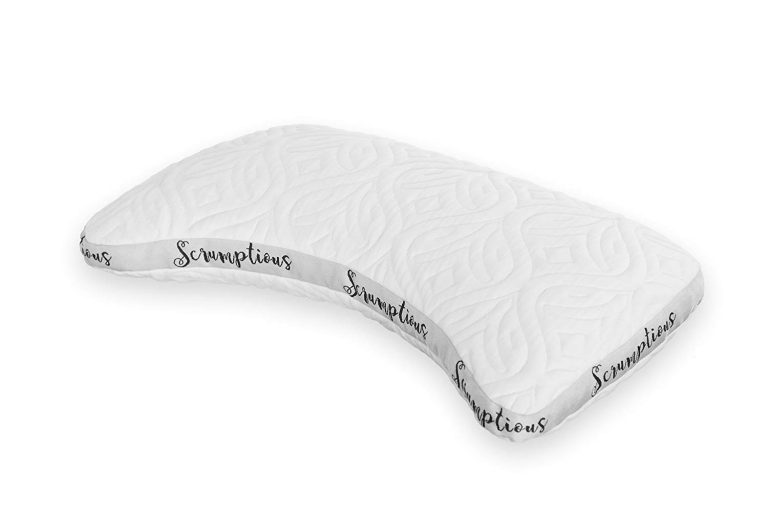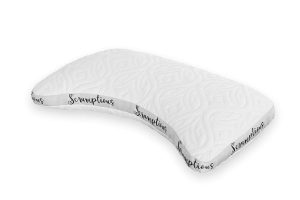 Our top pick for the best side sleeper pillow was between the Scrumptious and the Coop. After a thorough consideration and comparison, our review team decided on the Scrumptious for 2 major reasons: its unique curved design and its amazing plushy feeling.
Handcrafted in Los Angeles, the Scrumptious pillow was originally meant for the side sleepers but has turned into a back sleepers staple pillow. The pillow is made with a combination of shredded gel memory foam and silk-like microfiber to offer you a good level of support for your spinal, shoulders, and neck alignment without a feel stiff beneath you.
In addition, the shredded memory foam fillings allow air to pass through thereby solving the issue of heat retention and breathability that is commonplace with solid block memory foam pillows.
This is a medium-loft pillow boasting a height of 5 inches. It should, therefore, be a great pick for most people weighing between 130lbs and 230lbs and with average shoulder widths. What makes this a go-to pillow for most people is that its height and density can be adjusted via a hidden zipper to fit your exact needs.
Pros 
Full of support yet squishy.
Adjustable pillow loft.
Made with Certipur-US certified memory foam.
Cons
Coop Home Goods pillow (The Original)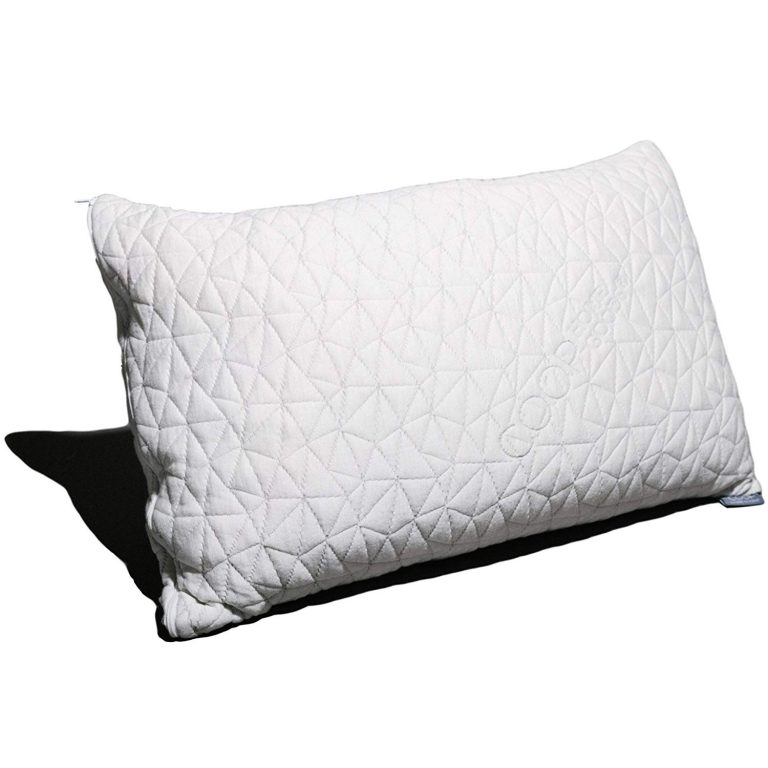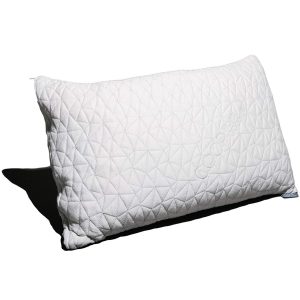 One of the most popular pillows online today, the Coop Home Goods Original is another highly recommendable model, especially if you feel like Scrumptious is on the pricey side.
Right off the bat, the major difference between these 2 pillows is that the Scrumptious is a notch higher in terms of malleability compared to the Coop. Make no mistake though; the Coop Home Goods pillow remains one of the best memory foam pillows for side sleepers who love a firm pillow for a good night's sleep.
This pillow is made from finely shredded Certipur-US certified memory foam that offers a unique balance between conformability and heat dispersion. Its contouring effect is enhanced by its loft-adjustable design and a 2-way stretch inner liner that allows excellent moldability.
On the other hand, its heat dispersion capabilities are promoted by the luxurious outer cover that is made with highly breathable bamboo to keep you cool all night long.
The Original may not suit everyone, that's just a fact. In that case, you'll get this pillow with a 100-day satisfaction or money-back guarantee. This is quite a generous offer considering that you should only need a week to determine whether to keep a pillow or not.
Pros
Fully adjustable.
Extra firm but with a good level of buoyancy.
Highly breathable.
Hypoallergenic pillow and dust mite resistant.
Affordable price.
Cons
Its finely shredded foam fillings might make getting a good balance of support and contourability tricky
Xtreme Comfort Pillow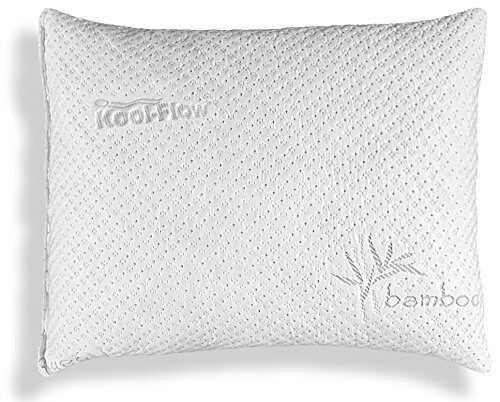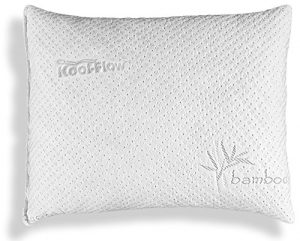 When we started compiling this list of the best pillows for side sleepers, we were pretty sure that the Xtreme Comfort Pillow would show up.
The Xtreme Comfort is actually a revamped version of another model that didn't offer the convenience of loft adjustability. Right from the package, this pillow has a height of around 6 inches– the furthest high profile pillow for your comfort and support needs as a side sleeper.
As we have noted in the buying section below, this height makes the best pillows for people who weigh below 130lbs and have a large-size head and broad shoulders. The ability to remove and add the fillings, however, makes it possible for almost anyone to use it.
Similar to our first two options, the Xtreme Comfort pillow uses shredded memory foam. The difference between this model and the Coop above is that the Xtreme Comfort uses slightly thicker shreds than the Coop. The advantage of this is that you can easily get a balance between softness and support which most people found to be a little bit tricky with the Coop.
Another great feature that makes the Xtreme Comfort the best pillow for hot side sleepers is its bamboo cover that, according to the manufacturer, is crafted with Kool-Flow technology. While we can't vouch for this design's performance, we can confirm that it does not suffer heat retention and would be a great pick for sleepers who get hot when asleep.
There's also another feature that we can't fail to mention here: the Xtreme Comfort is fully machine-washable.
Pros
Easy to remove the fillings without losing support.
Height is adjustable.
Fully machine-washable.
Excellent breathability.
30-day satisfaction or money back guarantee.
Cons
May have a strong chemical smell at first.
Cradle Me Cervical Pillow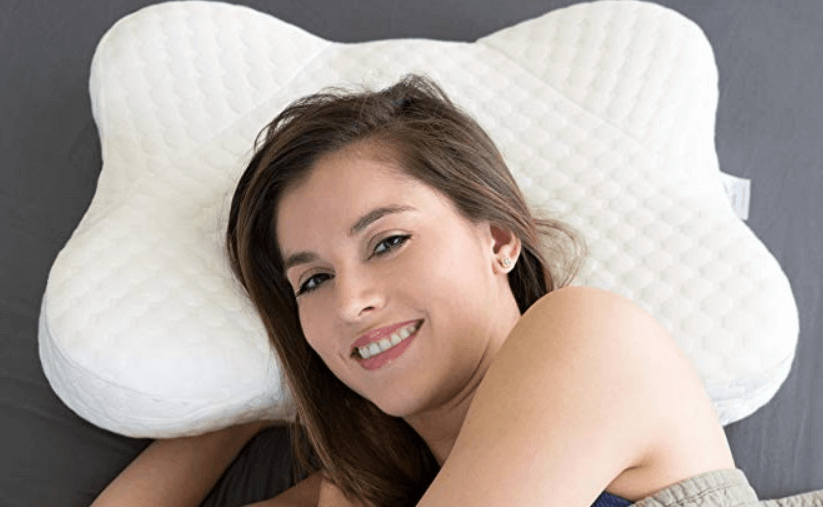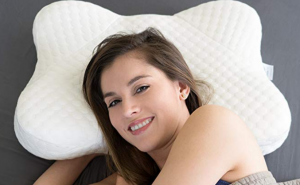 Switching gear to something a little bit different, the Cradle Me Cervical Pillow might be what you want if you are looking for the best pillow for a side sleeper with neck and shoulder pain.
The Cradle Me is an orthopedic pillow that has been designed to promote spinal alignment. It also aims at relieving any existing pressure and pain around the neck and shoulder region. Unlike the three side-sleeping pillows that we've seen so far, this model uses a solid block of memory foam and, therefore, does not allow height adjustment.
The good news is that its 3D butterfly design features multiple heights. Thus, it's actually a height-adjustable pillow with the process being much simpler than adding and removing shreds. In addition, unlike the traditional cervical pillows, the Cradle Me has a slightly curved indentation around the middle that comfortably cradles your head in place that is ergonomic and optimal for neck support.
Even better, the wings offer additional support from all angles thereby boosting the healing process for people with chronic neck pains.
Pros
Great head and neck support
Multiple heights for different needs
Best for neck and shoulder pains
Replacement or money back guarantee
Cons
Getting the ideal height may take a few nights of trial and error
Simmons Beautyrest Best Latex Foam Pillow- Best Pillow for Side Sleepers with Neck issues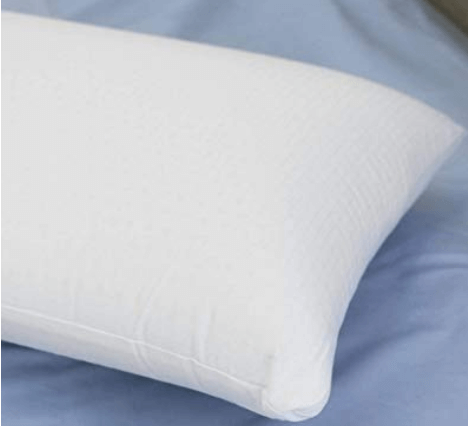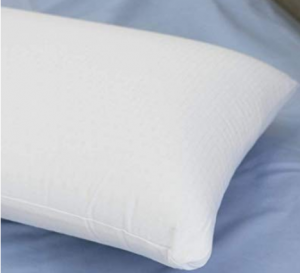 Just like our number one slot, our last pick was a battle between 2 pillows from renowned giant beddings brands; the Simmons Beautyrest and the Snugle-Pedic Ultra-Luxury Bamboo foam pillow. After a thorough inspection though, we realized that the Snugle-Pedic and the Xtreme Comfort are very similar putting Simmons Beautyrest on our list.
One of the features that pulled us into this pillow is that it's made of latex. Precisely, this pillow uses Talalay latex which is preferred for pillows since its cell structure is more consistent than that of Dunlop. It is also slightly softer than Dunlop (albeit firmer than memory foam) and more pillow-like for optimal comfort levels.
These 2 characteristics coupled with this pillow's 6-inch loft make it the best pillow for side sleepers who have broader shoulders and who prefer sleeping on a pillow that is slightly firmer than memory foam but a little bit softer than Dunlop. You could think of this as a firm yet not hard pillow.
True to a latex pillow, the Simmons also has a unique springiness that ensures continuous support even when turning. And this makes it an easy choice for sleepers with neck and pain issues. It does retain heat and will not choke you with strange chemical smells as it has excellent airflow.
Pros
Firm yet not hard
Sleeps cool
Very comfortable
Holds its shape for long
Cons
Talalay latex uses a few more chemicals than Dunlop
Best Pillow for Side Sleeping Buying Guide
Sleep specialists opine that the sleeping on your side is the second best sleep position after your back. The former is ideal especially for people who are suffering from obstructive sleep apnea and those who are prone to neck and back pain. It's also the best for snorers and expectant moms.
Being a side-sleeper, however, makes the process of identifying the perfect pillow a little bit hectic since you want a type of pillow with the right combination of comfort and support.
Ideally, the best pillow for side sleepers should bridge the gap between your ear and the mattress thereby supporting your head, neck, shoulders, and spine in a natural alignment to eliminate pains and pressure points.
So, what matters when choosing the right pillow as a side sleeper?
Loft
Loft simply refers to the height/thickness of the pillow. Generally, pillows come in different heights and can be grouped into 3 major categories;
Low-loft pillows- less than 3'' in thickness
Medium-loft pillows- 3''-5'' thick
High-loft pillows- above 5''
Most side sleepers tend to prefer medium-to-high loft pillows. Don't just choose blindly though. There are a few things that come into play when determining your ideal pillow's thickness including your weight, the size of your head, your optimal shoulder width and your current mattress' firmness level.
Medium-thickness (3''-5'') makes the best pillows for side sleepers who;
Weigh 130-230 pounds
Have an average sized head
Have average shoulder width
Use a medium-firm mattress
A high-loft pillow will fit the bet if you;
Weigh less than 130 pounds
Have a large sized head
Have broad shoulders
Use medium-to-firm mattress
Material
You also want to consider the material being used for the pillow while being particularly conscious of its characteristics that affect your sleep; moldability, temperature retention and allergen potential.
Pillows are made from a number of materials including memory foam, latex, buckwheat, down, down alternative, organic cotton, and feathers.
Hands down, feather pillows, down pillows, and down alternative pillows are the best especially if you want a cloud-like feeling. The major drawback is that these materials tend to collapse easily under your head thereby failing to offer you much needed support.
Memory foam, latex, and buckwheat are the most recommendable materials for side sleepers as they offer the most support while conforming to your natural curves to minimize pains. However, you should keep in mind that these 3 materials have different characteristics that suit different sleepers.
Here is a break-down of their strengths and drawbacks
Memory foam: it's common and easy to find. It's highly rated for its excellent conformability that consequently translates to amazing levels of support. Shredded memory foam has an adjustable thickness and to solve the issue of heat retention while sleeping.
In general, the major drawbacks include heat retention and its medium-to-high price point. Memory foam pillows might also ship with a chemical odor that might be a little bit disturbing to some sleepers.
Latex: a latex pillow is a little bit pricier than memory foam pillow but it's more durable and doesn't tend to store as much heat as memory foam. It's also much more responsive compared to memory foam and, therefore, offers constant support which is a great bonus for people who's sleeping style involves turning a lot. This is why it makes the best support pillow for side sleepers with neck pains.
Its major drawback is that it costs a pretty penny.
Buckwheat: although extremely common in Asia, buckwheat pillows have also been made and used in the USA as well. This material offers a superb combination of firmness, malleability, and breathability for an all-natural and restful sleep.
Their major disadvantage is that the buckwheat hulls make a rustling sound when moved although most people get used to it over time. In addition, low-quality buckwheat pillows may have been filled with incompletely cleaned husks that have the potential to attract bugs.
Size
Size also matters a big deal. Here are the different pillow sizes that you are bound to come across on the market and their target users
Small: these pillows measure 20'' by 12'' and although they are not so common, they are there. You might want one of these if you are looking for extra support.
Standard: measuring 20'' by 26'', these are the most common and the most affordable too. They offer a good spot between functionality and size. However, this size may not be the most ideal if you switch position a lot.
Super standard– these pillows are 2'' longer than the standard. They might interest you if you turn a lot too.
Queen size: these pillows measure 20'' by 30''. They offer a good compromise for people who want more sleeping surface on the pillow than what standard pillows offer without being as large as a king-sized pillow.
King size: it measures 20'' by 36''. This is a multipurpose pillow that will also serve as a backrest or headrest when knitting, reading or using a computer in bed.
Wrapping it Up
While our list brings the top 5 best pillows for side sleepers, remember that choosing these bedding accessories is very much subjective especially for this sleeping position. Getting a great nights snooze is up to your personal preference. If you're unsure, product reviews may assist in you finding the perfect pillow for your sleeping position.
Which ever option you may choose, remember the importance of having a supportive pillow that provides you with the most comfort for a good night's sleep. Pillowcases are also extremely important for a quality snooze so ensuring you get a silk or cotton cover for your pillow may also be a viable option for your best side sleeping needs.