Taken a look at the Australian mattress market space recently? You might have noticed a tremendous change that has occurred in the last five years.
Boxed mattresses, or 'mattresses in a box', have exploded in popularity, with mattresses like the Koala and the Noa receiving unbelievably positive reviews. These mattresses are designed to be compressed and folded into small boxes for easy delivery, and with this in mind, a lot of these comfortable mattresses come with gel memory foam or other durable and comfortable materials that offer outstanding cushioning and firmness level selections for all sleeping positions.
We know that there are tonne of brands out there to choose from for your boxed mattress requirements, such as the Emma, the Eva, Koala as well as Noa and Sleeping Duck just to name a few, and with this in mind it can be incredibly hard to choose a winner.
In our article below, we've taken a look at some of the most popular boxed mattresses in Australia that offer high-quality materials, a great sleeping experience and most even come with high durability, customisable foams that allow you to adapt and adjust the beds to suit your sleep style the best.
We've outlined our winning mattress in a-box brands below.
Our TL;DR
1. Top Rated Mattress in a box by Choice in 2021 – Koala Mattress ($150 off)
2. Best Low Price Mattress in a box 2021: NOA Mattress ($300 off)
3. Best Pocket Spring Mattress in 2021: Sleep Republic Mattress(Recommended) 
4. Best Memory Foam Mattress in 2021: Ergoflex Mattress
It isn't a surprise as to why these types of mattresses are so loved across the country. They offer up some of the most fine-tuned support and comfort in the mattress world, and they're more affordable and easy to get into the home than just about anything else.
Think about factors such as breathability, partner disturbance isolation, waterproofing, pressure point relief and contouring firmness – once you upgrade your mattress, you'll realise what you've been missing. The only catch here is that choosing between the numerous options is seemingly impossible.
So, which mattresses are going to offer you the best in quality, comfort, and longevity? Well, that's what we're here to help you find out!
Let's take a look below at Australia's best bed-in-a-box varieties and their top features.
What Exactly is a Bed in a Box
Table of Contents
To keep things as short and sweet as possible, a mattress in a box is exactly that; a mattress you're able to order online, shipped to your home in a box. These mattresses are typically memory foam, natural latex or pocket spring hybrids which are vacuum-packed into their boxes and able to be rolled and expanded once in your home.
It's easiest to think of these mattresses as being designed for the digital age. Mattresses that are innovative, feature packed, compact, and easy to ship.
Why They're Right for Everyone
One standout perk of these new mattresses in a box is convenience.
Now, it is easier than ever for you to get the perfect mattress into your home. There is no need for you to go through the hassle of visiting mattress showrooms, wasting your weekends testing out firmness or getting stuck with a firmness you don't like. The mattresses in this list all come with 100-night trials or more (except the Ergoflex), are delivered to your door and take no time to transport or set up. This means you have months to test out whether the mattress works well for you, and if it doesn't, you can replace it with another model or receive a full refund.
At the end of the day, all of these perks mean these mattresses are more affordable, offer free delivery and are very often far more comfortable than traditional mattresses because manufacturers have more time and money to focus on innovative features.
Australia's Best Mattresses in a Box
With the booming quality mattress in a box market, there are a few major players that you can choose from, most of which are highly dependable, offer great value for money and are also comfy and ideal for all sleeping positions!
We've listed Australia's top boxed mattress brands below.
Koala
Noa
Ecosa
Wonderest
Ergoflex Australia
As you can see, there are numerous brands to choose from when it comes to selecting an ideal mattress, with free delivery, that you can pick up at your front door!
Important Delivery Information for the Mattress in a Box
An impressive factor in the convenience of boxed mattresses is that many brands offer same day delivery.
For those interested in same-day delivery, or at least fast delivery, there are a few things to note. A couple of brands on our list do offer same day, and even under 5-hour delivery times with brands such as the Koala company. This will all depend on where you live, the day of the week and the time of year, so be sure to check online for the latest information.
For same day delivery in Melbourne, you have the option of Hugo Sleep who offer delivery within working hours of the day you ordered. However, interstate orders to Sydney, Brisbane, the Gold Coast, and all other capitals, will find delivery is restricted to 1 to 5 business days.
This is where Ecosa and Koala steal the spotlight. These companies offer 4-hour delivery in Sydney, Melbourne, Brisbane, Adelaide, and Perth, with all other cities having a 1 to 5 day delivery time. Koala manages to take it a step further, offering free express delivery to all Australian addresses, country wide.
Delivery Pricing
When it comes to the cost of delivery, it is always a good idea to check your specific brand's delivery details. In some cases delivery is free, though depending on your location or how rural you are, there are delivery delays and higher costs for delivery.
For example, some boxed mattress brands charge a $14 to $24 delivery fee for those in rural areas, and some customers in locations outside of metro cities, such as Darwin, Broome, Cairns and Townsville, for example, can have their mattress delivery times pushed to 10 or 14 days.
How to Choose
Before we dive into our top choice mattresses in a box, we have a few points to keep in mind that will help you choose the best mattress in a box for you.
Of course, there isn't one type of mattress in a box that is going to suit everyone, and so you should always do your best to choose something that works out well for you and your sleeping requirements, and to help combat any lower back pain of joint paint you have.
Here are some of our tips on how to choose the best online mattresses.
Understand Your Sleep Style
Off the top, one of the first things you're going to want to do is choose a mattress based on how you like to sleep, or the positions you find the most comfortable.
For our readers who are stomach sleepers, for example, you are better off choosing a mattress in a box that offers medium firmness to firm firmness levels given that you will want to make sure that your back stays in alignment as you're sleeping.
To the side sleepers now, you're going to want to choose something that is more plush and features multiple layers of foam that dip and conform to your body as you sleep. Given that a lot of weight is going to be placed into your hips and shoulders, you should work to choose a mattress that offers a latex foam along with a cooling gel. This will allow your body to sink into the mattress and also remain cool even though it is 'nestled' into the fabrics.
If you're a back sleeper, a medium-firm mattress is going to work wonders here, and so you will want to choose something that either offers a firmer latex, or an old mattress-style innerspring material. These may be 'old school' but they work wonders when it comes to back support.
Considering Your Location
One major consideration to keep in mind when it comes to investing in a new boxed mattress is where you live in the country – or if you're a hot sleeper.
For our readers in the states of NSW, Victoria and Tasmania, you will be in good hands when choosing just about any type of mattress given that the temperature is rather cool in both winter and most summer nights.
Though for the hot sleepers, or those living in warmer climates like the NT and northern QLD and WA, you are going to want to ensure you're investing in a mattress that offers excellent airflow, especially if there is a high-density foam at play in here. You don't want your mattress to slowly absorb your body heat, or the ambient air temperature and turn into a heat sink during the night.
Essential Accessories
A rather overlooked consideration when it comes to looking into a boxed mattress are the accessories that come built for the bed itself.
As you might already know, the foams and proprietary technologies in these mattresses are sometimes restrictive of accessories. For example, the ultra-plush mattresses in a box required mattress protectors that are able to flex and move with the mattress itself, rather than restrict its movement and ability to conform to the body.
Our tip here is to choose a mattress in a box that comes with accessories, or have brand-made accessories explicitly for the mattress itself.
Take a Look at Mattress Reviews
Our final point when it comes to choose the best mattress in a box is taking a gander at those who have used the mattress or currently sleep on it.
These reviews are going to let you know how sleepers find the mattress and whether their sleeping style is well-supported by the boxed mattress, or if you're better off looking at something else from another brand.
Keep in mind that sometimes you're able to rely on a full refund for mattresses that don't offer the experience you expected, or the experience advertised, and so you're able to swap out the bed for a new model.
Our Top Picks
Now that we've gone over some of the most important points when it comes to choosing the best mattress in a box, we have a list of all the winning brands and models, at least in our opinion, below for you. These are all top-rated mattresses and are loved by sleepers all across the country, and so you're going to be in good hands with many of these.
We know that with a range of mattresses and mattress brands to choose from, it's hard to know what the best option is, and so we've split these brands up below for you.
We've taken the time to test and review some of the best and most popular mattresses in a box, and have outlined our top picks below. We'll take a brief look at the mattress's materials, the mattress topper cover, sleeping positions, the pillow top, and a few more features. For the full reviews on these mattresses, you can take a look at the review section on Sleepify.
Koala (Recommended Pick)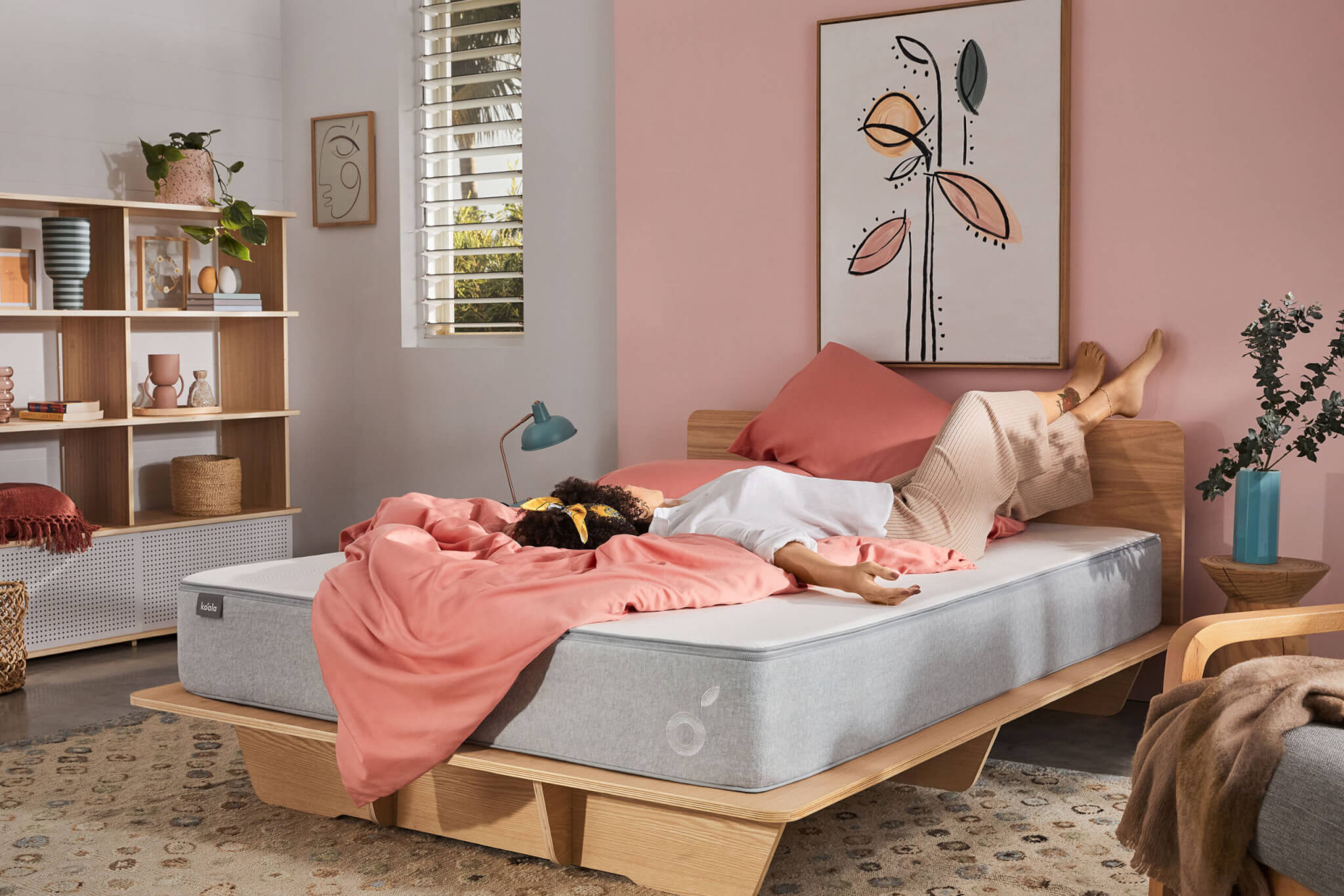 We'll start off our list with arguably the best poly foam mattress in Australia right now, at least by customer review standards. The Koala mattress is continuously praised by customers for eliminating back and muscle pain due to sleep, and providing a quality of sleep that most have never experienced.
The GECA-certified Koala mattress comes in a range of sizes, though the most common is likely to be the queen size. At just $1,050 for the queen, it's one of the most affordable foam mattresses on the market right now. Not to mention, it's certified to be 100% Australian made.
Factor in that the innovative Kloudcell poly foam is designed to be more breathable and dissipates moisture effectively, and you certainly have a winner when compared to outdated memory foam. The mattresses' eucalyptus tencel fibre cover also protects against bacterial growth so Koala is more hygienic than many other mattress brands. The cover is also breathable, non-electrostatic charging and fire retardant too, so it's safe to use with electric blankets.
The Koala is ideal for side sleepers, back sleepers and front sleepers. The incredible patented Kloudcell technology offers optimal lower support, while the upper comfort layer provides brilliant pressure relief for joints. You'll find the top layer is very effective at reducing back pain and giving you a good night's sleep every night for years to come.
You'll be provided with a 10 year warranty with the Koala, a 120-night trial period, as well as more innovation than you'll likely find in much more expensive mattresses.
If you are looking for $150 off a Koala Mattress we have a special Sleepify offer for you.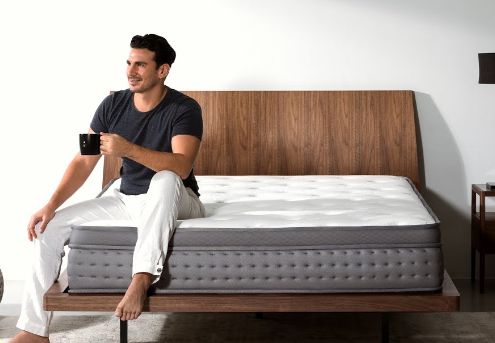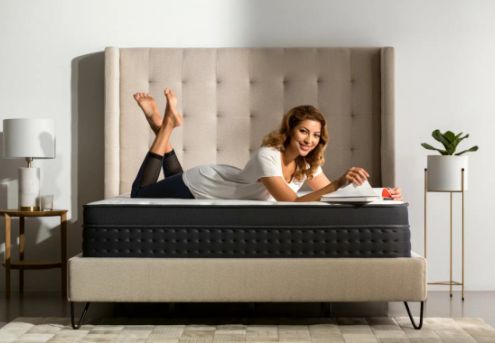 (Recommended Latex Mattress)
Noa is a hybrid mattress that combines responsive latex, moulding memory foam, and pocketed coils. If you are interested in a latex mattress (and the benefits that come with it), the Noa might be the perfect choice.
As is the case with many latex and hybrid mattresses, the Noa offers a unique feel; at first, there is a slight sinking, but the latex bounces back with comfort. This is partly due to the fact that the Noa uses OEKO TEK certified latex – an excellent choice for sleepers who like the medium to firm-feel but do not enjoy the discomfort of traditional beds. The advanced latex build also means that side sleepers, back sleepers and front sleepers will enjoy the comfort and support of this latex mattress.
Another aspect of the Noa that many often forget to consider is edge support. The spring coils provide more prominent edge support compared to the other models, meaning that it is easy to get in or out of bed. Not to mention, while good edge support often means a more significant partner disturbance, this problem is eliminated by the use of a layer of memory foam under the latex.
In terms of the value you can get out of the Noa, you won't be disappointed. The Noa mattress has a Tencel cover and an incredibly affordable price tag. Plus, the Noa company provides a comprehensive 15-year warranty and a trial period of 100 nights.
Ultimately, the Noa is our top pick when it comes to a latex mattress in a box. Customers praise the excellent service, price tag, and amazing comfort, and we can't help but agree.
The Ecosa Mattress
Another favourite mattress for Aussies is the Ecosa. It's another affordable mattress in a box, and at just $849 for a queen (when on sale), it's the best value mattress around! The Ecosa comes in an all-memory-foam design and features a G-7 Memory Foam blend that is excellent when it comes to back support and pressure relief.
Sleepers on the Ecosa can even take off the Ecosa's top layer cover and rearrange the memory foam sheets until they find a firmness of their choice, ideal for those who have a rather unique firmness requirement. The removable cover is also water and dust mite resistant, so you'll be able to rest assured that your Ecosa won't be filling up with bacteria, dead skin cells or mildew in its entire lifetime.
Features of the Ecosa include a 15-year warranty, a 100-night trial and a gel foam material that doesn't require you to flip or rotate the mattress over time. It simply holds its shape and stays free of dips, dents, and creases.
Hugo Sleep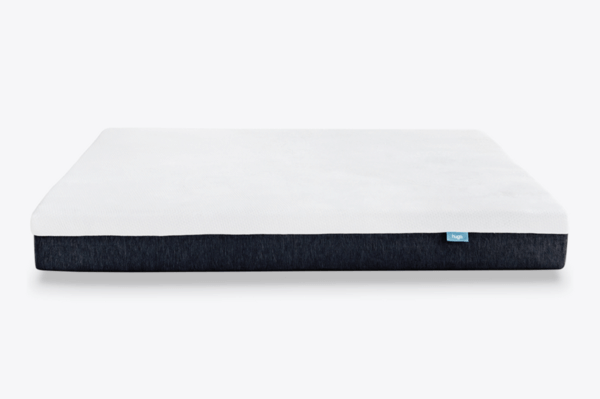 A third mattress brand Aussies are really buying into is the Hugo Mattress in a box that's coming right out of Australia. The Hugo Sleep brand are here to ensure your mattress-buying experience is as seamless and simple as possible and you're able to place an order to anywhere in Australia. The mattress is affordable at $995 for a queen, features an awesome memory foam and latex blend that works to help keep it on the rather firm side, but also makes sure it's a cool variant.
The Hugo Mattress has four layers of memory foam, latex and support foam that makes sure that no matter where you sleep on it, you'll be supported. Edge support is optimal and the mattress is definitely firm enough for you to sleep on your back and be well-supported, but the upper comfort layers still work wonders for those side and front sleepers who need a little more 'sinkage.'
You'll buy into a 3-month trial on the Hugo, and with a 10-year warranty, it matches other great box mattresses. Delivery is free, and so is express shipping, so getting your best sleep from Hugo won't take long at all!
Ergoflex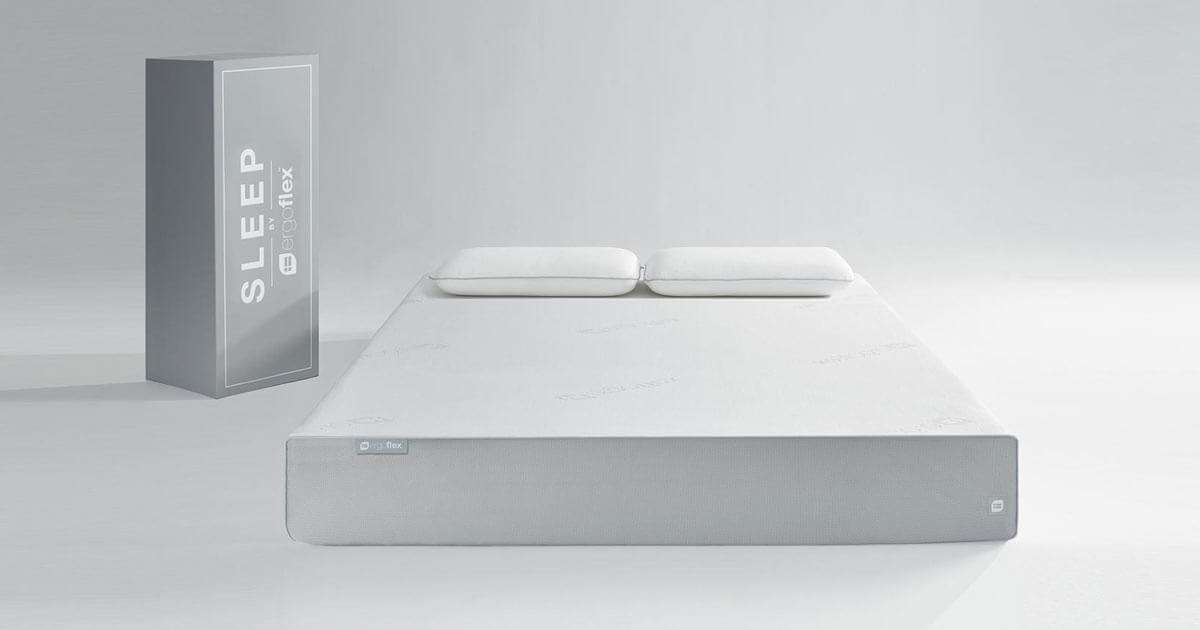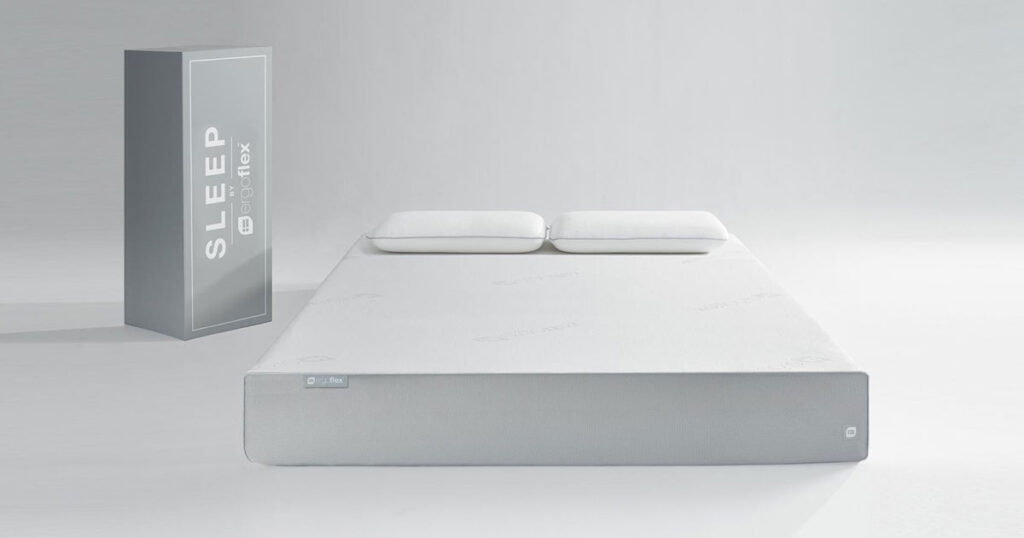 Now, onto a mattress in a box with a little more innovation and memory foam technology. The Ergoflex will make your sleep in hotter climates an ice cool breeze, and with patented Cool-Sleeptech inside, you can be sure you'll be kept fresh all night. At a touch under $1,500 for a queen, the mattress is definitely heading into the more expensive territory, though the price isn't unwarranted.
An anti-bacterial TENCEL cover means there's no chance of bacteria, dust mites, skin cells or mildew getting inside the mattress. Where the mattress really stands out is in its offering of an incredibly thick 9cm comfort foam. You'll have no trouble finding that cloud-like feeling everyone loves and with more than 9cm support foam, back support and joint pressure relief isn't an issue here either.
Expect free delivery from Ergoflex in most areas, a rather short 30-day trial time and a 10-year warranty on the fifth generation memory foam blend.
The Takeaway
Now that you have some more information on these new, rather magical mattresses in a box, it's easy to see that there is no compromise when it comes to a more manageable and easier shipped mattress. There is no need to head down to your local retailer and deal with packing and carrying your mattress into your home any longer.
Whether you're looking for a firm mattress for a bad back, or a hyper-soft variant for a side sleeper, you'll be able to find it in a box, and for an affordable price too!
It is always best to keep in mind your own sleeping style and personal requirements when shopping for a mattress in a box, regardless of how well-reviewed a mattress is. You might find that even the 5-star models aren't designed for your specific sleeping style, or environment, and so keep your personal considerations at the top of your list when shopping for a mattress in a box.
One other thing to note is that due to most of these mattresses being online, there isn't a salesperson to speak to, at least in person. However, you can still ask questions about each mattress by relying on the chat box and speaking to a marketing team member or customer service representative. They will be able to answer any questions you have about the mattress and get you on your way with a new bed that is well-suited to you.
If you dig a little deeper, you'll even find that some rather innovative brands have found a way to integrate pocket springs into their boxed mattresses with no comprise whatsoever, so if you're after the bounce and firm feel only offered by spring mattresses, our choice is the Noa. Otherwise, our recommendation for the best all rounder mattress goes to the Koala.