Raved as one of the best mattresses for back pain, the Sweetnight 10-inch Cool Gel memory foam mattress currently has quite a good following both online and on the streets.
Chances are that you are reading this review to find out whether this is your next mattress or not. As usual, we at Sleepify have already done the heavy-lifting so you won't have a lot of perusal to do.
Recommended Product – SunKiss – Flippable Gel Memory Foam Mattress (Special Offer) 
A few things to keep in mind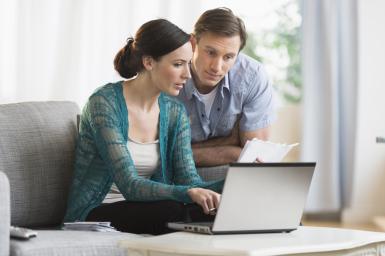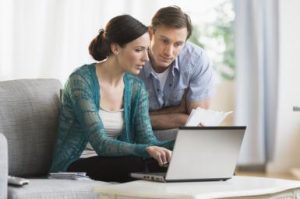 It's undeniable that memory foam is currently having 'the time of its life' from a good sleep point of view.
Compared to other materials, it is touted as the most comfortable and the best in relieving stress, pressure points, and pain.
Sleep experts attribute this to memory foam's ability to distribute the sleeper's body weight evenly. Think of several billions of minute springs working hard to put you afloat.
A memory foam mattress will make a good choice if you love the feeling of being hugged. This material might be a good option for couples with varying sleep needs credit to its ability to conform to the sleeper's body and shape.
However, Sandeep Kulkarni, Director, and Physiotherapist at Kanata Orthopaedic Clinic, Ottawa, says that memory foam mattress will not always be a magic bullet for everyone.
For instance, if you don't want the feeling of sinking into quicksand, then you want a mattress with quick response. In that case, consider a latex mattress or an innerspring mattress.
All in all, when buying a memory foam mattress, consider its;
Density and firmness level
Thickness
Off-gassing issues
Country of origin and certification
Ability to minimize heat retention
Warranties and trial period
Reviews from past users
The Sweetnight Cool Gel Memory Foam Mattress- What Is It?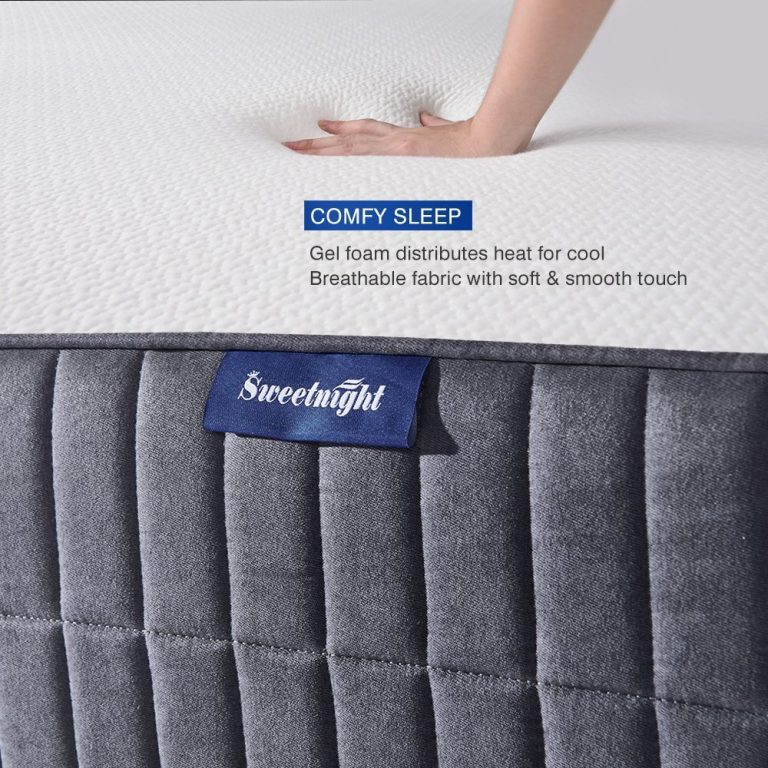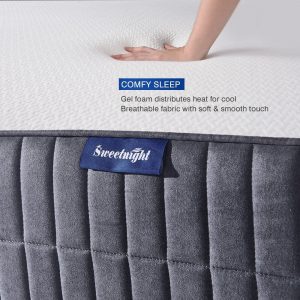 As its name depicts, the Sweetnight is a memory foam mattress with gel infusion technology. If you are new to this, gel is added to memory foam to boost air circulation and, therefore, lead to a cooler night (more about this later).
The Sweetnight is a 2-sided mattress that offers varying densities on each of its sides. It is available in all 6 sizes; King, Queen, Full, Twin, Twin XL, and California King.
While what we are reviewing here is the 10-inch model, you could also get in its 8'' and 12-inch versions.
The sweetnight Cool Gel is a sibling to the Sweetnight Hybrid mattress that brings together memory foam and innerspring.
If you'd like a memory foam mattress with some degree of bounce, then the hybrid model might fit the bill.
The Sweetnight Cool Gel is yours if you;
Want a mattress to relieve back and muscle pain
Are torn in between a medium firm and soft mattress
Share the bed with a partner with completely different mattress needs from yours
Want a mattress that sleeps cool
Are looking for an affordable mattress
Want a mattress that won't make you toss and turn endlessly throughout the night
This mattress isn't your match if you;
Want a mattress with a good amount of bounce
Are looking for a mattress that is as hard as a rock
Generally dislike memory foam
Don't like a mattress that hugs you
Pros
Usable on both sides
Offers a varying density level on each side for versatility
It's comfortable
Medium-firm side hugs your body just enough
Does not emit odors
Inflates to full size easily and quickly
Localizes motion to minimize disturbance
Cons
No side has a firm feel- You are out of luck if you like sleeping on a 'rock'
It's quite heavy. You might need some assistance to move it upstairs and to unpack it
Its Features and Benefits- Why Should You Go for It?
Construction details
The Sweetnight mattress is a 10-inch mattress consisting of 3 distinct layers plus a stylish knitted cover.
As you'll soon find out, each of these layers has its role towards improving your sleep depending on the side you sleep on.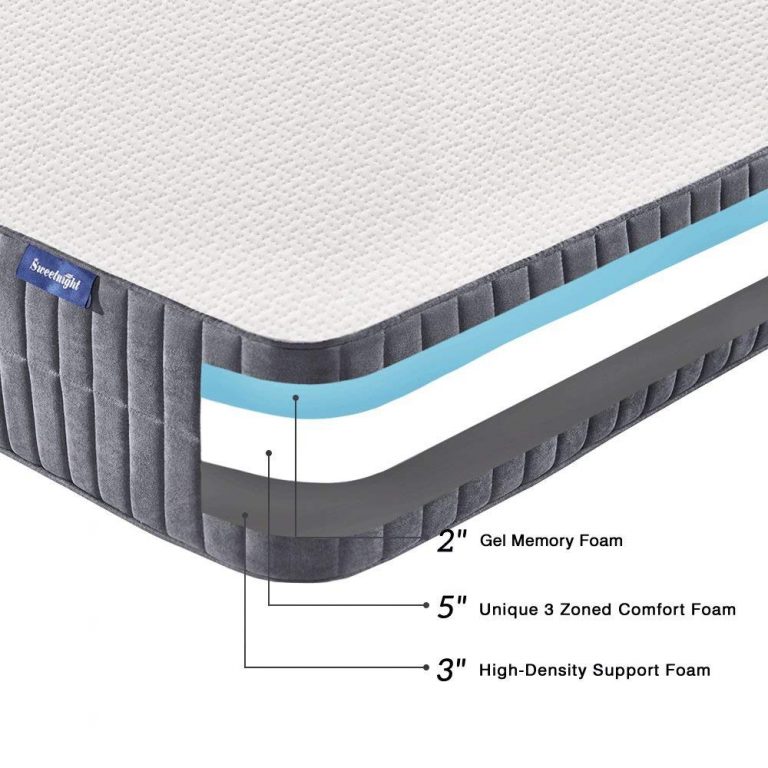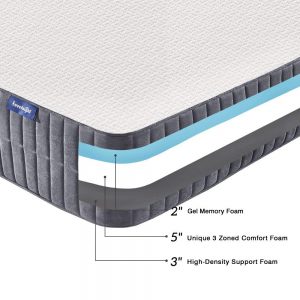 First Layer
The first layer of this mattress is a 2-inch foam featuring gel infusion. This side has a plush/cloudy soft feel.
Manufacturers add gel to memory foam to solve the unending ''it sleeps hot'' complaints that plague memory foam mattresses.
It does that by drawing body heat away from you thereby leaving you with a cool sleeping surface. But does it perform its role in this mattress? We'll find out that on the section about temperature regulation.
Middle layer
This is where all the magic happens. The middle layer is a 5-inch comfort foam featuring a 3-zone engineering design.
The head and foot sections have a medium-firm feel while the middle region is of a firm density.
The essence here is to offer more support around your heavy lumbar and thigh regions for perfect balance.
Support Layer
The Sweetnight 10-inch isn't complete without the 3-inch high-density layer. Its role is to hold the 2 layers on it in place besides supporting your weight. It also offers an even sleeping surface by offering a gentle balance.
How do you like your bed, soft or medium-firm?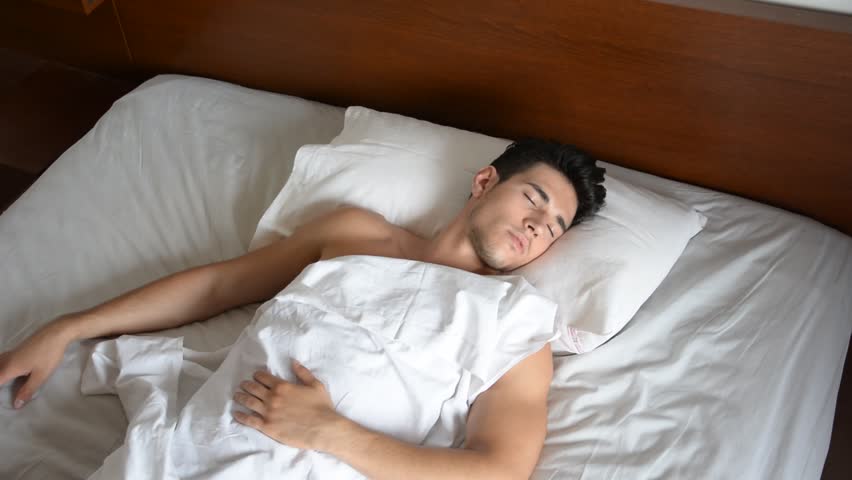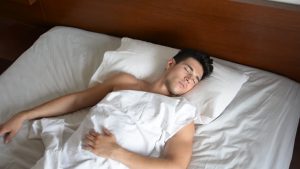 Buying a mattress in a box seems a little bit interesting. But one question that lingers in most people's mind is, ''will it fit my firmness needs?''
While most manufacturers allow you to try it at home and ship it back if necessary, this process isn't always convenient.
Sweetnight eliminates this hassle by offering you a 2-in-1 mattress. For those who like the feel of sleeping in a cloud, then the gel-infused side might impress you.
Do you like a good balance of support and comfort? Well, you are welcome to flip the mattress and use the high-density side instead.
Excellent temperature regulation
As I have explained in my other article of top 10 best mattresses, memory foam reacts to your body heat to mould to your body shape and curves.
On the downside, memory foam retains the heat over time thereby leading to hot and uncomfortably sweaty nights.
To curb this issue though, Sweetnight features a gel layer whose role is to dissipate heat away from you. It's quite interesting that there isn't a single complaint about heat retention from its previous buyers so far.
Therefore, I can confidently recommend it to you if you have issues with sleeping hot at night.
Pain relief
According to the National Institute of Neurological Disorders and Stroke, back pain is the most complain among many Americans.
If you have this problem, WebMD puts it clearly that medium firmness makes the best mattress for back pains.
Such a mattress has more give around your heavy region for alignment of the spine. That's what you get with the medium-firm side.
A magic bullet for couples
Getting a mattress that meets the comfort needs of a couple has always been a serious bone of contention. I bet you'll agree with me if you have this problem already.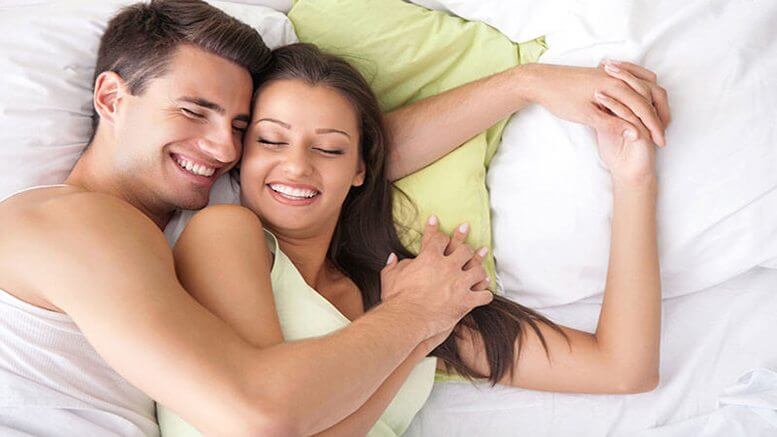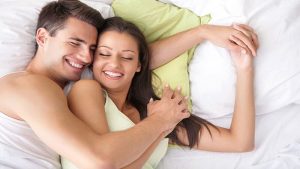 But this is yet another issue that the Sweetnight 10-inch Cool Gel memory foam aims at solving. Most couples including this one report that the medium-firm side works like a charm for both of them.
Superb motion isolation
Do your partner's endless turning and tossing disturb your sleep? Put in another way, does your partner complain a lot about your movements in the bed?
Well, this mattress could put a stop at this as most of the reviews affirm.
No off-gassing
Another feature of the Sweetnight that most memory foam lovers appreciate most is that it does not suffer off-gassing.
Admittedly, this is unheard of in memory foam mattresses considering their chemical-blend construction.
Therefore, if this is what holds you back from purchasing these mattresses, I bet there's no excuse now.
Other Buyer's feedback
At Sleepify, we always advise you to check out what other buyers say about a mattress before committing to it.
While not all online feedbacks are authentic, our experience in this department proves that a common complaint or praise among several buyers is always true.
The Sweetnight 10-inch continues to receive a positive feedback from its users across the internet. Most reviewers on Amazon and eBay report that this mattress is comfortable and supportive. Most of them also note that it does not off-gas or cause heat build-up.
Want more options?
LUCID 10-inch Gel Memory Foam Mattress
Looking for an affordable alternative to the Sweetnight 10-inch? Perhaps the Lucid memory foam mattress might fit the bill for you.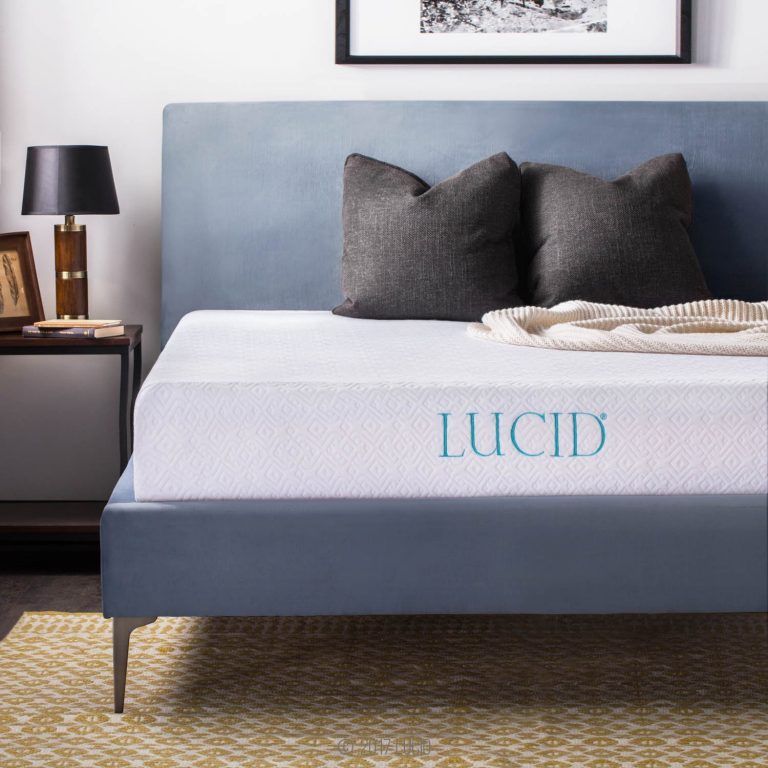 This is a 10-inch mattress with gel-infusion technology and Tencel-blend cover to give you cooler nights full of rest.
Unlike the Sweetnight, the Lucid has a 2-layer construction design. It comes at almost half the price of the Sweetnight and has a 20-year warranty. On the downside, only one of its sides is usable.
eLuxury Supply Gel Memory Foam Mattress
The eLuxury 10-inch is another popular mattress among homeowners who like a plush bed. Unlike the Chinese made Sweetnight Cool Gel, the eLuxury is made right here in the USA and it's Certipur-us certified.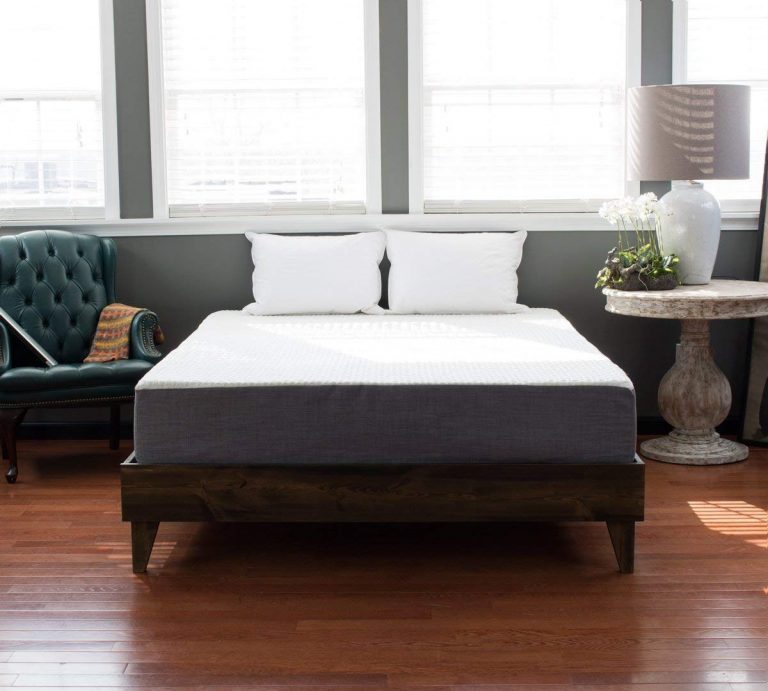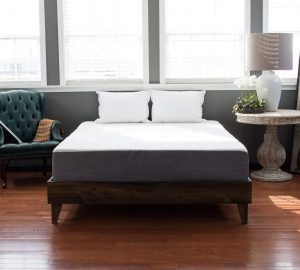 Another great feature that this mattress offers is its 3-inch gel layer. This means that it might dissipate heat much better than the Sweetnight.
We also like that it comes with a 120-day trial period and a 10-year warranty. The only complaint is that it's more on the soft side and might create that 'trapped-in-a-hole' feel for most sleepers.
Zinus Memory Foam Green Tea Mattress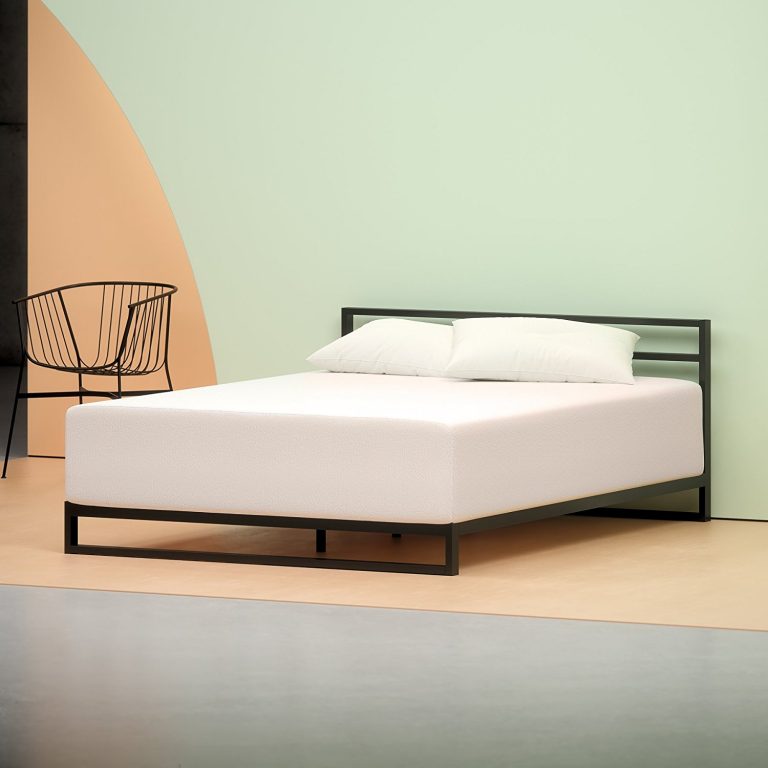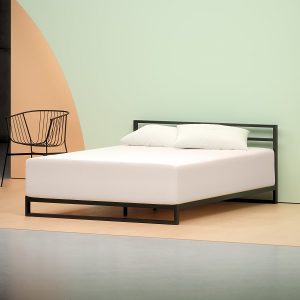 The Zinus might make a good choice if you are hunting for a thicker mattress without spending much. This model is 12 inches thick and it's around two hundred bucks cheaper.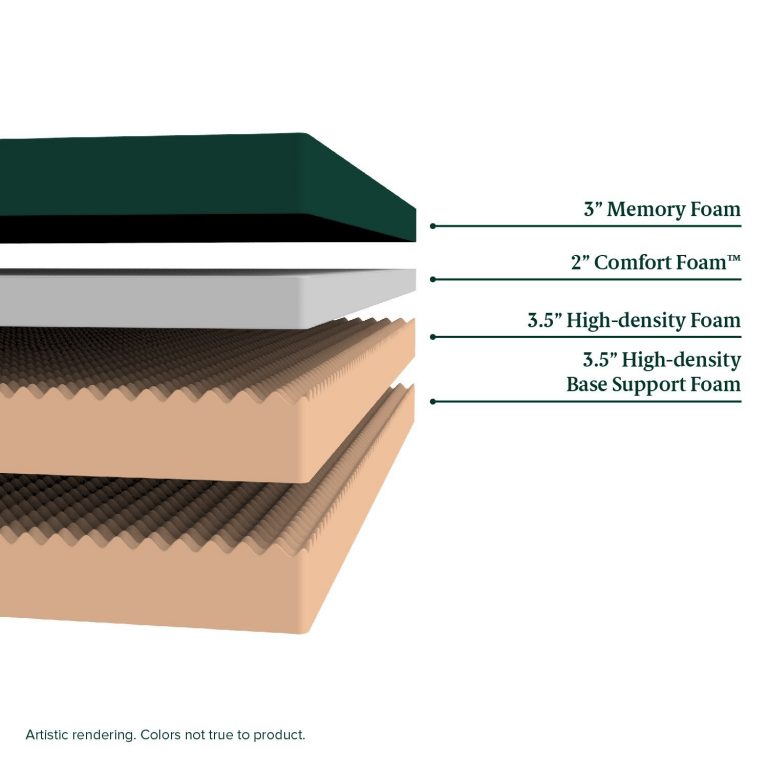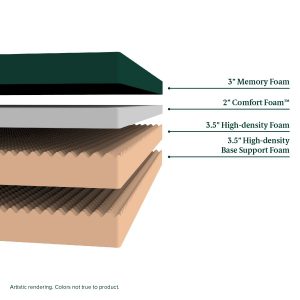 Unlike the Sweetnight, this mattress has 4 layers and capitalizes on giving you cool nights.
This mattress might impress you if you like sleeping on a soft mattress. On the other hand, it might be rather uncomfortable for heavy people who sleep on their side.
Conclusion
As its current 5/5-star rating proves, the Sweetnight 10-inch is currently one of the best offerings that the market has.
This mattress draws its popularity from its 2 firmness levels that minimize the hassle of shipping the mattress back. Its medium-firmness design also solves the debate about the right firmness level among couples.
But what most people love most about it is its incredible temperature regulation and back pain relief attributes.