The Oliver Smith Natural Organic Cooling Gel Memory Foam mattress is one of the most easily recognizable mattresses in any search of the cheapest mattresses on the market today.
Believe me. Not many brands will offer a 12-inch gel-infused memory foam mattress at the price that this model comes at.
This begs one obvious question, ''how does it stack up against the competition with regard to comfort, support, heat retention, safety, and durability?''
That's exactly what we'll be finding out in this Oliver Smith Natural Organic Gel Memory Foam review.
Buying a Gel Memory Foam Mattress- What Matters?
Gel memory foam is the latest craze in mattresses. Let it not confuse you though. In its regular form, Gel memory foam is simply traditional memory foam that has been infused with gel beads or liquid.
While gel infusion tends to take the price a little bit higher, research results prove that this technology boosts heat dissipation.
Besides sleeping cooler, these mattresses bring all the other benefits that are commonplace with typical memory foam mattresses.
For instance, memory foam mattresses tend to work magic for people with spinal and back pain issues. They also fit the bill if you want something that will isolate the motion to your partner.
However, even with gel-infusion technology, do know that gel mattresses might not be the trump card for everyone. For instance, if your sleep is disrupted by the slightest increase in heat, these mattresses might not suit you.
An innerspring or hybrid mattress might be a good match for you.
When buying a gel memory foam mattress, consider;
The density of the mattress- high density mattresses tend to offer more support, especially for heavy guys. It also boosts the durability of the mattress
Thickness- thickness and density go hand-in-hand in terms of comfort, support, durability, and cost. Mattresses range from 6 inches to 14 inches. A medium-density, medium-thick mattress tends to offer a good choice for most people with different sleeping styles
Warranty- manufacturers that offer 10-20 years of warranty prove to be more reliable
Trial period- going a mattress without trying it first is risky. Thus, consider whether the manufacturer/seller allows you to return the mattress in case it does not please you
Certification- this is a guarantee that the manufacturer uses safe materials
Oliver Smith Gel Memory Foam Mattress and Its Promises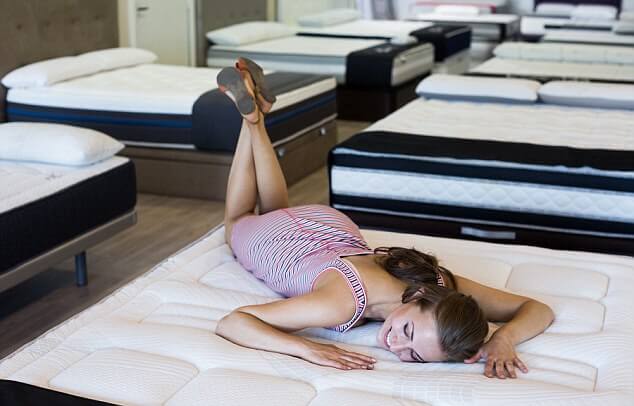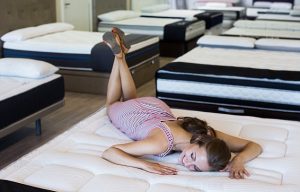 From a budget standpoint, this is currently the cheapest 12-inch mattress on the market. As such, it promises an affordable bedding solution to homeowners and students on a tight budget.
The Oliver Smith Natural Organic is a multi-layer memory foam mattress featuring gel-infusion technology.  It also features a cover made of natural organic cotton that promises comfort and thermal regulation.
While what we are reviewing here is the medium-firm model, there is also an option to get this mattress in a soft or firm mattress.
The Oliver Smith Natural Organic is a sibling to the Oliver Smith Euro Pillow Top mattress. This is a semi-hybrid mattress featuring a pillow-top cover atop a system of coils. Read our review of this mattress here.
Competition-wise, this mattress seems like a fair competitor of another organic mattress; the Zinus 12-inch gel-infused memory foam mattress.
The Oliver Smith Natural Organic Gel mattress will make a good choice if you;
Are looking for an affordable memory foam mattress
Want a simple mattress for your kid's bedroom or a guest's bed
Are looking for a mattress that sleeps a little bit cooler
Want a supportive mattress for your spine and back pain
Want a memory foam mattress for a college dorm
Dislike the 'caving in' feel that most memory foam mattresses cause
This mattress won't suit you if you;
Want a durable mattress
Are looking for a mattress to sleep on daily as a couple
Want an entirely natural mattress- only the cover is organic. The layers are made from a blend of chemicals (remember?)
Pros
It's very affordable
Has good comfort and support
Creates a good hug for pain and pressure point relief
Medium-firm density accommodates most people including your guests
Cons
Emits a chemical smell that will last for some days
Scanty info about its warranty and trial period
Company is a bit hard to reach
Some find it too soft
Oliver Smith Natural Organic Gel Memory Foam Mattress Review
Construction Design and Material Composition
The Oliver Smith features 3 layers that have been thoughtfully arranged to complement each other to deliver results.
Organic Cotton Cover
For sleepers who seek an eco-friendly bedding solution, this mattress' organic cotton cover might impress you the most here.
One thing that we love most is its clean and stylish design. But it has a whole lot of benefits besides its looks.
The fact that this cover uses organically grown cotton means everything.
First, it means that there is less chemical contact leading to a naturally soft sleeping experience.
Second, this cover gives you a healthier bed since it does not have chemical additives. Moreover, you get a high-quality cover with natural durability.
Comfort Layer
The first layer of this mattress is a 4-inch memory foam. This layer has a gel-infusion technology that gives it its cooling attribute.
In addition, it has a low-density construction design that is responsible for its soft feel. How does it feel to sleep on it? We'll find out that soon.
Transition Layer
Right below the comfort layer is the 'waffle' Airflow foam. This layer has a slightly denser design. It boosts the comfort level of the first layer while keeping you off the base layer.
Base
The base layer of this mattress is a 4-inch high-density base foam.
This section's main role is to support the other layers and to hold you in place without sinking excessively. It also boosts the mattress' durability.
Sleeping on the Oliver Smith Natural Organic Gel Mattress
Comfort and Support
As its construction design alludes, this mattress is designed with your comfort in mind. Let's get to the basics of this.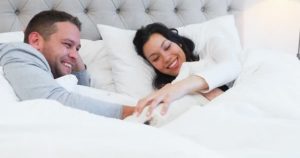 Comfort and support in mattresses boil down to the density and thickness. And as we always say at sleepify.co, these 2 aspects are objective and subjective.
This mattress has a medium-firm feeling. I would rate it at 6.0/5 on a 1-10 softness-firmness scale.
What this firmness level means is that it offers some amount of hug but does not sink too much. As such, almost everyone might find it both comfortable and supportive.
However, this depends on your weight. While medium-firm mattresses tend to cater to everyone, they all have a certain weight ballpark within which they tend to perform better.
Considering its construction design, the Oliver Smith mattress might be a good fit for sleepers below 200 pounds.
Above this weight limit, you might be sinking too much into the mattress past the transition layer. Consequently, you might find the mattress too soft for your comfort needs and also less supportive.
Spine, Back, and Joint Pain Relief
No mattress is a cure for any of these issues. However, its performance in terms of support and comfort might help in curbing these pains.
If you are within this mattress' weight support range, you might find it both comfortable and supportive.
These 2 attributes make the recipe for a mattress that will offer you good spinal and joint alignment. Consequently, this might help in minimizing pressure point and pain.
Motion isolation
Similar to other memory foam mattresses, the Oliver Smith performs quite well in curbing motion transfer.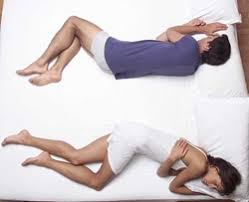 This means that your movements on the bed won't be an issue to your partner's rest and vice versa. This is a really great feature for sleepers who want a deep rest for optimum relaxation and pain relief.
Temperature regulation
From a construction point of view, it's certain that Oliver Smith aims at giving you a cool sleeping experience.
Firstly, this mattress has organic cotton cover. The good news with cotton is that it sleeps cool even in warm months.
Secondly, its gel-infused layer also helps in dissipating heat away from you during sleep. Moreover, the 'waffle' design of the second layer boosts airflow thereby boosting thermal regulation.
Previous Buyers' Feedback
Scouring through the internet, this mattress isn't so popular yet. A good number of its buyers, however, note that it is a worthy purchase, especially at its price.
Among other things, it receives a lot of praise for its comfort and support. A few of its buyers also affirm that it performs well in thermal regulation and pain relief.
However, there are a few buyers who noted that it gets a little bit hot especially in hot areas. There are several complaints about off-gassing too.
Off-gassing is common with most new memory foam mattresses though. This should not worry you so much since the smell dissipates simply by airing the mattress for around 72 hours.
Need more options?
Olee Sleep 09FM01Q I-gel Multi-Layered Memory Foam Mattress (9'')
If affordability is your major concern, then the Olee Sleep 09FM01Q might interest you. This mattress is a few bucks cheaper than the Oliver Smith.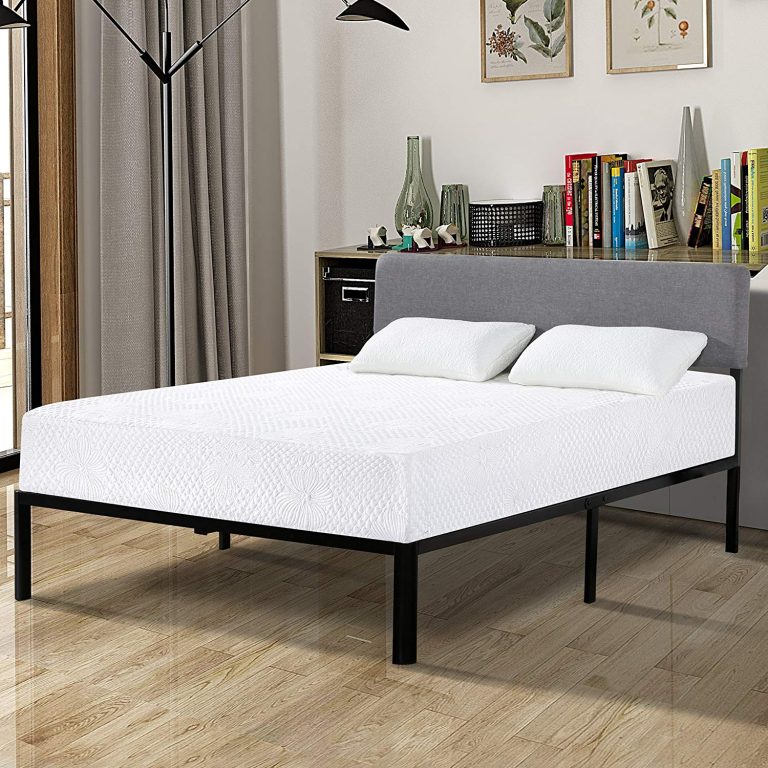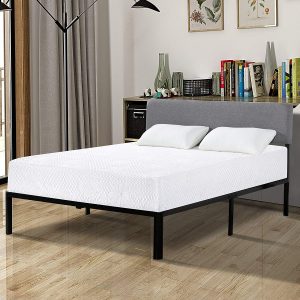 However, it is also a few inches thinner at 9 inches. Surprisingly, it's among the most popular mattresses in its price range.
This is a medium-density, multi-layer mattress with 1'' of Dura-Cool Gel for thermal regulation. Most of its buyers appreciate it for being 'not so firm yet not so soft.'
Classic Brands Cool Gel Memory Foam Mattress (8'')
The Classic Brands Cool Gel is notably pricier than the Oliver Smith. However, it makes a really good choice if you want a reliable mattress from a trustworthy manufacturer.
This is a dual-layer mattress with a medium-firm feel. Its 8-inch thickness makes it considerably thinner than the Oliver Smith. All in all, most of its users find it comfortable and supportive especially for a bad back.
Another feature that we like about it is its 2-inches of gel memory foam layer. As most of its buyers report, it does a great job of drawing heat away from your body. This might help in minimizing turning and tossing thereby leading to a deep sleep full of rest.
Signature Sleep Contour (8'')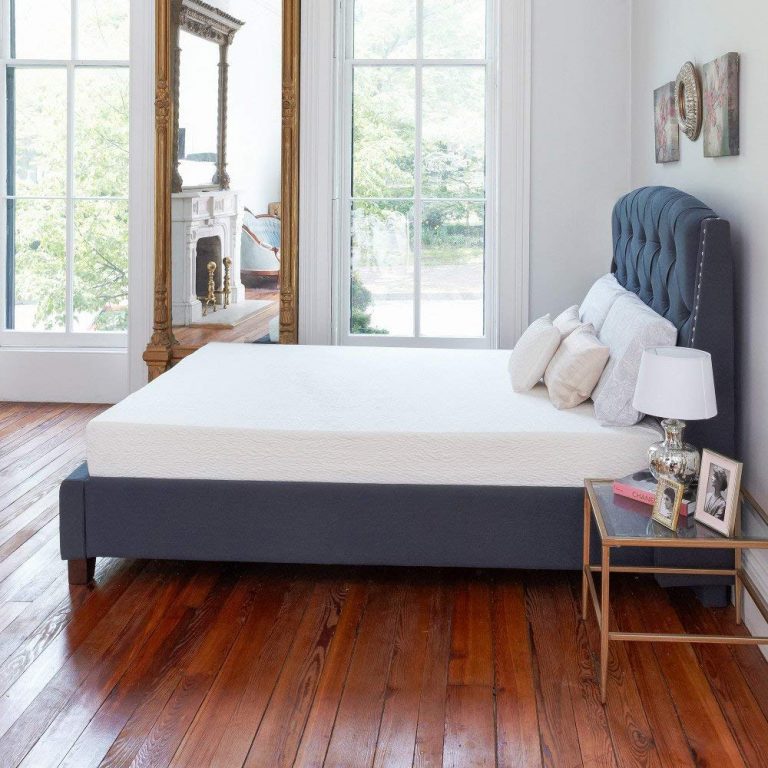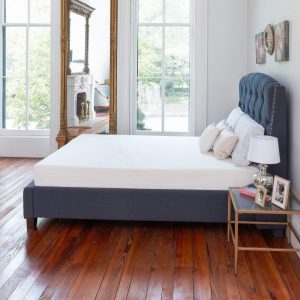 The Signature Sleep Contour is another highly recommendable mattress for homeowners on a tight budget.
Unlike the Oliver Smith, this is an innerspring mattress with a 1.6-inch high-density foam on either side. This foam offers a good contourability for comfort and pain relief while the 800 springs underneath push you up. This eliminates that uncomfortable feeling that comes with memory foam mattresses.
The unique bit about this mattress is that it is usable on both sides. This feature helps in ensuring even wear.
Conclusion
After thorough consideration of this mattress' pros and cons, it's our opinion that it makes a good choice especially if you are looking for a good mattress for kids or a guest's bed.
You could also buy it for your master. But don't expect it to last so long with regular use. Among other things, we like that it is dirt cheap even with its 12-inch thickness and gel-infusion technology.
This mattress is also comfortable and has a good amount of support provided you don't weigh over 200 pounds.
If you are on a tight budget and want a gel memory foam battery for temporal use, this one has our thumbs up.