GhostBed have been making mattresses in the USA since 2015, however, they are part of the Nature's Sleep company who have been making mattresses for decades. The GhostBed mattress is thick and bouncy with both latex and memory foam within the construction. Does this sound like your type of mattress? Read our Ghostbed review to discover more…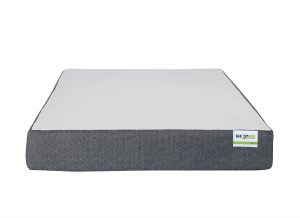 What is the GhostBed mattress made of?
The Ghostbed mattress is made up of three distinct layers, each with their own benefits. At the bottom of the mattress is a thick base layer, 7.5 inches of high density poly foam. This base layer gives the mattress support and durability and helps the mattress to keep its shape.
On top of the base layer you then find a generous 2 inches of gel memory foam. This is a layer to sink into and it adds a lot of comfort. With such a thick layer of memory foam, if you sleep on your side you should find this preferable to mattresses with thinner layers of memory foam within.
The final layer consists of 1.5 inches of latex foam. By having the latex foam on top of the memory foam, you are cutting down on some of the issues with memory foam. The latex helps to keep you cool, it aids in the dispersion of heat. This could be a good option for those of you who find memory foam just too hot for comfort during the summer months. It also helps to balance out the mattress by giving it some extra bounce, Sometimes we can feel a big bogged down on memory foam if we're sinking in too far. This layer helps to solve that problem and makes it easier to get out of the bed too, making it ideal for anyone with mobility problems.
The viscose and polyester cover is good quality, and thin enough to allow heat to escape from the mattress and also enables you to really feel that comfortable latex layer directly underneath you.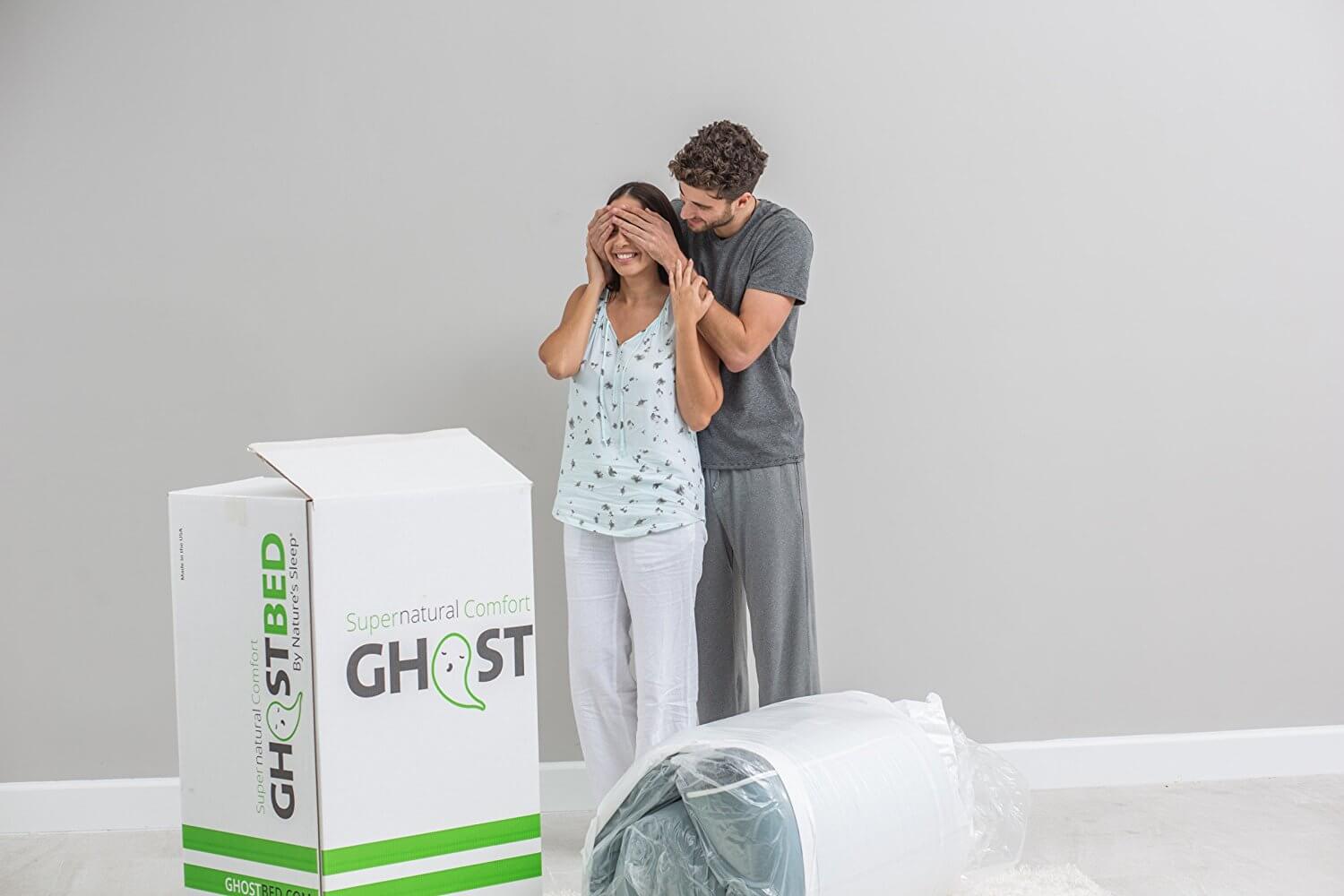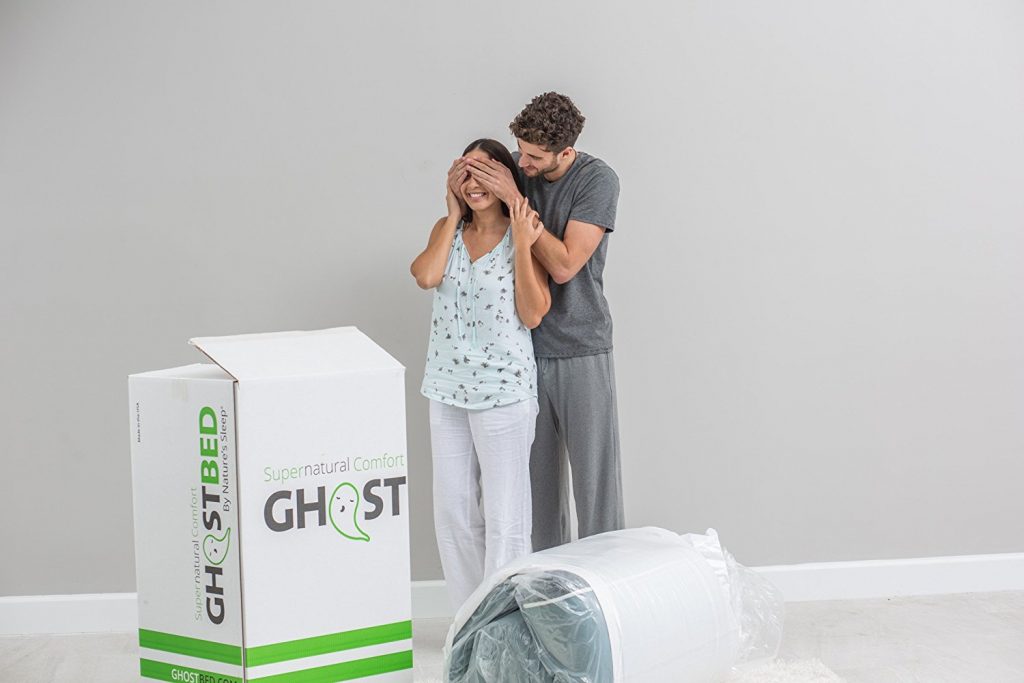 The price range of the GhostBed mattresses
The GhostBed mattresses are pretty competitively priced. Of course the prices differ depending on the size you're purchasing. There isn't a huge selection of sizes, with just 6 options, so if you have an unusual sized bed, you may have to look elsewhere for your mattress.
The prices at the time of writing are…
Twin – $495
Twin XL – $650
Full – $775
Queen – $795
King – $975
California Queen – $995
See the GhostBed mattress being unboxed below…
What else do you get when you order from GhostBed?
Perhaps the most stand-out extra you get with a GhostBed mattress is the very generous warranty. While most mattress companies will offer you a decent 10 year warranty, with GhostBed you get a whopping 20 years!
There's also a 101 night trial offer, so you can test out the mattress for a full 101 nights to make sure it suits you. If you're not happy with it within this time period, then you can get in touch with GhostBed and arrange to return your mattress for a full refund.
The GhostBed is very easy to install. It arrives compressed in a box, making manoeuvring it into the bedroom a breeze. While it's of little importance, the cute ghost logo on the box also brought a smile to my face. Once opened, you unseal the GhostBed and it slowly starts to gain its proper size and shape. Simply lay it out on your bed and leave it for a few hours.
What are people saying about the GhostBed mattress?
Overall, the GhostBed mattress gets some pretty impressive reviews. 89% of Amazon reviewers give it a 4 or 5 star rating. Most of the complaints seem to be with regards to the firmness of the mattress, so if you tend to veer towards a softer mattress, this could well be something to bear in mind before buying a GhostBed mattress.
The Good GhostBed Reviews:
"Good support. Very comfortable. Will buy again if the need arises. Recommended."
"I had never used memory foam before but I'm very glad I tried it with this mattress. My matt is super comfy and supportive all in one. I love the responsiveness of the mattress so I feel supported in all angles of my sleep. I used to wake up with all types of aches but that's all gone with this mattress. It's also remarkable at keeping me cool so all round a thumbs up from me."
"Love this mattress! My previous mattress was quite old and springs. This one is night and day in comparison! It's super comfy and maintains a nice temperature, doesn't get too hot. When sleeping on it you can feel yourself gently sink into it which is a lovely feeling, it's soft and quite firm. I generally sleep on my side, it could be a little softer but is still very comfy and I do sink somewhat on my side. I've had it for approx 3 months now and am more than happy I've made a good choice!
Unboxing it is quite exciting, the mattress appears to inflate once you've taken the plastic off! It goes to normal size pretty quickly and was ready to sleep on that night."
The Not-So-Good GhostBed Reviews:
"I have used the Ghostbed memory foam mattress for about 6 weeks,I would rate it as fairly average,disappointed that it did not expand to full 11 inches,barely 9,on a positive side it sleeps relatively cool,considering the items price I would suggest a better alternative."
"Very firm mattress. Couldn't possibly get a comfortable nights sleep. Not good."
"Please folks do NOT BUY this mattress. It is so hard its like sleeping on a lump of wood. I have more bruises from this mattress than I have ever had from the gym. It is not all comfortable."
What do we think about the GhostBed mattress?
We love the cooling aspect of the GhostBed mattress, brought about by adding a layer of latex foam on top of the memory foam. It's a great mattress if you like your mattresses on firmer side and it works well for all sleeping positions which is ideal if you share the bed with someone who sleeps in a different position to you. It's a good quality mattress at a decent price. Definitely one worth looking at.