No one would appreciate the need for the 'best pillow for neck pain' better than a person who constantly wakes up to severe nightly pains around the neck and shoulders. A sore and stiff neck isn't just uncomfortable but it could also disrupt your morning routine and even the rest of your day, at worst.
But what causes neck pains in the morning? While there are a lot of underlying factors such as sleep problems, neck and spine problems, and wrong sleep positions, using the wrong pillow ranks among the most common reasons according to webMD.
The best pillow for sleeping should prevent your neck from twisting or bending too far. Put in other words, it should support both the head and neck in a neutral position to yield optimum relaxation for your neck muscles.
Cervical pillows- what are they? Do they work?
If you've been struggling with chronic neck pain for some time, you must have considered getting a cervical pillow at some point. But what are these pillows? Should you get them?
The word 'cervical' is derived from another word 'cervic' which is Latin for 'neck.' Also commonly referred to as chiropractic pillows, these models are designed with the main purpose of supporting your neck properly for it to maintain its natural, neutral position.
Cervical pillows are quite different from conventional head pillows that generally aim at raising and comforting the head. The former has an indentation in the middle and its top, sides, and bottom sections are fluffier than the center cavity. There are a few of them that also come with a wedge extension that keeps your neck aligned to your spine for instance, the Therapeutica pillow below.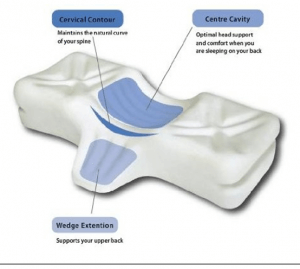 Do cervical pillows work? Sure, these models have been found to alleviate neck pains for most people in that they act as orthotic devices by aligning and supporting the neck.
Besides minimizing neck pains, strains, and sprains, cervical pillows have also been found to help with morning hand stiffness, tension headaches, whiplash injuries, arthritis, and even snoring (in some cases).
Do you really need a chiropractic pillow?
A chiropractic pillow might be worth giving a shot if you've struggled with neck pains for a long time now, and don't seem to get any form of relief from conventional pillows (no matter how comfortable or supportive they claim to be).
However, if you don't have a history of neck pains, perhaps your pillow is too old and must have lost most of its support and loft by now and thereby requires replacement. Ideally, the best pillow for neck pains should not be too high or too low. It should also offer optimum support without being too firm or too soft.
To that end, let's get you through our list of the 6 Best Pillows for Neck Pain in 2021.
Best Pillows for Neck Pain Reviews
Core Products Tri-Core Pillow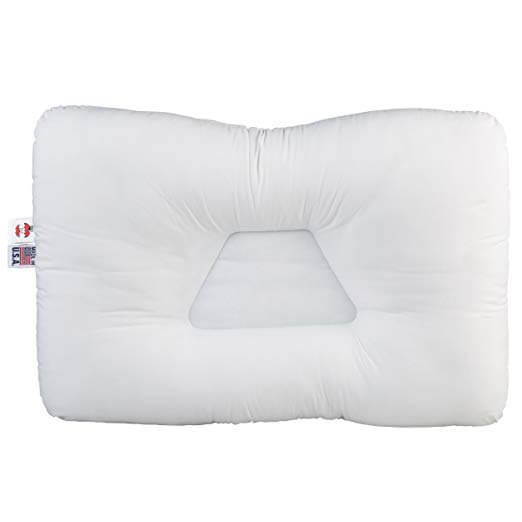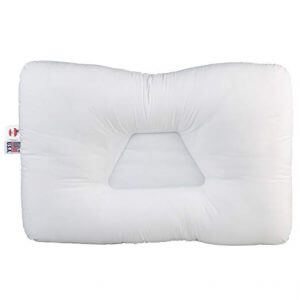 The shape of the Core Products Tri-Core pillow is quite different from what we are used to. But that's where its strength lies. This is a medically tested cervical pillow that was originally designed for orthopedic patients and anyone else struggling with neck and shoulder pains. But it has now become a common choice for everyone who wants a great sleep.
It's available in 3 sizes and 2 density levels to allow you to maximize your comfort and support. The standard size– which most adults go for- measures 24'' by 16'' and has a firm and gentle feel. The midsize Tri-Core pillow is slightly smaller at 22'' by 16'' but also maintains a firm and gentle density. The Petite Tri-Core pillow is the smallest and measures 19'' by 12''. This model has a firm feel and makes one of the best pillows for neck pain for petite adults and children.
The Tri-Core has a trapezoid-shaped, recessed head-support center and a built-in neck roll for optimum support of the spine. Actually, the 2 sides (bottom and top) have different heights to yield varying cervical support levels for different users whether they sleep on their back or side.
Lastly, and to answer the obvious question in your head right now, this pillow is stuffed with springy fiber filling. It retains its shape nicely throughout the night and does not require regular fluffing. The outer cover is made of cotton and has a luxuriously smooth feeling.
Pros
Has a built-in neck roll for optimum support
Does not require regular fluffing
Smooth to the touch and sleeps cool
Cons
Not ideal for stomach sleepers
AERIS Contour Pillow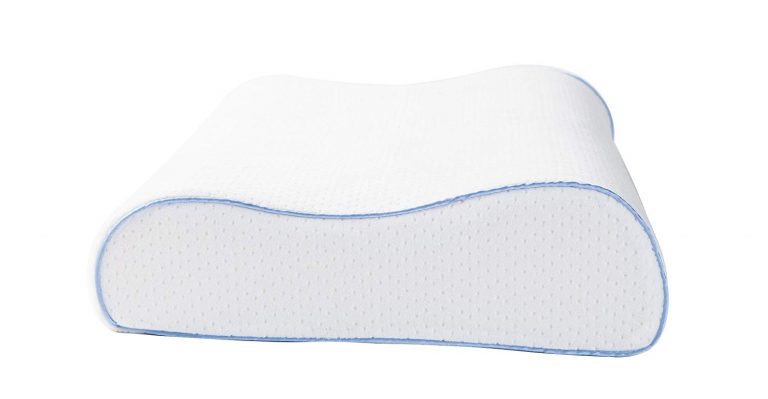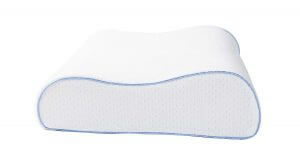 The Aeris is a contoured pillow and yet another great choice for people who are looking for a headrest that will aid in alleviating neck pains. This pillow has been specifically designed for side sleepers. Therefore, if you tend to alternate between side and back sleeping, this model might not suit you.
Other than that, the Aeris presses all the right buttons in giving side snoozers a good night rest. It is made from a single block of memory foam with raised sides to fill the gap between your head and shoulders and it has a medium-firm feel that we expect to impress most people.
It's available in 2 sizes; standard (21.3'' by 12.6'' by 4.7'') and queen (23.6'' by 15.7'' by 4.7''). The former is compact and great for people who travel a lot.
One feature that we like about this memory foam contour pillow is its top-notch breathability. Aeris has eliminated the issue of heat retention that is common with memory foam by drilling ventilation holes that draw heat away from you thereby offering you a cool sleeping surface.
Another feature that you'll definitely appreciate is that this pillow ships odor-free. The manufacturer claims that they air it for 7 days to remove all the chemical smell which, in our opinion, is very practical.
Pros
Comes with a lifetime free replacement
Medium-firm density boosts pain alleviation
Ventilations promote a cool sleep
Cons
Supports side-sleeping alone
Medium-Profile by Perform Pillow- Best Neck Pain for Side and Back Sleepers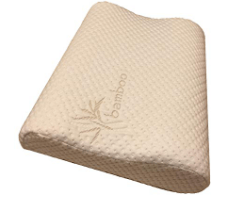 What we have next is one of the priciest models that we came across. But it's among the best pillows for neck pain 2021 that you should consider especially if you have allergies.
This pillow actually gets its name from its medium-profile size and it's a sibling to 2 other contour pillows from this manufacturer. The smallest version has a height of 3.5 inches and 2.25 inches at the thickest and thinnest sides respectively. The medium-profile model boasts 4.25'' and 3'' contours, while the thick-profile pillow maxes out at 5'' and 3.75''. The good news is that they all come at the same price.
Support is the most important aspect when hunting for a good pillow for neck pain problems, and the Medium-Profile has it in spades. Flaunting the most coveted Made-in-USA tag, this pillow is engineered with high-quality foam and has a medium-firm density for excellent neck and spine alignment.
Besides its supportive design, this pillow has an appealing soft touch thanks to its bamboo-based cover made from 43% bamboo and 56% polyester. Among other highlights of this cover, it is micro-vented to boost breathability, and it's also anti-odor and anti-bacterial.
Most buyers also like the idea that the Medium-Profile is crafted with non-toxic materials and won't subject you to harmful elements such as mercury and lead among other heavy metals.
Of course, this pillow might not impress everyone. However, most of the complaints emerge from people who ordered for the wrong size. So, be sure to go by the manufacturer's provided pillow sizing chart to ensure that you get it right from go.
Pros
High-quality construction
Made with non-toxic materials
Several profiles available
Comfortable and supportive
Cons
Therapeutica Sleeping Pillow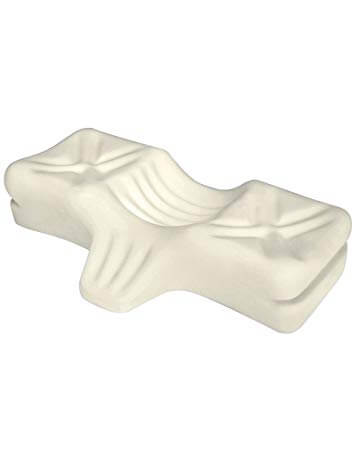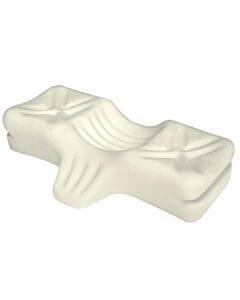 The Therapeutica is more of a medical device than it is a pillow (it's all in its name). This is among a few other neck pain pillows that are highly recommended by chiropractors since, well, they are engineered purposely for that.
The Therapeutica Sleeping pillow is designed and crafted in Canada. It is made from a single piece of foam that is both non-allergenic and non-toxic. This pillow comes in 5 different sizes to ensure a custom fit. While what we are looking at here is the average to medium size that measures 24.75″ by 10.75″ by 5.25″, there are also Large Adult and X Large sizes for huge adults plus 2 other smaller sizes for small adults and kids.
This pillow comes in only one firmness level: firm. Thus, the manufacturer recommends going a size smaller if you use a soft mattress. It also comes fitted in a zippered and machine-washable pillow cover and it can also fit into any other standard pillowcase if you prefer.
Some of this pillow's positives include its versatility in that both back and side sleepers can comfortably use it. In addition, most of its users report that it does an amazing job in relieving pain which can be attributed to its incredible spinal alignment.
As a heads up though, the fact that this is a cervical pillow means that you might take a few nights to get used to it. So, while there is a window to send it back, just a little bit of patience from you might work magic.
Pros
Great spinal support
Alleviates pain
Non-toxic and non-allergic materials
Available in different sizes
5-year warranty
Cons
Might take some time to get used to
Only 1 firmness level available
Coop Home Goods Original Pillow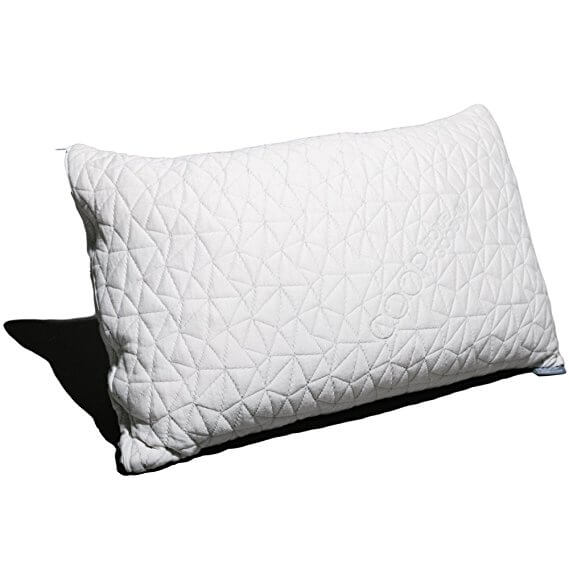 Our next recommendation here is a regular on this site. Actually, it's our number 1 recommendation in our other write-up of the best 10 pillows and it also doubles as a superb choice for people who are battling neck pains.
Quite different from the models that we've seen so far, the Coop Home Goods Original pillow is designed to be of great use regardless of your sleeping position; back, side, stomach, or all of them. This is made possible by its adjustable loft.
This pillow is stuffed with a proprietary blend of shredded memory foam and microfiber in a zippered inner case. This means that you can adjust the height of the pillow to suit your most ideal and pain-relieving sleeping position.
On the same note, we should note that the memory foam shreds have a medium-firm feeling. And true to the visco-elastic nature of pure memory foam, this pillow responds to your weight and temperature to mold nicely around the curves of your head and neck thereby leading to a naturally aligned and relaxed spine.
Other beauties of the Original include its 2-way stretch inner liner that allows you to shape the pillow for optimum support and its luxurious outer cover that is made from bamboo for breathability.
Pros
Adjustable height
Both comfortable and supportive
Excellent breathability
Shredded foam and 2-way stretch inner case boost mold-ability
Certipur-us certified foam
Cons
Strong odor right out of the package
Cradle Me Cervical Pillow- Best Affordable Cervical Pain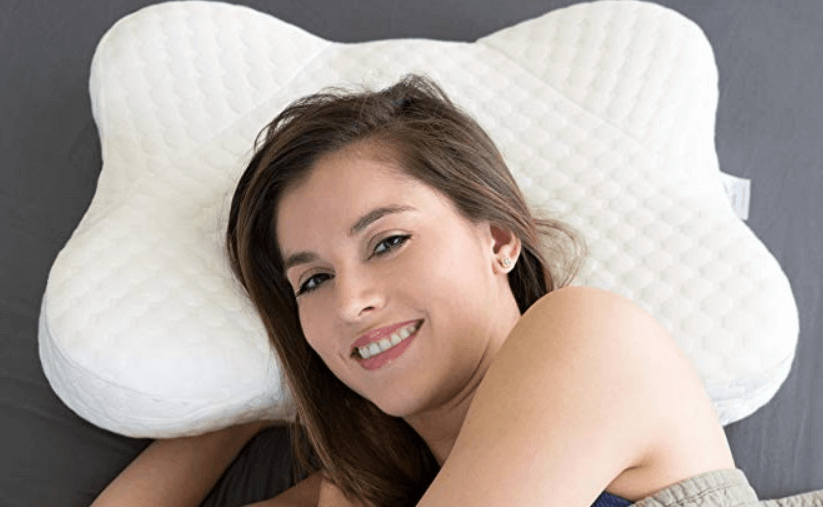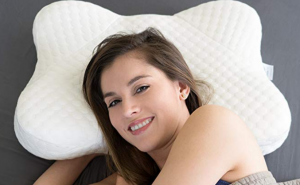 Our last recommendation here is among the most affordable cervical pillows on the market at present. The Cradle Me Cervical Pillow is a unique and advanced version of a chiropractic pillow designed to offer a little bit more versatility that these pillows aren't known for.
Starting off with the most important bit, this pillow is crafted from a solid piece of high-density memory foam. Therefore, you can expect it to mold around your neck comfortably whether you sleep on your back or side while still delivering a good amount of support where you want it the most; your neck.
But its charm actually lies in its unique and patented 3D butterfly design. This design yields different sides with multiple adjustable heights that make the Cradle Me a multipurpose pillow that is usable by virtually everyone.
Even better, this manufacturer does promise to offer you a replacement with another product or even refund your money should you feel that the Cradle Me isn't exactly what you need within the first 100 days. So, if you fear getting stuck with an expensive chiropractic pillow that isn't helping you in any way, the Cradle Me isn't that.
Pros
Its 3D butterfly design makes it technically height adjustable
No chemical odors
Comfortable and full of neck support
Very affordable
100-day refund or replacement guarantee
Cons
High-density feel might be too firm for some users
Conclusion
In life, you are either in your shoes or in your bed… with your head resting on a pillow. Your choice of pillow will make or break your night's sleep. Our hope is that our best pillow for neck pain buying guide will bring your neck pain related problems to a halt. If you are a side sleeper and would like more recommendations, we invite you to check out our other collection of the best pillows for side sleepers here.