Let us help you understand a little bit more about the most affordable pocket spring mattresses in a box with our fantastic review and guide below! At just $499 the Wonderest mattress is one of the most affordable queen mattresses on the market when compared to other box mattresses, and it's cheaper than almost all other mattresses you have to pick up in store!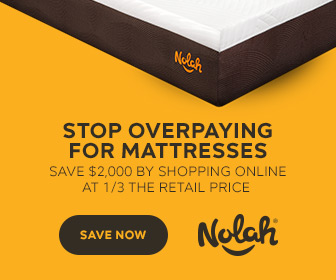 TL;DR – Nolah Mattress is a fantastic option vs Wonderest.
Save $2,000 by purchasing your mattress online
We've noticed that although a good majority of reviews are positive, the Wonderest mattress has a few minor problems that may need to be fixed before we wholeheartedly recommend it to our readers. These being the pocket springs standing a little too firm and the poor build quality, which make the queen size mattress a little hard to sleep on in places, though only when compared to ultra-soft memory foam variants.
With that out of the way, let's get into our Wonderest mattress review! We'll take a look at everything from value for money, sleeping positions, firmness and whether you should buy the mattress for yourself or as an affordable spare in the guest bedroom. Take a look below!
Firmness and Comfort Layers
When we compare the Wonderest mattress to other Australian queen mattresses and high-quality memory foam mattress is, the product leaves a lot to be desired. There is a lot that is on our wishlist such as active movement isolation, extra padding and more that haven't optimally been met by the Wonderest mattress.
You'll find that the comfort layer foam atop the rigid inner springs is quite effective at providing plenty of pressure relief similar to what you'd find in another good mattress brand, so if you're after a firm mattress with a Tempur-feeling top layer, this could be the most affordable way to go.
A few points made by users include:
Pocket springs contour the body and minimise motion
The firm support is ideal for back sleepers
Back pain is reduced in back sleepers.
Taking a look into buying guides and product reviews, there aren't too many Australians who would call the Wonderest the perfect mattress. However, the mattress is the ideal mattress for a home theatre or an affordable option for a guest bedroom.
The inner springs are high-quality and the 7.5 out of 10 firmness scale means that although the mattress is definitely on the firm side you're going to find that the firmness is ideal for minimal partner disturbance. That said, if you're one to toss or turn in the night, your partner won't feel too much.
Pricing and Value for Money
As we've already mentioned above, the mattress is incredibly affordable and available at Clark Rubber for just $499 for a queen bed mattress. One other size mattress is available, with the mattress topping out at a queen and a single.
Pricing:
Queen Bed – $499
Single Bed – $349
At this stage, there's no listing for a king size mattress or any other sizes on the Clark Rubber website, though considering the mattresses 4.3-star rating on their website, more sizes may be coming to Clark Rubber's manchester department soon.
*As of June 2019, the Wonderest mattress is currently out of stock on Clark Rubber's website, however new stock is expected to be added in the coming weeks.
Warranty and Trial Nights
The Wonderest mattress comes with a few minor perks in the way of a guarantee and customer satisfaction, however, it really misses the mark when compared to other affordable brands like Sealy. You'll only find a 3-year warranty here, and that means if there are any problems half way through the mattresses life cycle (typically 10 years) there's going to be very little you can do about it.
The bad news continues if you were hoping to try out the new mattress for a month on two on a trial period to determine whether the affordable option is for you. There's currently no trial period available, even just a week or two let alone the standard 120 nights found on other similar mattresses. This is particularly unfortunate for those deciding on whether to choose a pillowtop-innerspring mattress or not, as taking the risk may not be an option.
Material Quality
Where reviewers gave the Wonderest the poorest rating was with the build quality, and we may have to agree. A number of users stated that they could feel the springs poking them through the top of the comfort layer and that it was mildly uncomfortable when they slept on their stomachs. Although, this shouldn't be an issue for back sleepers, and may actually be a perk if you're looking for some extra firmness and support for the spine and the shoulders.
We do have a tip here, however. If you've purchased the Wonderest, you can take a look at our memory foam toppers and other mattress accessories to make your existing mattress feel as comfortable as a brand new one!
Signs of a great mattress begin to show with the antibacterial knit quilt covering the mattress. It's also moisture absorbing and dispelling, so if there's a spill, the upper mattress topper is going to catch and hold it before it leaks through to the insides of the mattress. A great perk for kids and those who like to eat or drink in bed.
The Takeaway
Although the Wonderest mattress has all of the downsides of an overly affordable option, it also has a few upsides that may make or break the decision for potential buyers. It's easy to transport, doesn't cost a whole lot and still offers an incredible amount of support, especially for the back sleeper crowd.
With its body contouring pocket springs and antibacterial mattress topper, the Wonderest will keep you comfortable and also reduce allergens building up inside the mattress, which is ideal if you are expecting to keep your mattress for more than five years. There were a number of reviews touting the mattress's ability to reduce back pain in the long term, which is good news if you're someone who routinely wakes up with a sore back or shoulders.
Overall, the Wonderest mattress is everything you would expect from an affordable mattress and would make the ideal guest bed or replacement mattress for a fold-out sofa in the home theatre or living room thanks to its ability to fold back up.