If you are considering buying a recliner chair for disabled people and you do not have time to look around, you have come to the right place. This article will list the best five recliner chairs for disabled people.
If you are directly looking for the best option without even taking the time to read this article, then our suggestion would be to go for Homelegance Upholstered Recliner Chair.
If you are wondering why the answer is simple, it has a smooth mechanism for release, so it is convenient to launch yourself in the comfort zone just by an effortless pull. The comfort increaseс as the chair is made of leather, and the overstuffed material gives you a feeling of sinking. The best part is that when you want to get up from the chair, you can do this quickly and without any effort. Thus, the comfort and the ease of navigation, with the quality of materials, make this chair an excellent option for people with limited ability.
How Can a Recliner Chair Assist a Disabled Person?
The recliner chairs can assist a disabled person or a person with limited ability in many ways. It is a known fact that people with disabilities often struggle to change the seating position from one chair to another one. The recliner chair helps the person in this and in finding a comfy spot for resting. The person can change the seating positions such as feet extension or complete reclination for comfortable daily napping. So, in this way, the recliner chairs can be life-changing for these people.
When you are looking for a recliner chair, what is most important is the comfort and support this chair will offer to you or your loved family member. We have made a list of five best recliner chairs based on the essential features and customers' opinions. Check this list below.
Our choice Number#1 Homelegance Recliner Chair [Recommended]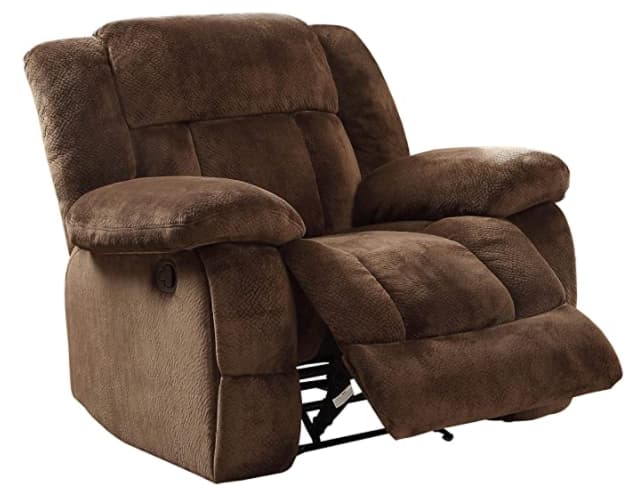 This chair has a traditional design that can fit and blend with any home interior. It has a steel frame that gives strength of the chair while the overstuffed upholstery enables comfort. The leather material provides warmth so you would feel cozy when the weather is not so lovely and on the other hand, when the weather gets warmer this material will offer you coolness. It is an excellent feature as people who are disabled are often sensitive to temperature, so this assists in temperature regulation.
The chair offers a manual and a power recliner, which makes the chair convenient for use. A pull of a button is sufficient for the power recliner to launch you in the zone of comfort where you can find the best seating position. The power lift surrounds all the body sides, so it is perfect for people with disabilities as it gives them opportunities to shift their seating position quickly.
Additionally, there is a built-in footrest that can be folded and bent down not to obstruct when not in use. Regarding the price, the chair is on the higher-price end. However, it is worth the value due to the number of unique qualities. The material is bonded leather and bi-cast vinyl. It features a thick and soft cushion that provides support.
Customers say that they love the cushion support and the ability to adjust the footrest and backrest without feeling the frame. The downside is the price and that often customers get the impression that the quality is no different from the less expensive ones.
Pros
Smooth reclining system
Robust steel frame
Foldable footrest
Power or manual recliner
Overstuffed upholstery
Cons
Pricey
Our choice Number# 2 Homall Recliner Sofa Chair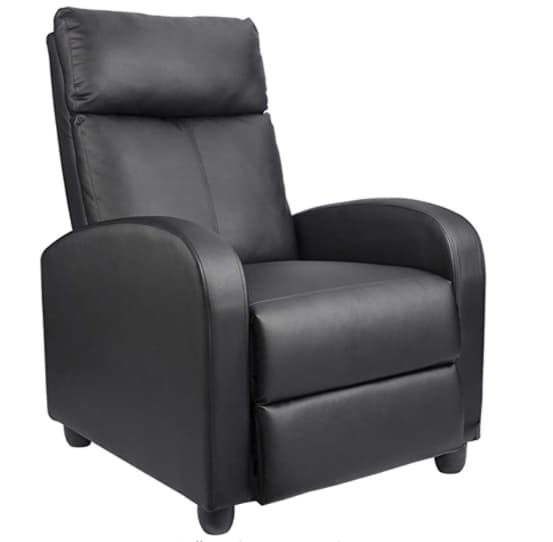 If you are in a search for a budget-friendly model that offers good quality as well, you won't regret it if you choose a Homall recliner. It has a padded seat, and it is made of PU leather. It features curved armrests and retractable footrest that can be adjusted according to your needs. There is dual stitching that contributes to the durability of the cover material. The frame is made of steel, and this provides support for larger weight capacity. One thing that customers love is hypoallergenic leather that prevents bad odours.
Although the design of the recliner resembles an office chair, the feeling of comfort is like relaxing in a massage chair. It has multipurpose as you can sit comfortably and watch TV, read a book, sleep and get a massage.
The fabric is skin-friendly, and the chair features a seat cushion with great size. There is no lever mechanism, but there is a push back recliner. The chair provides support for the back and neck as it offers high headrest and backrest. If you want to lounge comfortably, this is enabled by the long armrest.
What customers love is the value for money. However, the biggest complaint goes to the material, which is not waterproof, so it is more difficult for maintenance.
Pros
Sturdy and comfortable
Budget-friendly
Easy to set up
Long armrest
Cons
The material is not waterproof
It doesn't rock
Our Choice Number#3 Flash Furniture Contemporary Recliner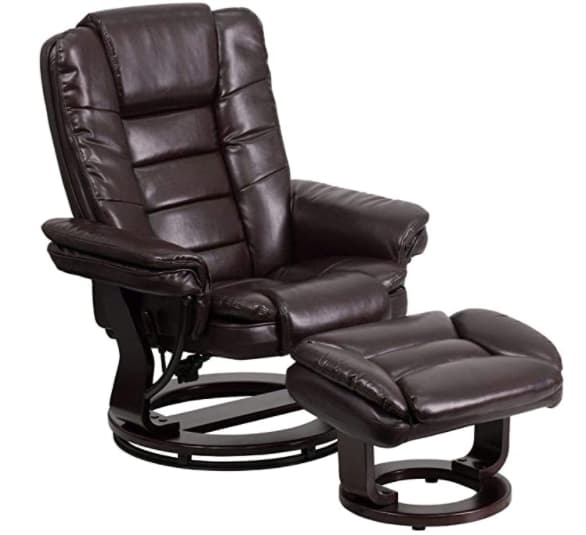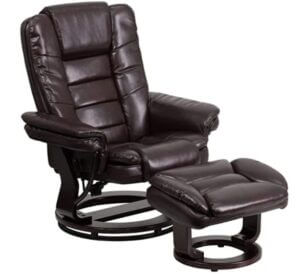 This recliner chair comes with an additional ottoman set, which is very convenient. It provides comfort due to the overfilling and thick padded seat and armrest.
The Flash recliner is made of leather. It also offers support for the head with the headrest, so it is an extremely comfortable chair for watching TV or just napping. If you have long arms, this may not be the chair for you as it has short armrest. On the other hand, it has ample space for seating so you can comfortably accommodate yourself.
If you want to recline just use the lever, which operates flawlessly. It is easy to use and easy to maintain. It is worth the money as it boasts with the durability of the material and ease of use. It is a perfect spot for rest for disabled persons due to the leather cover and soft upholstery.
The frame is robust and made of mahogany. The base for footrest is with a unique design in the shape of a ball. The extended backrest and tall headrest increase comfort.
Customers who have used it say that they like the overall quality, durability, comfort, and ease of use, but they do not like the chair's height as a few customers considered it too short.
Pros
Comfortable and sturdy
Ease of use
Tall headrest and backrest
Good quality for the value
Cons
A lower angle of sitting
Short armrest
Our Choice Number# 4 FDW Recliner Chair
This recliner has an attractive look and design, and it is made with steel that gives a robust and sturdy feel. It has an adjustable design and features a dual-function footrest extension. You can benefit from the support of heavy weights up to 300 pounds.
It offers excellent support with its ergonomic design and provides comfort with exquisite leather upholstery. It gives a comfortable feeling while sitting in a chair, and it is easy for maintenance and cleaning. Moreover, the material is waterproof, which makes it great for everyday use. The high backrest shall provide enhanced comfort so you can relax, lounge, and sleep in this recliner.
It is an extraordinary chair if you do not have much space as the design is for space-saving, so if you live in a small home, this can be an excellent option for you.
Customers confirm that this recliner offers ultimate comfort. Disabled and older adults use the chair safely, and they might need just minimal support in getting up.
Pros
Robust steel frame construction
Great space-saving design
Support heavyweights
Waterproof material
Cons
Pretty narrow seating area
Our Choice Number# 5 Flash Furniture Brown Leather Rocker Recliner
If you are looking for comfort, look no further than the Flash Brown leather rocker that would make a great choice. The subtle choice of colours is suitable for any home interior design so you will be sure that it will match your decor. Bustle back cushion provides long relaxation so you can comfortably sit for hours. It is made of leather, and this soft upholstery guarantees durability and coziness. It can be used not only at home but also it is excellent for office use. Its size is perfect for short and tall people that can equally enjoy the comfort of the chair and the headrest as well as backrest. There is a lever that is used for adjustment and reclining.
The customers love the versatility of the chair, and it is a popular choice among customers because of the rocking motion.
Pros
Metal and wood frame
Rocker motion
Bustle back cushion
Great choice of colours
Elegant design
Cons
Issues with wearing off
Types of Recliner Chairs and How to Choose the Right One for You
There are various kinds of recliners out there on the market, and not all of them are suitable for disabled persons. The ones that are on our list were chosen specifically for the features that they possess and are ideal for the disabled persons who need a recliner that can easily be maneuvered and that offer comfort in seating positions.
Some of the available kinds of recliners are:
Rocker Recliner. This type of chair can be ideal for people who like relaxing and rocking as it allows back and forth motion while providing support for the fullback as well as lumbar support.
Wall-Hugger Recliner. If you live in a small home and you are space limited this kind of chair would be the best option for you due to the dimensions, which are smaller compared to the conventional recliner chairs.
Swivel Recliner. If you like exploring the view or maybe enjoy the beautiful views around, you will not go wrong with this chair as it enables you to face all directions without moving to another chair. What it takes is just a simple gliding motion to change the direction.
Power Recliner. This recliner is convenient as with a simple push of a button you can enjoy the comfort from the extended footrest or reclines headrest. When you no longer need the footrest, you can easily fold it down. This kind of chair enables adjustment of the chairlift parts. It is different from the manual one, where the extension of the footrest or headrest can be done only as a single unit.
Lift Recliner. If you suffer additionally from leg or knee pain, you will love this chair as it assists the users to reach things that they need and it lifts from the base.
The Benefits of Owning a Recliner Chair
Some of the benefits and advantages of owning a recliner chair if you or someone you know has a disability or limited abilities are the following:
The recliners assist people with disabilities, so they require minimal assistance from their loved ones, and they are more independent in doing things such as pulling the backrest down or up, extending the footrest, or folding it down. Thus, people are more in control of the motion and ability to enjoy the best seating position. Most certainly, this does not mean that we should care less, and we should give less support, but it means that it is nice to have independence and feel in control.
A recliner chair is perfect for people suffering from leg or knee problems as it offers support of the ligaments, and it eases the pain and reduces the burden.
You can customize your comfort the way you like it with the recliners following some of the activities you do. You could find the best seating position for reading a book, watching TV, and napping.
It provides ease of the pressure points for the people who suffer from leg, back, neck, or other chronic pain.
The recliner chair can provide support for the body, and it is much safer than the traditional chair. There are small chances of falling as it accommodates the body.
Materials of a Recliner Chair
The material used for the recliner is crucial as it has a direct influence on the quality. Some of the elements that are commonly used are the following:
Polyurethane is most often used for bags, clothing as well as a furniture covering. It is a human-made material that is more affordable than leather. It provides softness, smoothness, and it is waterproof. You can easily maintain it as it is dry-cleaned. It is a human-made material, so it consists of some toxic chemicals that adversely affect the environment and the health of the people.
Leatherette is a blend of vinyl which makes it softer than the leather. Although it gives comfort, it is not temperature regulated so for example when the weather is hot the leatherette recliner feels hot, and it feels colder when the weather is cold in winter.
Bonded Leather, or reconstituted leather, consists of scraps from shredded leather, fibre, animal hide, some plastic, all of these blended in PU coating. These are all recycled items that make it more affordable than leather. However, this material might have some chemical odours, and it is not as soft as the real leather.
Two frames can be used for the recliners: Wooden Frames and Steel Frames. The wooden one matches well with the fabric of the recliner and makes the chair less tough at the bottom.
Steel Frames make the recliners more supportive and durable. The bad side here is that it is more stringent at the bottom and it might be prone to rust. When discussing the price framework, the wooden frames are more expensive than steel frames.
Recliner Chairs Help People with Dementia
People who have dementia need comfort, peacefulness, and pleasure in their homes. A recliner can help these people feel secure and would reduce the mobility problems that often accompany dementia. People who have dementia often have problems with stiff joints and arthritis. Thus, the recliner can help them in soothing them while sitting comfortably in the chair, and it helps them ease the trouble they experience when leaving the chair so they can dare move around more. Mobility is often an issue with dementia due to the affected parts of the brain, controlling balance and coordination.