Simba boasts a combo of 2,500 springs and memory foam, to bring you the most ideal mattress. No matter what kind of sleeper you are. There's no jargon, no endless lists of mattresses to choose from, just one mattress, designed for everyone (there are size choices of course). With a mattress based on the Sleep To live Institute and profiling of over 10 million sleepers, it's hard to argue that these guys haven't done their research. UK based company, Simba date back to 1979.
Simba Mattress Type
The Simba Mattress is a hybrid of conical pocket springs and visco memory foam, manufactured right here in the UK.
Simba Mattress Layers + Construction
The layers of the Simba mattress are pretty simple.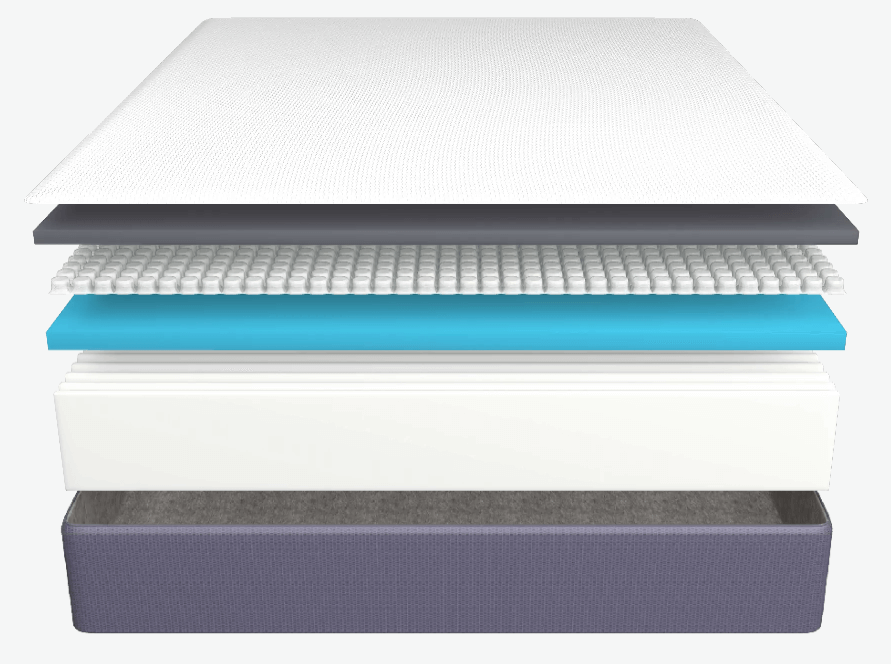 Sleep Surface – hypoallergenic top layer designed for airflow and temperature regulation
Simbatax – a comfort latex layer
Springs – 2500 springs
Memory Foam – a visco memory foam later
Base – a base for support with 7 zones to reflect body
Simba Pricing
Whilst the pricing for Simba mattresses may sit at the higher end at the spectrum, they are still very competitive. With King Size coming in at £699 and the largest (Emperor) coming in at £899 there are a lot of sizes to choose from at fairly competitive prices. See prices for each size below:
Single £399
Small Double £599
Double £599
King Size £699
Super King Size £799
EU Small Single £399
EU Single £449
EU Double £649
EU Double L £549
EU Queen £749
Emporer £899
Simba Reviews
Simba gets very good reviews across the board.
Amazon.co.uk: 5/5
TrustPilot: 5/5 – Excellent
Google: 97%
Simba's Reviews on own site (may be biased/regulated): 5/5
The Good Simba Reviews:
"Love this mattress! Bought our mattress at the start of the year, so nearly a year's use so far. Still very comfy – no sagging etc." – jimbob, Amazon UK
"Great mattress, great customer service. It took a couple days to get use to the mattress but it does also state in the documents that it needs at least 48 hours to fully settle. After this it became the most amazing and comfy mattress EVER! " – Pheobe Alexander, Amazon UK
The Bad Simba Reviews:
"Not a bad mattress but I was expecting more! For starters I don't find it to be great when sharing, as when one person gets out of bed it wakes the other person up!" Chaz, TrustPilot
"Too hot. Too hot, support not the best for heavier people." KJ, TrustPilot
Simba Video Review
Simba Shipping
Simba have free next day delivery. You'll have the option of booking in 2 man delivery where available. The delivery driver calls an hour before making sure you're in, you can choose times within a 4 hour window. Simba arrives in a compact rolled format in a box. You simply let it out and let it expand.
Simba unboxing video
Simba Trial & Warranty
Simba comes with a 100 night free trial. During this 100 night free trial you can email or call them and they will come and pick up your mattress FREE of charge. This is basically risk free. However there has been some talk in the reviews that Simba make it actually quite difficult to send the mattress back, but the trial is of course very real and honoured.
BONUS! Simba will take away old mattress
Simba will even take away your old mattress free of charge. Just make sure you order the 2 man delivery option.
Our Verdict – 9/10
Overall we like Simba as a brand. The website is really easy to use. The product is really easy to understand, and comes at a competitive price point. There's no extensive jargon, just a mattress that's been constructed for absolute comfort, no matter what kind of sleeper you are. The trial is pretty standard for most mattress brands as well as the 10 year guarantee, so no benefits there. We like the fact they will take your old mattress away, and have a 2 man delivery option, for those unable to carry mattress up stairs etc.
Simba has a great top layer, which in nice and soft, which is backed up by body hugging memory foam that can make you feel like you are floating, but at the same time isn't too squidgy.
If you're usually used to two pillows, you may not need two anymore as the foam can give you that support. Simba also offer a pillow. Although, quite expensive, can be a perfect accessory for your brand new mattress. Simba can help alleviate the aches and pains you're used to on your old mattress too.
The mattress has a very cool, temperature regulating effect. If you're used to getting hot at night, this mattress could solve that problem.
Unlike regular mattress, Simba, like other similar mattresses doesn't have an annoying zip down the middle. The zip is part of traditional mattresses to get them through doors and make them slightly more portable. Because Simba is rolled up into a box, this is not needed. You simply take it out the box and let it roll out! Bare in mind, getting the box up the stairs is a 2 man job, but you can order 2 delivery drivers with your Simba order!
How does it compare to the others? Well, we think Simba looks cooler. When compared to Eve which is yellow, Simba wins on looks hands down.
FAQ's
What kind of bed/base does a Simba Mattress need?
Simba is designed to work on any flat service. According to their FAQ's the more surface area, the better, so if you are putting it on a slatted surface, the more slats it has, the better. Simba actually sell their own bases too.
C