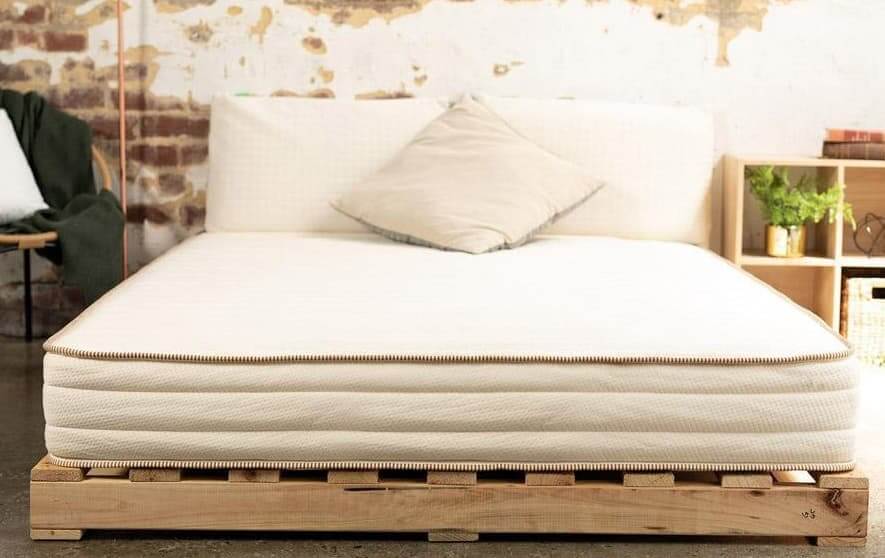 If you are searching for the perfect mattress, you will have come across a huge range of options – from a traditional spring mattress to modern memory foam mattresses, all claiming to be the best mattress available.
Ultimately, deciding to purchase an innovative new mattress from any of the available options is very likely worth it. Read through any of the mattress reviews online, and the perception of many of these brands is overwhelmingly positive – customers adore these mattresses because of the huge extent of benefits; comfort, pressure relief, temperature control and body weight dispersion, to name a few.
The Peacelily Mattress is one of these brands. It has been designed by Peacelily with the aim of delivering on comfort, flexibility, and convenience. What makes this particular option different, however, is that it does an outstanding job in addressing a problem not often mentioned by other mattress brands – the materials and chemicals involved in making them.

The Problem With Most Mattresses
Before we get into how the Peacelily Mattress holds up against its competitors, it is important to outline what a potential problem is with most mattresses.
There is strong research to support the claim that the majority of mattresses use materials that cause off-gassing and release toxins while you sleep. Also known as volatile organic compounds (VOCs), they come from toxic materials and emission is increased by body heat throughout the night.
The vast majority of mattresses available use toxic chemicals and materials that may emit VOCs – this often includes materials like synthetic latex, polyurethane foams and even benzene and formaldehyde.
Regarding higher levels of exposure, many of the materials in some mattresses have separately been associated with headaches, organ damage, and even risk of cancer. With this being said, and despite sounding extremely concerning, experts believe that VOCs are generally being emitted in levels too low to cause health problems, at least in adults.
Does the Peacelily Mattress Succeed in Being a 'Green Mattress'?
The Peacelily Mattress is Peacelily eco-friendly solution to the mattress market in Australia. It is a latex mattress, with the manufacturing process using natural latex, natural rubber, and organic cotton that result in a product with no harmful chemicals, VOCs, or other toxic materials. As an eco-INSTITUT and Oeko-Tex Class 1 certified product, the Peacelily Mattress aims to provide a comfortable mattress, with breathability, back support, convenience and high quality, eco-friendly materials, all at an affordable price.
When you compare these aspects of the Peacelily Mattress to the materials and design associated with alternative mattresses, it is clear that the Peacelily Mattress delivers when it comes to being a product that is eco-friendly and non-toxic.
Does an Eco-Friendly Mattress Mean a Compromise in Comfort?
In short, definitely not. While the Peacelily Mattress goes out of its way to claim that it is natural and eco-friendly, it also lives up to the amazingly high standard of comfort that is set by leading mattress brands.
A great feature that is included in the Peacelily Mattress is the inclusion of adjustable firmness levels – out of the box you get gentle medium and firm options. The surface of the mattress is high density, organic cotton – premium and breathable. If you want a third comfort layer, the optional Peacelily Mattress Topper compliments the mattress in being a natural product, providing a luxury plush comfort level.
Of course, whilst the Peacelily Mattress receives extremely positive reviews regarding comfort, it is subjective. As a softer mattress than many firm mattress competitors, whether or not this natural mattress will suit your comfort preferences will come down to whether you like overall softer mattresses with gentle medium comfort levels.
Where Else Does the Peacelily Mattress Succeed?
Where some mattress brands offer fantastic customer service and convenience, the Peacelily Mattress has gone above and beyond.
Firstly, with an unbelievable 25 year warranty, you can have confidence that the Peacelily Mattress is going to last you. In addition to the extended warranty, Peacelily mattresses are LGA certified, with a score of 99/100 thanks to quality materials and design. Not to mention, Peacelily Earth claim that latex mattresses last significantly longer than memory foam mattresses.
In addition to durability, Peacelily offer convenient benefits that you will experience from the moment you order. For example, the sizing options include queen size and kingsize, and every mattress is shipped with free delivery – your mattress will arrive conveniently in a box, ready to go.
Another factor that provides convenience and peace of mind is the 100 night trial period. Significantly longer than many competitors, if you aren't satisfied with the mattress, Peacelily will have it picked up, hassle free, and donated to a charity. You will get a full refund (provided the mattress is in the appropriate condition), and will be free to purchase a mattress that suits your needs.
Finally, latex mattresses, in general, provide a number of advantages – in addition to durability, latex cores and mattresses are repellent to dust mites and are breathable.
What Are the Downsides to the Peacelily Mattress?
If you are interested in buying the Peacelily Mattress because of its uniquely natural materials and health benefits, you have probably already made your decision.
With this being said, like some mattresses on the market, Peacelily offering is almost perfect, but not quite. If you are thinking of buying the Peacelily Mattress it is important that you have a comprehensive understanding of two small factors that might cause it to fall short, depending on your criteria.
Firstly, whilst shipping times are reasonably quick in general, they are lacking when compared to alternative mattress brands such as Koala. Peacelily offers delivery times that are generally within a week to metro cities, whereas a brand like Koala can deliver a mattress in as little as 4 hours. The delivery time also falls short when the Peacelily website requires pre-orders, which can take over a month.
The second (slight) shortfall of the Peacelily Mattress is the firmness, which could actually be seen by many as a benefit. In comparison to alternatives, Peacelily's product cushioning is on the soft side – as a result, it could take time to get used to if you are used to a more firm comfort level. With this being said, if you like the sinking feeling of a soft mattress, the Peacelily Mattress is a great option. 

Peacelily Mattress Pricing

The Verdict
Whilst there is no shortage of innovation when it comes to comfort and convenience in the mattress market, there is a notable lack of natural, eco-friendly products.
The Peacelily Mattress is a great Australian-made mattress. It manages to successfully provide a comfortable experience, whilst using organic materials such as natural Dunlop latex, and also being absent of any harmful chemicals. They manage to do all of this whilst remaining at a competitive price point, and appealing to a wide audience. For back sleepers or side sleepers, whether you are looking for a new king single or a queen mattress, the Peacelily is a great all-rounder that you are sure to love.