You may have seen the OTTY mattress for sale and thought perhaps that the low price meant low quality. Is this the case? Or is the OTTY mattress the bargain of the century? Let's investigate and find out whether or not the OTTY mattress is as good for your sleep as it is for your pocket…
What is the OTTY mattress made of?
The OTTY is a hybrid mattress. This means that it contains both memory foam and springs. Could this be the best of both worlds? Overall the OTTY is around 25cm deep. That's about average, so you shouldn't find it any taller or lower than your current mattress and it should fit fine in most bed frames. The OTTY mattress is suitable for all bed bases, so whether you have a slatted base or a flat base, you'll be fine with an OTTY.
These days, it's all about the layers when it comes to mattresses, so let's have a closer look at the layers within the OTTY…
At the bottom of the OTTY mattress you have a base layer made up of 5 cm of high density foam. On top of this is the spring layer. This is the thickest layer at 14 cm deep and contains 2000 capsule springs. It is thought that capsule springs are the best layer for helping to support your body weight during sleep and so giving you the best support possible. The springs are topped with a 3 cm layer of memory foam. We all know how comfortable memory foam can be, as it moulds itself to our bodies, but it can be rather hot. The OTTY combats this heat with a final top layer consisting of 3 cm of cool blue gel memory foam. This is a special layer specifically developed for OTTY mattresses and is made to help maintain a medium temperature at all times. Not too hot, not too cold, just perfect. Goldilocks would certainly approve!
All these layers are neatly packed within a washable cover. It's not the most stylish of covers, but really, does it matter? How long do you actually spend admiring your mattress cover?
Otty Mattress Firmness
The firmness of the OTTY mattress can be described as medium to firm. More specifically a 7.5 firmness rating out of 10.
OTTY Mattress Unboxing Video
The cost of the OTTY mattress
The main selling feature of the OTTY mattress is the low price. A UK single costs just £349 but even the largest option, the Super King is a very reasonable £649. I imagine also, that the UK Double at £449 would be highly popular, and it's just £100 more for the king size.
The range of sizes
If you have a particularly unusual size of bed, then you might just be out of luck with the OTTY range. However, they do cover all the standard sizes, including small double. There are seven size options in the OTTY range: UK Single, Small Double, UK Double, EU Double, UK King, EU King and Super King.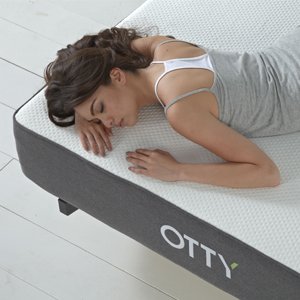 Extras from OTTY
So now onto the level of service you'll receive when you order a mattress from OTTY. The delivery is really flexible, which is great for those of us with busy lives. No one wants to be waiting in all day for a delivery that might arrive some time between 7am and 7pm on a random day of the week. You know it is bound to turn up just as you decide to go to the bathroom! With OTTY you can specify next day delivery for free on orders placed before 3pm. This is ideal if you've had to dispose of your old mattress and need a new one asap. If you are out at work during the week, then you can also choose to have your mattress delivered on a Saturday for an extra £30, which could be worth it for the convenience.
All OTTY mattresses come with a 100 night trial offer. This means that you can use the mattress for 100 nights, and if you are not happy with it, OTTY will come and collect it from you and give you a full refund. This might just be the push you need to give an OTTY mattress a try, without having to commit your hard earned cash.
A generous 10 year guarantee
In addition to the 100 night trial, you also get a generous 10 year guarantee with all OTTY mattresses.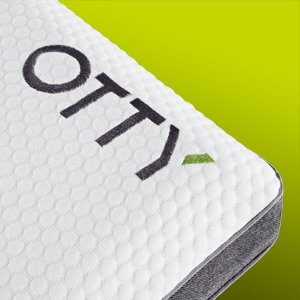 What are people saying about the OTTY mattress?
The fact that 83% of reviewers on Amazon give the OTTY mattress a whopping five out of five stars speaks volumes.
The Good:
"This is the most amazing mattress, having recovered from major surgery it was perfect for comfort."
"I would have rated this 10 stars, if I could, because it is absolutely amazingly comfortable.! I suffer with Osteoarthritis and can never sleep for more than an hour, because of the pain, but since having this mattress, I can sleep all night.!! Worth every penny. I would highly recommend it.!!"
The Not-so-good:
"Really comfy mattress but takes a few nights to get used to it."
" The chemical smell lingers though for a few weeks."
OTTY Mattress Video Review
What do we think about the OTTY mattress?
You get a lot for your money with the OTTY mattress. If you're looking for a cheap mattress, but are worried about compromising on quality then this could be a good choice. It's a medium to firm mattress, so will suit all but those who require a very soft mattress. We did find, as with most memory foam mattresses, that there is a slight chemical smell when you open the packaging, but this does dissipate after a few hours. Just open the packaging, open the window and allow it to air for while before making up the bed. This is a comfortable, quality mattress that will give you comfort and keep you cool.