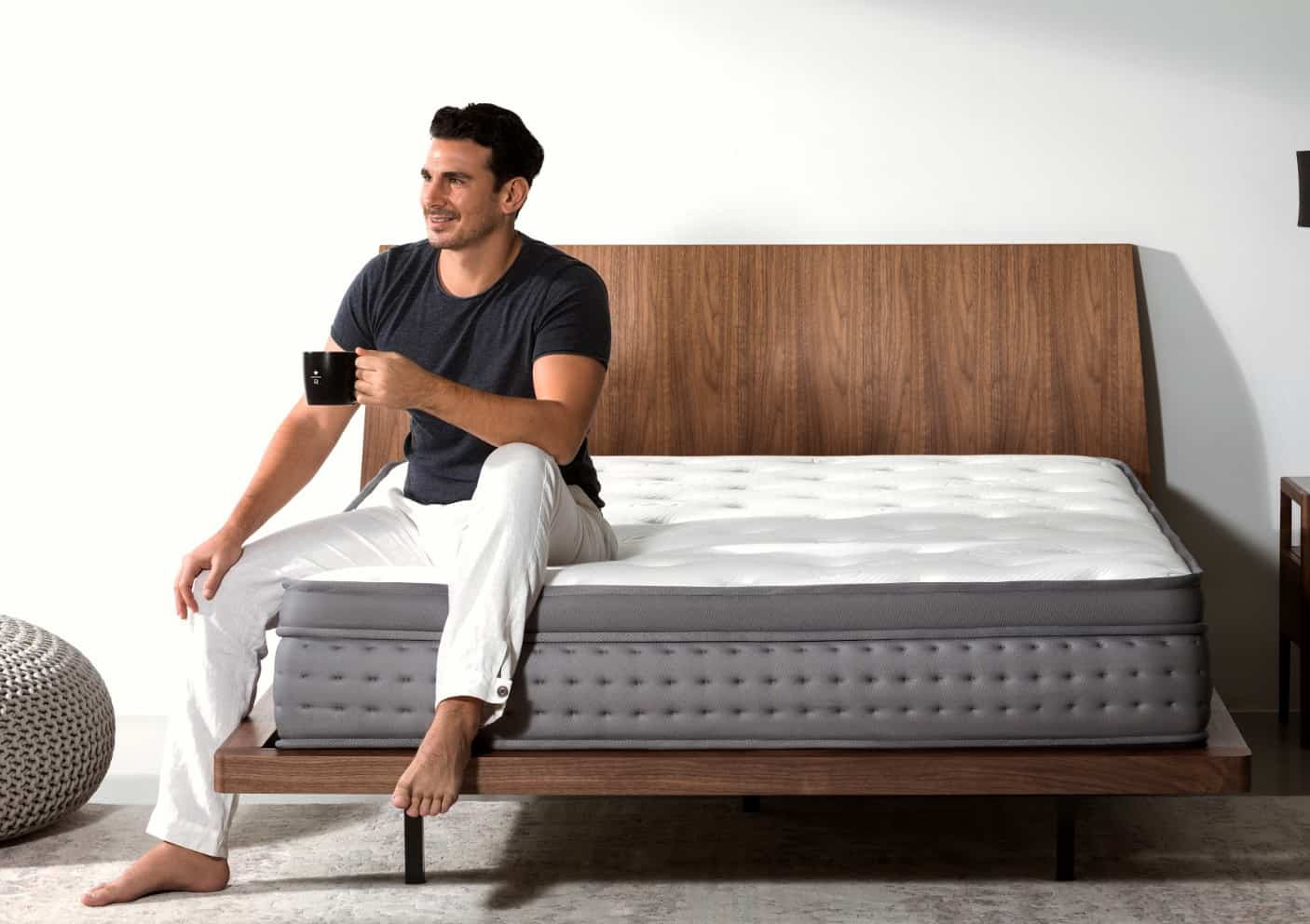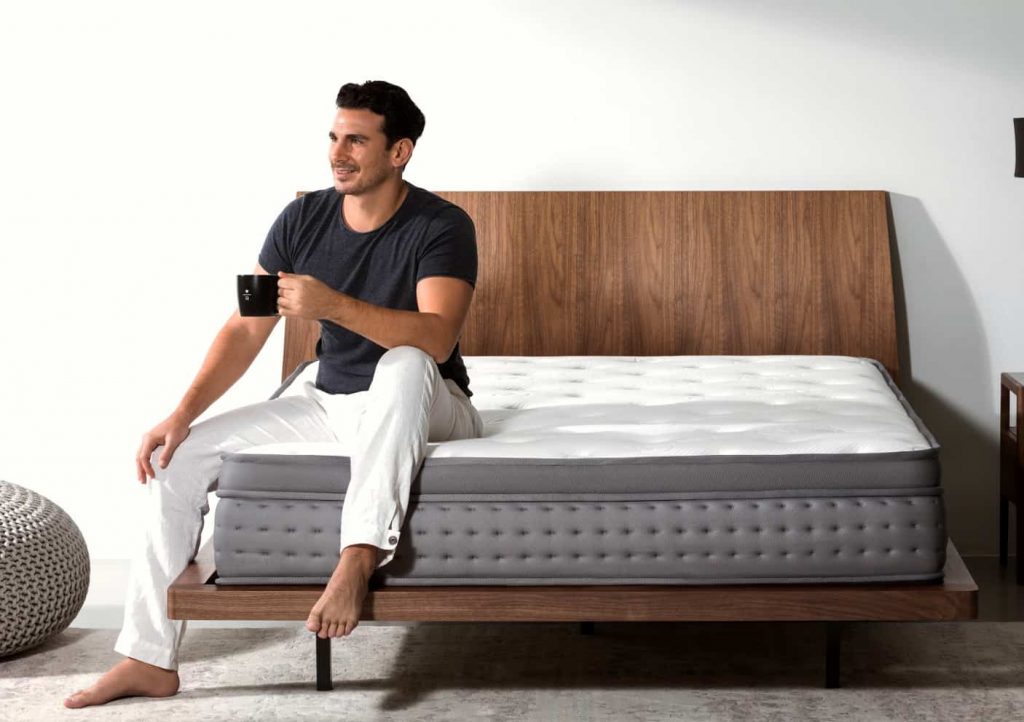 Special Offer 2021: $150 off a Koala Mattress we have a special Sleepify offer for you.

We recommend NOA Mattress for $799, Regular price $1099.
When it comes to choosing the best hybrid mattress in a box, there are two beds that you absolutely must consider; The Noa Mattress and Sleeping Duck mattress. Both offer sleeper's a hybrid design, memory foam layerssignificant and pocket springs below for support. 
Whether you're a back sleeper, side sleeper, or prefer to sleep on your tummy, these medium-firm mattresses will undoubtedly give you optimal support. There's a tonne of sinkage that comes with the memory foam and natural latex, and the pocket springs below offer excellent pressure relief for those suffering from back pain.
That said, if you're stuck between a Noa Mattress or the Sleeping Duck variant, then take a look at our comparison below. We'll help you on your way to getting a good night's sleep in no time.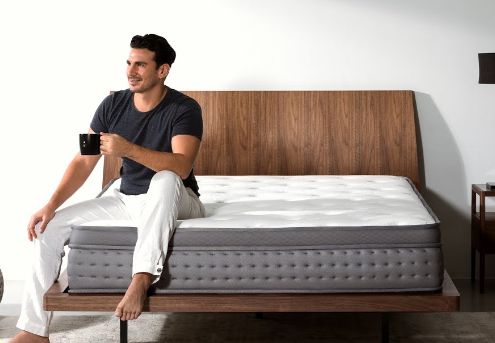 (Recommended Latex Mattress)

Let's start with what is definitely one of our top picks when it comes to latex mattresses – the Noa. As an extremely versatile hybrid mattress, the Noa combines bouncy latex, molding memory foam, and pocketed coils. If you like a supportive and contouring mattress feel, the Noa is the mattress for you.
Noa uses OEKO TEK certified latex. This seems to be an excellent choice for sleepers who like the medium to firmer-feel but do not enjoy traditional beds. Based on our testing and the numerous reviews online, the Noa is well rounded – whether you prefer to sleep on your back, front, or side, you're going to enjoy this mattress.
Noa has a number of other features that set it apart from the competition. The spring coils provide more prominent edge support in comparison to the other models, meaning that getting in and out of bed is effortless and undemanding. Good edge support often means a more significant partner disturbance – interestingly, this was no problem for the Noa, resolved by the use of a layer of memory foam under the latex. In terms of the remaining features, we thought really set the Noa apart, the mattress has a Tencel cover and an incredibly affordable price tag. It also comes with a huge 15-year warranty and a trial period of 100 nights. Customers praise the excellent service and together with the price tag mention it as one of the most common perks.
Ultimately, the Noa is a mattress that we highly recommend – not only just as a latex mattress, but also when it comes to the mattress market as a whole. Its hybrid build means that the Noa can take advantage of the best aspects of multiple mattress types, and it does this remarkably well – what you get is a versatile, comfortable and well-rounded mattress that you really can't go wrong with.
What We'll Be Looking At
For us to give you the most in-depth understanding of these two mattresses and why one might be best to replace your old mattress over the other, we'll be looking at everything from comfort, sleep trials, sleeping position support and more.
Initial Comfort and Feel
The Mattress Materials
Mattress Weight and Density
Mattress Pricing
Ideal Sleeper Positions
After we've gone over all these points, we're confident that you'll know which of these hybrid mattresses is best for you.
Initial Comfort and Feel
There's arguably nothing more important than how the bed feels when you sleep on it for the first time or the 100th. As both of these beds are reliant on hybrid designs, meaning pocket springs, polyfoam, and memory foam, they both offer great bounce and body-contouring abilities. Upper foam layers on both models mean encompassing comfort, and lower pocket springs provide optimal spinal support.
Sleeping Duck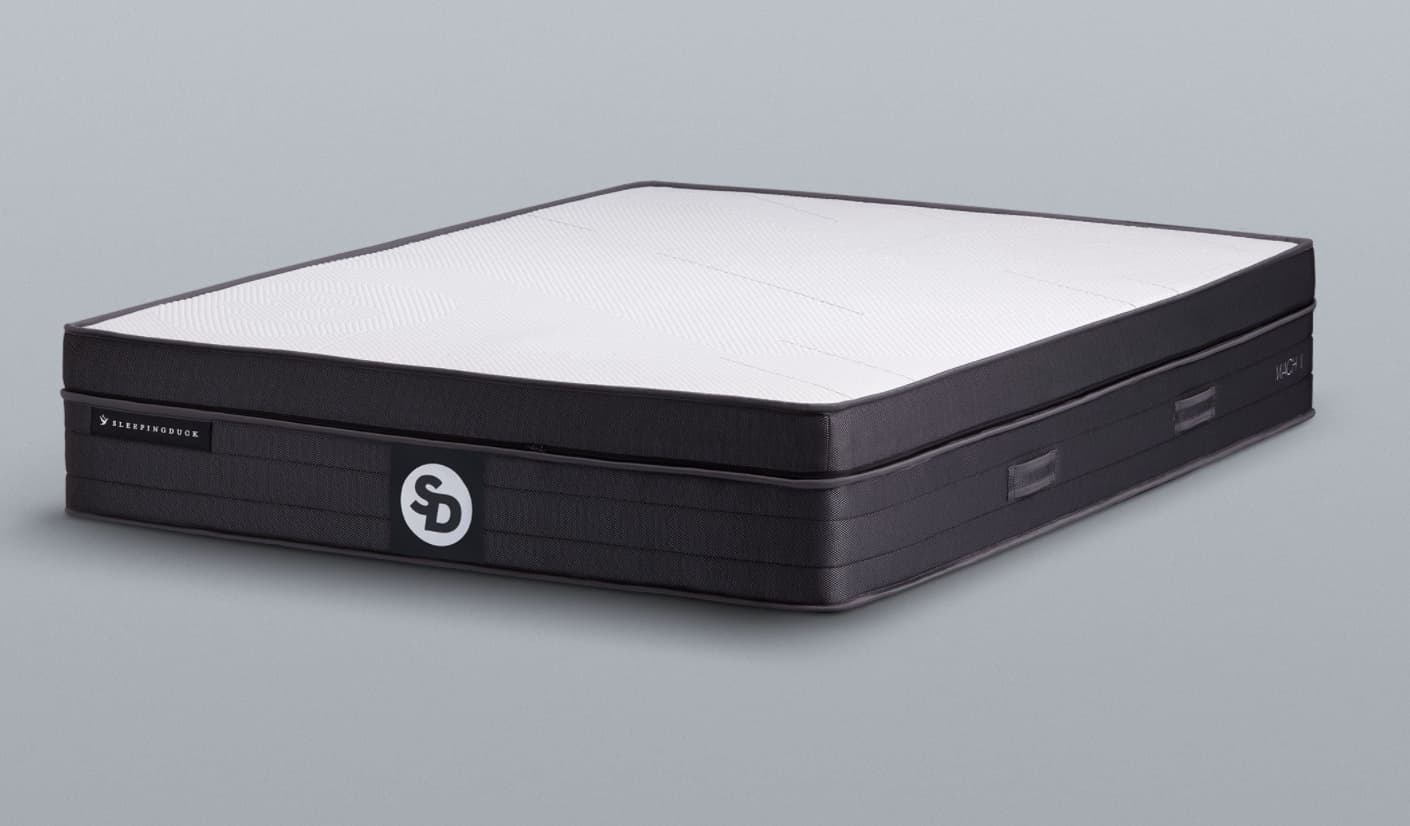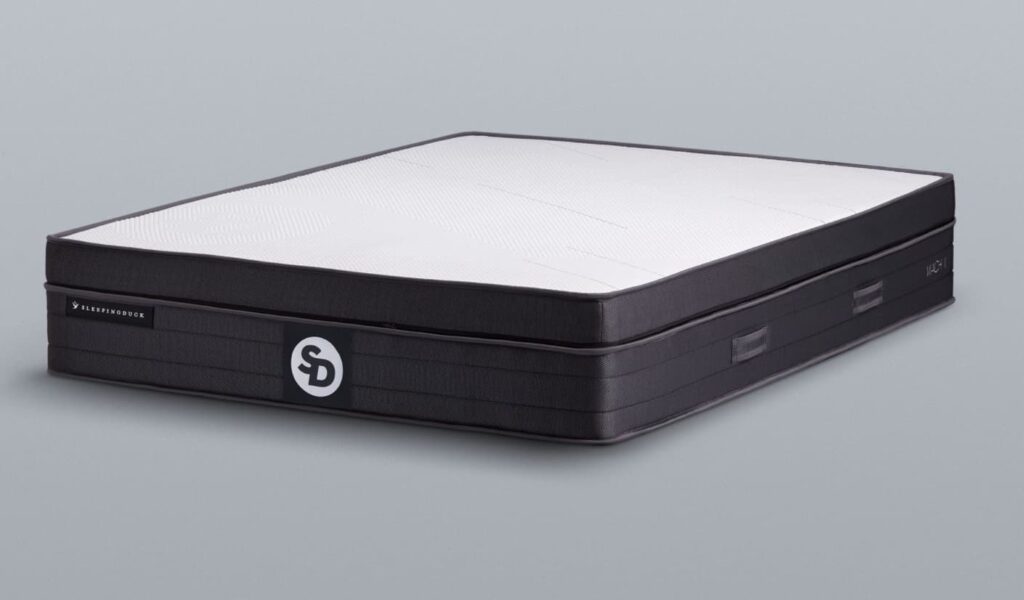 Unlike most mattresses in a box, the Sleeping Duck offers a customisable, proprietary memory foam upper layer that can be immediately adjusted to suit the customer's most optimal firmness levels. The two upper Hyper-Adaptive™ foam layers are able to swap with one another, giving you either more sinkage or less, depending on the firmness of the foam on top.
It's good to note that the foam used in the Sleeping Duck mattress is advertised at being eight times more breathable and ventilated than latex mattresses, ideal for keeping you cool as you sleep in warmer climates.
Below these dual foam layers, there's a medium-firm pocket spring core that essentially provides the traditional bounce that memory foam competitors cannot provide. The Sleeping Duck's spring mattress also blends all that is good about foam, with a comfortably stiff 5 zone pocket spring array.
One area where the Sleeping Duck mattress has the edge over many new mattresses in a box is that there's a selection of firmness levels to choose from. You'll be able to select between medium, firm or half and half; with half and half offering either firmness level on one side of the bed, perfect for sleepers who prefer a softer or firmer sleep surface to their partner.
Overall Feel: coming in either 6 to 8 on the firmness scale, the Sleeping Duck mattress is ideal for all sleeping positions and is more than supportive enough to relieve back pain, and offer a healthy sleep for all Australians.
Noa Mattress
Designed with a few more 'core' layers than the Sleeping Duck, the Noa mattress is the perfect mattress for those who love a refreshing sleep on a bed with plenty of bounce. There's a latex layer, gel memory foam layer and high-density support foam layer in the Noa which all sit atop the pocket spring core.
In line with Sleeping Duck, the Noa has softer top layers that are supported by a firm core, bringing the firmness to around a 6 out of 10. This firmness is ideal for all sleepers and their sleeping positions, though if you're more inclined to sleep on a firm bed, the Sleeping Duck will be a more comfortable mattress for you.
To body support, the Noa is also great in that it offers plenty of 'firm' sinkage space. Where most body-contouring occurs in memory foam in other mattresses, this feature comes with the cooling latex layer in the Noa. What this means is that you'll sink to a point, though not feel encased or 'swallowed' by foam as latex is more bouncy, and you're able to move around a little more easily.
Edge support is fantastic on the Noa too, with pocket springs lining the edges of the mattress, keeping anyone from dipping too far if they sleep by the edge or like to sit on the end of the bed.
Lastly, gel memory foam and airflow-focused pocket springs keep sleepers a little cooler on the Noa than the Duck, ideal for warmer cities and bed bases without great ventilation.
Overall Feel: the Noa mattress is the soft-yet-springy variant here, with latex making an appearance in the top layer to keep all sleepers from sinking too far into the foam beneath. Movement isolation is also premier, ensuring an interruption-free sleep.
Summary
Both mattresses offer a similar feel and comfort offering. However, by using different materials, there's a more cooling effect on the Noa, whereas the Sleeping Duck can sleep a little warmer. Latex upper layers on the Noa are best for an immediate bounce, whereas Sleeping Duck's engineered memory foam mattress plays more nicely with joint pain.
The gel-infused memory foam on the Noa mattress is cooler than Sleeping Duck's, and partner disturbance is minimal on both beds.
The Mattress Materials
Both boxed mattresses differ in the materials used, with Sleeping Duck taking a somewhat minimal approach and Noa going all-in with a range of materials. If you're looking for a bed that's packed to the edges with a tonne of exclusive material tech, the Noa might be the best mattress for you, though for a good quality comfort layer with minimal bounce, the Sleeping Duck may come out on top.
Sleeping Duck
As outlined on Sleeping Duck's website, the mattress is wrapped in a bamboo cover that offers great anti-microbial features. Below this cover, there is a custom memory foam blend for optimal support and cooling capability. Under this, you'll find a high-density foam that offers great back support.
Sleeping Duck's high-density foam also finds GECA certification and the Hyper-Adaptive™ foam layer at the top of the mattress is advertised as being ultra-cooling.
The spring layer also adds great rigidity, though, with each of the pocket springs working independently of one another, there's plenty of support, sinkage, and movement isolation when it comes time to truly get some rest.
Noa Mattress
On the Noa Mattress, customers will find a more comprehensive suite of materials coming together to offer medium-firm support. The mattress is covered by a Tencel cover that keeps the bed clean and allows for good flexibility. Below the cover, there's a perforated cooling latex sheet that adds an extra level of bounce to the mattress. Below this, there's a gel memory foam pad that offers plenty of contouring support and sinkage for joint pressure relief.
Noa's pocket springs aren't advertised as working independently, though mattress reviews have said that motion transfer in the lower half of the mattress is minimal.
For the eco-friendly buyer, there are OEKO TEX® and REACH-approved materials here, making sure that you're getting a good night's rest on a mattress that won't be negatively affecting your health.
Summary
Although both mattresses make use of different styles of materials, these all merge to offer a near-identical sleeping experience. The engineered foam on the Sleeping Duck is akin to the latex on the Noa, and the pocket springs on both variants offer a similar level of support and motion isolation.
Mattress Weight and Density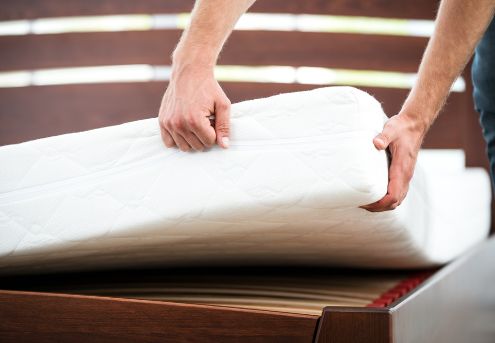 For customers interested in the weight and ease-of-transport of these mattresses, we have a few points to consider below. Getting your bed in a frame can be difficult if it's too heavy, and changing sheets often can be a chore if the mattress doesn't have any flex or give to it when you need to replace fitted sheets.
Sleeping Duck
The queen size variant of the Sleeping Duck is 48kg, making it a little above average for this size, though the pocket springs may have a lot to do with this. Boxed beds, like the Koala mattress, are a little lighter than both Sleeping Duck and Noa's options if weight is important to you.
A king-size model is 60kg, a little too heavy for one person to unfurl and install in a frame on their own, or without a fair bit of difficulty.
Airflow in the Sleeping Duck is still ideal, though, thanks to the hybrid design, making it a good fit for platform bed frames or unventilated ones.
Noa Mattress
Around the same weight as the sleeping duck, the Noa comes in at 47.8kg, which makes it not overly burdensome. The Noa is a little denser, though, with more custom layers inside the mattress. However, the difference isn't too noticeable.
A single mattress is 33kg whereas a king-size is a little heftier at 61kg. Again, some all-memory foam mattresses are a little lighter than this if weight and moveability are important to you.
Summary
With both mattresses coming in at an average weight, they should play nicely with bed frames of all sizess. Neither should be too difficult to routinely move and pull up when it comes time to change sheets. For bunk beds or kid's trundle beds, these models may be a little more difficult to move than lighter foam variants, though, not by too much.
Mattress Pricing
One of the main differentiating features of these two mattresses are their prices. Although both models do frequently have sales in their online stores, there's quite a big price disparity between the two. With most standard Austrlian mattresses coming in at the $200 to $450 range, the higher cost of these mattresses might be a little much to stomach, though it's important to keep in mind that there's a lot of technology at play here, as well as free delivery and expedited shipping to some markets.
Sleeping Duck
Coming in at $1,449 for a queen, the Sleeping Duck bed falls firmly at the higher-end of boxed mattress pricing. However, there is a great next-day dispatch in Melbourne and Sydney and a 100-night sleep trial that makes sure you can really test out the bed and fall in love with it before committing.
A single bed from Sleeping Duck comes in at $799 and a king is priced from $1,599.
Noa Mattress
At a few hundred dollars cheaper, the Noa's queen comes with a $1,099 price tag. There's also a great 100-night trial here, free return shipping and expedited shipping. Delivery times are around 3 to 4 days, which is quite quick compared to other mattress brands.
A single Noa bed is priced from $799 and a king model comes in at $1,199.
Summary
When pricing is concerned, the Noa stands out here for being a fair bit cheaper than the Sleeping Duck, while simultaneously offering features that rival it. It's also good to note that both mattresses come with a great 10-year warranty for the Sleeping Duck and 15-years for the Noa. There are 100-night sleep trials and free returns too, should you wish to go with a different brand of mattress.
Ideal Sleeper Positions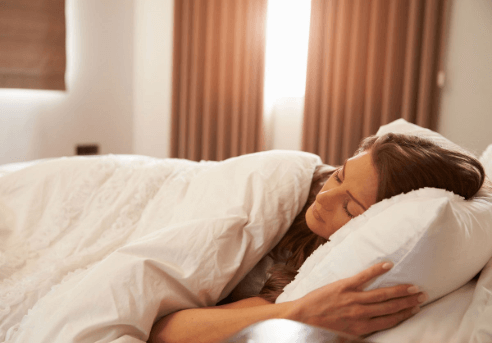 For getting a good night's sleep, there's arguably nothing more important than choosing a bed that's designed explicitly for your sleeping position. By integrating foam, latex and pocket springs, these mattresses offer all-round support for every sleeping style.
Sleeping Duck
With a blend of foams, customisable layers and pocket spring base, the Sleeping Duck's medium-firm and firm options are the best for back and stomach sleepers. There's nothing better than a firm bed for back alignment when sleeping on your stomach or back, and the Sleeping Duck's firmer offering beats out Noa's slightly firmer variant.
For those who struggle with joint pain, the upper plush layers of firm will enable good sinkage for pressure relief, while the firmer pocket springs will come through in offering good back support.
One unique feature of the Sleeping Duck mattress is the half and half firmness option. Customers can choose the firmness of each side of this mattress, independently of the other. That said, sleepers who like a firm mattress can have a firm sheet of foam, whereas the other can select a softer sheet.
Noa Mattress
As the softer mattress of the two, the Noa mattress is the more ideal for those who want a perfect combination of sinkage and bounce. Side sleepers will be most comfortable here as the upper layers of the bed provide plenty of depth for shoulders and hips and the pocket springs offer some more rigid support for spine alignment.
The latex layer is also helpful when it comes to side sleepers who find themselves moving through the night. You won't find yourself in an indentation on the latex layer, so there's no frustraitng 'wiggle' to change sleeping positions.
Summary
Although both mattresses do offer a similar level of firmness, the materials and customisation dictate the comfort you'll find here. On the Noa, the latex offers that great bounce and more minimal contouring for a combination sleeper who wants the freedom to move a little more during the night.

The Takeaway
Following our comparison, it's easy to see that the Noa and Sleeping Duck both offer a similar experience from the outset, though different materials and a few exclusive features really make each bed stand out in their own way.
The Noa is a little more affordable, relies on latex for bounce and is a good bed for combination sleepers whereas the Sleeping Duck is unmatched when it comes to customizability of firmness. The mattresses also different in their sleep feel, with the Duck model being a tad more cloud-like than Noa.
Either of these mattresses will be fantastic for Australians looking to get a good night's sleep, though to make your choice a little easier, use our article to compare them by their ability to match your sleep style and budget.