Available online at Snooze, the Madison Mattress is likely on your watchlist for being an ideal bed for pressure relief, comfort and a great night's sleep.
Looking for a quality alternative? We recommend the NOA mattress, $300 off discount here.
The mattress line falls around 6.5 out of 10 on the firmness scale, which lands it firmly in the medium-firm range – which is perfect for all sleeping positions. If you're a back sleeper, this mattress will be ideal for keeping your spine in alignment, if you're a side sleeper, there's plenty of plush pillow top space to enable those hips and shoulders to dip.
If you've taken a look at the Madison line, however, you'll know that these spring mattresses are some of the most expensive on the market. Coming in at around $4,000 to $9,000 depending on the size, a Queen size Empire, for example, is $8,999, you'll certainly going to be after a sleeping experience that's second to none.
That said, let's take a look below at what's arguably the best mattress line in the country, and whether the price tag will relieve back pain and give you a good night's sleep.
Overview
To keep things simple, the Madison mattress line is a hand-finished mattress line that incorporates luxurious, breathable fabrics that wrap around multiple layers of pocket springs.
You'll find seven zones of pocket coils here that work to provide an excellent sleeping surface that's supportive, offers plenty of bounce and is akin to memory foam in its responsiveness. Although you'll not find a core memory foam base here, the cooling and contouring support is optimal and is touted as feeling similar to latex mattresses – plenty of bounce, plenty of softness.
Some Madison mattress models, such as the Empire line, feature great foam layers which sit atop the pocket spring arrays, this ensures there's plenty of sinkage for joints. These comfy upper layers are going to be ideal for those who suffer from back and hip pain when sleeping.
The Madison Grosvenor, the most affordable line, also offers fantastic support and quality for under $3,000 with a 7-zone pocket coil support system that's blended with memory foam to perfectly suit pressure points.
The Madison Range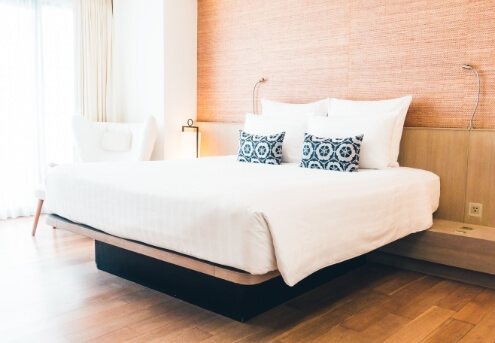 With a wide array of mattresses, materials and comfort engineering focuses to choose from, the Madison range is sure to pack a mattress that's going to suit your sleep style and budget. The company offers pocket spring and memory foam mattresses, all standard sizes and great warranties.
Materials
Boasting arguably the best materials of all mattress brands in Australia, the Madison line features exclusives such as Herringbone' fabrics and Belgian Tweed cloth to ensure that your mattress won't be showing signs of ageing over time.
To add, the pocket springs making up the core of these mattresses are some of the highest quality available, with many reviewers and testers highlighting that the rigidity and support are expected to last decades.
Australians looking for a Melbourne-finished mattress that's going to be squeak-free, supportive and hold up for years to come will have no trouble with the Madison line.
Initial Comfort and Feel
One area where the Madison line truly shines is in the diverse range of support and comfort options for sleepers.
You'll be able to select between multiple firmness options, and multiple materials to truly curate your sleeping experience. From memory foam, pocket springs and proprietary materials in soft, medium-firm and firm levels, the Madison line is ideal for anyone looking to customise their mattress to exactly how they'd like.
To add, the TENCEL stretch knit atop the mattress acts as a great mattress protector base for the mattresses, keeping the internals of the mattress well-protected from impurities.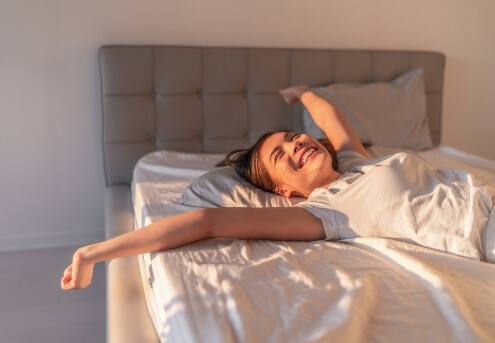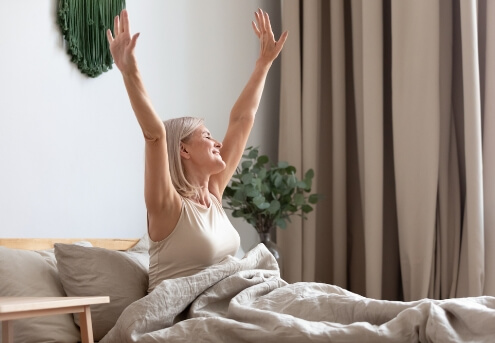 Partner Disturbance
Although almost all mattresses in the Madison range are pocket spring-based, the upper memory foam layers that are featured in some models make motion isolation top notch.
A majority of customers have touted that Madison's motion isolation is great, and with the foam topper materials, we're happy to say that these materials are great at preventing movement from spreading across the mattress. Should you have a partner who moves just a little too much at night, the Madison range, particularly the Empire, will keep things quiet and movement free.
Firmness
As mentioned above, there is a tonne of firmness options to choose from in an array of different size mattresses so you're able to select from a super king mattress down to a queen mattress and even single – and dictate exactly which firmness level you'd like.
It's also good to note that, with some pocket spring mattresses, there is some sagging that occurs in time, though Madison has prevented this entirely with their outstanding quality beds. You'll feel as though you're sleeping on a brand new mattress for years to come.
Edge Support
Again, thanks to the multi-zone pocket spring design, there is an optimal edge support system that ensures you're able to sleep and sit close to the edge of the mattress without worrying about too much sinkage or dipping. To add, with a great bed base or a bed frame from Maddison, you can rest assured that your Madison mattress will be well supported during those times you wish to sleep close to the edge of the bed.
It is good to note, however, that the memory foam variants will be a little softer and more 'sinkage prone' at the edges than the all-spring variants.
Heat Retention
With pocket springs or coil springs making up the core of this mattress, it is great to note that readability and ventilation are top-notch. All heat will be absorbed through the top of the mattress and quickly dispersed out through the bottom of the bed frame, keeping sleepers cool in warm climates and ensuring there are not overly hot nights of sleep.
It may also be good to keep in mind that a breathable topper or mattress protector to pair with your Madison mattress should be in the cards. You don't want to restrict the mattress's ventilation with a protector that's not designed to keep you cool.
Quality, Trials, Shipping and Warranty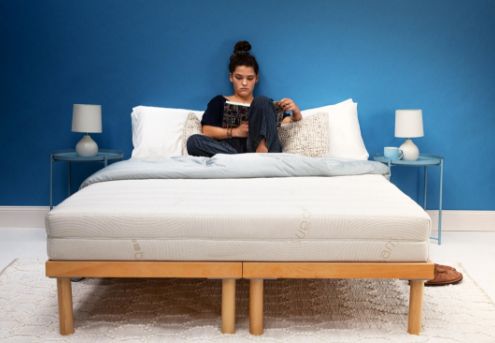 With all of the essentials out of the way, we can now take a look at the quality and warranty as well as the trials and shipping process with the high and Madison mattress line.
Quality
Without a doubt, the Madison mattress line is one of the highest quality and best high-end value for money mattresses on the market in Australia. There is little that comes close to these beds with regards to the construction and the materials used in both the core and the covering of the mattresses.
Being partially handcrafted means there is an attention to detail that you cannot find on other mass-produced mattresses, which is an ideal future for those who would like to see their mattress last as long as possible. Mass-produced beds are often lower quality and also see small tears or fraying in the covers, which is not a problem on the Madison line.
Trials
Snooze does not currently outline any information on trials for the Maddison mattress range, however, there are return processes and protections that ensure you're able to swap out, replace or return mattresses that do not meet your requirements.
It's always good to take a look at reviews online and custom experiences if you're unsure about the firmness, materials or quality of a mattress.
Our biggest suggestion is to keep in mind your ideal sleeping style and the location within which you live, as this will give you plenty of information about whether these mattresses will work best for you.
For example, reviews coming from hotter climates will give you some good insight if you also live in a city that's a little warmer than most.
Shipping
Through Snooze, you're able to choose between delivery and pick up services with the Madison line. There is an additional delivery fee for all mattresses in this line, however, if you want to avoid this fee, you're able to buy the mattress online either through payment instalments or outright, and collect the bed on your own.
It's good to note that delivery from Snooze has a standard fee of around $80 depending on the time of year and the products you're ordering.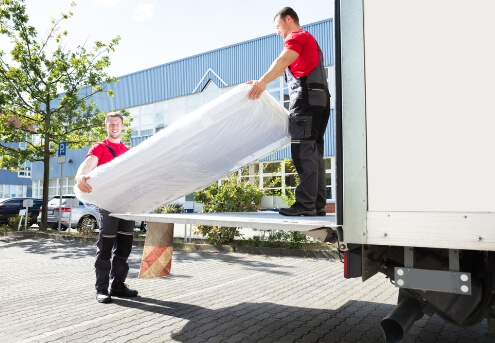 Warranty
All Madison beds come with a fantastic 10-year guarantee which means you're covered in the event of any issues or manufacturing defaults in your first decade with the mattress. We suggest taking a look into the fine print and some of the details outlined in these warranty clauses as you may find that in some cases your mattress may not be covered for specific damages or issues.
It's also good to keep in mind that the Australian Competition and Consumer Commission will have you covered in the event of certain manufacturing issues that aren't outlined in the warranty.
Suggested Accessories
With all of the essentials out of the way, we would like to go over a few small essential items that we believe would help you get the most out of your new Madison bed.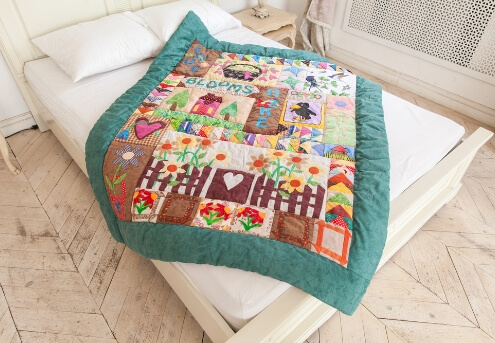 Covers and Protectors
To start, as the Madison mattress range is a luxurious and high-quality range, it's always good to select a fantastic and high-quality mattress protector. We suggest using hypoallergenic and toxin-free waterproof covers that will ensure you're not going to see your mattress fill up with dust mites, dead skin cells and other impurities that could create odours and other issues with your mattress in the years to come.
Ventilated Bed Bases
For the Madison mattresses that feature memory foam, it may also be a good idea to select a new bedframe that is well suited to breathability and ensuring that your mattress doesn't become a heatsink during the night.
Any bedframe with wide slats or any platform bed bases with ventilation holes is a good place to start if you're not too sure where to look for a ventilated bedframe.
Takeaway
With all of the essentials out of the way, it is not too difficult to see that the Maddison mattress range is one of the most luxurious and highest quality mattress lines available in Australia.
If you're looking for a bed that is going to exude luxury and offer an experience that cannot be found elsewhere, the Maddison line may be for you.
However, with prices that extent above $10,000 it can be quite difficult to understand the value for money at this price range, however with fantastic customer support and a guarantee of 10 years, you're going to get a lot longer out of these mattresses than most.