Dubbed 'the world's most comfortable mattress', can this affordable memory foam mattress live up to the claims? We take a closer look at the Eve mattress to see just what it offers, how it is made and perhaps most importantly, does it give a great night's sleep?
What is the Eve Mattress made of?
When you buy a mattress, you don't get to see the inside as it's all stitched up and sealed. It's only if you take it apart years later to dispose of it do you get to see just how it has been made. Over the years I've been very disappointed to discover ordinary foam, or rusty springs inside my old mattresses. It's no wonder they weren't very comfortable.
This isn't the case with the Eve mattress though. Under the covering you'll find several layers that have been specifically developed to create the ultimate mattress.
Let's start from the bottom up. The lower layer gives you an anti-slip base. If your divan has a slippery surface, you'll find this very handy. Mattresses can be tricky to move and if you've got one that shifts about, it can be a real pain repositioning it all the time. Additionally, you don't want to be falling off the bed in the middle of the night with a bump!
On top of the anti-slip base is an 18cm supportive base layer. This offers a lot of support making the Eve mattress good for anyone with back troubles. It also adapts to all body types. If your bed base isn't too comfortable, this should iron out any issues you have with this, without having to go to the expense of buying a new bed.
The next layer is my favourite layer, it's a high-tech cooling layer. This section is 3cm deep and really helps to dissipate heat from your body. This breathable layer will help you to keep your cool on the hottest of nights so you won't wake up roasting hot and sweating in the summer months.
On top of the cooling layer, you get 3cm of memory foam. Once you've slept on memory foam, you won't ever want to go back to a conventional mattress. The Eve mattress uses high quality breathable memory foam that will help to relieve pressures so you will sleep well and won't wake up with aches and pains.
All these beneficial layers are topped off with a soft knitted top cover. This has a zip on it, and it's machine washable, so you can easily take it off to wash. It's also stretchy so getting it back on won't be the struggle you often get with mattress covers once they've been removed for washing.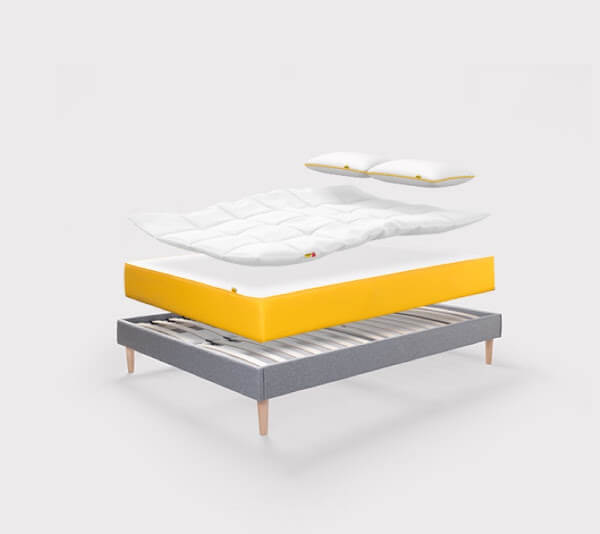 The cost of the Eve Mattress
Starting at just £349 for a UK single mattress, the Eve mattresses are very competitively priced. Buy direct from Eve and there is also the option of paying monthly on finance. Check out the site for special offers too. At the time of writing this review they are offering £100 off.
The range of sizes
Whatever size bed you have, you'll find an Eve mattress to fit. There's a whopping 11 different sizes to choose from. Sometimes it can be tricky getting a good mattress when you've got an unusual sized bed such as a small double, but Eve have them all covered.
Extras from Eve
– Free delivery
When you order a mattress from Eve, you get a high level of customer service. All Eve mattresses are delivered free of charge. They arrive compressed and vacuum packed. If you've never bought a mattress packaged like this then you're in for a treat. They are so easy to carry into the bedroom. Then you simply unwrap them and leave them on the bed to fluff up. In a few hours your mattress will have regained its shape and size and be ready to sleep on.
– Free trial with easy returns
Eve are so confident you'll love their mattresses that they offer a free 100 day trial. Buying a new mattress can be tough. Even if you try out mattresses in a shop, it's still very hard to work out whether or not it's going to suit you. It can take about two weeks for your body to adjust to a new mattress, and you can do this with an Eve mattress without having to commit. If after 100 days you don't like your mattress, just get in touch with Eve and they will come and collect it and refund you your money. They'll even pick it up directly from your bedroom. How good is that?
– 10 year guarantee
For even more peace of mind, there's also a 10 year warranty on all Eve mattresses. This covers cracking, splitting and loss of shape.
What are people saying about the Eve mattress?
The Eve mattress gets some impressive reviews on Amazon, with 72% of people giving them the full five stars.
The good:
"This is without doubt the best mattress we have ever had, firm but not too firm. not too warm just perfect, well worth the money "
"The best ever mattress – I suffered from sleepless nights until we got this so comfy mattress -not one single sleepless night in 4 months. As previous customer said, I cannot feel the bed move when hubby gets in. Try it, you wont regret it"
The not-so-good:
"very good, at first it was a bit hard for me, after a couple of month I got used of it and it is very good "
"This isn't a 'bad' mattress, and if you like firm, you'll probably love it, but for me as someone who likes medium to soft, it is way to firm and doesn't give underneath you. "
What do we think about the Eve mattress?
This is a high quality mattress and the customer support from Eve is very impressive. The mattress itself is well made, using the latest in mattress technology. We were particularly impressed with the cooling features. If you get hot at night, then this could certainly be of benefit. It also offers great support. However, it is a firm mattress. If you like a mattress that is very soft then this may not be the best option for you, but with the free 100 day trial, it's certainly worth trying it, as in the long run, a firmer mattress is believed to be much better for the health of your back and joints.