Sleeping is an essential part of every person's life, and each of us deserves a great night's sleep, regardless of whether we are at home, camping in the wilderness, or travelling with the kids. One common thing that connects the comfort of sleep and the place of rest is the right air mattress. If you are already planning your next summer outdoor adventure or maybe your family has just announced their plan for staying over at your house for some time, and you are looking for ideas on alternative sleeping arrangements, you have come to the right place. We have the solution for you that with a little investment will make everyone happy! We bring you the top 5 air mattresses whether you need the best of the best, or the most affordable option, we relay all the necessary information you may need to make the right decision on your next air mattress purchase.

SoundAsleep Dream Series Mattress (Recommended)
This air mattress is very similar in its resemblance to a traditional mattress, just with the convenience of being an air mattress. SoundAsleep uses one of the most advanced technologies at present, called the ComfortCoil technology, which offers added comfort and excellent seeping experience. The comfort is mostly due to the multi-layered flocked top, which is waterproofed and extra-thick as there are 40 internal air coils. It is puncture-resistant and made of ECO-friendly PVC material. It also features the SuperGrip bottom, which guarantees stability and prevents the bed from sliding and ensures firmness. The product has a built-in electric pump which is easy to navigate with the help of a switch. You literally can inflate or deflate this mattress within 4 minutes thanks to the patented pump design, which is being recognized as much more silent compared to the other brands. This queen size air bed thanks to the significant number of air coils provides a comfortable and flat surface for sleeping, while the technology integrated into it reinforces the preservation of the firmness. It supports a maximum weight of 500 pounds, and it is ideal for singles and couples. It is packed in a durable nylon bag for easy transport and storage. It comes with a one-year warranty, which makes it a great buy, together with all the other features that it possesses.

The best air mattress for everyday use: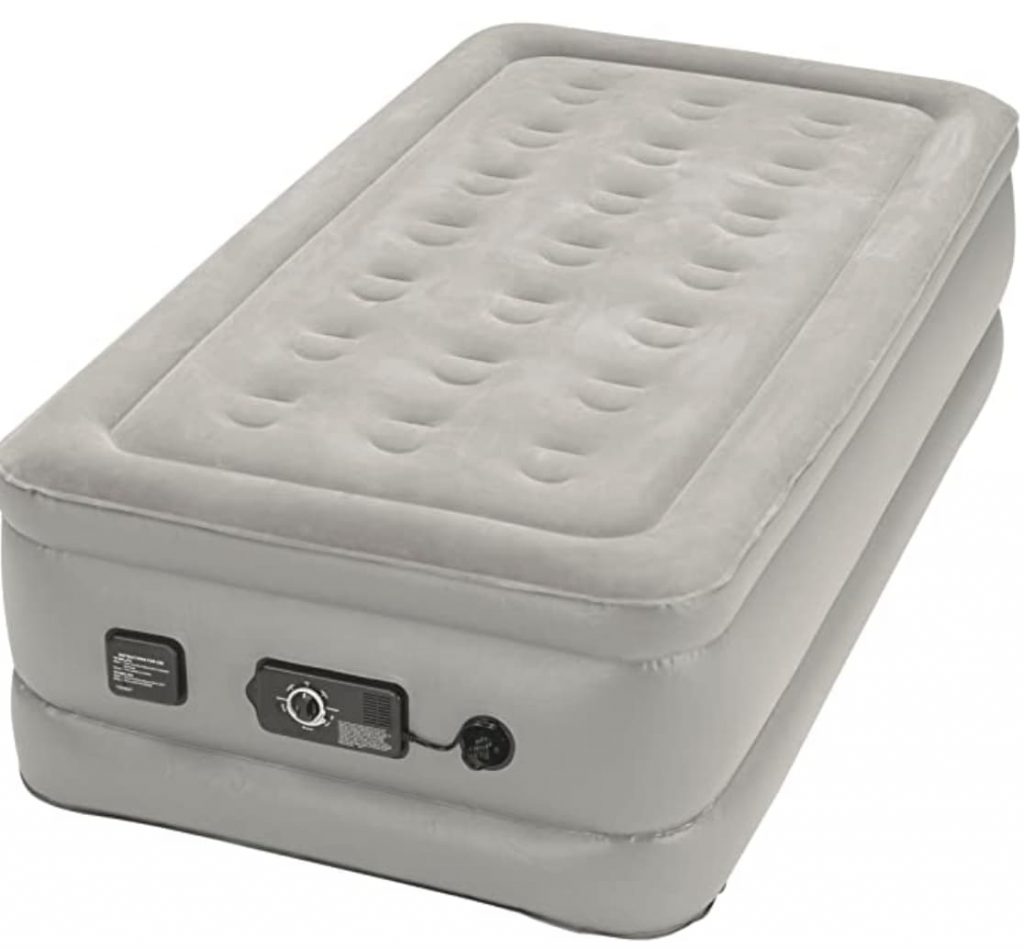 If you are looking for a mattress that you might be using for a longer time or on the daily, we are confident that you would like to make sure it is the most comfortable one out there. The Insta-Bed Raised is very close to the traditional mattress, with an emphasis of comfortable sleep. It is a 19-inch queen-sized raised air mattress that offers you an unique experience of a good night's sleep with its neverFlat AC pump. This feature provides silent reinflation of the mattress during sleep so you can be confident that when you wake up the next morning, you will not be lying on the floor. The product is made from sturdy PVC where the top layer is from suede material that prevents the sliding of the sheets. One great thing about this mattress is that you can customise the level of firmness according to your preference: plush, medium, or firm, just by using the built-in pump. NeverFlat technology combines the use of 2 pumps. One pump monitors the pressure of the mattress while you sleep and allows you the adjustment of the desired level of comfort while the other is used for inflation of the bed in less than 4 minutes. The maximum weight that this mattress supports is 500 pounds, and the feature of a raised bed helps the sleepers get in and out of bed with ease. It has a welded construction with 35 circular coils with horizontal and vertical reinforcement that ensure a comfortable and restless night. This product has the added benefit of a carry bag for portability whilst travelling. Customers appreciate this product as it is easy to set up, and it quickly inflates and deflates without hassle. Taking into account all the additional features it comes with a reasonable price tag.

The most comfortable air mattress

Intex Comfort Plush Elevated Airbed (Affordable)

This queen size air mattress is a great option for people who like sleeping on an elevated airbed as it is one of the highest mattresses on the market with its 22 inches thickness. This is a great option for people who are looking for a mattress that is easy to get in and out of. It features a built-in pump, used to inflate and deflate it instantly, and in no more than 5 minutes. It aims to provide the best comfort and performance regardless of whether you are at home, camping, or travelling. It gives equal comfort and a good night's sleep for guests who arrived unexpectedly for a night over at your house, as well as being used for an outdoor night while camping. It comes with a duffle bag for easy transport and storage when you do not need it. It is extremely portable due to its lightweight. The product has a capacity of 600 pounds and features dimensions of 60″ x 80″. It is engineered with the help of Fiber-Tech Construction and has a flocked top that is waterproofed and made from vinyl, which makes it great for outdoor use, and indented sides that prevent the sheets from sliding off. Also, this product is made with Dura-Beam technology, which means thousands of fibres with one aim -great night's sleep achieved by long-lasting comfort, support, and stability. Intex is a distinguished brand name in the field of air beds, and to a high-quality with this particular made one being made from polyester fibres that do not stretch much over time. The level of comfort is increased with the option of customisation of firmness according to your preference. So, if you are looking for comfort that you can carry everywhere with you, consider this air bed.
The best camping air mattress
Coleman EasyStay 4-N-1 Single High Airbed (Great for camping)
Coleman is a reputable company that specializes in outdoor recreation gear including air beds for camping. It is a versatile air mattress that can be used indoors and outdoors. It features a great design, and it is convertible, so lots of people find it suitable for their diverse needs. This particular air bed can be customized into a twin, king size, and double twin bed. It is made with the help of an advanced technology which is called Comfort Strong Coil, that provides excellent comfort and also better support that ensures a great feeling when waking up camping. After you inflated it, there is a double lock valve with an airtight system that ensures that the firmness will be kept. The valve also helps in the prevention of possible leaks. One of the cons is that there is no built-in or included pump, and one has to be purchased as an addition. The product has a storage system that enables easy and convenient fold, roll, and store in a carry bag that comes with it. When it comes to maximum weight capacity, it can support much less compared to the other products, up to 300 pounds. It is excellent that it can be used indoor and outdoor, and we love the comfort and versatility it provides.
The best budget air mattress
Bestway Single Air Bed (Affordable)
Bestway, as a company produces high-quality recreational products for outdoor use. Our budget-friendly choice is the Single Air Bed, which can be purchased by itself, or you can purchase a built-in foot pump as an addition. It is made from vinyl, which is a sturdy material and contributes to the comfort of the sleeping surface. It features a construction of a coil beam, and this enables equal distribution of the weight. It comes only in a single size which could be considered a negative. However, it is incredibly convenient for quick set up when needed. Inflation and deflation are made possible with the help of a screw valve and the pump, of course. This product also has a soft top fleece surface that also contributes to comfort. Customers agree that it is the high quality product, making it a bargain considering the affordable price tag that it comes with. So, if you are looking for a low air bed that is simple to use and light for carrying to your next camping trip, as well as for sudden unexpected guests staying overnight, this is one of the products to consider as it is an excellent choice.
What is essential to consider when choosing air mattresses?
Comfort
In general, the level of comfort provided by air mattresses is usually in a direct link to the thickness. In this context, the thicker air mattress is mostly more comfortable compared to the thinner ones. This is a result of the air that is being compressed in the mattress during the night. We should all expect that it is normal for the mattress to deflate a bit whilst sleeping, so it is always better to start the night on a thicker mattress that will ensure that the comfort will last at least until the morning. One additional thing that contributes to the comfort is the material. The three typical materials used for mattresses are PVC, nylon, and vinyl, but there is a possibility for a different one, such as foam. Choose a mattress that has a softer top made of velveteen materials that are breathable and enable airflow between the bed and the skin, thus increasing the comfort of sleep. The materials also need to be waterproof.
Ease of Use
A vital characteristic of the air mattresses to take into account is the process of inflation or setting up. This can be a simple or difficult chore. Most of the models on our list have a built-in automatic pump that adds air into the mattress throughout the night. If you feel that the mattress has lost some air since the inflation, with just a simple turning of the switch you can adjust the desired level of comfort and pump some air into the mattress. It is worth the investment! Opposite of this, some models use a foot pump, and this can make the process of inflation a little bit harder as you need to put in some extra effort, which can be a hassle especially if you have to do this during the night. However, the latter can be convenient for camping, and instead of a foot pump, you can use a battery-powered that can also be plugged in a car.
Air Retention
All air mattresses lose some air overnight and deflate to a certain point as they were designed to do so. If not, they will probably burst. What is usually the culprit for deflation is the temperature and the weight on the surface. However, the best air mattresses are designed to lose very little air overnight. It can be of great importance if you are using the mattress in colder temperatures and you surely do not want to wake up cold on the ground in the morning. The colder the temperature is, the more deflation occurs. One of the ways to fight this is to choose the options that use the second pump that consistently pumps air into the mattress. Besides, if there is a possibility to keep the premise warmer, it will add to keeping the firmness. Regarding the deflation that happens due to the weight, we can advise you not sit on the mattress as the weight concentration speeds up the loss of air.
Sizes
The inflatable mattresses, just like the traditional ones, can be found in different sizes. They are available from queen size, which is the most popular and to king size. Following your needs, you should consider the size. If you are looking for a mattress for outdoor use, a great choice can be twin size. If you are using it at home again, think of the space that you have, and if you have an extra room then an excellent choice can be the king size. You should also consider the size in terms of portability, for example, if you are a backpacker who goes camping often you would like to have a smaller size and lightweight mattress.
Warranty
You should buy your preferred choice from the best air mattresses manufacturers who offer warranty protection. In Australia, usually, these products come with a 1-year warranty. If the pump is part of the package, the warranty covers it too. However, each manufacturer has rights reserved regarding the conditions of when the warranty applies. So, the best option is to choose a reputable company that is known for its excellent customer service. It can be especially important with the self-inflating mattresses as they have a motor that should also be covered by the warranty. So, when you consider buying your new air bed, make sure to check the warranty-the time and the parts it covers.