Featuring 3-zone pocket springs and not too much else in the core of the mattress, the Art and Science models come in a somewhat medium to firm range, ideal for a back sleeper's new mattress. There is a bamboo cover here keeping dust mites at bay, a relatively thick pillow top comfort layer and not too much else.
To keep things simple, the Art & Science range of mattresses are your firm mattress options for those who would like firm support to relieve back pain with no frills. Affordability is a little better on the Art and Science variants over other mattress brands, though you get what you pay for – pocket springs, and not much else.
Overview
You'll find the Art and Science mattresses available online at Sleeping Giant from $299 through to $1,099 depending on the model you choose from. There are Silver, Gold and Platinum variants all with their own unique features, with some being plusher than others and featuring various firmness levels.
As mentioned above, there aren't too many special features integrated into the Art and Science models, though the varying firmness options ensure you have the choice to relieve pressure points and have a price range to choose from that will best fit your budget.
The layout or material composition of the mattress is, again, rather simple with a bamboo blended cover that's well-ventilated and breathable. Below this cover, there is a 3-zone or multi-zone pocket spring core that offers great support for all sleeping positions, and with a selection of mattresses to choose from, the Gold Balanced Comfort model, for example, is ideal for those who don't want a bed that's too firm.
Mattress reviews and testers outlined that the Art and Science models are a good buy, but you're not getting anything outstanding or luxurious, but rather a high-quality, no-extras mattress.
With all of that out of the way, let's take a look below at our review into the Art & Science mattress range, and whether you should consider one of these mattresses.
The Art & Science Mattress Range
With a range of different mattresses to choose from in the Art & Style range, sleepers will have the option to select from various firmness levels for optimal back support. There is no mention of memory foam mattresses in the range, and with that said, all of these beds are innerspring or pocket spring models only.
The good news here is that all of the materials used in the beds are of good quality and offer great pressure relief when it comes to joint pains and muscle pains.
Materials
From the outset, the mattress is made entirely of pocket springs without any foam or added materials inside the core of the mattress. This is ideal for sleepers who want a lot of bounce, but not so great for anyone after contouring features.
Although many mattresses in this price point come with an array of comfort-adding materials, the Art and Science bed's spring-only design means that firmness stands out above all else, and there's also little contouring or cradling experience here.
Initial Comfort and Feel
From the outset, it will be apparent that the Art and Science mattress range is one of the firmest out on the market. With little comfort firm or high-density foam insight, you're going to notice a rather rigid bounce and solid support surface
There is an upper-level pillow top which makes things a little softer, however, without foam-wrapped pocket springs or other levels of foam, the experience is rather firm.
It's also good to know that being around a 7.5 on the firmness scale means that there's a lot of bounce here, making the bed a good buy for those who like the experience of bouncy pocket springs.
Partner Disturbance
One area these Art & Science beds are lacking is in partner disturbance isolation. Unlike latex mattresses or foam pillow top models, these spring mattresses allow for a lot of movement.
When partners get up and down during the night, there's a good chance you'll notice it. The movement ripples through the pocket springs and with little foam in the way of this movement and the other sides of the bed, motion isolation are generally non-existent.
Firmness
As mentioned above, the mattress falls well into the firm side of things, which is ideal for back sleepers who want a little extra support. The majority of the sinkage or contouring will come from the pillow top and not much else.
If you're a side sleeper, this bed might not be the best option for you unless you choose one of the softer models offered by Art and Science.
Stomach sleepers will also find this bed comfortable as there's enough support to prevent dipping and spine alignment issues down the road.
Edge Support
Again, a feature that's rather lacking is edge support. Online reviews and mattress testers alike have pointed out that based on a few body types, you might find the edges of this bed sagging too far for you to comfortably sleep at the side of the mattress.
A bed frame with rather high sideboards may help support the edges of the mattress, though, in all, the edge support is far from ideal.
Heat Retention and Dispersion
One area where the bed does stand out is in its ability to expel heat from sleepers. As there's a well-ventilated core that's entirely made of pocket springs, you'll have no trouble getting a cool, restful night's sleep without feeling too warm.
We'd suggest this mattress for those in warmer climates who are more partial to firmer mattresses and would like a sleeping surface that's ultra-supportive.
Special Features
In keeping with the 'bare bones' approach to this mattress, there aren't any extras to be found here. There is a good warranty and customer support team, though not too much else.
A special feature when buying however is the ability to choose between a range of comfort levels from Extra Firm to Extra Comfort for example. With these choices, you'll have a better chance of getting the bed with the firmness level you like the most.
Quality, Trials, Shipping and Warranty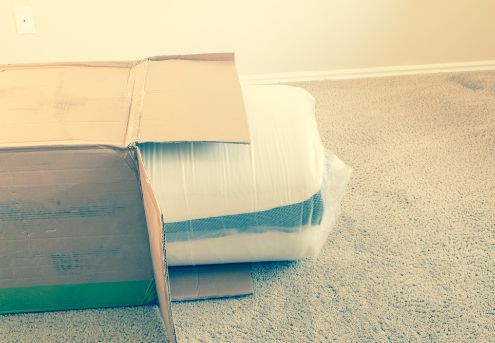 With the Art and Science range keeping things quite minimal, it's good to know that your hard-earned cash is going into a relatively simple after-sale experience. Should you have any issues down the line, there's great warranty and support staff who are happy to help you out.
Material Quality
To kick things off, the materials in the Art and Science beds are good quality, though there aren't as many layers or as much material diversity as other mattresses in this price point.
Customers will find that the springs inside these mattresses are of high quality, aren't prone to creaking or squeaking during the night nor will they slowly dip or sag in time. This is particularly important when it comes to the longevity of the mattress and your spinal support. On the Art & Science range, you'll be able to sleep comfortably for years to come without worrying about pain or aches.
Trial Period
There is no trial period outlined on Sleeping Giant's website when it comes to the Art and Science range, which means you'll need to be a little more diligent when it comes to investing in one.
Although you won't be able to trial the bed yourself, you can take a look at reviews online to gauge whether other customers have had good experiences and if they like the features of the mattresses you'd have hoped for.
Be sure to consider things like sleeping positions and customer's different takes on how they sleep, as this will be a godsend when it comes to understanding whether the 7.5 firmness is good for you or not.
Shipping or Pickup
All mattresses from Art and Science are dispatched within 1-3 business days given there is stock available.
Delivery is not included with the cost of the mattress, so it's important to factor this into the final price of the mattress. You might find that delivery pushes up the cost of things just a little too much for your liking.
Warranty
The good news is that there's a 10-year limited warranty on all of these mattresses, which means you're going to be covered should anything go wrong down the line.
Just be sure to take good care of your mattress, as Art and Science suggest rotating the bed every few months to ensure there's minimal sagging or other issues.
You should be provided with a warranty card which you will need to keep hold of in the event you need to have a replacement of your mattress.
Suggested Accessories – A Topper
When it comes to the Art and Science range, it might be best to consider a topper to add some extra comfort and a better experience.
As it's made clear by reviews that the mattress is a little firm and there's not a whole lot of motion isolation, we suggest getting your hands on a queen-size or king-size topper that's made of memory foam. In doing this, you'll add a great level of plushness and some of that great sinking feeling that keeps the weight off your joints as you sleep.
Takeaway
In all, the Art & Science range is a no-frills mattress line that is firm, reliable, and built to last a decade.
You can rely on these pillow-top mattresses to keep you from suffering from back pain too much longer, and with a great support team and shopping experience, you'll have a new mattress at home in no time at all.