There are certainly a lot of options out there when it comes to choosing a new mattress. We don't tend to change our mattresses that often, so it's likely, if you're in the market for a new one, you haven't bought one in quite some time. Innovations in mattress technology means that the mattresses of today are far superior to those of the past, so you need to do your research to discover which modern mattress will suit you best. It isn't really the case that one mattress is better than another, it's all down to what type of mattress you prefer, how you sleep and what type of layering works best for you.
We are now going to take a look at two popular mattresses on the market. The Simba and the Eve. Which will you prefer? The Simba with its four layers, or perhaps the Eve with the iconic yellow edges? Read on to learn about both mattresses in more detail…
Ordering your mattress
Of course you want the ordering process to be simple and straightforward, and that's what you'll get if you opt for either of these mattresses. However, there is one difference. While you get free delivery from both Simba and Eve, with the Simba mattress you'll have your mattress the very next day if you order before 4pm, however, the Eve mattress can take up to five days to arrive. This is fine if you're simply upgrading an older mattress, but if you've had to get rid of your mattress, this could be a problem. You won't want to spend the next few days sleeping on the floor!
The mattress construction
The cover
Perhaps the most important aspect of any mattress is the layers it is constructed of. We'll get to that soon, but first, let's take a look at the covers. The Simba mattress cover is white on the top with grey sides. It's 100% polyester and is quite stretchy making it easy to take off for washing. It's not too thick, which will allow for good air flow. The Eve mattress cover is also made from 100% polyester. This one is white on the top and has vibrant yellow sides. We noticed that with a white sheet, a little of the yellow did show through, so you may want to bear that in mind if it's going to annoy you! The Eve cover is soft and stretchy and is removable so you can wash it.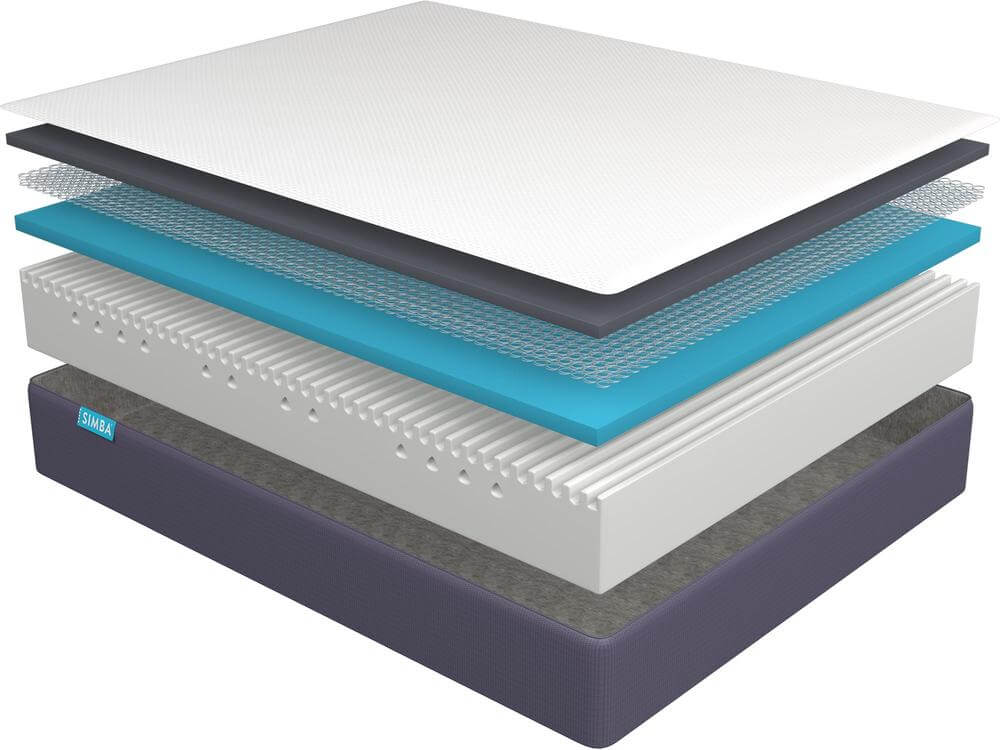 The layers
The Simba mattress is made up of four layers. It's a hybrid mattress, so it has both foam and coil springs within it. We'll start from the bottom up…
The base layer – At the bottom of your Simba mattress you'll find 15cm of supportive foam. This helps to support the upper layers and gives your mattress its size and shape.
Memory foam layer – On top of the base layer is 3cm of memory foam. This is great for relieving pressure and it adds to the support of the mattress.
Microcoil layer – Next is the microcoil layer. This is 2cm thick and consists of microcoils within foam. This layer adds bounce to the mattress.
Latex foam layer – The top layer of the Simba mattress is 5cm of latex foam. Latex foam is known for it's cooling properties, so this mattress is good for anyone who finds memory foam just too hot. It's also very comfortable.
The Eve mattress is a little different. It's not a hybrid mattress, so there are no microcoils. It has three layers of foam within it.
The base layer – The Eve mattress base layer is made up of 16.5cm of supportive high-density foam. This dense foam gives a lot of support for the other layers to sit upon.
Polyurethane foam layer – The next layer is 3.5cm of polyurethane foam. This is supportive, and it's great for relieving pressure.
Memory foam layer – The top layer is a good 4cm of memory foam. This will help you to sink into your mattress and should add to the comfort levels.


The Sleep Test
That all sounds great in theory, but how does it feel to actually sleep on these mattresses? The coils in the Simba mattress make it quite bouncy, but if you have a partner that fidgets in bed, you won't feel them moving too much as the memory foam prevents the movement from spreading across to the other side of the bed. While you do sink into the memory foam a little, it isn't too much as the coil layer prevents too much sinking. If you don't like that 'stuck' feeling you sometimes get with memory foam mattresses, then you might like the SImba. However, while our testers who sleep on their back found the Simba to be really good, those who slept on their front found the support to be just a little lacking. Interestingly, the heavier our test sleepers were, the more comfortable they found the Simba matttress. It's usually the other way around, so if you are a little on the heavy side, this is certainly one to look at. We also found the Simba nice and cool which is a big plus point.
The Eve mattress we thought was a little firmer than the Simba, though still not very firm. We found it very supportive, especially at the edges, which can let down some mattresses. Despite not having the coils of the Simba, the Eve didn't give too much sinkage. Again the Eve mattress felt cool. This mattress is good for all sleep positions, but seems best suited to those who sleep on their front.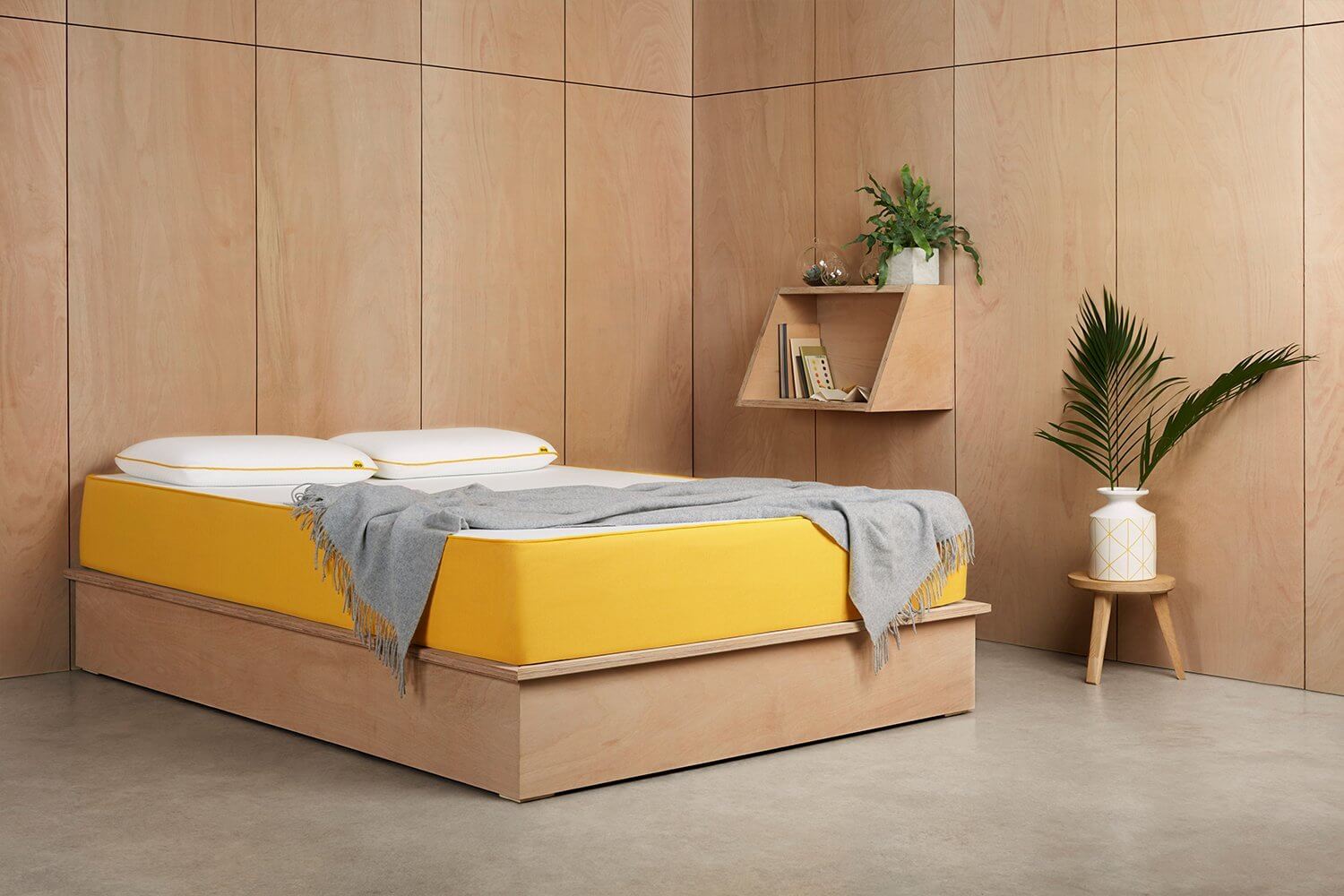 So to conclude…
We'd pick the Simba for those who sleep on their back, and the Eve for those who sleep on their side or front. Both mattresses are comfortable, cool and well constructed. They come in at similar price points. however, the five days for delivery on the Eve may be an issue for some.