You'll probably need a list of baby items once you deliver your baby—from nipple creams, nursing bras to a breast pump. But that's not all—as a breastfeeding mom, you'll also need a nursing pillow—sometimes known as a breastfeeding pillow.
Let's just say that there aren't as many baby items that give the best return on investment as nursing pillows. It's one of the baby gears you'll use frequently—a couple of hours every day, or even for many months to come.
However, choosing the best nursing pillows can be a nightmare, especially if you're a first-time mom. So before rushing into buying one for your newborn, you must acquaint yourself with the essentials of the best nursing pillow—the pricing, essential features to look for and where to buy.
In this post, I'll walk you through the eight best nursing pillows that will make your lactation experience a breeze. Besides, I'll show you what features you need to look for when buying a nursing pillow—that way, you end up with the best nursing pillow.
Let's dive right in.
What Is a Nursing Pillow?
Also known as feeding pillows, nursing pillows are used to provide a stable and comfy surface for your newborn to breastfeed.
The pillows are usually U-shaped and wrap around the waist to alleviate neck, arm and back strain for you. This is a must-have baby gear—not only for the baby but for you as well.
Do You Really Need a Nursing Pillow?
It's certainly not necessary to have a nursing pillow—you can comfortably breastfeed your baby using a regular pillow. But as a first-time mom, you're going to find nursing pillows beneficial during your first months of lactation.
Besides feeding your baby, nursing pillows can be used as a tummy time aid to help babies support themselves on their arms. They can also serve as a cushioned prop for babies who are learning to sit up unsupported.
How to Use a Nursing Pillow
Most nursing pillows are made to curve around your waist to support your baby in the correct position and help reach your breast or feeding bottle.
You can take advantage of various nursing positions—so don't shy away from testing different positions—by moving the nursing pillow and the baby to find the perfect spot.
Preferably, your baby should tilt towards you—a bit on their side—but not flat on their back. Additionally, ensure that the nursing pillow is close to your body to minimise the chance of slipping out.
Besides, you can maximise the pillow to allow an upright breastfeeding position. Once you find the perfect position for your baby, ensure the elbows are supported, your back is straight, and your baby's mouth levelled with your breast.
However, the nursing pillows aren't only meant to support your baby while breastfeeding—you can also use them to support yourself when sleeping (that's when you're still pregnant).
Once you deliver your baby, try looking for some of the best nursing pillow shapes that allow for the propping of your newborn during tummy time.
How to Choose a Nursing Pillow
Sure, you can snuggle your baby as you breastfeed, but their weight—even for a 10-pound baby—held throughout the day—can begin to drag your shoulders, causing a hunch on your back.
However, the best pillows can help position your baby in the correct height for breastfeeding, limiting the chances of throwing off your posture.
In other words, you can leave the rest of the work to the pillow and concentrate on more important things, such as taking a deep breath to enhance letdown and chilling as you breastfeed and improving your baby's latch.
But how do you choose the best nursing pillows for your baby? Below are some essential factors you'd want to consider before opting for any kind of nursing baby pillows:
1. Size
According to many lactating moms, a sizable nursing pillow is the best to allow for a wider spot while the baby feeds. However, other moms prefer smaller pillows that are easily portable—a perfect one for trips. Finally, there are specific pillows—twin nursing pillows meant for mummies of multiples.
2. Price
Usually, the best nursing pillows cost between $25 and $50. However, for around $70, you can upgrade the ones ranging between $25 and $50. If you prefer an organic nursing pillow or you're looking for twin pillows, then get ready with about $100 for such pillows.
3. Washability
Since washability is a crucial consideration, you'd want to know whether you'll just wipe your pillow or if you'll be able to remove its slipcover and get it into the washer. While pillows you can just wipe are less expensive, you may need those you can toss into the washer—especially if your baby spits out quite often.
4. Design and Style
Most nursing pillows are covered with fabric, so there are varieties of styles and designs you can choose from. Whether you prefer dull colours or you love pillows with different patterns, you'll always find your perfect matches at your local stores.
8 Best Nursing Pillows
Now that you know why you need a nursing pillow, how to make the best out of it, and the features to look for when purchasing a pillow, let's go through some of the best you can choose from, shall we?
Best Overall Nursing Pillow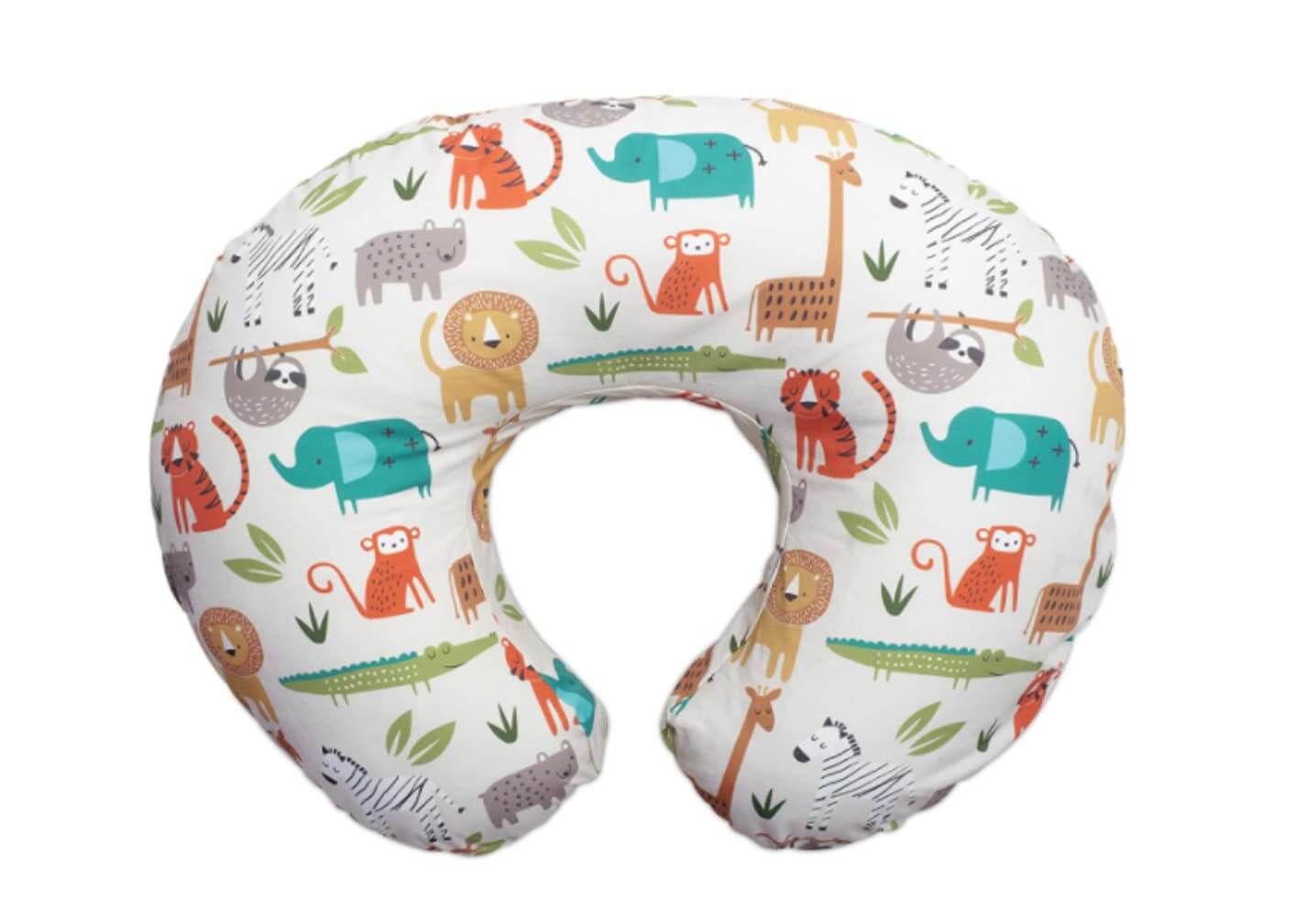 A mother designs the Boppy original nursing pillow, so you can expect that your baby's body comfort was at the top of her priorities. This nursing pillow is sizable enough to fit in your rocking chair as you breastfeed or bottle-feed your baby.
Besides breastfeeding, this Boppy nursing pillow ergonomically provides support to you as you nurse your baby. What's more, this pillow is versatile to support your baby during their awake times to their first-year milestones.
Whether you want to place this nursing pillow around your side waist or your front, you will get the best support and your best feeding style—bottle feeding, cradle, football hold, or even cross cradle.
What makes the Boppy original nursing pillow even better is that it features a breathable and removable cover with a beautiful zipper design. The best of all is that you can wash the pillow cover and the pillow itself in any washing machine.
Pros 
This Boppy original nursing pillow can serve various purposes—breastfeeding, sitting when the baby has grown, tummy time, among others. Its U-shape allows for easy grabbing and makes it secure. Finally, you can wash both the pillow covers and the pillow itself in a washing machine.
Cons
Some users have complained about the curved cushion causing their babies to slide into their chest. Additionally, some users are sceptical about the absence of straps—fearing it could be less secure.
Best Budget Nursing Pillow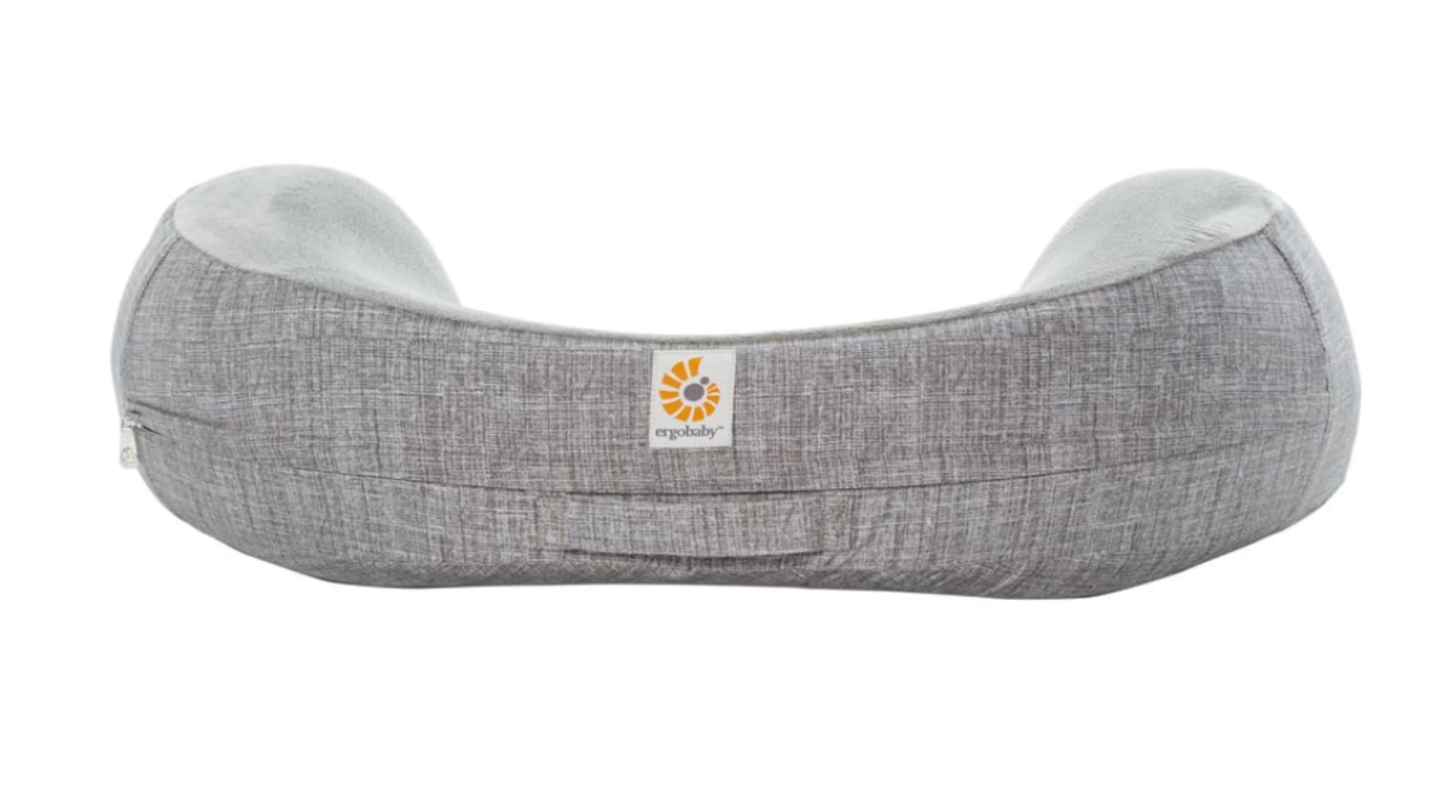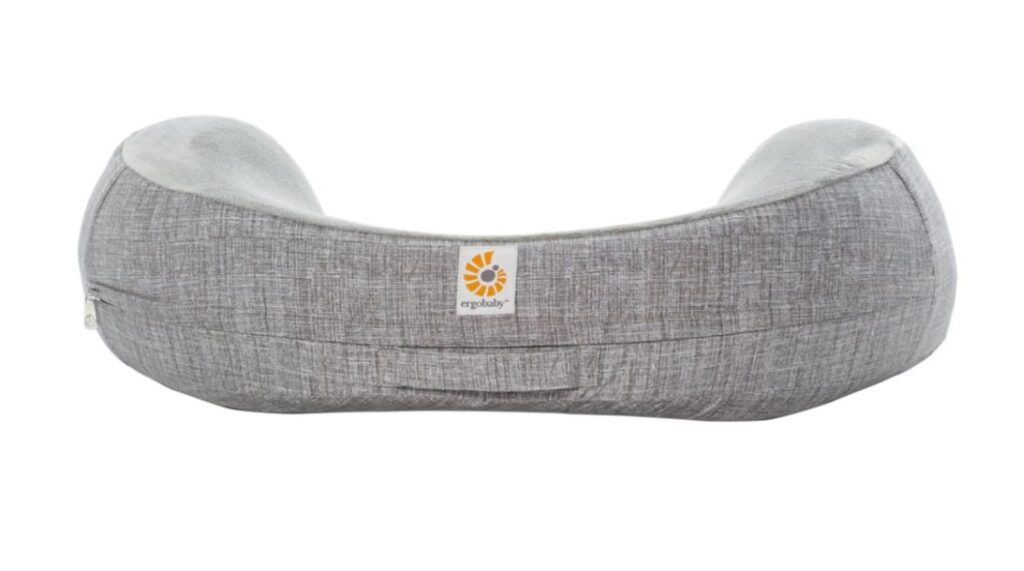 This polyester bamboo nursing pillow features allergen protection and light, making it an excellent choice for bottle-feeding or breastfeeding. Its texture is moderate—firm but somewhat lightweight and soft—just what you need to prop your baby in the correct position.
It's 100 percent polyester, so you don't need to worry about any baby allergies. And because the cover features a light bamboo-polyester blend, washing and drying this nursing pillow is straightforward and fast.
This pillow is portable—so you can carry it with you on your road trip. If you're obsessed with sleek designs, this pillow will be your best choice. Besides, if you're not a huge fan of bright colours, this pillow will suit you.
Pros
First, this pillow is soft, washable and dries pretty fast. Secondly, it's lightweight, so you can carry it with you on road trips or anywhere. Finally, and best of all, it features boppy pillow covers, so you won't have to throw it entirely in your washer.
Cons 
Some moms have raised concerns that continuous use of pillows makes them flat. Also, their soft and plain cover may require an additional cover for durability.
Best Adjustable Nursing Pillow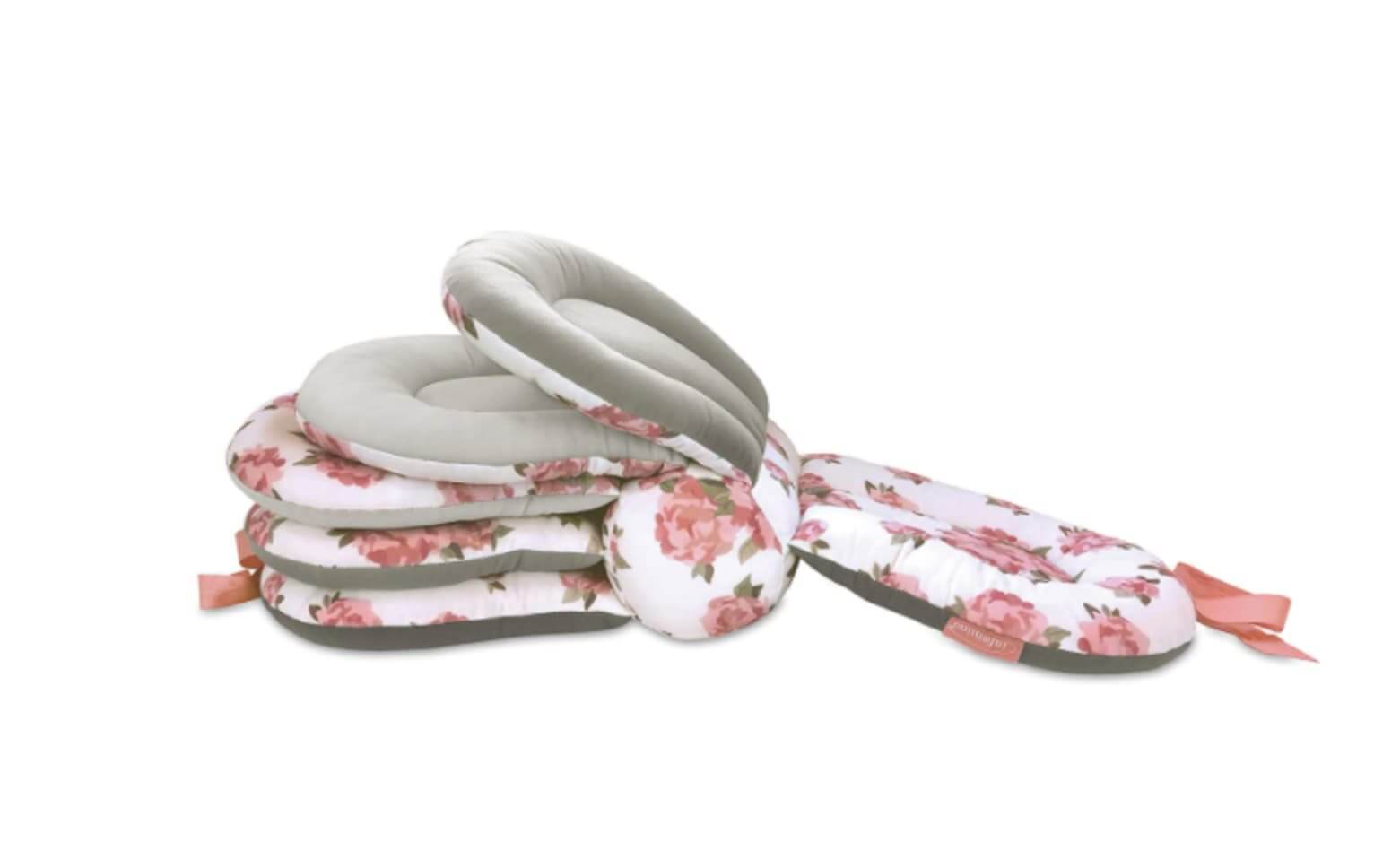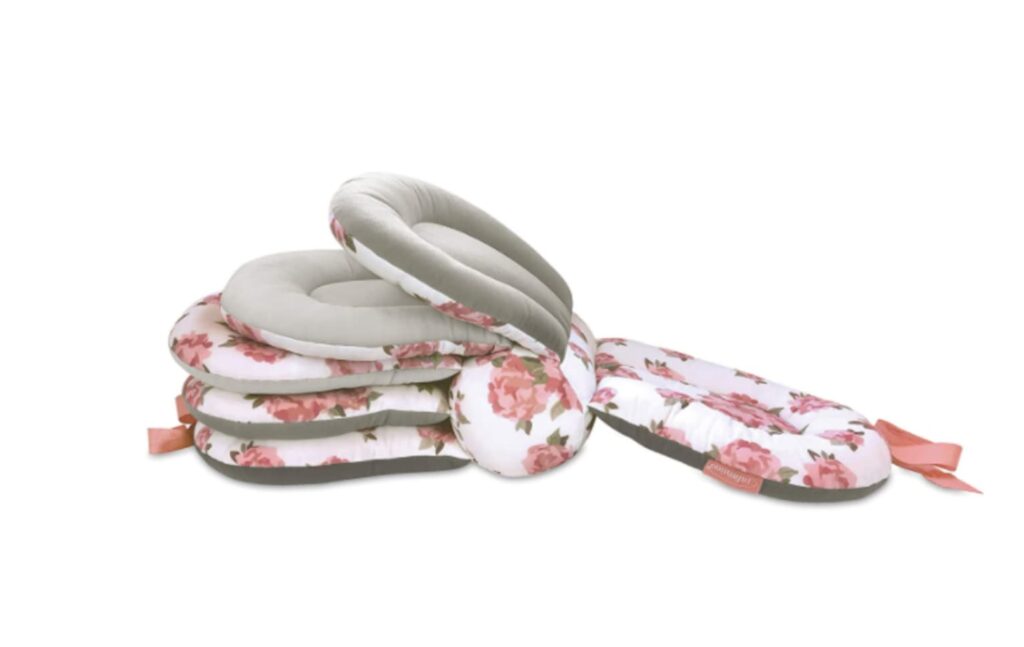 The Infantino adjustable pillow is one of the best pillows featured on this list. It supports many nursing positions, such as the koala, cradle, football, and cross-cradle. And you can trust this pillow as it has been recognised by Parent Magazine, Baby Gear, among others.
You'll have three height options and various nursing-hold options to get the best latch possible. And because this Infantino adjustable nursing pillow is adjustable, you'll have many comfortable positions, making feeding your baby easier even as they grow.
This Infantino nursing pillow is flexible and allows you to feed your baby across your lap. Since this pillow is only intended for use by an adult to feed a baby, ensure you don't put it near your child's sleeping area. Doing so could lead to severe injuries or even death in some cases.
Pros
This is one of the most comfortable pillows you'll ever purchase. And because of its flexibility, you can use it for nearly everything—nursing, hold your baby, football, etc. It comes with three height options, so it'll fit you whether tall or short.
Cons
Most verified buyers have raised complaints about the cover being subpar—meaning it couldn't last longer when regularly used.
Best Nursing Pillow for Twins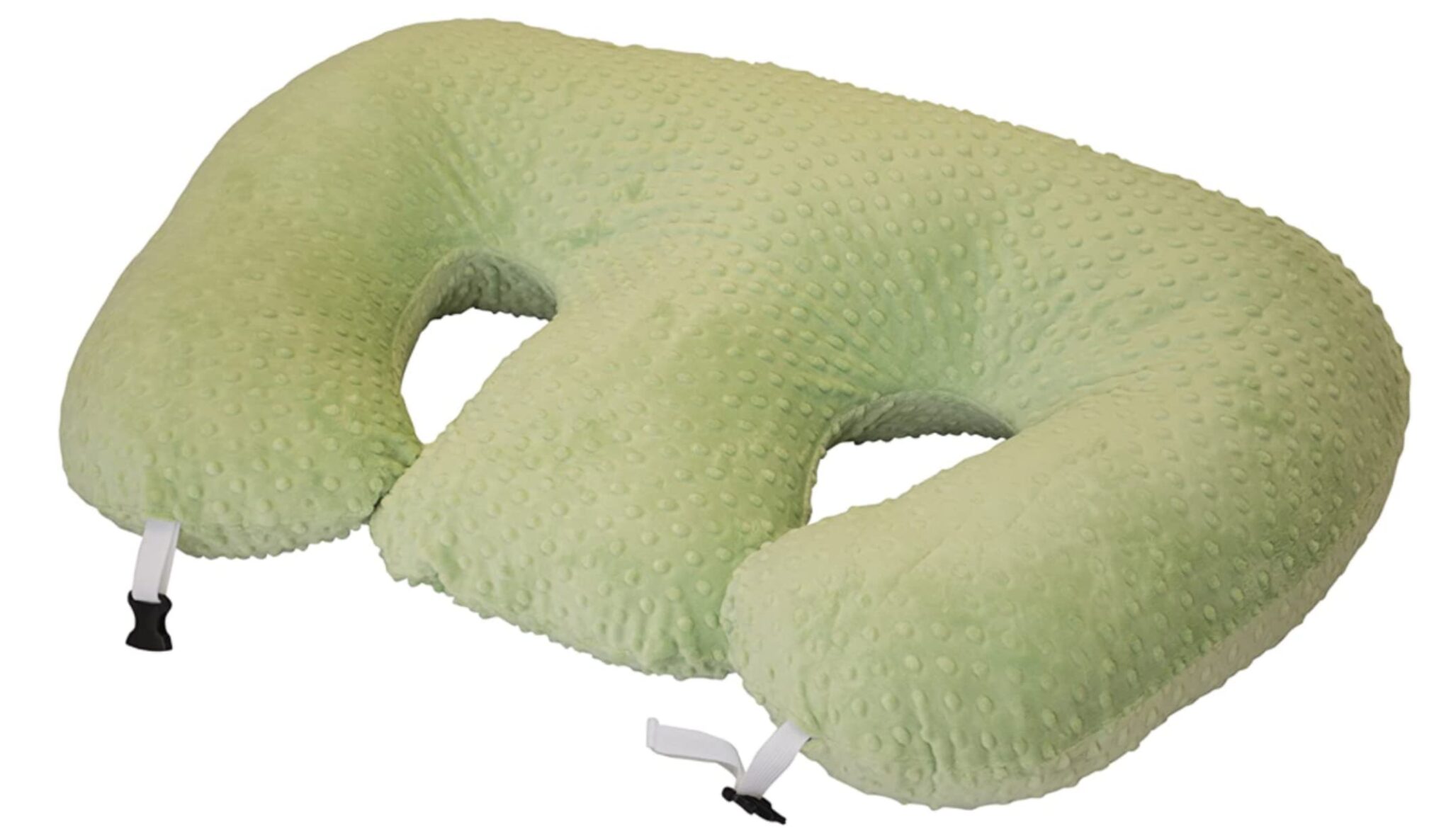 As the name suggests, this TWIN Z pillow is meant for twins. It provides excellent back support, and many nursing moms will appreciate it. Since it's made explicitly for twins, it allows you to position your babies under each of your arms, ensuring they're both comfortable.
You'll be able to feed (whether breastfeeding or bottle feeding) in any positions you wish. This pillow's exterior is made from cotton, making it soft. Although this incredible pillow weighs six pounds, rest assured it'll get the job done.
Pros 
It allows for the option to position your babies side-by-side on the floor when you finish feeding them. The back support enables your babies to relax and holds them perfectly.
Cons 
Most chairs won't be large enough to allow for feeding twins, so you'll have to use this pillow while on the floor, bed or a sofa. Finally, this pillow is a bit large, so it may not be perfect for travelling.
Best Wrap Around Nursing Pillow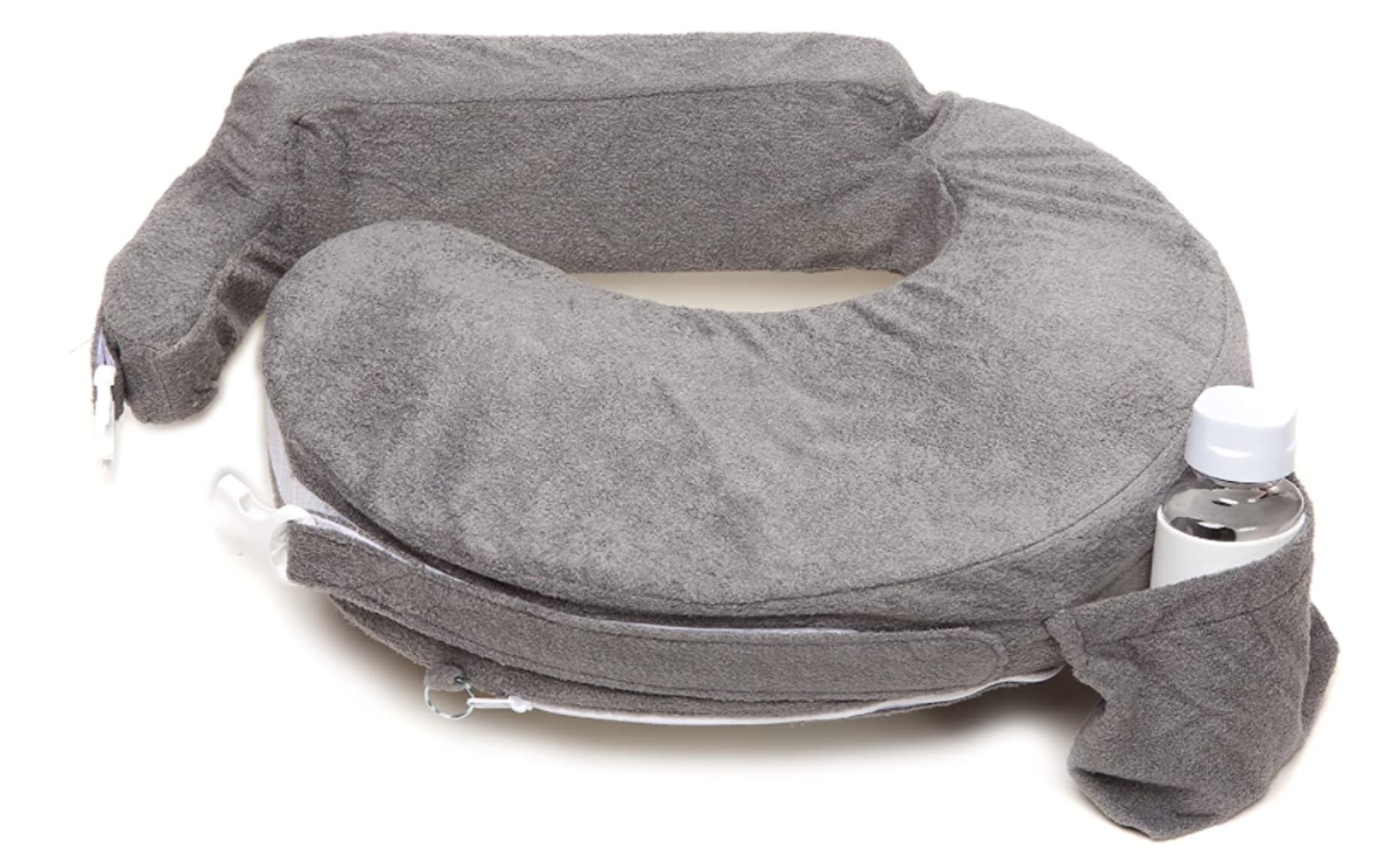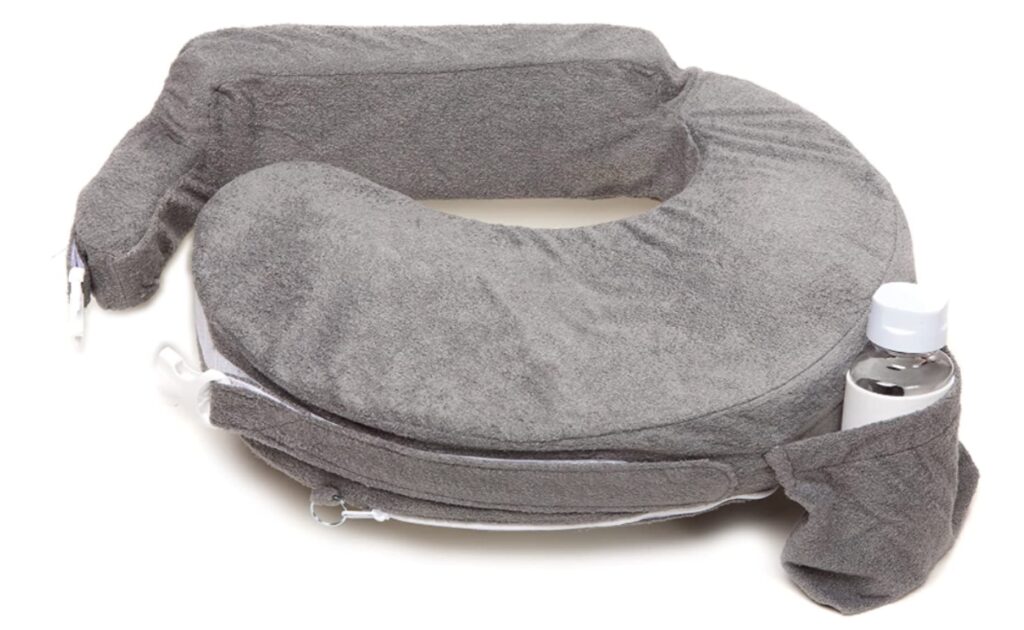 Breastfeeding is potentially the worst nightmare of most first-time mothers. Some moms stop nursing early because of the many challenges they face with latching. However, there's no need to stop nursing—correct positioning can make all the difference.
This Deluxe nursing pillow can give you confidence and make you feel secure when positioning your baby for breastfeeding or bottle feeding. In other words, this Deluxe nursing pillow alleviates all the stress and challenges new moms face.
Additionally, this is one of the best pillows if you're looking for proper latch-on and comfort during breastfeeding. The best of all is that moms and breastfeeding experts created this pillow.
Pros 
Its wrap-around design and adjustable belt make it stay secure. Besides, it features a backrest, which offers extra support for you. Finally, this pillow comes with a flat surface to minimise the chances of your baby rolling.
Cons 
While this pillow comes with a belt you can secure, you may still need to create another step to strap it into this pillow. Also, you can't wash the pillow, meaning you may have to get rid of it when it gets filthy.
Best Pregnancy-to-Nursing Pillow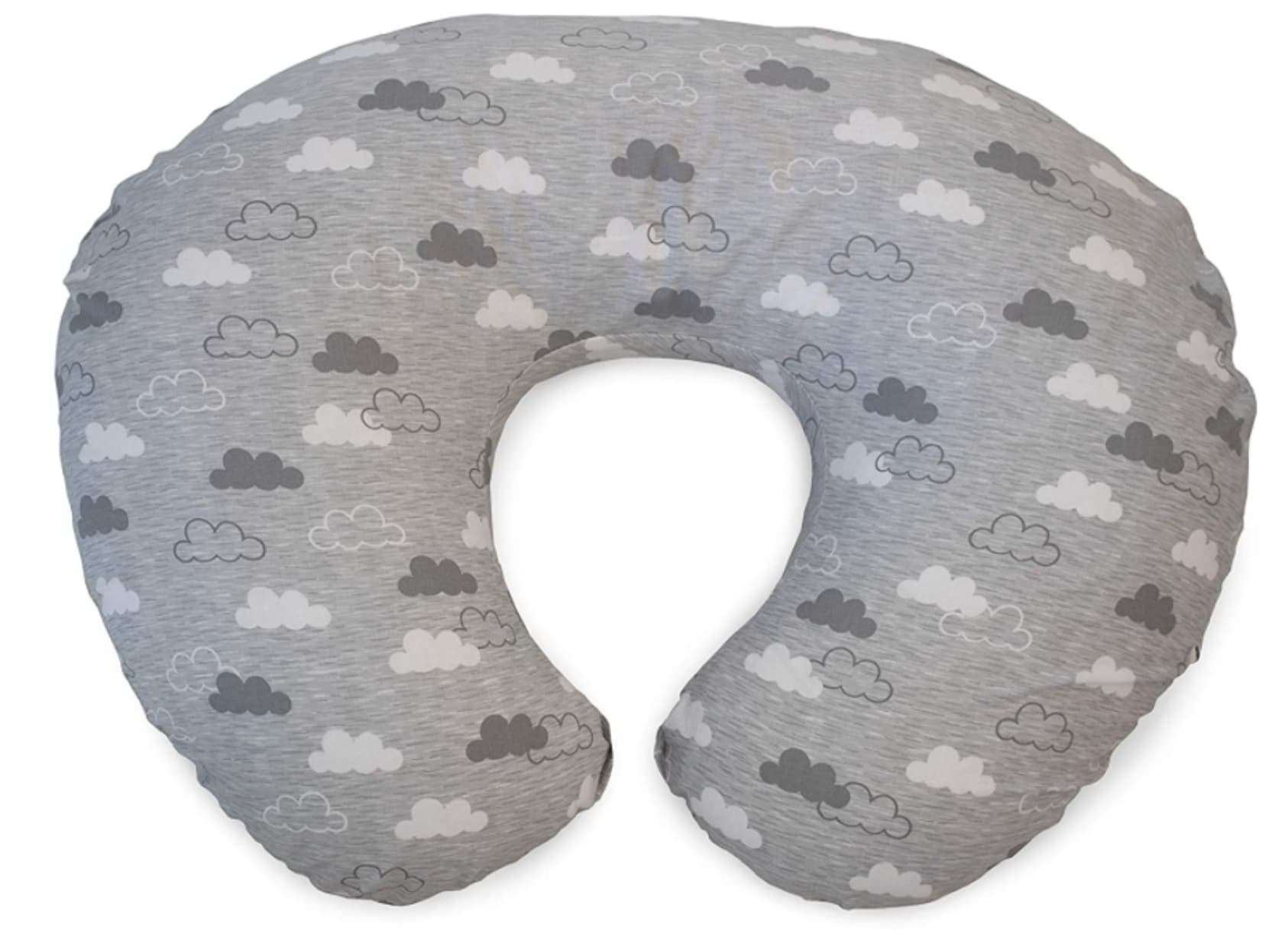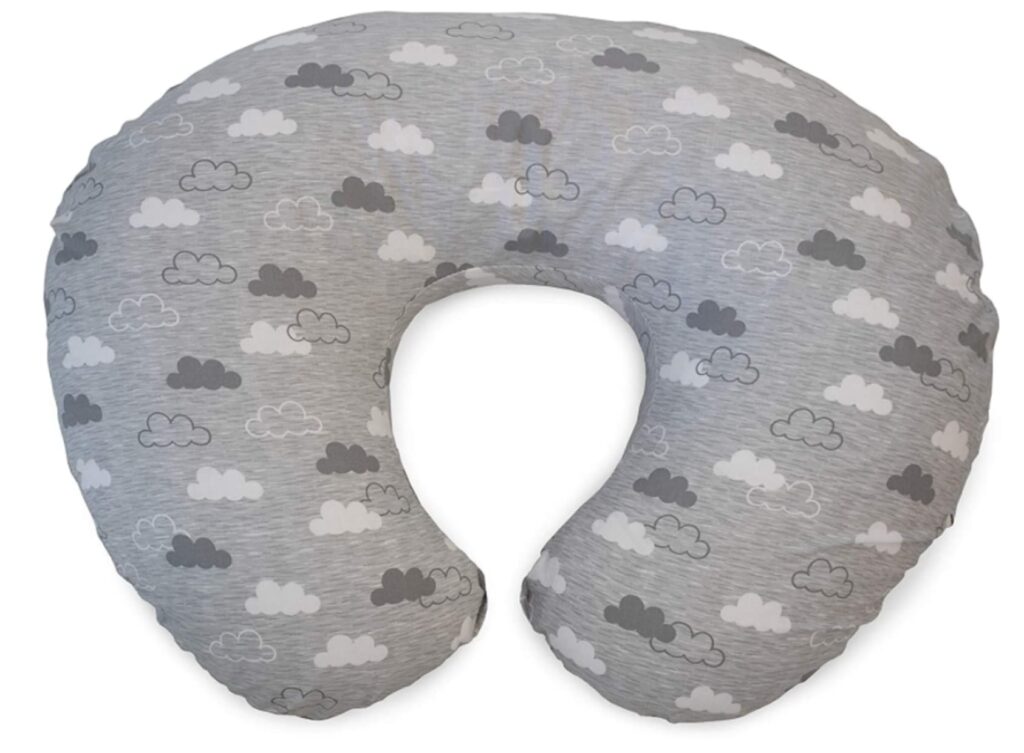 The flexibility of the Chicco Boppy pillow makes it one of the best pillows for moms and their babies. You can use this pillow for breastfeeding from zero months—use it as a tender nest from six months—then take advantage of it as a seat cushion from nine months.
You'll maintain your desired comfortable position when feeding your baby due to its consistent padding. Besides, this Chicco pillow offers the proper support for babies, helping them achieve a natural and comfortable position when breastfeeding or bottle-feeding.
Unlike the Deluxe nursing pillow, this Chicco nursing pillow is machine washable, so it'll serve you a little bit longer than the Deluxe pillow. However, you'll need to ensure that this pillow is appropriately dried when washed for hygiene reasons.
Pros 
This is one of the firmest pillows and can fully support your baby, save your back, arms and neck unnecessary strains. It allows for a semi-upright position if your baby can't sit up.
Cons 
Being that the pillow is super firm, it won't fit most people's waists. And because it's a bit thick and hard, there are chances that your child might not get the best feeding experience.
Best Organic Nursing Pillow
7. The Nesting Organic Pillow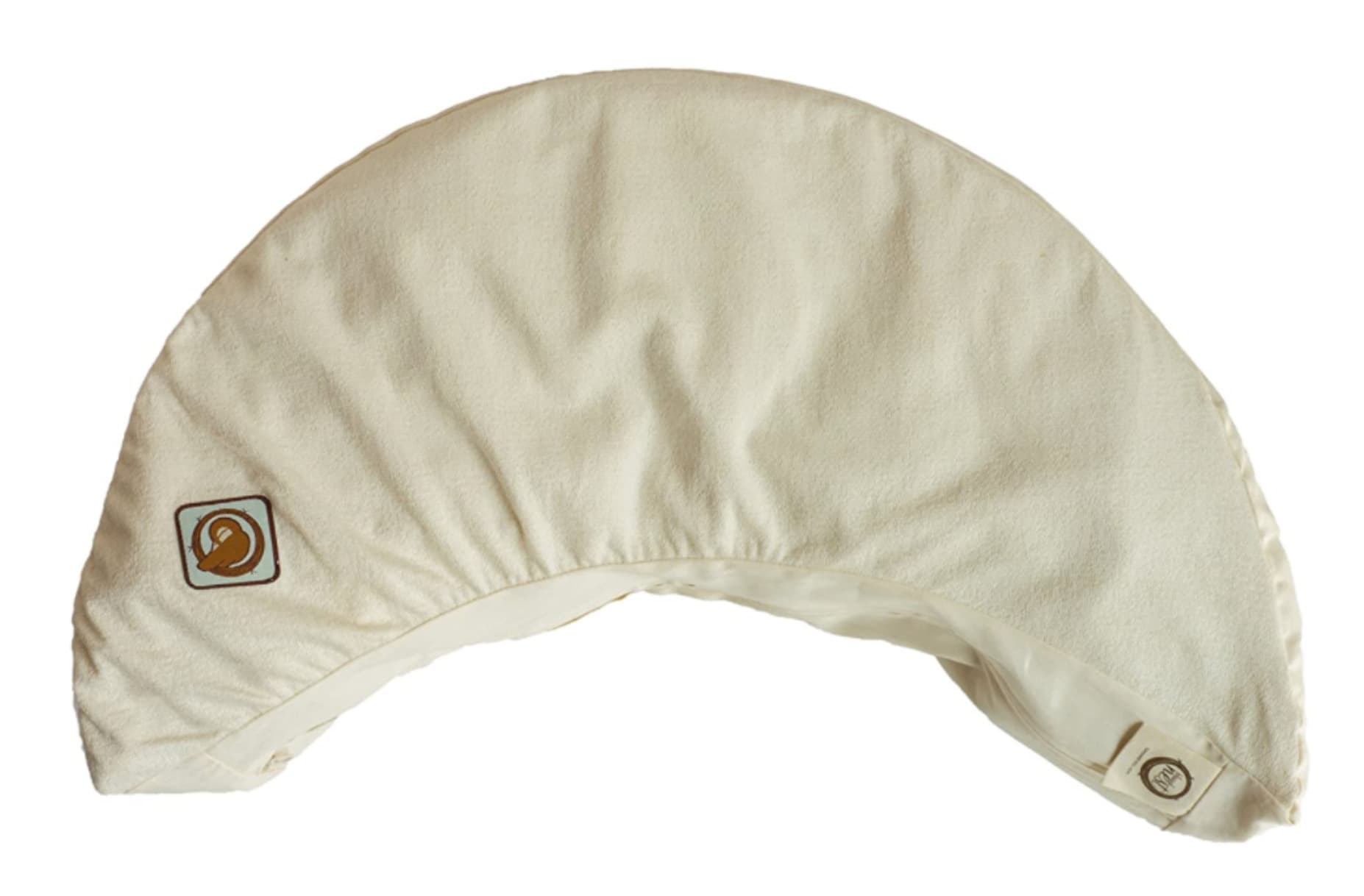 This is an all-natural and non-allergenic nursing pillow. It's a perfect choice for new moms as they are often keen on what's next to their baby's skin. In other words, the Nesting pillow is entirely safe even for the most sensitive babies.
The Nesting Pillow is packed with organic buckwheat hulls, adjusted to find the perfect position for each mother and baby. Additionally, the organic filling allows for air circulation to keep both the baby and mother cool at all times.
What's more impressive about this pillow is that it can withstand frequent washes,  which is a plus when newborns are concerned. You can choose to spot clean the pillow filing and sanitise it in the dryer for 20 minutes or machine-wash the entire pillow.
Pros 
This Nesting pillow is super-flexible and supports a comfortable position during feeding and pregnancy.
Cons 
This pillow is way too heavy for nursing but a perfect gear for a baby to lean back.
Best Travel Nursing Pillow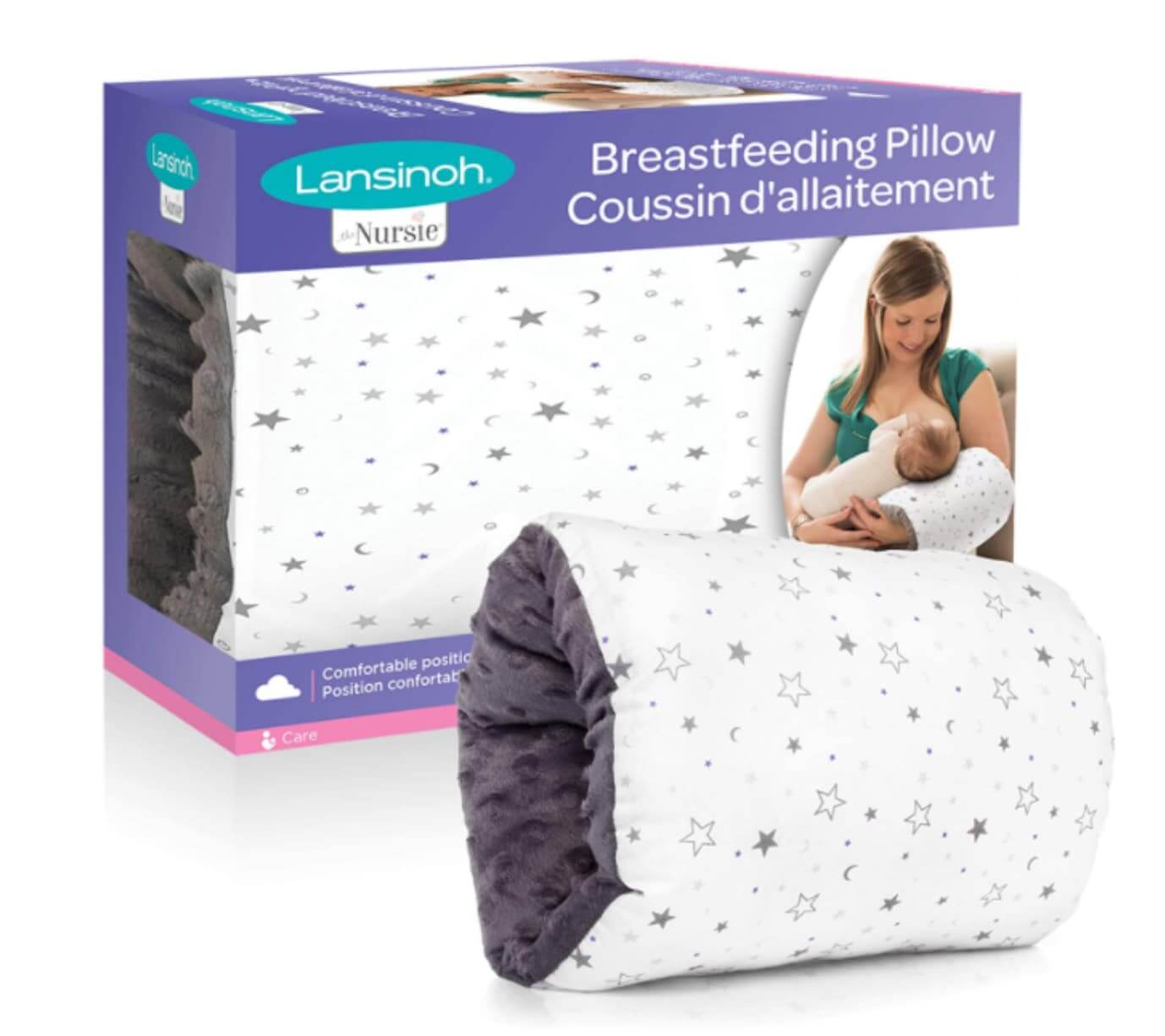 Travelling with a newborn can be hectic, especially if you're not armed with the right gear. However, with Lansinoh pillows, you can be assured of a smooth travelling experience. A lactating mom designs them explicitly to make nursing more enjoyable.
More importantly, moms can use Lansinoh pillows recovering from a C-section to alleviate the pressure from her healing and stomach. Furthermore, they are compact and portable for breastfeeding on the go. What's more, the cradle hold guarantees a comfortable position.
This is a must-have baby gear and makes a perfect gift for an experienced breastfeeding mom or a first-time mom. Besides, toddlers can use them as swim floaters once the mom is done with breastfeeding. Oh, and it's also machine washable, thus less stress for mama.
Pros 
This nursing pillow is easy to use and travels well in a diaper bag. It's also easy to wash, causing little stress for breastfeeding moms.
Cons 
Sadly, this travelling pillow offers no back support, and it's too warm for nursing during summer.
Final Thoughts
Choosing the best feeding pillow can alleviate a lot of stress, such as aching backs during your pregnancy and even after you deliver. Besides, nursing pillows can come in handy during baby tummy time to ensure that you sit comfortably.
While a feeding pillow isn't a must-have baby gear, they serve various purposes—both before your baby is born and after they're delivered.
If you have some extra money or want to make your first-time mom experience a breeze, purchasing one of these best nursing pillows will play to your advantage. After all, they're pretty helpful for newborns and even after the baby has grown—so get yours today.