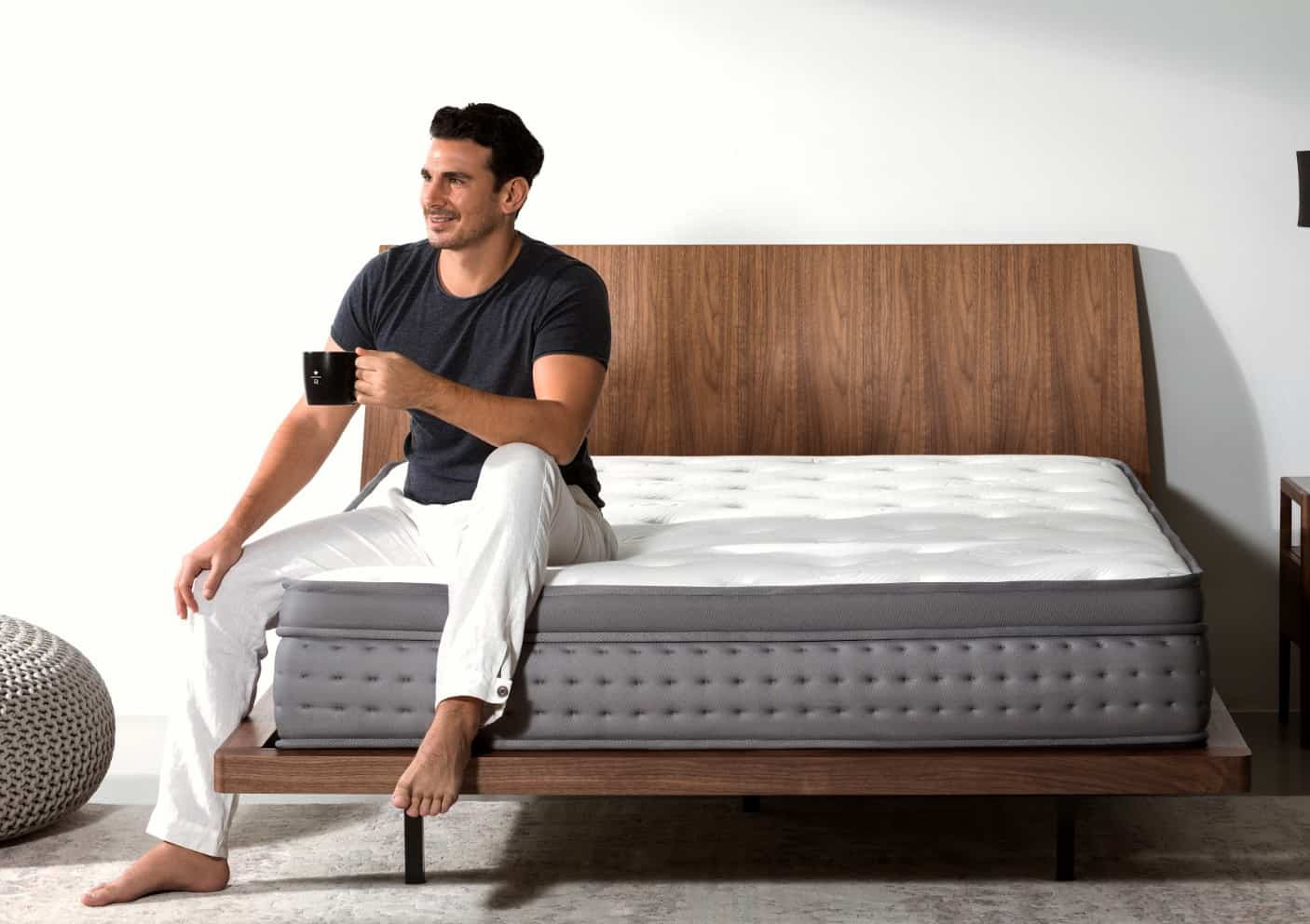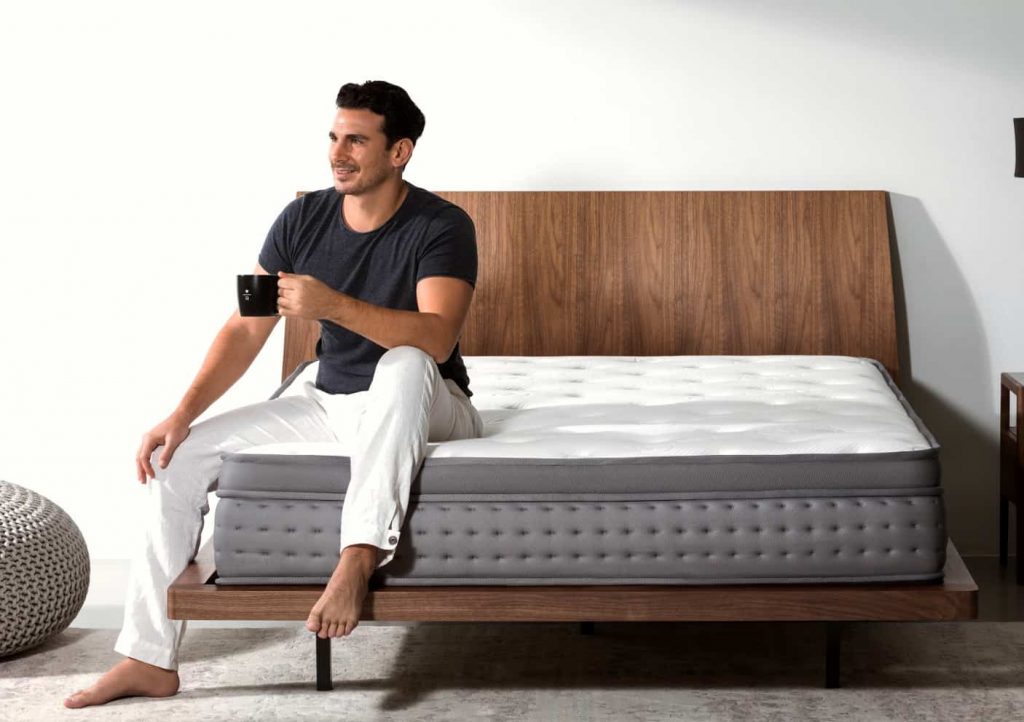 A good night's rest is often hard to come by unless you've got yourself sorted with the right mattress. If you're looking to invest in a new mattress, there are a lot of different options to consider. Memory foam mattresses are a popular choice, delivering plenty of comfort and support for an affordable price tag. In this article, we've rounded up the best memory foam mattresses in Australia that you can buy.
Jump Ahead to the Best Memory Foam Mattresses in Australia
Noa Sleep Hybrid Mattress [Recommended]
Ecosa G-7 Memory Foam Mattress
Onebed Mattress
Sleeping Duck Pro
624 Mattress
Ergoflex 5G Memory Foam Mattress
Hugo Sleep Mattress
What is Memory Foam?
Memory foam was invented by NASA in 1966, meant to act as a gentle, energy-absorbing cushion for aircraft seats. It wasn't until 1991 that the product was first used in a mattress, and since then, the technology has evolved somewhat. Its signature feel can be described as a 'slow sink' – after lying down, the memory foam will gently contract and contour to the shape of your body. Mattress manufacturers recognized that this provides great relief to those sleepers who suffer from back or joint pain.
Traditional memory foam is very dense and retains a lot of heat. Luckily, today most mattress manufacturers use either open-cell or gel-infused memory foam to help. This technology allows more airflow through the mattress, which helps to regulate body temperatures. Some also use a combination of memory foam and latex foam, which is far bouncier, and naturally sheds heat.
Benefits of a Memory Foam Mattress
The first and most obvious benefit of having a memory foam mattress is the extra support you'll receive as opposed to a traditional spring mattress. As mentioned above, memory foam will contour to the exact shape of your body. It's important when you're sleeping to make sure that your joints are getting the support they need while your spine stays aligned. No matter if you sleep on your side, back, or stomach, you're more than likely to get a good night's sleep.
Here are some of the other benefits to a memory foam mattress:
There's little to no motion transfer
When people move around on a traditional spring mattress, there is often a lot of motion transfer. This means that your partner and you could be disrupting each other's sleep without even realizing it. With memory foam, there's no such problem.
Memory foam mattresses are more affordable
Thanks to the low cost of production, memory foam mattresses are cheaper than the alternative hybrid options and high-end spring mattresses.
There's a wide variety of firmness levels across brands
Thanks to each mattress manufacturer developing their own memory foam, there's quite a lot of customization when it comes to how firm or soft you want your mattress. Many top layers can even be flipped over to achieve a different level of comfort.
It's time to get into the details of each mattress that make up this list, which is sure to leave you dreaming of a better night's rest on a brand-new memory foam mattress.
Queen – $1,099 | King – $1,199 (special offer $799)
The Noa Sleep Hybrid Mattress delivers luxurious comfort and an above-average level of support. Like the Onebed mattress, the Noa Hybrid combines a latex layer and gel-infused memory foam for the best of both worlds. But it also goes a step further and branches out with a supportive spring packet on the bottom instead of a high-density foam, delivering a more medium to firm feel that side and back sleepers will love. A relative newcomer on the Australian mattress scene, Noa has quickly built a reputation for excellent customer service and a top-quality product.
Once again on top is a layer of natural latex foam, which is more ecofriendly than its synthetic later counterpart. It's a buoyant top layer that is responsive and very supportive for your hips, shoulders, and back. The deeper comfort comes from below, with a thick layer of Noa's gel-infused memory foam. This layer provides deep contouring of your body, providing you with even more support exactly where you need it. The cooling gel inside also wicks away the heat generated by your body, helping to maintain your body temperature during those hot Aussie nights. Below that is a layer of transitional foam, helping to smooth out the transfer of weight onto the layer of spring pockets. Individually wrapped, the springs provide even more durability and support while working to minimize any movements from you and your partner. You'll be on cloud 9.
2.    Ecosa G-7
Queen – $1,099 | King – $1,199
For many, the Ecosa G-7 is the best memory foam mattress in Australia. This mattress has three different layers of foam that each bring their own benefits – once you lay down, you might never want to get up. On the firmness scale, the Ecosa G-7 sits between a 5 and 6, suitable for most sleepers. In other words, it provides just the right amount of back support while not being too firm. 70% of Ecosa customers have commented that their back pain has improved after sleeping on the G-7, so you know it's the real deal.
When developing their own foam layers, the Ecosa engineers have focused strongly on making sure that the foam is as breathable as possible. They've achieved this while also maintaining the qualities of a good memory foam mattress. The first foam layer is made from their Eco-Tex material, an innovative layer that imitates the bouncy and firm feel of a latex layer. However, thanks to its open cell technology, the Eco-Tex foam contours to your body like regular memory foam, remaining cool all the while. Below is a layer of G-7 memory foam, which has gel particles to further regulate temperatures and support key pressure points. Rounding things out on the bottom is a layer of high-density support foam, which keeps partner disturbance during the night to a minimum. It comes with the industry-standard 100 days trial period and an above-average warranty of 15 years.
3.    Onebed Mattress
Queen – $1,050 | King – $1,150
Like the Ecosa mattress above and most memory foam mattresses in Australia, the Onebed is made up of three different foam layers. However, Onebed uses both a latex and memory foam in its construction, attempting to create a one-size-fits-all mattress. And they've come very close indeed. The feel of this mattress is medium to firm, and a great choice for side and back sleepers. However, for those who like a softer feel on their mattress, this might not be the best choice. If you're still keen to try, the mattress comes with a 125-day trial period. Its warranty is also longer than most at 15 years.
The top layer of the Onebed is a natural Dunlop latex, that lets you sink into the mattress much faster than a traditional memory foam. And since latex is naturally cooling, it's a good choice for those Aussies who can't stand overheating during the night. The trade-off is that it doesn't conform to your body quite as much as a memory foam, and thanks to its extra bounce, has a bit more motion transfer during the night. But both factors have been addressed with a second layer of visco-elastic memory foam that catch your joints and provide relief to your hips, torso, shoulders, and spine. Below that is the third and final layer, made from high-density poly foam which works to distribute the weight across the bed and provide even more support.
4.    Sleeping Duck Pro
Queen – $1,499 | King – $1,599
Another hybrid foam and spring mattress, the Sleeping Duck Pro is a superb choice for every kind of sleeper. Using several foam layers, buyers can choose a version between medium or firm. And then while you're testing out your new mattress, the Sleeping Duck team works with you to achieve the best combination, and will send you different layers depending on whether you want a softer or firmer mattress. It's a great level of customer service that will ensure you'll be comfortably snoozing in no time at all. The trade-off for all these benefits is that it's pricier than its non-hybrid counterparts.
The first layer of the mattress uses what Sleeping Duck call a 'Hyper Adaptive' foam – their own version of a memory foam. It's bouncier than regular, but still provides the pressure relief that comes with other memory foam options. This is backed up underneath with a layer of high-density foam, where most of the support comes from. It's this layer that will be switched out if you're after a softer or firmer mattress. Rounding the mattress out on the bottom is a layer of springs, supporting everything from beneath. Each spring is individually wrapped, meaning that you'll get the support you need if you move in your sleep, without a lot of movement for partner disturbance.
5.    624 Mattress
Queen – $1,199 | King – $1,299
There's one special thing that sets the 624 Mattress apart from the others on this list: it's completely reversible. With latex on one side for a firmer, bouncier feel, and a memory foam on the other for a softer slow sink, this is a good choice for all kinds of sleepers. It's also a great option for those who don't want to muck around trying different levels of firmness and having to wait for new foam layers to be sent out.
In its original setup, the 624 comes with the layer of natural latex on top. Responsive and supportive, it ensures anyone a comfortable night's sleep, and a firmer feel. 624 have even added activated charcoal into this layer, helping to absorb any bad smells and impurities from the air. Below this is the layer of memory foam, which achieves the soft sinking feel of the mattress. If you prefer a softer feel for your forty winks, it's as easy as unzipping the cover and flipping the top layer so that the memory foam is on top. The one layer that can't be moved is the solid base of highly compact foam, adding support and minimising partner disturbance so everyone in the bedroom gets a great night of sleep.
6.    Ergoflex 5G
Queen – $1,119 | King – $1,279
One of the most popular foam mattresses in Australia is the Ergoflex. Made up entirely of three foam layers, the Ergoflex is a balanced and breathable option best for those sleepers who like a medium to firm mattress beneath them. The memory foam on top contours to your body and makes bouncing out of bed in the morning a breeze, ready to seize the day.
Looking inside the Ergoflex mattress, you'll find three distinct layers working together to achieve a sinking comfort, joint support, and plenty of breathability. The top layer is made from Ergoflex's premium memory foam, which uses an open cell structure to achieve superior contouring and support. Any heat that gathers in the memory foam is quickly dispersed by the second layer, called the 'Cool Sleep Airflow' layer. It's designed to increase air flow through the mattress while keeping things comfortable. Below that is a layer of highly dense foam, providing the deep support that your joints need. All of this is covered in a soft, hypoallergenic cover that looks and feels great.
7.    Hugo Sleep
The first factor that sets the Hugo Sleep mattress apart from the others on this list is that it has four layers instead of the normal three. As a result, this mattress is softer and bouncier than most other foam mattresses. For this reason, it's a popular choice among side and stomach sleepers, providing a gentle support usually enjoyed by those who sleep in this position. Back and side sleepers who like the added support of a firmer mattress might find the surface too soft for their liking, but there's a 90-day trial to find out if it's the one for you anyway.
Hugo uses a layer of latex as its top layer, prioritizing cooling, and comfort. It's buoyant and delicate, providing a medium to soft feel on top. Below, a layer of memory foam contours to your body's position in bed, providing the support it needs. The third layer is a transitional foam, made to ease your way into the high-density layer of foam that rounds out the bottom and supports everything from beneath. It's the transitional layer that helps the Hugo achieve its balanced feel. The online-only company offers free delivery around Australia, and the standard 10-year warrant is included.