[Best Rated] Bed Frame – Koala Timber Bed Base – Afterpay Sale get 20% off mattresses.
If you thought that getting a good night's rest was all about the quality of your mattress, think again. Without the right bed frame, your mattress is going to be compromised. After all, the frame is what provides the supportive foundation for your mattress. A quality bed frame will also offset heat build up, and put the mattress at the ideal height to allow you to easily get on and off the mattress.
[Best Rated] Bed Frame – Koala Timber Bed Base – Special offer $100 discount at checkout with email signup.

In this article, we identify the 7 best bed frames on the Australian market right now.
Bed Frame Buyer's Guide
With so much emphasis being given to the mattress, many people consider buying a bed frame as little more than an afterthought. That, however, is a big mistake. In this section, we outline six key buying considerations when you're out there looking for a new bed frame.
Slat Type
Bed frames generally come with wooden slats that support the mattress. For the best mix of breathability and support, look for a mattress that has a maximum width of 6.4 centimeters.
The two main types of slat are flat and sprung. The sprung variety are wooden curved slats that sit within the bed frame. They are more responsive than the cheaper flat slats, as they provide a greater level of natural bounce. If you want a firm base, look for thicker slats.
Box Spring vs Foundation
A box spring frame features springs that are housed within the frame of the bed. This provides a higher level of support to the mattress. However, sometimes box spring mattresses tend to compromise the level of air circulation. They can also result in mould, especially when the box spring sits directly on the floor. To avoid this, look for a box spring frame that is lifted off the floor with legs.
When it comes to a foundation frame, wooden slats sit under the fabric. The main difference between the two is that a box sprung frame provides a greater level of shock absorption whereas a foundation frame is primarily designed to support the mattress.
Frame Size
Bed frames come in all manner of sizes. There is a difference, too, in size classifications internationally. For example, an Australian King is different from a European King. So, you need to be careful to ensure that the mattress fits the frame.
Check, too, that the frame will fit into your bedroom with enough space to move around it. As a general guide, you should allow a minimum of a half metre of space around the bed and between it and any bedroom furniture.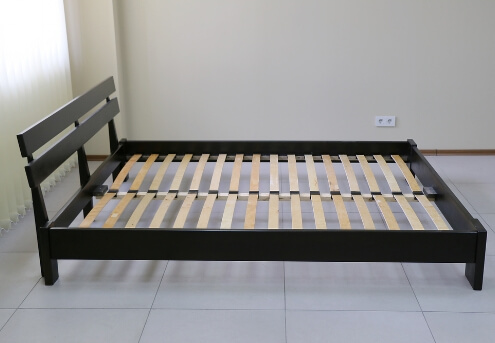 Frame Height
The basic reason for having a bed frame is to lift the mattress to the right height to allow you to comfortably get on and off it. When you sit on the edge of the bed with a mattress on it, your heels should be flat on the floor and your hips should be horizontal with your knees.
Construction Material
Decide whether you want a frame made from metal or timber. They will provide very different vibes to your bedroom. Metal frames are very durable and are best suited to a modern contemporary style. Timber frames often have more character. However, there is the possibility of a wooden frame splintering or chipping over time.
Other construction materials are fabric or leather. In these cases, the outer material covers a timber inner. If you go for a leather frame, be prepared to give it a lot of maintenance. Of all the frame types, fabric offers the greatest range of color options.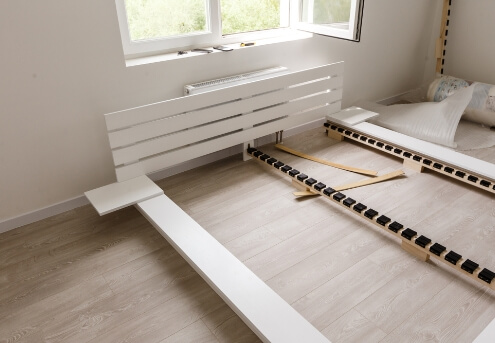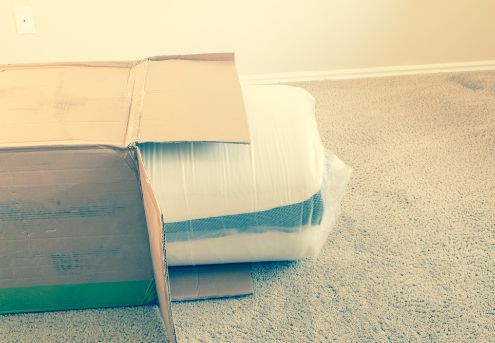 Flat Pack
If you anticipate struggling to get your new bed frame to its final destination, we recommend going for a flat pack delivery style. Even so, you should still measure the dimensions of each box against your door frames to make sure that they will fit.
Room Decor
You need to take into consideration the decor of the bedroom that the bed will be going to when selecting your new purchase. The bed frame should harmonize with the existing colour scheme and furniture style. You also need to determine whether you want the bed to be the central feature of the room or to complement an existing feature.
The Best Bed Frames in Australia 2021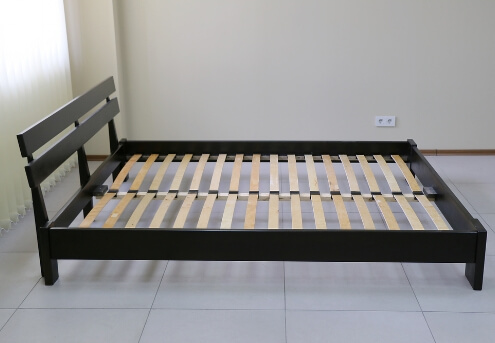 The Koala Bed Base provides you with a stylish, minimalistic look. It is made of chunky timber and joins together like a puzzle. This frame is low down to the ground, being just 23 centimeters off the ground.
Koala have become well known in a relatively short period of time for their box mattress style. This Australian company designs their frames and mattresses in Oz.
This is a very attractive looking bed base which is also durable and well priced. The base provides you with behind the head storage. There are also holes to allow you to manage your technology device cables.
As we've already noted, this base is pretty low to the floor at just 23 centimeters. Taking into account that a Koala box mattress will add another 23 centimeters, you will be at a height of 46 centimeter when you sit or lie on this bed. That is around 14 centimeters lower than on most standard beds. That lower than normal height may make it a bit tricky for some people to get up in the morning.
Ths bed frame comes in either king or queen sizes. It is constructed from cottonwood ply. The frame features a good level of ventilation to allow for breathability and to offset night time overheating.
Putting this base together will take no more than 5 minutes.
Your purchase of the Koala Timber bed base comes with a 120-day free trial. You also get free shipping. The product is supported by a warranty of five years.
Emma's Design Kyoto Bed Base
The Emma's Design Kyoto Bed Base sits right on the floor in the slat base style. This is a contemporary looking option that only comes in the color black and the Queen size. Emma's Design, which is based in Sydney, has established a reputation for their unique and original home furnishing designs. This particular bed base is made in Malaysia.
The Kyoto Bed Base is constructed of metal and features beams, with no feet. It has an open base which provides a good level of breathability and air circulation. This design also ensures that you do not get any moisture problems. The height of the base is 30 centimeters and it provides you with lots of space for storage under the mattress. There is no bedhead with this base.
As with the Koala base, this one is lower to the ground than most, which may make it difficult for some people to get on and off. You have to put this base together but it is a relatively user friendly process.
West Elm Mid-Century Platform Bed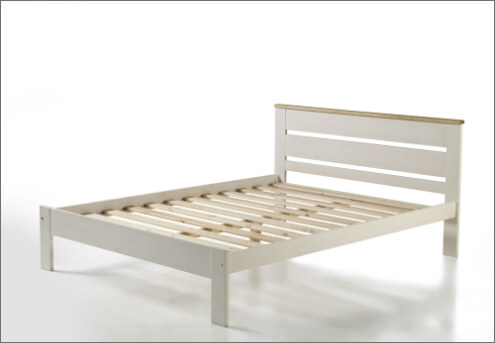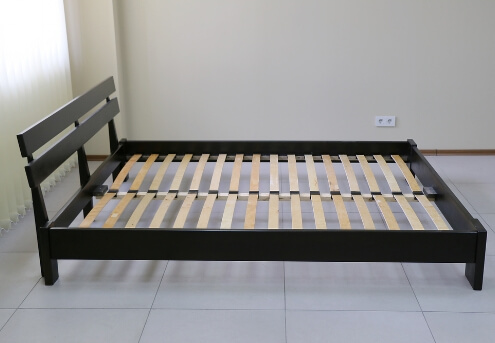 The West Elm Mid-Century Platform Bed is a wooden base that comes in a stylish, modern design. It features wooden slats and is available in double, queen and king sizes. All three frames sit at just under 30 centimeters in height.
The legs on this bed are angled, to provide an interesting offset to the clean lines of the rest of the bed.
The bedhead od the West Elm features a simple design. The bed itself is made from birch that is covered in a walnut veneer. It is manufactured in Vietnam.
Ergoflex Premium Bed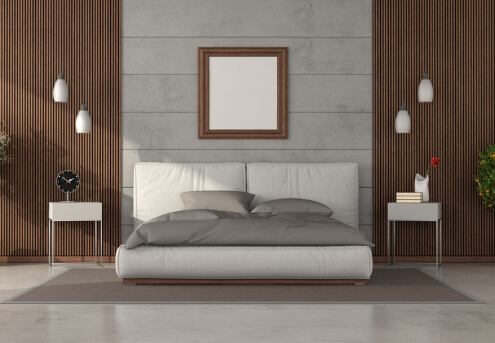 The Ergoflex Premium Bed is our pick for the most customizable bed in Australia. You get to choose virtually every aspect of this bed, including the fabric, base and headboard. In contrast to many other brands, this bed is Australian made.
This Ergoflex Premium base and headboard is a relatively expensive bed that offers a high degree of luxury. Ergoflex has been around for more than a decade. Throughout most of that time, they have focused on producing premium quality mattresses, only recently extending into the bed frame market.
The Ergoflex website allows you to customize your bed. According to the website, there are in excess of 3200 design combinations that you can select from. Because your bed will be custom made, it will take between three and six weeks for your new bed to turn up at your door.
The Ergoflex Premium Bed is available in five of the standard mattress sizes. Your purchase is protected with a warranty for five years. Ergoflex also offer free delivery across Australia.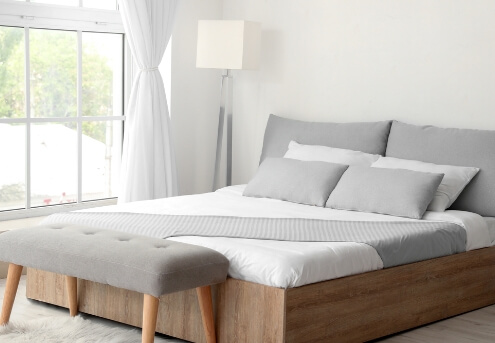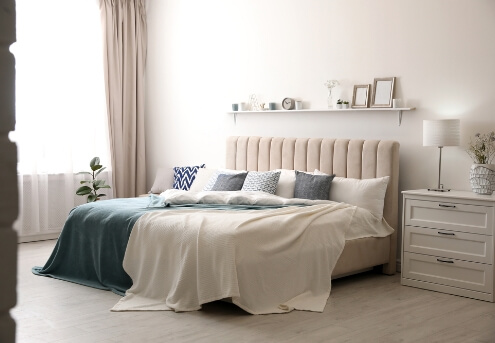 The Noa Sunrise bed is a clean, modern-looking bed that comes in a stylish white lacquered finish. It has a two-centimeter thick curved headboard. This is a pretty simple, budget-priced frame that looks smart and is built with durability in mind.
Noa are a Canadian bed designer who have been in the Australian market for some time. They have forged a reputation for supplying well-priced quality bedroom furniture. However, you need to be aware of the sizing differences between Canada and Australia. Noa states that their king size frame takes a king-sized mattress. However, the frame is 190 centimeters long while the Australian king mattress is 203 centimeters in length. This is another bed that is lower to the ground than most.
Though designed in Canada, the bed is actually made in China.
This is a slat bed that comes with a total of 28 slats. Your purchase comes with a 12-month warranty, which is much shorter than the other beds on this review page.
Ikea Hemnes Bed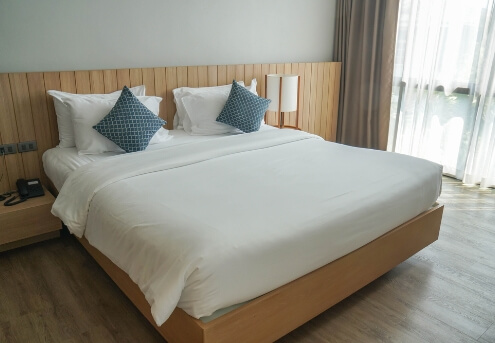 The Ikea Hemnes bed is a traditional, solid wood looking bed with a classic look. The slatted bed base is sold separately. As with the Noa bed, there are some differences between the dimensions of this bed and Australian sizings. Ikea is a Swedish brand that is famous worldwide for its affordability, sustainability and flat pack shipping.
The bedhead of the Hemnes bed features a smart rail top slat design. You can choose between two stains, they being black-brown or Scandinavian white. The frame is made from pine and features under bed storage space. The sides of the bed are adjustable so that you can use it with a range of mattress thicknesses.
The Ikea Hemnes bed comes in 3 sizes:
The 17 slat bed base is made of birch wood and must be purchased separately. Your purchase will arrive in a flat pack, so it will require assembly. However, you do have the option of paying a little extra for the delivery guys to put it together for you.
Brosa Upholstered Bed Frame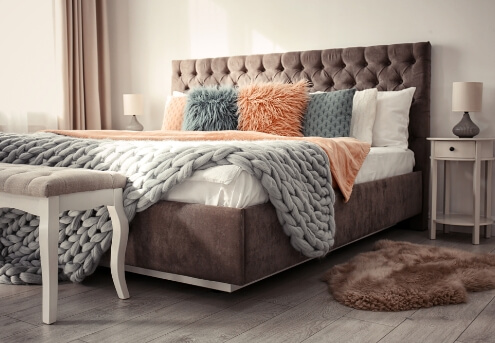 The Brosa Upholstered Bed Frame comes in the classic fabric covered boxy style. This is an attractive looking bed that is also eminently functional. It features plenty of onboard storage, along with a sturdy frame construction and customizable options. There are a wide range of colours and fabrics. You can also match this base with a range of Brosa bedheads, but you will have to pay extra for this.
This bed is a good example of the highly attractive, practical and affordable range of furniture that Brosa are well known for. Brosa are an exclusively online retailer, which allows them to be extremely price competitive with their brick and mortar store competitors. The bed base is solid and durable, with four inbuilt storage drawers.
The Brosa Upholstered Bed Frame is only available in Queen size. The bed base sits 42 centimeters above the floor. Your purchase of this bed is protected with an imprssive 10 year warranty. In addition, Brosa provides a 7 day grace period during which the bed can be returned for a full refund of the purchase price.
Summary
Our review of the seven best bed frames on the Australian market has made it easy for you to navigate the bed buying marketplace. We've done the intensive research for you so that you can make your purchasing decision with confidence. Select the budget and market segment that best suits your needs and then make your selection!
Koala Timber Bed Base – Use code SLEEPIFY10 for a 10% discount.