Recommended Warm Blankets for 2021 –

As the winter season is approaching and the temperature is beginning to drop, one of the things that you will be looking for is a blanket. The right cover is one of the crucial bedding things to have throughout the cold periods regardless of whether you are on a hunt for a single layer just for the chilly nights, multi-layers that will provide you warmth when coldest or just a well-designed throw that will look nice in the home decor. Curling up or sleeping in under a warm blanket is one of the best feelings when the wind is hauling outside. So, if you need a new blanket to keep you cozy and warm throughout the upcoming cool winter nights this guide will give you all the necessary information you need to choose the best warm blanket for you. The right warm blanket can serve you not only during the winter period but will also be an excellent asset as a bed cover during the summer period. When winter comes, you will be glad to go under the warmth and coziness of the warmest blanket. To save your time and help you in picking the right warm blanket we created a list of five top products based on few crucial factors such as quality of the blankets, type of fabric and we have also included the aesthetics as it is essential not just to feel great but to be eye-pleasing too. Here is our list of preferred warm blankets for winter in Australia.


The Uneke alpaca quilt is an Australian-made quilt toxic free and breathable, which means it is warm in Winter and cool in summer,
It provides comfortable sleep and has a 5-star hotel quality and feel.
They also offer an 8-year warranty on the product.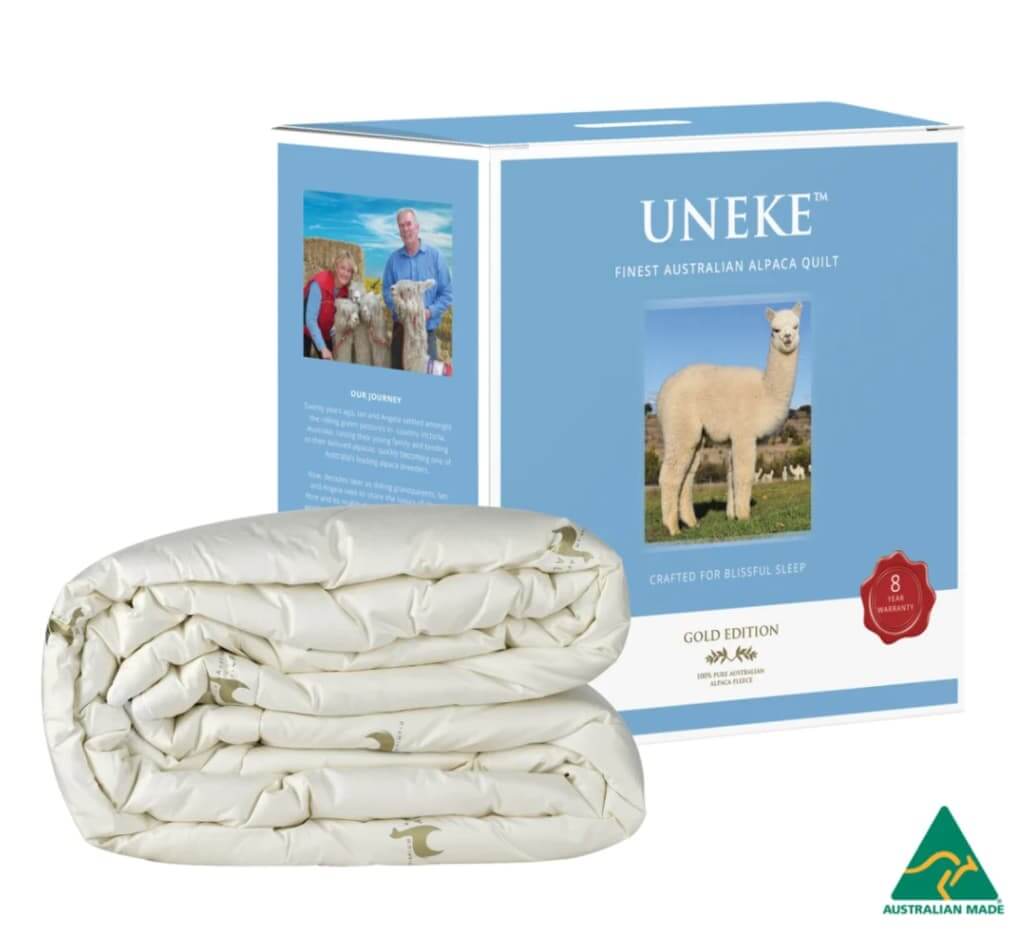 Best Wool Blanket: Pillow Talk Habitat Australian 460gsm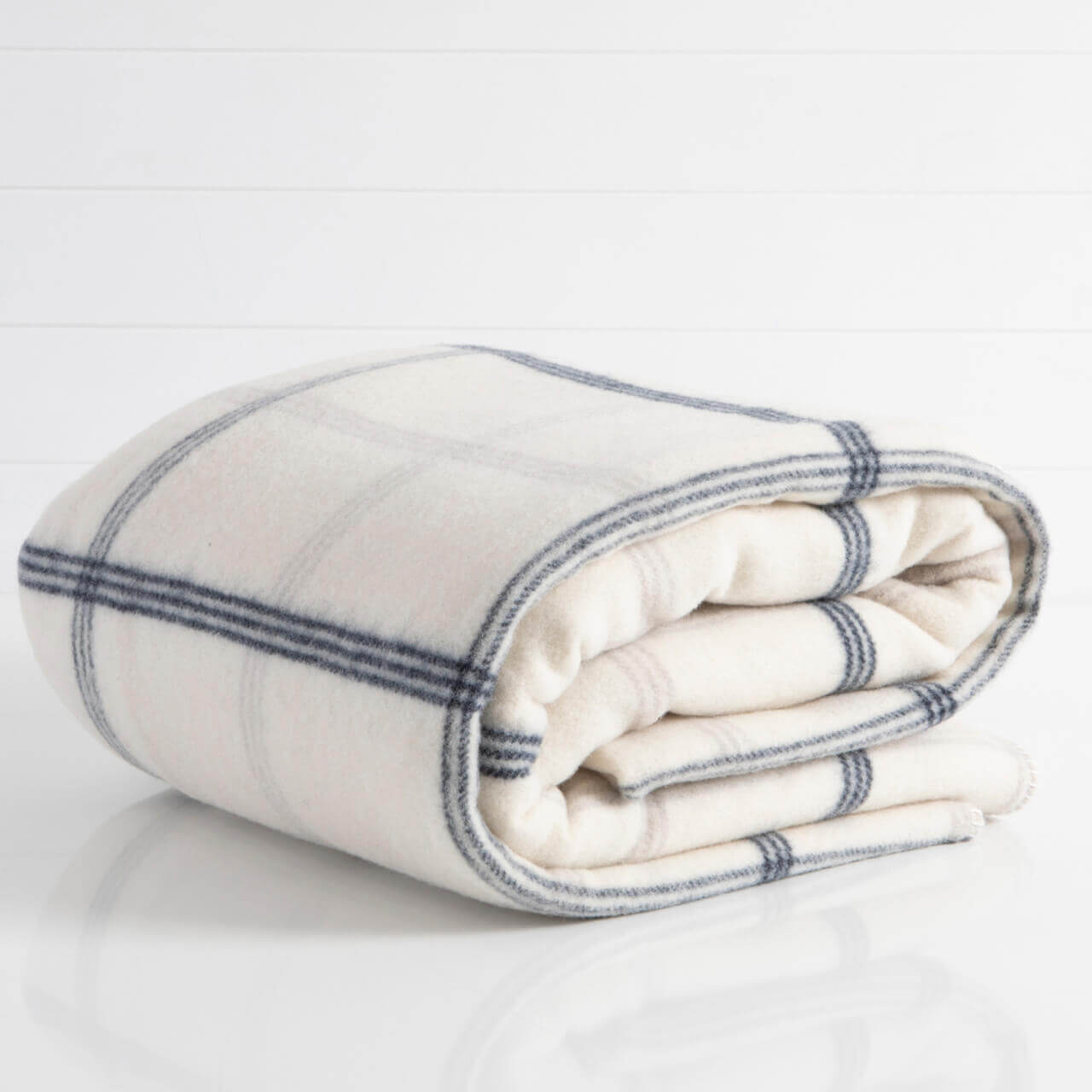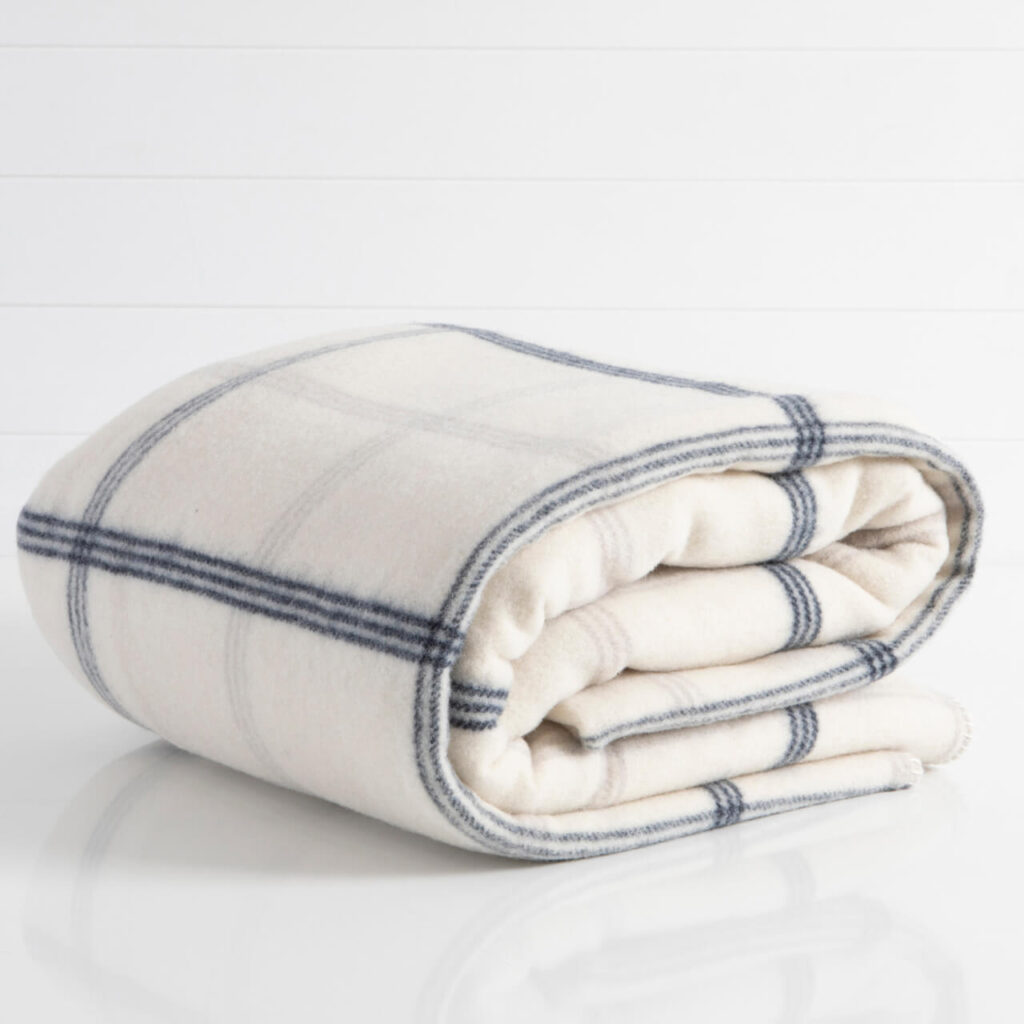 Pillow Talk is an Australian company that produces quality bedding products. One of these is their Habitat Australian 460 gsm wool blanket that is devoted to providing comfort and warmth for you. The wool is Australian, and besides the warmth, it is super soft on touch. There are three different sizes to choose from starting from a single bed, queen bed, and king bed size. When it comes to the colour options, it is rather limited as it comes only in one look. On the positive side, this look and colour choice usually suits most of the bedrooms and living rooms. The colours are calming pastels combined into traditional check pattern. There is a satin bound on all four sides for an additional softer feeling and a great look. On the cons side, this is a blanket that cannot be washed in a machine, and it is dry-cleaned only. For maintenance, make sure you air it regularly. Although made of Australian wool, it is made in China, and this is something that you should be aware of. The wool is a perfect choice for winter, and customers praised the softness and warmth that this blanket gives. Overall, the wool is naturally durable, flame retardant, biodegradable, and breathable. So, if your choice of material is the wool, make sure you check this product at pillow talk where you can order it for home delivery. It is an ideal choice for the winter period, but it will be a great option for chilly spring and summer months.
The weighted blankets are one of the newest trends in the bedding industry. They quickly became popular due to the natural ability to release a hormone of happiness and soothing, and thus, they affect the improved sleep duration and quality. Australian operated and owned Calming Blanket delivers the comfortable and warm weighted blanket that ensures restful nights. This blanket offers therapeutic pressure which assists in your relaxation by using the extra weight that activates the nervous system positively. It is a velvet experience, and the pockets of the blanket are sewn and filled with eco-friendly glass beads, and this also adds to the overall blanket weight. The calming blankets target is to improve the overall sleep quality, and the blanket is especially recommendable for people and kids with sensory disorders and autism because of the calming features. It comes in different sizes such as kids size, queen and single size. When you order the size, you should choose the size that is closest to 10% of the body weight. Also, the weighted blankets are usually to be used by one person as the co-sleepers weight can affect the weight distribution adversely. There are three colour options to choose from- they are all neutral colours, and the company offers a great bamboo cover for an additional charge. The company offers free shipping across Australia, and there are different payment options such as pay in instalments. The glass beads are hypoallergenic and non-toxic, and they assist the weight distribution to be even. The cover gives a luxurious feel and provides comfort, and on the plus side, the cover is machine washable, so it is a great protector of the blanket.
Best Microfibre Blanket: Muse Luxe 520gsm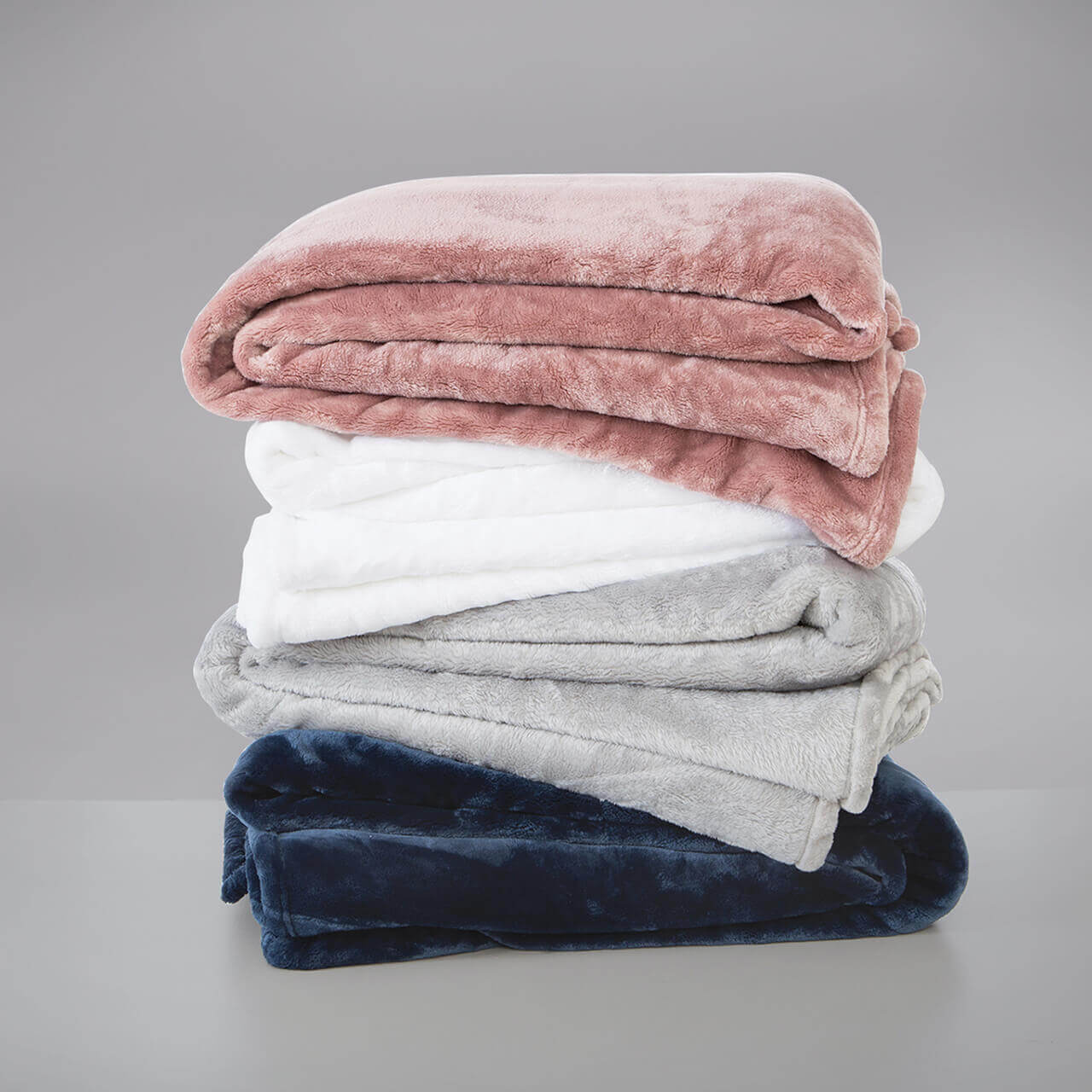 Pillow Talk comes with another great winter blanket, this time in polyester microfiber version under the name of Luxe 520gsm Microfibre Blanket. What this means is that the blanket is thick, incredibly soft, and amazingly warm. As this blanket is heavier compared to the cotton, it gives a nice hugging feeling. You can choose from different sizes that include single, king, and queen and four different colours: blush, pearl, silver, and sapphire. They are plain design without any pattern, and you will most certainly find an option that best suits your bedroom decor, and you will not have any problems matching the blanket with your current style. The polyester microfiber is silky soft to the touch, and it is anti-pilling which means you will not have to worry for the run-down appearance of the blanket after some time of use. Customers are overall satisfied with the softness, coziness, and warmth that this blanket provides and one amazing feature is that it is easy for maintenance as it is machine washable. It can be an ideal gift as it can be used outdoors as well as indoors to provide many hours of snuggling on the bed and enjoying family time outdoor camping on chilly weather. It is lightweight, and you can combine it with other blankets.
Best Cotton Blanket: WestElm Double Cloth Blanket – Midnight
WestElm is an American company that owns many stores around Australia. The company is dedicated to quality and exclusive products designed by the company itself. Among the many great options that it offers, Double Cloth blanket is the winter blanket that will keep you warm and comfy. It is made of 100% organic cotton, which makes it a perfect choice for people who care about the environment, and plus it is great for people who suffer from allergies. The quality is certified by OCS, which means it meets the requirements of the standard for organic content. The blanket is reversible, and it has a woven-look, and the border of the blanket is made of 12% linen and 88% cotton. There are two sizes to choose from the king and queen size. The colours are neutral and calming and involve greyish and cream colour nuance. What is also good about the blanket is the easy maintenance. It is machine washable on cold water and can be tumbled dried on low temperatures and even ironed. It can be used as a blanket and а throw for the colder months.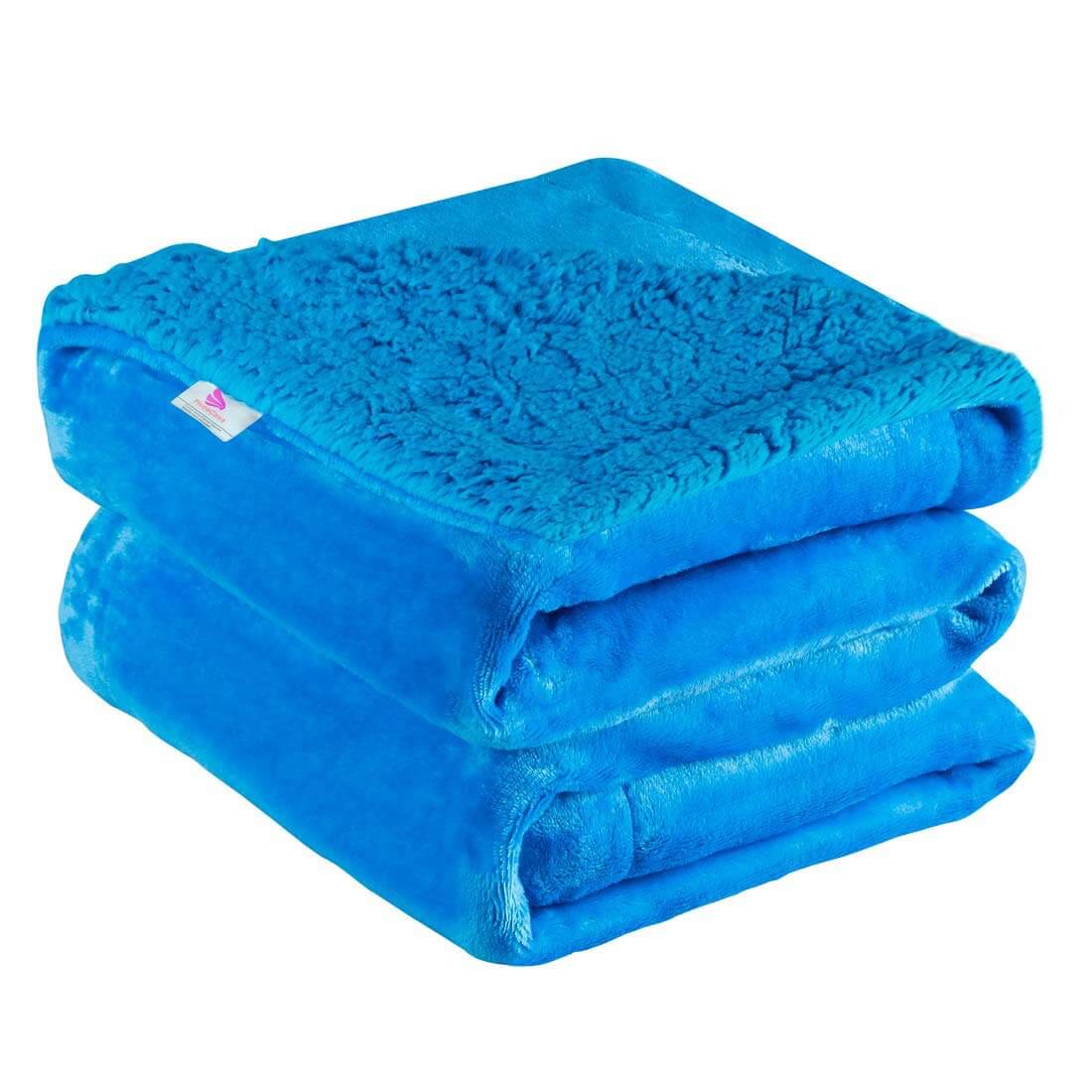 This is a great reversible blanket that is made of polyester fleece material which is incredibly soft and warm due to the two faces. One one side, i.e. the face, there is the soft plush and flannel, and on the back, there is microfiber fleece. The fuzzy fabric will contribute to the feeling of warmth and comfort. It is a breathable material, and it is a good option not only for the home but also for outside adventures such as camping and backpacking. Although it is extremely soft and warm, it is not heavy, and it is extremely easy for storage so people who do not have much space should also consider it as an option. It is also a great idea for a gift because of the multi-purposes. It is available in two sizes as a throw and twin size. The twin size will be enough for a single or twin bed. There are around eight options regarding the colours, starting from white to the different nuances of blue.
Although it is extra warm, you can use it even in the other seasons. It is durable and easy to maintain and take care of. You can wash it in machines at 30° and on the delicate cycle. It can not be dry cleaned. Customers praise it for no colour fading or shrinkage. The blanket can be ordered via amazon com, and in case of certain issues, the company offers exchange or full refund of the money.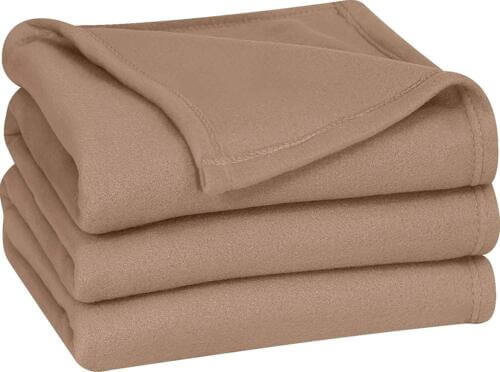 A thermal blanket can be an ideal solution for chilly weather, and the Utopia Bedding is dedicated to providing premium products. This blanket is lightweight and although extremely warm in winter and often used as a winter blanket, you can use it throughout the year. It has a tight-woven structure and is thick as cotton blankets. It is super soft and breathable and can be used as a throw blanket at your home. The blanket is available in three sizes and four colour options. It is made of 100% polyester fleece, and it has an elegant look as the fabric is two sides brushed, which makes it super soft. It is durable and long-lasting. Customers who have ordered it via amazon claim that the blanket does not shrink after washing it multiple times. You can easily take care of the blanket as it can be washed in a washing machine and tumble dried on low temperatures. It is an elegant blanket, robust in nature and durable, so it can be a great present idea that can have a multi-purpose use.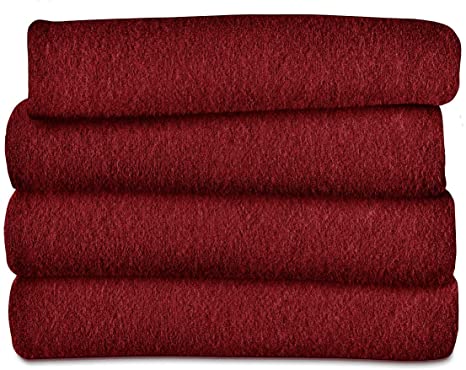 When the nights are getting chilly, even the best throws and blankets cannot help at times. This is why we included this option of an electric blanket that you can purchase via Amazon. The Sunbeam fleece throw has three heat options so you can even adjust the level of warmth you are going to receive or you can use it to turn it up or down according to the needs. If you happen to fall asleep during the night, there is an option of automatic turning off for three hours. It uses ThermoFine technology, which is a system that prevents overheating from happening. There is a range of colour options and patterns available so you can choose from at least a couple of them to fit your current home decor style. It is easy for maintenance as it can be washed in a machine and it is suitable for dryer. It is super soft, but as it is a throw blanket, it does not come in different sizes but only one. On the negative side, some customers who reviewed the blanket state that the cord that goes into the electricity outlet is too short so that can mean a disadvantage for some people depending on the room schedule and design layout. Few others claim that the electricity bill can go up as a result of the turned-on blanket.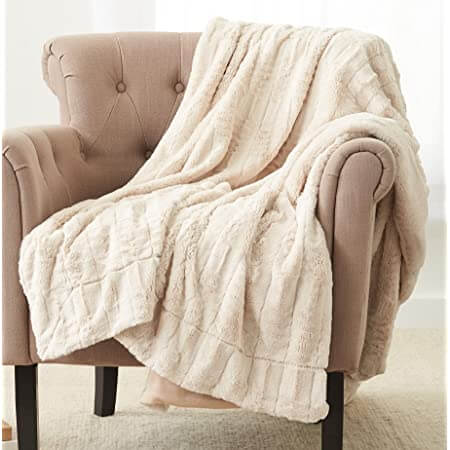 This faux fur throw from Pinzon which is an Amazon brand is made of polyester fleece and faux fur on the front side of the blanket and a piece of soft velvet fabric on the other side of the throw. It provides lavish softness and luxurious touch of comfort. Each of the blankets is individually dyed, and this ensures that the design will be unique, and there are certain natural colour variations. There is only one available size (63×87 inches), and the products are made by following the OEKO-TEX Standard 100. This system certification guarantees that all the throws satisfy the environment and safety standards set by the certifying body. The Faux Fur Pinzon Throw provides not only warmth but improves sleep quality, does not have big weight, and also adds beauty to the home decor.
Qualities of the winter blanket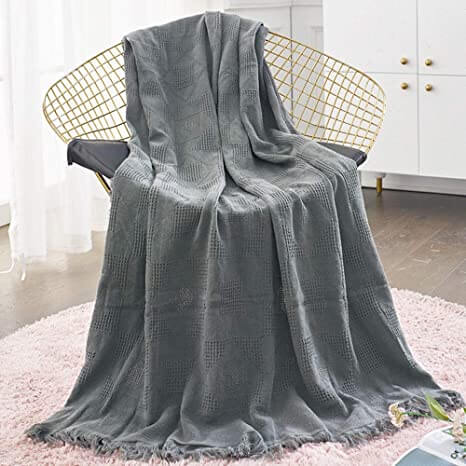 Among the essential things that contribute to your health and wellbeing is a good night's sleep. More than often, the entire day can go wrong if we did not have a peaceful sleep. Besides the mattresses and pillows, an important factor for a cozy feeling, especially during winter nights is the blanket. This section is about how to choose the perfect blanket and what are the most necessary features that you should consider.
Warmth
One of the first qualities that we should take a look at is the warmth. After all, this is why we are buying the warm blankets. The question that we need to ask is how much warmth do we need and how much of this can be provided by the blanket. If we need more warmth, we can choose a wool blanket and among the options are the electric blankets that can provide comfort and cozinesses. However, if you do not enjoy that much warmth and you need a lighter option you can always choose a cotton blanket that is suitable for most of the Australian winter days except for extreme weather conditions.
Size
You may want to consider the size, especially if you would like to use the blanket as a bed cover. Make sure you take the measurements so the blanket can fit within the size range of the bed. You should ensure to take into consideration the extra side spaces if you would like the blankets to cover them when they are laid on the bed. Some of the standard sizes of the blankets range from twin to king, very similar to the size of the mattresses. In determining the size, you should also consider the thickness of the mattress.
Fabric
The fabric is one of the most important qualities of the blanket for winter as if you decide not to cover the blanket; you will directly feel the material against the skin. The fabric also provides the level of warmth, softness, and comfort, so the fabric needs to possess the qualities for preserving of the warmth beside being a material that gives a great feeling in touch. There are different types of fabric, and we will discuss their features in detail further in this guide.
Cover
The cover is not necessary for your blanket, and not many people decide to purchase one. However, if you use the blanket as a throw blanket for example in the living room, it is recommended to invest in cover as it will ease the maintenance and cleaning of the blanket and will protect it against any accidental spills. Again, check the cover material properties before purchasing it.
Care
Another vital thing to consider is the care and maintenance that are required. Warm blankets are not something that you buy every day, so you would like them to last long. This means that you will need to take proper care of the blankets. We are also going to consider this criterion in the review of the best blankets for winter. There are lots of delicate materials, especially when it comes to winter blankets, so make sure you look for a blanket that you can use in day-to-day situations. It always comes handy to look for a fabric that requires minimum care. In any case, you should make sure you follow the instructions stated on the label.
Different types of fabric
It's also important to know the different kinds of fabrics available out there with their respective advantages and disadvantages. This will help you decide which blanket will suit you the best and will warm you the most. One of the vital factors for deciding on a blanket is the type of fabric. You should get familiar with the perks and cons of each of the material so you can choose based on personal preference but also other matters such as health issues with allergies.
Cotton Blanket
Cotton as a fabric is durable and withstands multiple times of washing. It is a great material for the winter nights and can be easily used in the summer. The fabric is soft, and it is an excellent choice for people who have skin allergies or other types of allergies as it is hypoallergenic. It is also extra breathable as cotton is a natural material which, besides, makes it healthier for the skin and it is not scratchy at all. Depending on the temperatures, cotton can have warming and cooling effects.
Wool Blanket
Wool is significantly heavier than cotton, and it is better at the insulation. It is an excellent choice for winters. On the other hand, it can be a hot option for the summer. So, if you are looking for an all-season blanket, this might not be the best option for you. Also, there are people who are allergic to wool and wool blankets. Consider buying a cover if you decide to purchase a wool blanket, but you like a softer touch. Wool is breathable, fire-resistant, and moisture-wicking. This always keeps the blanket dry and adjustable to variable temperature.
Fleece Blanket
If you are allergic to wool but you like all the features that the wool possesses then the fleece is a great option for you. On the positive side, fleece is not heavy and will not put too much weight. The fleece as a material is lightweight as it comes with microfiber fleece. It consists of synthetic material. It is a perfect choice for the cold nights and for a winter blanket. Allergy-prone people would find the fleece to be one of the best choices. It is also a common choice as it gives the required warmth without some extra weight, and it is more popular than the cotton choice.
Down Blanket
Down blankets are lightweight as they are made of feathery materials positioned between the pieces of the fabric. They are great with keeping the body warm. Also, they have the moisture-wicking feature and comes handy for use not only in winter but also in the other seasons. If you are allergy-prone, you can opt for one of the synthetic options. However, the option for down fill can be usually found as a material in a comforter rather than in a blanket.
Synthetic Blanket
When we talk about this material, we have to take into consideration that it can include acrylic, polyester, and microfiber. The synthetic blankets are usually the most affordable option out there, but you should be careful not to choose one of the cheap quality as they will surely not last long. They generate warmth but can produce static electricity. The acrylic blankets are lightweight and more resistant compared to the other options. They come with an affordable price and have a great value for money. These blankets are hypoallergenic and easy for maintenance because they are machine washable. The polyester blankets are durable, and they have a great quality due to the polyester and the other integrated natural fabric. They are long-lasting and can be washed in a machine, thus easy to take care of and maintain. It is a robust material with a great price and quality.
Vellux
Vellux blankets are popular with the hotel and catering industry because they contain plush nylon and foam. This material is soft, warm, hypoallergenic and durable. Although the blankets are not thick, they are cozy and warm. Also, they are easy for maintenance, and due to the different weaves, there are also different levels of warmth.
There are also other materials such as cashmere, for example, that can be an excellent but rather pricy choice as well as electric blankets that are technologically advanced and designed to keep you warm. There are different options with these, and they can come as throws, overblankets and underblankets. If you are worried about the cost, do not be as there are many options for low-cost electricity and options that will not make much noise but are rather silent. Besides, most of them have a feature of turning themselves automatically off to prevent overheating and thus increase safety.
What to take into consideration when choosing the best
When you want to purchase a winter blanket, there is a range of choice starting from materials, sizes up to colours, and different price ranges. As a summary of what to take into consideration when choosing a winter blanket for you, or as a present for someone else, we can state the following. The first thing that you want to take into account is the material. Some of the most popular ones are made of sherpa, fleece, or flannel. These three are super soft on touch, and they have features for retaining heat that besides the moisture-wicking features is great for warmth and coziness. So, the material will be the first thing to look at. The second thing that you need to be conscious of is the print and colours. There are many on the market but consider where you are going to use it. As an example, if you have younger kids in the family, opting for light colours would probably not be the smartest option so what we recommend is to choose colour or pattern that fits your lifestyle and not only the home style or your personal preference. The price should be on the list of criteria, and this is why we included it on our list as well, and most of the options that we offered as a preferred choice are affordable and budget-friendly for the customers with great value for money, as this is a product that will need to last long.
Frequently Asked Questions
1. What are the best blankets for winter?
Some of the blankets for winter that offers the most warmth are thicker blankets which include a wool blanket, cashmere, cotton fleece ones. The fuzzy material and the fibres in it takes the warm air and keeps you warm. Down material is great as an insulator too. Natural fabrics such as wool, cotton, and linen are absorbent to the moisture while synthetic ones such as polyester are not. Those who are absorbent have moisture-wicking features and leave you warm and comfortable. If you are prone to allergies, make sure you purchase a blanket that has easy maintenance and can be washed in a machine. Cotton is great for this. If you are allergic to wool, you can always opt for synthetic and down blankets.
2. What is a thermal blanket used for?
Thermal blankets are often called emergency blankets, and they are frequently used for treating hypothermia. In outdoor use, these blankets can be used to increase the warmth of the sleeping bag. Thermal blankets can also be used to reduce the loss of heat in people's bodies, which may result in water evaporation or thermal radiation. In the day to day use these blankets are used often for camping purposes and sporting events.
3. What is the difference between a blanket and a throw?
Although often used interchangeably, there is a difference between a throw blanket and a blanket. Throw blankets are most often used for decor, and thus you can cover the couch or the bed with it. Compared to the size, throw blankets are usually smaller in size and come in one single size. Throws have lovely design patterns, and one of the most popular ones are the ones made of fleece. Blankets come in different sizes, and their primary use is to provide warmth and comfort. The usual sizes of the blankets correspond to one of the bedsheets. This does not mean that you cannot use throws as blankets or vice-versa.
4. Is down the highest-rated for keeping you warm?
When it comes to down material, usually we do not have a blanket but a comforter with fill. If this is European down fill, then the answer is yes, the down can be ratest the highest in keeping you warm, but as a material, it is usually used in a comforter. And if you need a comforter for all seasons than a medium-weight one will be sufficient. However, if you are looking for a classical blanket or a throw that you can take outside on a rocking chair or maybe even camping, then you should most definitely choose another material for a winter blanket.
5. How heavy should the weighted blanket be?
The guidelines that are given for this type of blanket instruct that when buying one, you should take into consideration that it should be 10% of the weight of your body. However, this is something that is not mandatory, and it depends mostly on preference. The average sleeper enjoys the weighted blanket, and in the last years, they have become extremely popular. They are more than often used for anxiety and not enough sleep, so if this is the case with you, then we recommend consulting a doctor or sleep specialist before the purchase. When we talk about children, then you should stick to the guidelines and add 1 pound to 10% weight. The reason for this is that we do not want the child to feel "trapped".
Final Thoughts
A good blanket keeps you warm, but an extraordinary blanket keeps you warm, relax, and leaves you with a feeling of comfort and improved sleep quality. There are many different types of fabric used for blankets designed for equally different needs. Besides, there is a range of choice regardless of whether you are choosing a throw blanket, a blanket for enjoying the first chilly nights outside or to keep you warm throughout the winter nights. Your preference will depend on the intention to use the blanket. We presented the best options out there that can satisfy different tastes in style, material preference, and budgets. So, we hope that you will find your perfect blanket on this list.
Common Questions –

What is the best warm blanket?
The best warm blankets are the Sunbeam Fleece and the Uxcell Sherpa Sleepify has a full guide on these here.
What is the best winter blanket?
The Uxcell Sherpa fleece blanket is highly recommended for winter. You can read the full review here.