The average Australian will spend 35 years of his life in bed. That's a long time – especially if you spend it lying on an uncomfortable mattress.
Today, the benefits of sleeping on a high quality mattress are more apparent than ever. Fortunately, you don't have to pay through the nose for the privilege of sleeping on a good mattress anymore. Nor do you have to spend months driving around town to check out every bedding store in your city.
In this mega mattress review, we have gone out of our way to take the pain out of finding your favourite new mattress. We have dived deep into the online mattress market to bring you the 10 top picks for mattresses on the Australian market right now – memory foam, spring, hybrid and latex mattresses included.
Best Mattress Overall > Koala
Best Budget Mattress > Emma
Best Mattress For Warm Sleepers > Eva
Best Soft Mattress > NOA ($749 discount offer)
Best Mattress for Side Sleepers > Koala
Best Mattress for Children > Ecosa
Best Mattress for Back Sleepers > ErgoFlex
Best Hybrid Mattress > Sleep Republic
Best Latex Mattress > Peacelily Mattress
Best Memory Foam Mattress > OneBed
Best Organic Mattress > Peacelily Mattress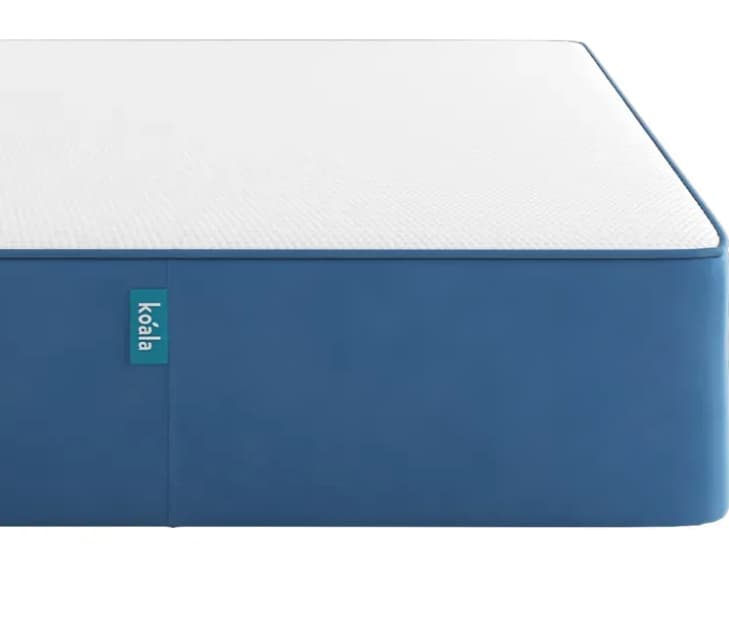 Wondering what is the best mattress to buy in 2020? After a tough showdown between the most popular mattresses on the market, we have to say that the Koala is a mattress that you just can't go wrong with.
As what is probably the most popular mattress available today, the Koala offers high-end value at one of the most competitive price points in the industry. The hype surrounding this mattress seems almost unbelievable – with over 20,000 five star reviews and overwhelmingly positive feedback, Koala is smashing the competition out of the park.
So, what are the features that make this mattress our recommended choice? Above all, the factor that swayed us in favour of the Koala was the fact that it provides superior spinal alignment when you are sleeping on your side (a claim supported by an overwhelming consensus among online buyers and reviewers). It also does an effective job of bringing relief to your pressure points – you are more or less guaranteed a good night's sleep.
In our experience, the Koala is also the best in combining luxurious softness and bounce in a way that other mattresses have yet to perfect. As a result, you are able to experience that awesome sinking feeling without having to struggle to get out of the bed in the morning.
The Koala mattress is constructed from multiple layers of foam, with a top comfort layer made of patented Kloudcell foam – this is responsible for firmness and support, but also breathability (thanks to what is called an open cell design). Check out any Koala mattress review, and you'll notice that the temperature regulation of the Koala is an aspect that customers love.
The Koala mattress is noted for its partner disturbance minimisation effect. That means that you won't have to worry about partner disturbance regardless of how much your other half tosses and turns throughout the night.
The Koala mattress sits at a 6.5 on the firmness scale. Plus, a Koala mattress topper or mattress protector will let you customise the feel to fit your preferences and body shape.
With every Koala mattress sold, the guys at Koala will symbolically adopt a real koala. Your purchase comes with an extremely impressive four month (120 night) trial period. If you don't love everything about this mattress, the Koala team will come and take it away at absolutely no cost to you – and they will give you a complete refund. If you do end up keeping it, then the Koala comes with a 10 year warranty.
If you live within a metro area, Koala promises to deliver your new mattress within four hours – the best mattress delivery time out there, and an impressive thing to experience!
The Queen sized version of this mattress in a box will cost you $1050 – have a look here.
The Best Budget Mattress – Emma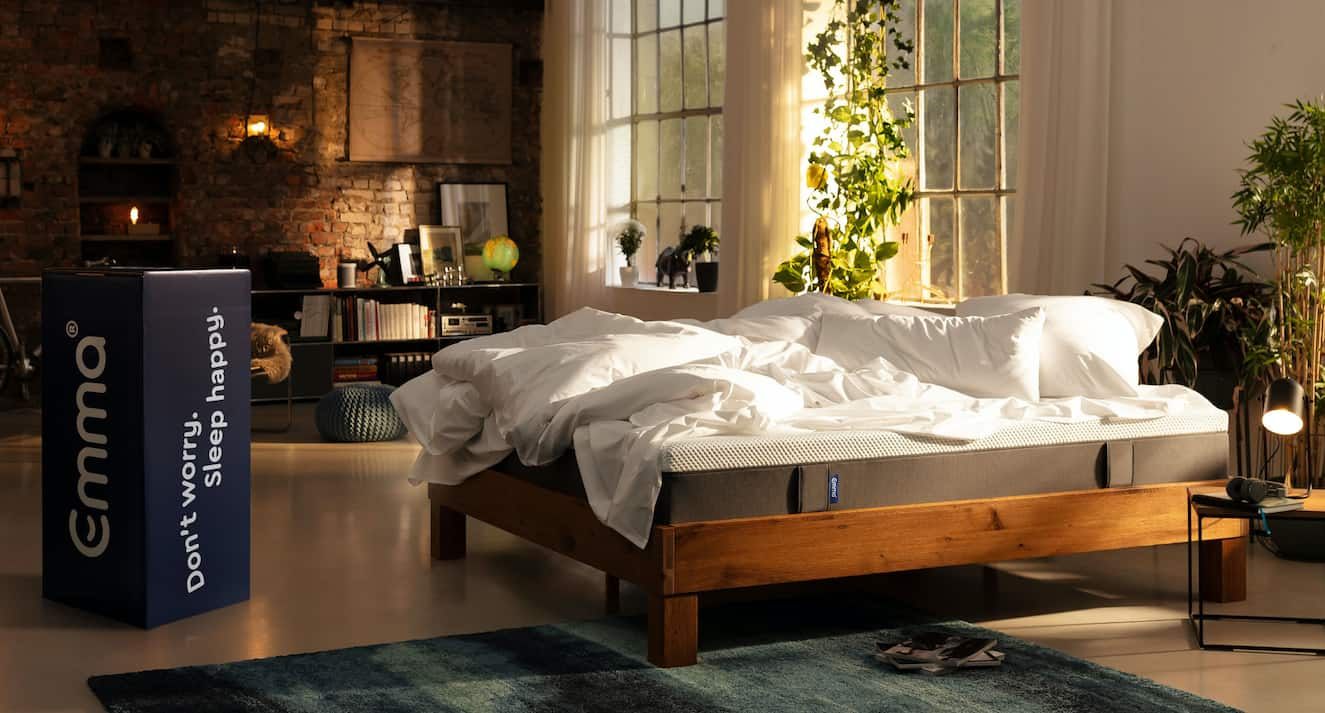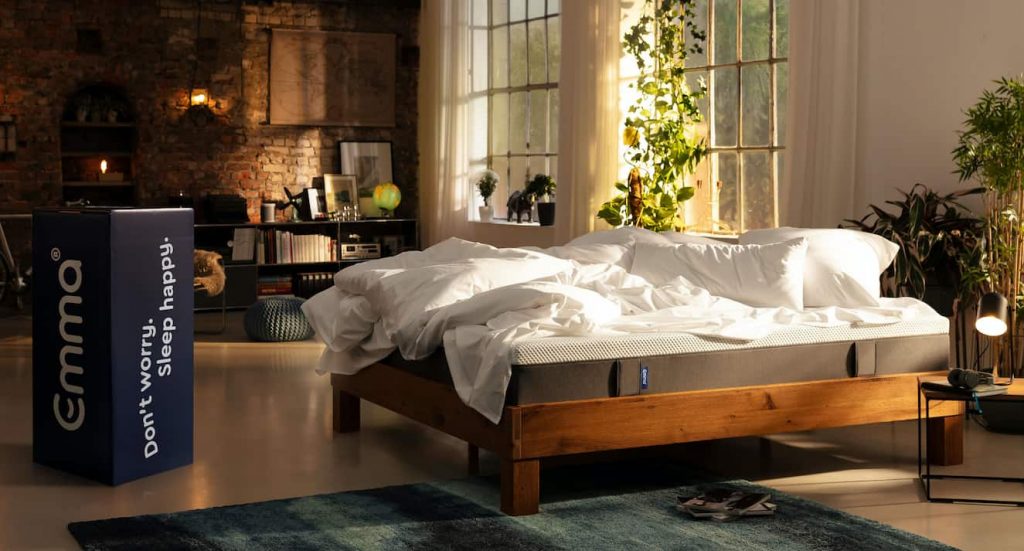 Emma is a German mattress maker which was founded in Frankfurt five years ago. They are now operating in twenty one countries on five continents, including Australia. In a short period of time they have become a global favourite in terms of both comfort and value for money. In fact, Emma has won awards for excellence in every single country in which they operate.
The original Emma mattress has been named as the Top Spot mattress by CHOICE, Australia's most prestigious consumer advocacy organisation. This is an extremely airy and breathable mattress. It provides multiple levels of comfort for more than one sleeper thanks to its multiple support zones. The overall rating of the mattress is that it is medium/firm.
The Emma mattress core features three layers that are able to adapt to any shape of body and provide the best spinal alignment. The memory foam that is used on the Emma mattress distributes pressure evenly across the mattress to provide fast pressure point relief. This mattress also provides a very good level of motion isolation. This means that one partners movement will not affect the other.
This mattress in a box is very breathable. It does a great job of wicking away moisture. As a result, you will sleep with less heat build up.
Emma has established a great reputation for customer service. This is supported by the large number of positive reviews on the internet, with many of them specifically mentioning the impressive level of customer service that the buyer experienced.
This mattress is available for $799, which makes it a very good value purchase. That makes it the best budget option in this mattress review, and that we have come across on the Australian market as a whole. We should point out, however, that the Emma website is not as detailed as we would have liked. Specifically, it doesn't provide much information regarding the materials from which the mattress is constructed.
The Best Mattress For Warm Sleepers – Eva
The Eva is a mattress with the key selling point of keeping you cool over the summer period. That, clearly, is a big deal in a country like Australia, where temperatures can soar well into the 40s. This is a hybrid mattress that combines memory and latex foam. In addition, the base has 5 pocket spring zones. It is a highly breathable mattress that comes with a cooling top layer.
The top layer of the mattress is made from memory foam that is infused with gel. This provides the cloud-like support that you get from memory foam along with the cooling effects of gel. The layer beneath this is constructed of open cell latex mattress. This is a medium to high firm mattress that ranks at about an 8 out of 10. This mattress also does a very good job in terms of minimising motion transfer. It provides great edge support to prevent the outer from caving in.
Many reviewers have commented on the cooling qualities of sleeping on the Eva mattress. This mattress in a box comes with one of the most impressive free night trail offers we have yet come across. You have 120 days to try the mattress out. You can have it returned at any time within that time period for a full refund at no cost to you. You also can benefit from next day delivery in urban areas and a 12 year warranty.
The Eva mattress can be purchased on the official Eva website, and comes with a $900 price tag. That makes it very good value for money.
The Best Soft Mattress – NOA (Recommended Special offer $749 normally $1,099)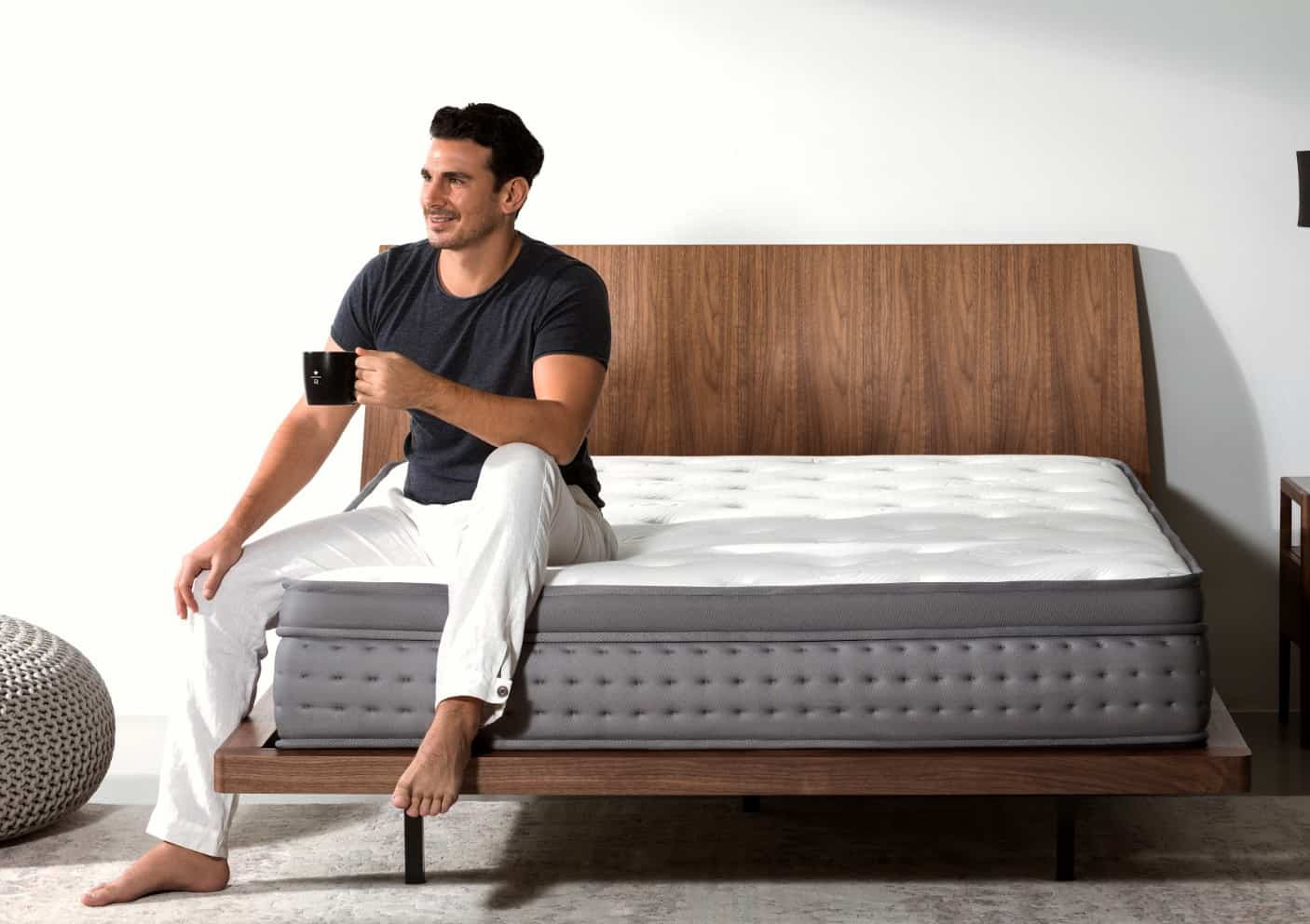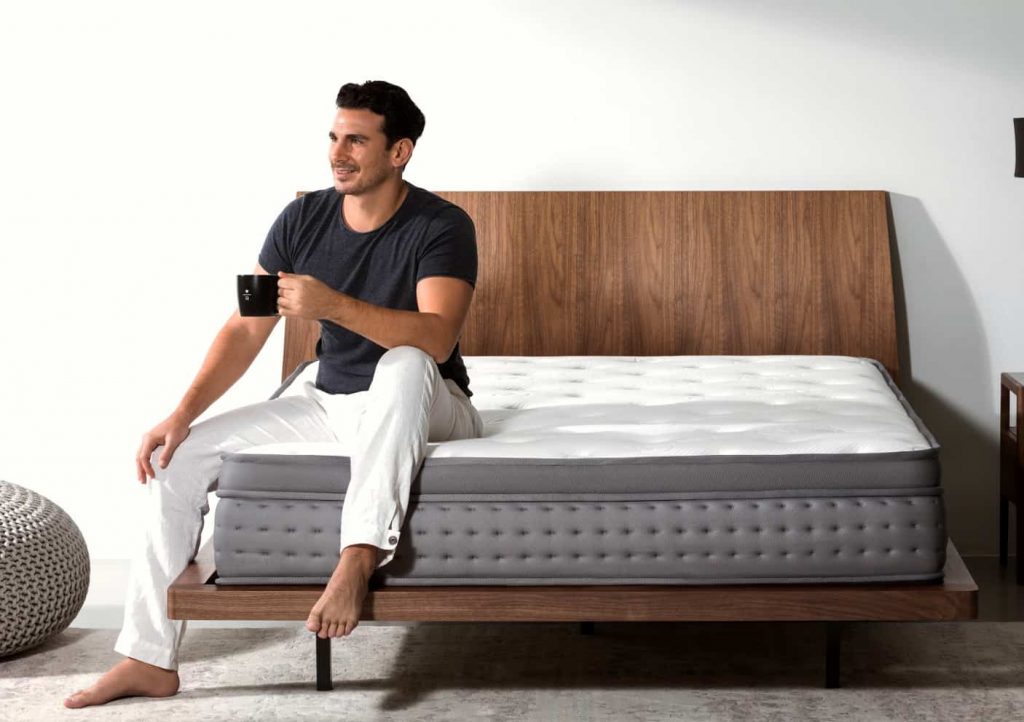 If you are looking for sinking comfort and support, then a softer mattress will give you the pressure point relief and comfort that you need. The Noa mattress is a hybrid that brings together the best features of memory foam, latex and pocket springs. The top level of the mattress consists of natural latex open cell foam. Underneath of this is a layer of gel infused memory gel to deliver the cushioning and support you need, especially when you are lying on your side. Another layer of foam helps to minimise motion transfer. The base of the mattress consists of pocket spring zones that provide a range of firmness levels.
This mattress comes with a Tencel pillow top that does a great job of giving you a breathable, airy sleeping surface. It provides you with advanced antibacterial and hypoallergenic qualities.The pillow top is hand tufted, providing a level of luxuriousness that will make it a treat to jump into bed every night.
The foams that are used in this mattress are all certified by REACH, which is a European standard that guarantees that the material is free of more than a hundred chemicals.
The guys at NOA rate the firmness level on this mattress as a 7 out of 10. However, based on user reviews we would peg that back to around a 6 out of 10. There are more than 250 positive reviews on Product Review with an average rating of 4.5 stars.
The NOA mattress in a box can be purchased for $1000 and comes with a free night trial of 100 days. Shipping is free with a promise of 2-5 business days.
Best Mattress for Side Sleepers – Koala
When it comes to side sleeping, the Koala mattress is a great option, and one that is extremely popular among Australian shoppers. It's always been the recipient of a number of awards such as the Choice best mattress award.
What makes the Koala mattress a good option for side sleepers? In our experience, it is for a few reasons. Firstly, the Koala mattress is constructed from multiple layers of foam, with a top comfort layer made of patented Kloudcell foam – this is responsible for firmness and support, but also breathability (thanks to what is called an open cell design).
Your purchase comes with a 120 day return offer. That gives you three and a half months to test the product out. If you are not entirely satisfied, simply return for a complete refund at no cost to yourself.
Check the best price on the Koala mattress here.
Top Mattress for Children – Ecosa
Shopping for a mattress for kids is not easy. However, with the introduction to the market of the Ecosa, that job just got a whole lot easier. The Ecosa is our favourite mattress for kids – we think it is the best because it delivers in spades in all of the areas that are essential to a child's mattress.
The first thing that makes Ecosa a great kids mattress is that it is extremely breathable. It features a series of unique pincore holes that allow a free flow of air through every level. Children tend to feel the warmth at night more, so this feature is a real plus for parents.
The Ecosa mattress features a waterproof cover. When you are having to deal with bed wetters and kids that are liable to spill drinks in bed, this is a big deal. The firmness of this mattress can also be customised. You get to choose between a medium, medium/firm or firm mattress.
There are five levels to the Ecosa mattress. The upper level is an waterproof inner cover that features microfilament engineering to ensure that your child won't have to contend with dust mites. Under that is a layer of G-7 Gel memory foam. This memory foam layer is infused with gel. It provides you with a high level of comfort and support while also doing a superior job of temperature control. The third layer is made up of ergonomic support foam that is designed for lower back alignment.
Eco tex memory foam forms the fourth layer of this mattress, with an open cell construction making it both bouncy and breathable. The zip removable Tencel cover can be machine washed.
Your purchase of the Ecosa mattress is supported with a free 100 night trial, same day metro delivery and a 15 year warranty. The Queen sized Ecosa can be purchased from the official Ecosa website for $899.
Top Mattress for Back Sleepers – ErgoFlex
If you are one of the 14 percent of Australians who sleep on their back, you are going to be better off with a firmer mattress This will provide more support for the spine and muscles of the entire back area. We have no hesitation in promoting the ErgoFlex mattress as the best mattress for back sleepers on the Australian market.
ErgoFlex has been around for more than decades. Within that time they have established themselves as a leading supplier of box mattresses. In fact, they are the pioneers of the box mattress business.
This mattress is made from 5G memory foam. It consists of a Tencel outer cover, a protective inner core, 9 centimetre visco elastic memory foam, a 9 centimetre high resilience foam base and a 5 centimetre cool sleep airflow layer. This combination provides you with superior level breathability, support, coolness and comfort. It also does a great job of relieving pressure on your joints.
The ErgoFlex is an orthopaedic pressure relieving mattress. It contains masses of tiny spherical open cells to provide maximum spinal support.
The ErgoFlex mattress in a box comes with a 30 day trial, which is considerably less than you get with most of the other mattresses on this list. The normal retail price on the ErgoFlex is $1499, though the website often runs special offers that can knock off as much as $350.
The Sleep Republic mattress provides you with a combination of cashmere latex, memory foam and pocket springs to provide you with the best of the features of the other types of mattress. This mattress features around 2,250 pocket springs that are separated into 5 body zones. This is an extremely luxurious mattress thanks to its knitted cashmere. Under that is a layer of memory foam that is infused with gel. Then comes a layer of natural latex that is well ventilated to provide a superior level of breathability and airflow.
The five pocket body zones provide you with customised firmness and ensure that it provides you with reduced partner minimisation. The medium/firm feel of this mattress that comes as a result of the pocket springs combined with the memory foam and latex is well suited to side and stomach sleepers.This mattress comes with a free 100 night trial. It is priced on the higher side at $1249.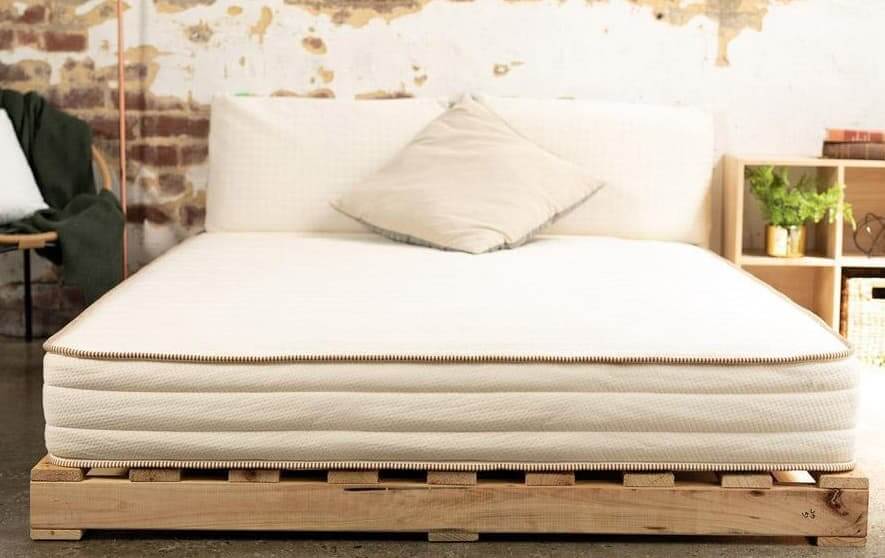 Natural latex foam mattresses are your best choice if you are looking for an eco friendly bed. The Peacelily is the pick of the bunch. The foam in this mattress is made from natural rubber sap, while the cover is made from bamboo. That cover is unzippable and can be put in the washing machine.
As with all latex mattresses, the Peacelily is a medium to firm mattress. This makes it ideally suited to people who sleep on their back or stomach. Latex mattresses are well suited for people who suffer from allergies. It also does a great job of warding off such nasties as dust mites and mildew.
Your purchase of the Peacelily mattress comes with a 100 night trial. At a retail cost of $1595, this is one of the most expensive mattresses on our list.
The Top Memory Foam Mattress – OneBed
If you are wanting to simulate sleeping on a cloud, you cannot do better than memory foam. After surveying the entire Aussie market, we have settled on OneBed as our preferred memory foam mattress. A large factor in that decision was that the OneBed manages to overcome two of the key drawbacks associated with memory foam mattresses. These are overheating and being too soft.
The OneBed features interchangeable layers to meet the requirements of all sleeping positions. This allows you to select between memory foam and latex on top. When the latex is uppermost, the mattress will be cooler.
This box mattress has a 15 year warranty, and at $799, this is the equal cheapest Queen size mattress on this list.
The Peacelily Mattress is constructed of natural latex. What's more, the manufacturers of this mattress go out of their way to ensure that this mattress is as natural and eco friendly as possible. That goes to the point of only using 100 percent natural glues. The cover of this mattress is made of organic cotton. This is a moisture wicking, breathable and soft material.
The Peacelily Mattress provides you with two firmness levels, depending on what side you flip it to. On one side you will have a medium firm level, which is best suited for side sleepers. On the other side, you get a firmer level for back or stomach sleepers. This is a handmade mattress which makes its $1249 price point pretty good value
How We Arrived at the 10 Best Mattresses in Australia
The Australian mattress market is huge. So, narrowing it down to fewer than a dozen of the best of the best mattresses in Australia is no easy task. The first part of our process was to make use of the largest and most respected advocacy group in the entire country, CHOICE. After narrowing it down to around twenty potentials, we then sought out the opinions of real life users. To do this, we mined the archives of Product Review. From analysing that site, we were able to check hundreds of reviews. The best products were then cross-referenced with the best products from CHOICE.
Through this process we were able to narrow down the hundreds of different options to the 11 best Mattresses of 2020. From there, we categorised our favourites to narrow them down even further.
Mattress Buyers Guide
With so many mattress options available both online and in bricks and mortar stores, purchasing a mattress can be extremely confusing. In this section, we break down the key buying considerations to take into account when you are in the market for a new mattress.
Relieving Pressure
When you lie on your mattress at the end of a long day, you should expect it to bring relief to your pressure points, and help in reducing back pain. The best mattress type to bring you that relief is a memory foam one, followed by latex, then pocket springs. A memory foam mattress is high density and will mould to your body and provide the sinking feeling that is so relaxing after a long day on you feet.
Airiness
In a country like Australia, it is important to invest in a mattress that is breathable. This will ensure that you remain cool in summer and warm in winter. A key to great breathability is the mattress cover that comes with your mattress. Covers that are made from Tencel or bamboo are the best options in terms of breathability. Failing that, the best mattresses will be gel infused or wool.
Sleeping Position
Your preferred sleeping position will have a lot to do with the mattress type you should choose. If you are a person who sleeps on their back, you should go for a medium mattress. In contrast, people who sleep on their front will get the most comfort from a firmer mattress as their abdominal area will provide built in cushioning. Those who sleep on their side will get the most comfort from a soft mattress as their body will be able to more naturally sink, allowing for contouring comfort. The correct choice of mattress type will ensure that you minimise problems such as back pain and joint aches.
Trial Period
You should expect to buy your mattress from a retailer who stands behind their product. This is best evidenced when they provide you with a generous free trial period. You should expect to get as many as one hundred and twenty nights to try out the mattress. During that time you should be able to return the mattress for a no questions asked refund at no cost to you.
Full Information Sharing
When you are buying a major item like a mattress online, you should expect full transparency from the retailer. The website should provide you with an easy to find overview of all of the information you need to make your buying decision. If you communicate with the company through the website, you should expect to receive a complete, prompt reply. If you don't, you can expect shoddy service when you become a customer!
Two Person Compatibility
If you are going to sleep on the mattress along with your partner, then you need one that is going to be compatible for both of you. It should have firmness adjustability on both sides. The product design should also ensure that the movement of one person does not interrupt the sleep of the other person.
Reviews
When you are looking at mattresses to buy online, customer and professional reviews are a valuable resource. The ability to learn from the experiences of verified purchasers will provide you with information that you cannot get from the retailer website. Pay special attention to user experiences regarding the durability, edge stability and customer services experiences, and you'll have a much easier time choosing the best product for you.
The Best Mattresses in Australia
In selecting our best 10 mattresses we purposely went for mostly middle of the range price points, with the average sitting at around $1000. Our mattress review range of the best is from $700 for our ultimate budget pick to $1,600 for the most expensive. Here is what you can expect when buying a new best mattress.
Reputation
It is fair to say that the most trustworthy, established brands on the market tend to be at the high end of the market. While it could be considered that you are paying extra for a well known brand, it is also true that the products that are put out by these big name players tend to be more reliable and trustworthy than the newcomers.
Service
The customer service that you receive from a retailer is an intangible that is difficult to determine before you experience it. Of course, every company will claim to have the best customer service on the planet. Too often, however, customers find out otherwise after they have forked over their money. In our experience, the higher priced mattresses on the Australian market are backed up by a superior level of customer service. However, we reiterate what we have already mentioned about checking reviews from verified online purchasers regarding the level of customer service that they experienced.
Eco Friendly
Making a mattress using eco friendly materials and designs generally takes more time and costs more money. It should be no surprise, then, that eco friendly mattresses tend to be more expensive. Interestingly, the higher priced mattress retailers also tend to provide a greater level of transparency on their websites about the makeup of their mattresses. In general, the higher priced brands will provide a more high tech website and more lavish marketing.
FAQs
What is the bed in a box concept?
The bed in a box concept involves purchasing a mattress directly from the manufacturer. That cuts out the retailer, along with the associated overheads involved in maintaining a showroom. The mattress is shrink wrapped at the point of manufacture and packaged in a box to be shipped directly to the customer. The majority of bed in a box mattresses are made from latex or memory foam.
The great advantage of purchasing a mattress in a box is the reduced cost. You can buy a mattress at considerably lower cost than one you would get from a bricks and mortar store. That is because you are not being lumped with a markup to cover overheads such as store rent and sales person wages. As a further bonus, many manufacturers include shipping fees within the cost of the mattress. The main players in the mattress in a box market are Koala, Emma and also Sleeping Duck is moving up in the market.
What are the benefits of buying a mattress online?
There are a number of clear advantages that come with buying a new mattress online. The biggest positive is the opportunity to save some serious dollars. Some mattress sellers only sell online, so they do not have to pay such overheads as rent and wages. Of course, many retailers will also have retail outlets so the savings to be had online are not as great.
Another obvious advantage of purchasing a mattress online is that you no longer have to traipse all over your city looking for the mattress that best meets your needs. Simply let your fingers do the walking. With the vast majority of sellers providing you with a free period to trial the product (some letting you make up your mind over as long as a hundred and twenty days), you don't have to actually go into the store to try the mattress out before you buy it.
When it comes to delivery, most online sellers will offer free delivery.
When you go into a store, it is easy to be overwhelmed by the wide array of choice. Yet, most online sellers limit your choice to just two or three models. This makes it easier to choose but does, obviously, limit your choice. Most online retailers will also provide you with a substantial guarantee, in the vicinity of around 15 years.
Is it a hassle to return a mattress purchased online?
No, it is not a hassle to return a mattress that you buy online. We are yet to come across a mattress retailer online who does not offer a free trial. Some of them provide you with as long as three and a half months to try the mattress out – particularly mattress in a box retailers. If, within that time, you are not completely satisfied with your mattress, it can be returned for a complete refund. That doesn't mean that you have to physically return it. The seller will send out some delivery guys to pick it up at absolutely no cost to you. However, if you live in a rural area you may incur a nominal fee.
A number of companies have a policy of donating returned mattresses to such charity organisations as the Salvation Army.
What are the different types of mattresses?
With so much misleading information available, you might still be wondering which is the best type of mattress. There are four types of mattresses as follows:
Memory Foam
Latex
Pocket Spring
Hybrid
You will find that most mattress sellers deal in memory foam mattresses. This technology was first developed in the 1990s as material in seat cushioning for NASA astronauts. Its ability to mould to the body and then immediately spring back was quickly recognised as an excellent material for mattresses. It has superior pressure relieving properties as well as great temperature control. The innovator of memory foam was Tempur but it is now used across the market.
Memory foam mattresses do not contain springs or coils. The great benefit of that is that you don't have to put up with a squeaky mattress as the bed gets older. On the downside, a memory foam mattress will tend to absorb sweat more than traditional pocket spring mattresses. To offset this effect, many mattresses are gel infused. However, if you want an experience that is the closest you'll ever get to sleeping on a cloud, memory foam is the way to go.
Latex foam mattresses are slightly firmer than memory foam. The latex from which this mattress type is made comes from rubber tree sap. It is, therefore, a completely biodegradable product. It is also more springy than mattresses that are constructed from synthetic materials. Latex has similar ability as memory foam to mould to the body. However, it does not have the same temperature control properties as memory foam.
A pocket spring mattress consists of a whole lot of springs that are compartmentalised into 'pockets' made of fabric. This differs from coil springs in which the springs are attached to each other by wires. A huge advantage of pocket spring mattresses is that they are more breathable than either memory foam or latex. You can also buy pocket spring mattresses that are separated into zones. This is excellent for couples as different zoned springs will offer different levels of firmness so that each partner can customise his or her firmness level.
A hybrid mattress can be a combination of memory foam, latex and pocket spring. Some mattress companies will provide you with a pocket spring base that has a layer of latex or memory foam (sometimes both) on top. Obviously these mattresses provide you with the benefits of all three material types.
In addition to these types of mattresses, there are also various sizes that include single, king single, double, queen and king options, to name a few.
What is the ideal mattress firmness?
The question of mattress firmness is largely a matter of individual preference. However, there are general guidelines based on sleeping position. If you are a person who sleeps on your stomach, you should probably opt for a mattress that is slightly on the firmer side. Doing so will allow you to get better spinal alignment.
When you sleep on your back, you need a greater degree of support for the neck, shoulders and upper back muscles in order to avoid back pain. To achieve that, you need a medium firm mattress. Side sleepers will do better with a mattress of softer to medium firmness. This will allow your body to sink comfortably into the mattress for enhanced support.
What sort of budget should I set for my new mattress?
Obviously, the budget you set will depend on the size of bed you require. All of the models that we have reviewed in this article are based on queen sized mattresses. The average price of our Top 11 Mattresses in Australia is $1000, with the budget priced model coming in at around $700 and the highest price at around $1700. If you are sleeping on your own but still prefer a decent amount of room, a king single is a great option.
A mattress in a box will generally be cheaper than one that is shipped conventionally, saving you a couple of hundred dollars over similar quality mattresses in a retail outlet.
What length or warranty should I expect on a mattress?
You should expect a mattress to come with a 10 year warranty at the minimum. Given that the experts recommend that we replace our mattresses every eight years, this 10 year warranty will give you coverage over the lifetime of the mattress. You may need to replace it earlier than that if the mattress tends to sag or you get up in the morning feeling as if you have had an uncomfortable sleep.
You can extend the life of your mattress by rotating your mattress. Doing so every three months for a pocket spring mattress, and every six months for a memory foam, latex or hybrid is recommended.