[Top Rated Mattress in 2020 – Koala] $150 off a Koala Mattress we have a special Sleepify offer for you.
[Highly rated option] – NOA Mattress for $449, Regular price $799 ($350 off)

Over the past decade, the mattress game has really begun to heat up. With gel memory foam, latex mattresses and box mattresses in every corner of the web, it's getting harder and harder to choose the best mattress for you. Of course, there's the famous Kloudcell and Ecofoam Koala and the gel foam Ecosa mattresses, though if you're looking for an innerspring mattress or a combo variant, there's nowhere to really look for an answer! 
To make your choice a whole lot easier, we've compiled a list and a review of all of Australia's best mattresses of 2020. At Sleepify, we dove right into all of the marketing, consumer mattress reviews as well as our own testing to make a comparison of all the self-proclaimed best mattresses to help you find the best mattress for you.
We'll take a look below into the best memory foam mattresses, pocket spring and spring mattresses, as well as in-a-box mattress ranges, to give you plenty of insight. After you've finished reading our reviews below, you'll definitely have everything you need to get a good night's sleep.
What We'll Look At
To give you the most well-rounded look at Australia's highest quality mattresses and the best mattress brands, we'll break down our reviews by mattress type and cost, rather than a specific brand such as Sealy or Tempur. In doing this, you'll be able to see which mattresses are best for your sleeping type and your comfort preferences.
For side sleepers, it's often the memory foam and latex variants which provide the most comfortable sleep, though for back and stomach sleepers, innerspring and hybrid models do the most effective job.
The Range We Reviewed
Best Value Mattress
Best Memory Foam and Latex Variants
Best Pocket Spring Variants
Best Side, Front and Back Sleeper Variants
With each of the mattresses ranges above, we also considered cost, partner disturbance, manufacturing location, delivery times along with material quality and sustainability. This way we can suggest the most well-rounded mattress brand winner for our readers.
How We Rate and Compare
We do our best to offer the most unbiased and open reviews and suggestions possible. At Sleepify, we don't judge or recommend based on endorsements of brand partnerships, but rather our own testing as well as customer reviews.
With that said, you can trust all of our reviews and mattress insights to be as truthful as possible and be able to rest assured that the mattresses we suggest really as good as we say.
Best Value Mattress
Eva Mattress
Without a doubt, Australia's highest quality soft mattress is the Eva Mattress. The Eva boasts an incredibly high-quality memory foam and pocket spring interior that ensures enough support sleepers of all body weights and sleeping positions.
One of the main reasons the Eva is so affordable at just $700 for a queen is that the manufacturer strips back on all non-essential frills and focuses entirely on the mattress. There's no quality lost for the price and there's certainly nothing left to be desired if you're looking for a memory foam hybrid mattress that lands in the medium-firm range. It provides optimal edge support, ideal spinal support and airflow but also features gel memory foam and latex for that much-loved sinking feeling.
You'll love the Eva if you're partial to back and stomach sleeping positions thanks to its dynamic firmness. Side sleepers will love the upper comfort layers that allow shoulder and hip sinkage, and back and stomach sleepers will love that the Eva supports their spine and reduces their major pressure points from falling too far into the foam.
Eva Pricing
Single – $600
King Single – $650
Double – $750
Queen – $850/$700 Sale
King – $950
Eva Perks
5-hour Metro Delivery
Free Shipping
120-night Trial
Best Foam Combination Mattress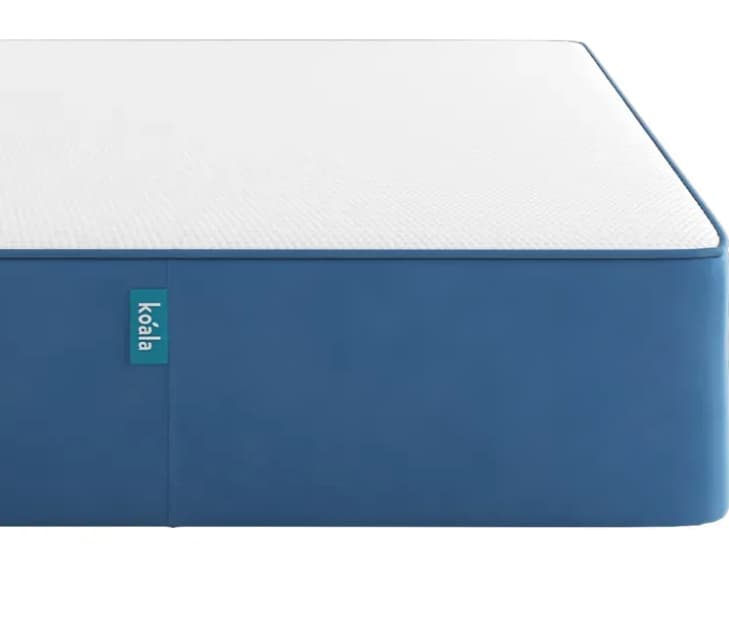 Koala Mattress ($150 off special offer)
Ask anyone what types of mattresses are their favourite and they'll probably let you know that their dream mattress is a memory foam variant, or some kind of mattress that gives them a cloud-like floating sensation. Foam and combination foam mattresses offer stellar spinal support and have no rival when it comes to movement isolation, pillowtops and comfort layers.
Our top choice for the best foam mattress in Australia is undoubtedly the Koala Mattress. It's the most rated mattress in the country, and also the highest rated. Koala is the king of pressure relief for back pain, optimal airflow and much more, and it's only a new mattress brand, being a little over 3 years old!
The Koala Mattress comes in a range of sizes, and falls on a 6.1 on the firmness scale, with a ten being the most firm and one being the softest. What this means is that the Koala's innovative Kloudcell poly foam is able to support side sleeper's hips and shoulders, but also back and stomach sleeper's spinal curves too. With the upper softness and inner firmness, you'll be hard pressed to argue that the Koala's support doesn't make it the perfect mattress.
Delivered in a box, the Koala comes with patented Kloudcell foam technology that enables the feeling of memory foam and latex, whilst also enabling fantastic airflow. You'll also notice that the outer mattress protector cover is hypoallergenic, making the mattress 'immune' to mildew, mould, mites and bacteria, keeping it cleaner for longer.
One issue reviewers did have with the Koala was the marginally problematic edge sinkage that made it difficult for customers to sit and sleep right on the edge of the Koala Mattress.
Koala Pricing
Single – $750
King Single – $850
Double – $950
Queen – $1050
King – $1250
Koala Perks
4-hour Metro Delivery
Free Shipping
120-night Trial
10-year Warranty
Best Memory Foam Mattress
Ergoflex Mattress (Recommended)
Not for the Australian mattress shopper on a budget, the Ergoflex comes in at almost $1,000 for the smallest size mattress, the single, however, for good reason. The proprietary memory foam blend within the Ergoflex is arguably the best of the best, and with ridged open-cell inner memory foam, airflow and comfort are top notch in all sleeping positions.
All sleepers in any position who lie down on the Ergoflex will immediately notice how deep they sink into the matters before they reach the supportive 'high-resilience foam base' at the bottom of the mattress. Pairing the ultra-soft upper layer and the firm lower layer gives the mattress an overall medium-firm rating.
Sinking into the built-in mattress topper so deeply allows the body to let go of all pressure on joints, essentially the mattress is supporting on the hips, shoulders and head, whilst the arms and legs are left to float above on the comfort layer.
A good majority of reviewers have noted that the mattress's memory foam doesn't instantly flatten underneath them immediately, though after a minute or two, they find themselves completely sunken into the 'cloud-like' mattress.
The mattress also features natural resistance to dust mites, allergens and other impurities through its fifth-generation memory foam and TENCEL outer cover.
Ergoflex Pricing
Single – $899
Long Single – $949
King Single – $999
Double – $1249
Queen – $1449
King – $1699
Ergoflex Perks
Hospital-grade Materials
Proprietary Memory Foam
30-night Trial
Next-day Delivery
Free Shipping
Best Latex-like Mattress
Ecosa Mattress
Until recently, Ecosa has featured natural latex in their mattresses, though have now transitioned to an innovative, proprietary blend of materials the company is calling ECO-tex. For review purposes, Ecosa's ECO-tex acts almost identically to latex, though it's more springy and breathable – essentially making it a latex enhancement.
The Ecosa stands out from the crowd by not only being at optimal firmness but also adjustable if you'd like to change the firmness level. The mattress's two upper comfort layers can be rearranged to suit your own preferences, checking off all of the comfort boxes for us.
Within the Ecosa you'll also find both high-density and pressure support foam that provides that sinking feeling with great back support. You'll notice that the breathable ECO-tex paired with the support foam makes the Ecosa incredibly comfortable all year round and a pain-reliever.
Another feature of the Ecosa that makes the mattress worthy of our best latex variant is the micro-filament cover that blocks almost all dust mites, bacteria and allergens from making their way into the foam layers of the mattress. You'll no longer need to worry about an old Ecosa mattress sparking your sniffles or asthma.
A second benefit that's a rarity among mattresses is waterproofing! Any spills or accidents won't be an issue for the mattress at all, simply wipe or flick the water off the mattress and you'll be in the all clear.
Ecosa Pricing
Single – $799
Long Single – $849
King Single – $899
Double – $999
Queen – $1099
King – $1199
Super King – $1499
Ecosa Perks
Same-day Metro Delivery
100-night Trial Period
15-year Warranty
Waterproof Design
Adjustable Layers
Best Pocket Spring Mattress
The Sleep Republic Mattress
At the top spot for pocket spring mattresses in Australia lands the Sleep Republic Mattress, with a hybrid design featuring pocket springs, latex and memory foam. For combination sleepers, there's nothing better than a dynamic mattress with all of the best materials, and at Sleepify we stand by the Sleep Republic Mattress being the best pocket spring variety for you.
With the mattress being combination, you'll first notice that the upper levels of the mattress are more supportive and firm than other memory foam and latex variants. There's a good level of bounce and support, and also an inkling of sinkage to get the weight off of your joints as you sleep. Being designed in six layers, beginning with soft cashmere fabric and ending with 3D spacer fabric, the mattress works well as an all-rounder.
The most promising section of the mattress for combination sleepers is the inner gel, latex and pocket spring core. For back sleepers, you'll be well supported by the springs, whilst having the soft foam and gel holding your joints. For side sleepers, the gel and foam are going to allow your hips and shoulders to sink down to reach the supportive springs, whilst leaving the rest of the body to rest on the upper gel and latex.
Almost all reviews praise the mattresses medium-firm level of firmness and its ability to cushion with the upper, ultra-soft gel and memory foam. Edge support is also top notch thanks to the pocket springs, so edge sleepers won't have an issue here.
The Sleep Republic Mattress Pricing
Single – $599
Long Single – $699
King Single – $699
Double – $999
Queen – $999
King – $1199
The Sleep Republic Mattress Perks
Free Delivery
100-night Trial
Hybrid Design
Well-ventilated
Sleep Style Variants
When it comes to sleeping styles, far too many Aussies fail to check whether their mattresses are designed to optimally support their sleeping style. If you're purchasing a new mattress, it's always best to ensure its design, materials and components are ideal for the way you sleep. For those who are unsure about their sleeping style, we have some information for you below.
Back Sleepers
Touted as the safest way to sleep, back sleepers should aim for a mattress that is supportive and rather firm, though with soft upper layers. As a back sleeper, you don't want to sink too far into the mattress as you'll be reducing your spine's curve.
A good majority of back sleepers prefer a firm mattress simply because the back doesn't require anywhere near as much cushioning and 'sinkage' as side sleeping. For back sleepers, we suggest either firm innerspring mattresses or firm memory foam combination mattresses as you'll be most comfortable and supported on a bed with these.
Side Sleepers
Although side sleeping is vastly common, with a large majority of sleepers stating that they prefer to sleep on their sides, only a small few people understand the risks and mattress requirements of side sleeping.
If you sleep on your side, all of your weight is forced on to your hips and shoulders, adding pressure to these joints. With that said, it's important for a side sleeper's mattress to be exceedingly soft at the upper levels, and firm in the centre – essentially being a medium or soft-medium mattress.
The top pick for materials for side sleepers is a mattress that's made from combination foam or memory foam with a medium-firm level of firmness.
Front Sleepers
We have some rather troubling news for front or stomach sleepers, and that's the fact that sleeping on your stomach will eventually leave you with little to no curve in your spine. A soft mattress will allow your torso to sink forward, pushing the curve of your spine backward, and in years of sleeping this way, you'll have a myriad of back issues to deal with and a reduced spinal curve.
However, if you don't see yourself giving up stomach sleeping, you should at least make your mattress choice a safe one. What we suggest is a firm mattress with a soft memory foam upper level, such as Sealy Posturepedic. You want to be comfortable, of course, but you don't want your body sinking into the mattress whatsoever.
The Ideal Mattress for Back Sleepers
Ergoflex Mattress
Coincidentally, our top pick for memory foam is also our ideal choice for back sleepers thanks to the Ergoflex being rather firm for a memory foam mattress. If you're a back sleeper or have any joint problems, we're confident in saying that the support provided by the Ergoflex will take all stress and pressure off your joints as you sleep, whilst providing enough plush upper foam to keep you comfortable.
With hospital-grade materials and a body-conforming upper layer, the Ergoflex will also keep you from resting down on the firmer foam, but rather you'll find yourself being slightly contoured and held up by the visco-elastic memory foam.
A breathable inner foam will also keep airflow heading through the mattress without issue, keeping you from dealing with any heat issues during the summer. The mattress helps to regulate body temperature and also pulls heat from the body out through the sides of the mattress.
The Ideal Mattress for Side Sleepers
The Sommuto Mattress
As we mentioned above, our side sleeper readers will need a mattress that's going to support the hips and shoulders whilst also raising the arms and legs from the support layer in the mattress. With that said, the Sommuto Mattress is here to save the day.
The mattress has an incredibly thick upper foam layer that gives the hips and shoulders plenty of 'sinkage' space, and the lower high-density core support foam helps to support the back. You'll also notice that thanks to the durable materials that there's no chance of shoulder indents forming over time.
Pair the above perks with breathable foam and gel-infused foam and you have a mattress that's been designed perfectly for side sleepers. Whatever climate you live in, and whichever side-sleeping style you prefer, the Sommuto is here to get you a good night's sleep.
The Ideal Mattress for Front Sleepers
The Sleeping Duck Mattress
Outlined above, stomach sleeping is a risky position, though Sleeping Duck is here to do their best to keep your spine and joints safe. Ordering with Sleeping Duck is customisable, though we recommend choosing a support layer that's as firm as possible and opting for a soft comfort layer atop.
A major perk of the Sleeping Duck mattress is that you have total control over both sides of the design. If you sleep next to a back sleeper, you can have their top layer as solid as possible, and you can have yours as soft as you'd like – there's no compromise.
A vast majority of front sleeper reviewers have touted that the mattress's firm pocket springs provide the best solution to their support needs and the customisable soft comfort layer is most ideal to keep their arms, legs and joints free from any added pressure.

Common Questions:

Which brand of mattress is best?
We found the koala mattress to be the best of 2020 they won Canstar's 2019
Award for customer satisfaction. They also have 5 stars for comfort, durability, quality of sleep. If you are looking for $150 off the Koala Mattress click here.
What are the top 5 rated mattresses?
Koala Mattress
Ecosa
Eva
Ergoflex
The Sleep Republic
What's the number one rated mattress?
Koala was awarded number one by Canstar's award for customer satisfaction.
What is the best Mattress in a box?
The Koala mattress was awarded best mattress by Canstar for for comfort, durability, quality of sleep.
The Takeaway
Although we've taken an in-depth look into some of the most highly rated, and arguably the best mattresses with regards to quality and online reviews, you have to keep in mind that there's not one single mattress brand, design or material that will suit every sleeper.
It's important to do your research, understand your sleeping style, climate as well as any other preferences you have when investing in a mattress. The more effort and time you put into understanding your sleeping style, the better your chances are at finding that ultimate mattress that's not too firm and not too soft.